Audionet Pre G2 Preamplifier
Made in Germany
Condition: 8/10
With compatible remote control (Will also provide the original LCD remote that stopped working)
Review: http://www.theabsolutesound.com/articles/audionet-pre-g2-linestage-and-max-monoblock-amplifiers/
Specification:
Function microprocessor controlled pre-amplifier
Frequency response 0 – 2,000,000 Hz (-3 dB), DC coupled
2 – 2,000,000 Hz (-3 dB), AC coupled
THD+N >102 dB @ 20 kHz
>114 dB @ 1 kHz
SNR > 110 dB, 2 VRMS input
Channel separation >140 dB, 20 – 20,000 Hz
Inputs 5 pair Cinch line, gold plated
1 pair XLR balanced, gold plated
Outputs
1 pair Cinch line, gold plated
1 pair Cinch inverted, gold plated
2 pair XLR balanced, gold plated
1 pair Cinch Monitor, gold plated
2 Audionet Link, optical
1 connector, gold plated, for additional earth connection
Output impedance 22 Ohms real
Output current max. 60 mA
Mains 230 V, 50…60 Hz
Power consumption max. 50 Watts
Dimensions
Width 430 mm
Height 140 mm
Depth 420 mm
Weight 20 kg
Finish
Front: brushed aluminium, black anodised, white print
or aluminium 'nature', anodised, black print
Display: red or blue
Top cover: brushedFeatures
- Audionet System Remote Control Harmony One
(included)
- automatic detection of main polarization
- separate power supply for digital and analog sections
- separate power supply for left and right audio channels
(analog)
- electronically switched and real time linearised
precision resistors for volume control
- discrete Audionet operational amplifiers in the
audio signal path
- audio and control functions optically decoupled
- full DC coupling, no capacitors in the signal path
- selectable AC coupling via DC servo
- separate level adjustment for each input channel
- By-Pass function (e.g. for integration into home cinema
systems)
- Auto start function for timer operations
- Audionet Link outputs for remote control of other
Audionet components (e.g. power amplifiers)
Audionet AMP II MAX Mono Blocks
Made in Germany
One of the Mono Block no power (need repair)
Specification:
Type Microprocessor controlled power amplifier
Power 400 Watt in 8 ohm
700 Watt in 4 ohm
1100 Watt in 2 ohm
Bridged operations 2000 Watt in 8W, two AMP II MAX per channel
Frequency response 0 - 300.000Hz (-3dB)
Damping factor > 1.800 at 10kHz, (8W)
> 10.000 at 100Hz, (8W)
Intermodulation < 110dB SMPTE (100Hz:200kHz, 4:1), 50W/4W
THD < -100dB for 20Hz..20kHz, 35W/2W
k2 typ. -117dB, k3 typ. -127dB, at 25W/4W
Noise > 112dB (A) at 10Veff
> 124dB dynamic at maximum input
Inputs Cinch, WBT: 37kW, 220pF
XLR, Neutrik: 3kW, 170pF
Output 2 pair of gold plated WBT terminals
Mains 220..240 Volt / 50..60 Hz
5W Stand-By, 100W typ., 2000W max.
Dimensions 215mm x 285mm x 500mm (WxHxD)
Weight 38kg
Finish front: brushed Aluminum, 10mm
(Front plate in "alu nature" or black available)
Button: chrome or black
Top: brushed Aluminum plates, black elox
Chassis: Steel,
Selling whole set for RM25,000 (Nego)
Contact: 019-2787282 (Rich)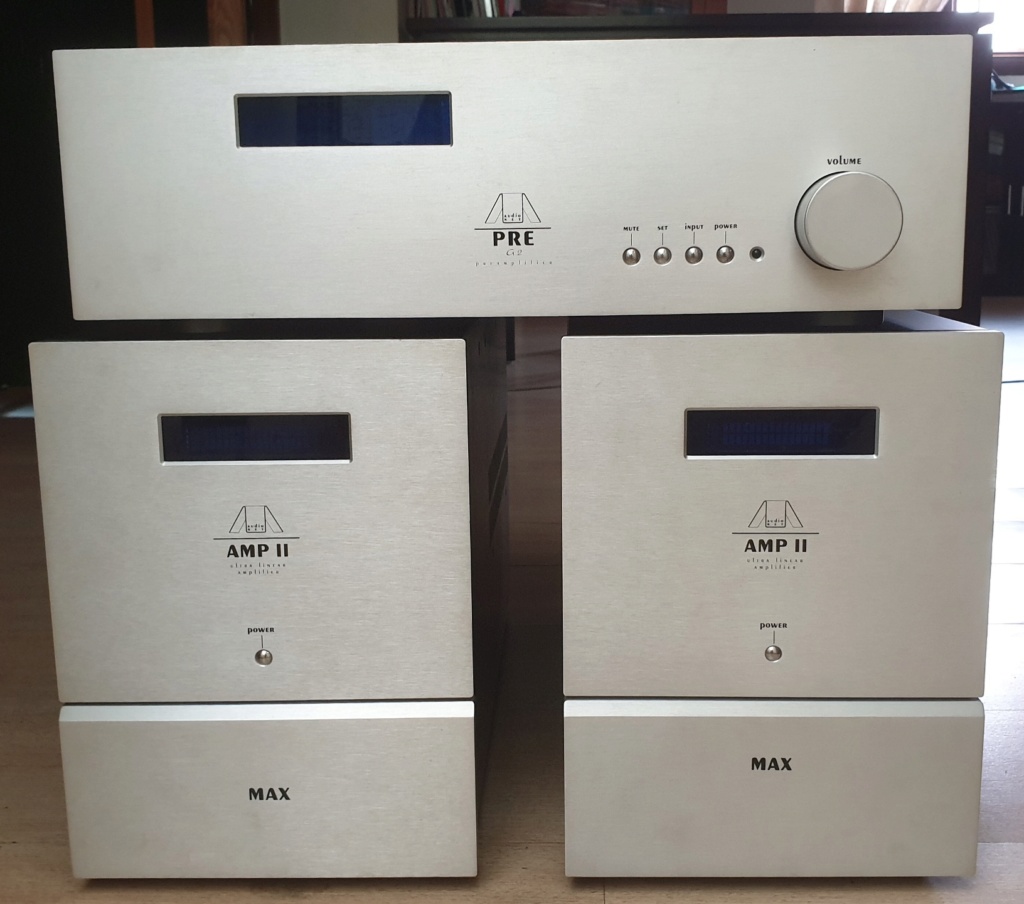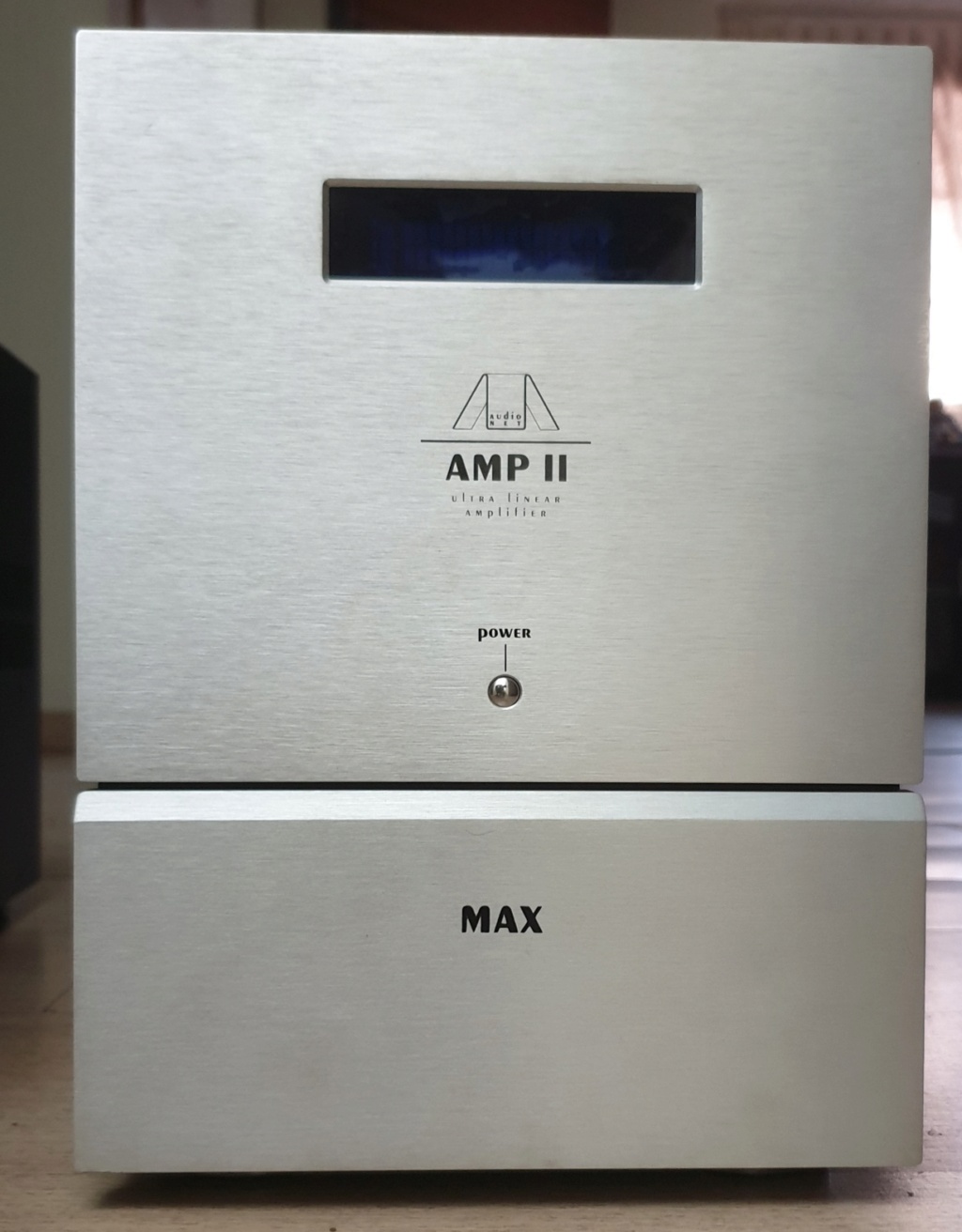 vt100mg16

Regular





Number of posts

: 57


Age

: 56


Location

: Selangor


Registration date :

2009-02-15



---
Permissions in this forum:
You
cannot
reply to topics in this forum