Item: Limited Edition Musical Fidelity KW-500 Integrated Dual Mono Amplifier With External Power Supply - 500W/channel. Made in England
Condition: 10/10. NEW in box. Comes with Original power cord, remote, instruction manual and original double boxes.
It is a limited edition with only 500 ever produced. It has a tubed front end and solid state output producing 500 watts per channel into 8 ohms. MM phono.
With this amp, Musical Fidelity set out to design not just the greatest integrated ever... but the best amplifier they could build... period. Integrating the preamp section into the chassis was not a performance sacrifice - it all works together perfectly.
If its still not powerful for your speakers, you can also Bi-amp this unit with another power amplifier.
This is from the MF Manual
P
RE-AMPLIFIER OUTPUT
The kW 500 Integrated amplifier has its pre-amplifier output available from RCA sockets on the back panel marked PREOUT, and is controlled by the volume
adjustment. This is to allow "bi-amplification" using suitable external amplifiers and crossover networks to power the speaker drive components
separately, giving noticeable improvement in clarity, imaging and bass weight. In this arrangement, typically the kW 500's speaker outputs are used to drive the speaker's "tweeter" (high audio frequencies), and an external stereo amplifier drives the "woofer" (low frequencies). The kW 500's PRE OUT RCA sockets
would therefore be connected to the input of the external "woofer" amplifier in this example. If you are in doubt about bi-amplification, please contact your dealer for advice.
Price: RM18.5k  or swap/topup
Retail Price: RM36k
Have 
2
 sets for sale. Only 1 set left.
Contact: 012-3816611
Click here to Whatsapp: 
http://wasap.my/60123816611
Specs:
Power: 510 Watts per channel into 8 Ohms (27dBW),
770 Watts per channel into 4 Ohms
Peak-to-peak output current: 160 Amps
Damping factor: > 200
Output devices per channel: 8
Pre-output impedance: 50 Ohms
Harmonic distortion at 1kHz 102dB 'A'-weighted
Input sensitivity for 350 Watts into 8 Ohms 330mV
Input impedance 220K Ohms
Overload margin 36dB
Channel separation > 70dB 20Hz to 20kHz
Frequency response 20Hz to 20kHz, +0, -0.0dB
20Hz to 60kHz, +0, -1.2dB
Inputs:
- 5 pairs line level RCA connectors,
- 1 pair phono (moving magnet) RCA connectors
Outputs:
- 2 amplifier channels via 2 pairs per channel binding posts.
- 1 pair RCA audio pre-outputs controlled by the volume setting
- 1 pair RCA tape record fixed line level output
Weight:
- Main unit: 59 lbs unit only, unboxed
- 70.1 lbs in shipping carton
Dimensions:
Main Unit
- 19 inches wide 6.6 inches high including feet
18.5 inches deep including terminals
Power Console
- 14.4 inches wide 6.6 inches high including feet
11 inches deep including rear sockets
Includes:
- IEC type mains lead,
- Power supply leads, main (two)
- Power supply lead for pre-amplifier
- Remote control (universal type)
This is actual picture of earlier sold set
This is the set for sale. New in unopenned box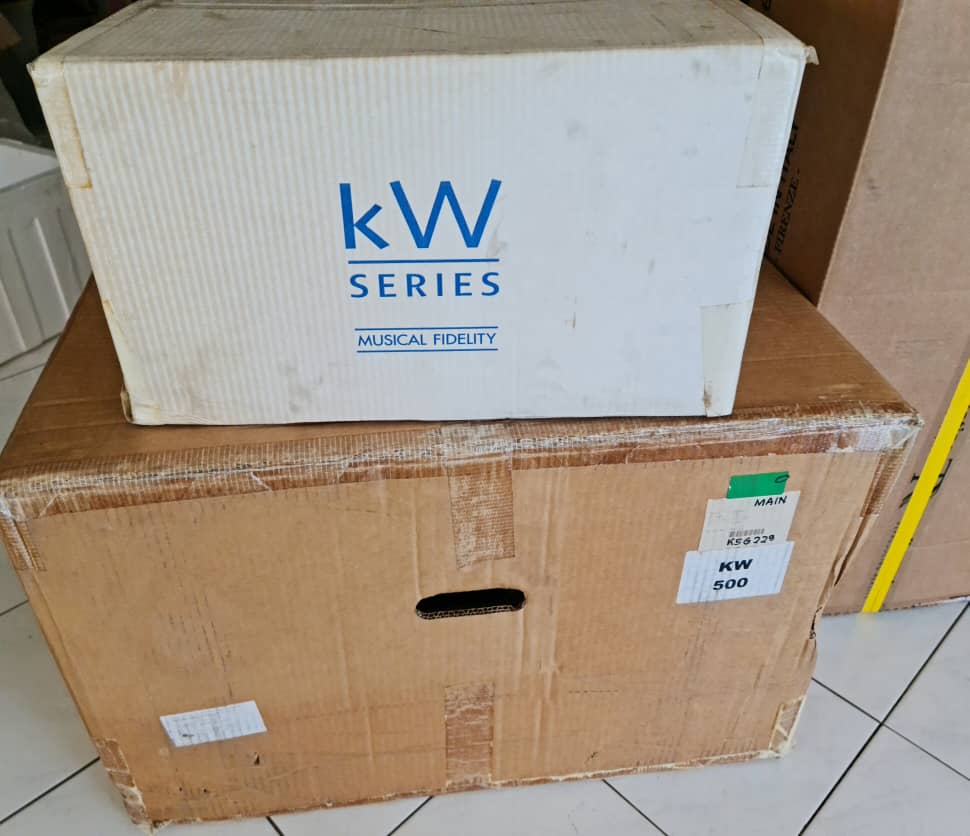 This is the set for sale. New in unopenned box
Website:
http://www.audioreview.com/product/amplification/integrated-amplifiers/musical-fidelity/kw-500.html
https://www.ebay.com/itm/Musical-Fidelity-kW-500-Dual-Mono-Dual-Chassis-Integrated-Amp-Limited-Edition-/383494654991
https://www.stereo.net.au/forums/topic/241427-sold-musical-fidelity-kw500-integrated-amplifier/
https://www.musicalfidelity.com/uploads/manuals/English/kW500.pdf
VIEW ALL MY OTHER STUFFS BY CLICKING BELOW:https://my.carousell.com/hifijunction/https://my.carousell.com/hifijunction/https://my.carousell.com/hifijunction/
Thank you
---
Permissions in this forum:
You
cannot
reply to topics in this forum