Furutech Evolution II Digital XLR 1.2 meter cable for sale.


Finished with High Performance FP-701 M (G) and FP-702 F (G) XLR Connectors.

Shield: 0.12 mm α (Alpha) conductor wire braid

Cable insulated with polypropylene reducing capacitance and damping vibration

Results in greater resolution, clarity, powerful dynamics, and an ultra-quiet soundstage in which
music develops more fully without artificial upper-frequency "presence region" glare.

Electrical Properties of Cable / Test Method
・Max. Conductor Resistance 25.1 Ω/km,JISC3005 6 20℃
・Min. Insulation Resistance 1000 MΩ‧km,JISC3005 9.1 20℃
・Dielectric Strength         AC. 1000 V/1 min.,JISC3005 8
・Electrostatic Capacitance Approx 88 PF/m,at 1 KHz
・Characteristic Impedance 89 ± 5 Ω,at 10 MHz
Selling for MYR800
Interested please contact Thomas at 010-468 1898
Thank you for viewing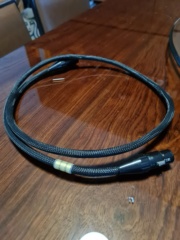 Last edited by arcadomas on Mon May 10, 2021 5:35 pm; edited 3 times in total (Reason for editing : Price Reduction)

arcadomas

Club Member





Number of posts

: 39


Age

: 51


Location

: Kota Kinabalu


Registration date :

2011-06-28

Character sheet


Source(s)

:

TW Acustic Raven2




Amplification

:

Karan KAS270




Speakers

:

Kharma CRM2.3F




arcadomas

Club Member





Number of posts

: 39


Age

: 51


Location

: Kota Kinabalu


Registration date :

2011-06-28

Character sheet


Source(s)

:

TW Acustic Raven2




Amplification

:

Karan KAS270




Speakers

:

Kharma CRM2.3F




arcadomas

Club Member





Number of posts

: 39


Age

: 51


Location

: Kota Kinabalu


Registration date :

2011-06-28

Character sheet


Source(s)

:

TW Acustic Raven2




Amplification

:

Karan KAS270




Speakers

:

Kharma CRM2.3F




arcadomas

Club Member





Number of posts

: 39


Age

: 51


Location

: Kota Kinabalu


Registration date :

2011-06-28

Character sheet


Source(s)

:

TW Acustic Raven2




Amplification

:

Karan KAS270




Speakers

:

Kharma CRM2.3F



arcadomas wrote:Furutech Evolution II Digital XLR 1.2 meter cable for sale.



Finished with High Performance FP-701 M (G) and FP-702 F (G) XLR Connectors.

Shield: 0.12 mm α (Alpha) conductor wire braid

Cable insulated with polypropylene reducing capacitance and damping vibration

Results in greater resolution, clarity, powerful dynamics, and an ultra-quiet soundstage in which
music develops more fully without artificial upper-frequency "presence region" glare.


Electrical Properties of Cable / Test Method

・Max. Conductor Resistance 25.1 Ω/km,JISC3005 6 20℃

・Min. Insulation Resistance 1000 MΩ‧km,JISC3005 9.1 20℃

・Dielectric Strength         AC. 1000 V/1 min.,JISC3005 8

・Electrostatic Capacitance Approx 88 PF/m,at 1 KHz

・Characteristic Impedance 89 ± 5 Ω,at 10 MHz

Selling for MYR800

Interested please contact Thomas at 010-468 1898

Thank you for viewing

arcadomas

Club Member





Number of posts

: 39


Age

: 51


Location

: Kota Kinabalu


Registration date :

2011-06-28

Character sheet


Source(s)

:

TW Acustic Raven2




Amplification

:

Karan KAS270




Speakers

:

Kharma CRM2.3F



arcadomas wrote:Furutech Evolution II Digital XLR 1.2 meter cable for sale.



Finished with High Performance FP-701 M (G) and FP-702 F (G) XLR Connectors.

Shield: 0.12 mm α (Alpha) conductor wire braid

Cable insulated with polypropylene reducing capacitance and damping vibration

Results in greater resolution, clarity, powerful dynamics, and an ultra-quiet soundstage in which
music develops more fully without artificial upper-frequency "presence region" glare.


Electrical Properties of Cable / Test Method

・Max. Conductor Resistance 25.1 Ω/km,JISC3005 6 20℃

・Min. Insulation Resistance 1000 MΩ‧km,JISC3005 9.1 20℃

・Dielectric Strength         AC. 1000 V/1 min.,JISC3005 8

・Electrostatic Capacitance Approx 88 PF/m,at 1 KHz

・Characteristic Impedance 89 ± 5 Ω,at 10 MHz

Selling for MYR800

Interested please contact Thomas at 010-468 1898

Thank you for viewing

arcadomas

Club Member





Number of posts

: 39


Age

: 51


Location

: Kota Kinabalu


Registration date :

2011-06-28

Character sheet


Source(s)

:

TW Acustic Raven2




Amplification

:

Karan KAS270




Speakers

:

Kharma CRM2.3F



Similar topics
---
Permissions in this forum:
You
cannot
reply to topics in this forum