Item: GamuT M-200 MK III Monoblocks Power Amplifier 
GamuT arguably makes one of the finest Solid State amps in the world, capable of being totally lifelike, liquid without grain or harshness.  Extremely well built and made to last a lifetime. You will not find a better sounding and performing solid state mono amp anywhere near this price range. This would compare to ultra high-end SS amps costing 3-5 times more expensive. 
Tons of power and finesse. Capable of driving most any speaker with ease. Totally neutral with complete 3D soundstaging.
Keep in mind that the newest version of these amps (M250i) monos are actually now $24,000! I have heard the M250i monos and yes, they are fantastic however, at 1/4 of the cost for my M200 you would be getting probably 90% there to their newest version.
Condition: 8.5/10. Item is in excellent condition. No dents or scratches. Gamut Monoblocks 200 watts per channel . They sound like tube amplifiers!. Best solid state amplifiers in the world ! 
Some of the best at any price according to the absolute sound and Hifi news.
Powerfully dimensioned monoblocks that drive most speakers. Also heavy-duty speakers like revel ultima studio.Works very well with both transistor pre and tube pre.The sound is reminiscent of very good tube amplifiers.
Price:
RM21.5k
RM19.5k or swap/topup
Retail Price: EURO 12k
http://www.vintagehificlub.com/quote-loudspeakers/gamut/
Contact: 012-3816611
Click here to Whatsapp: 
http://wasap.my/60123816611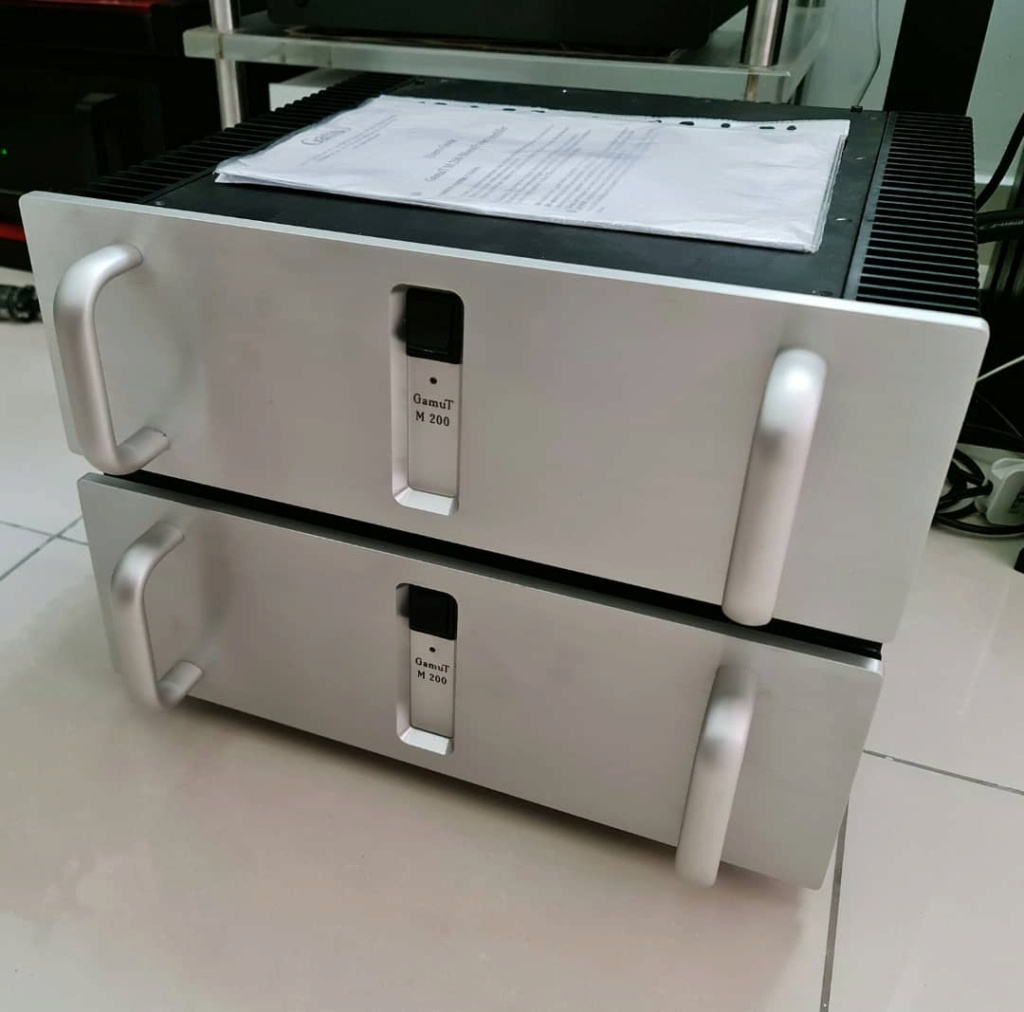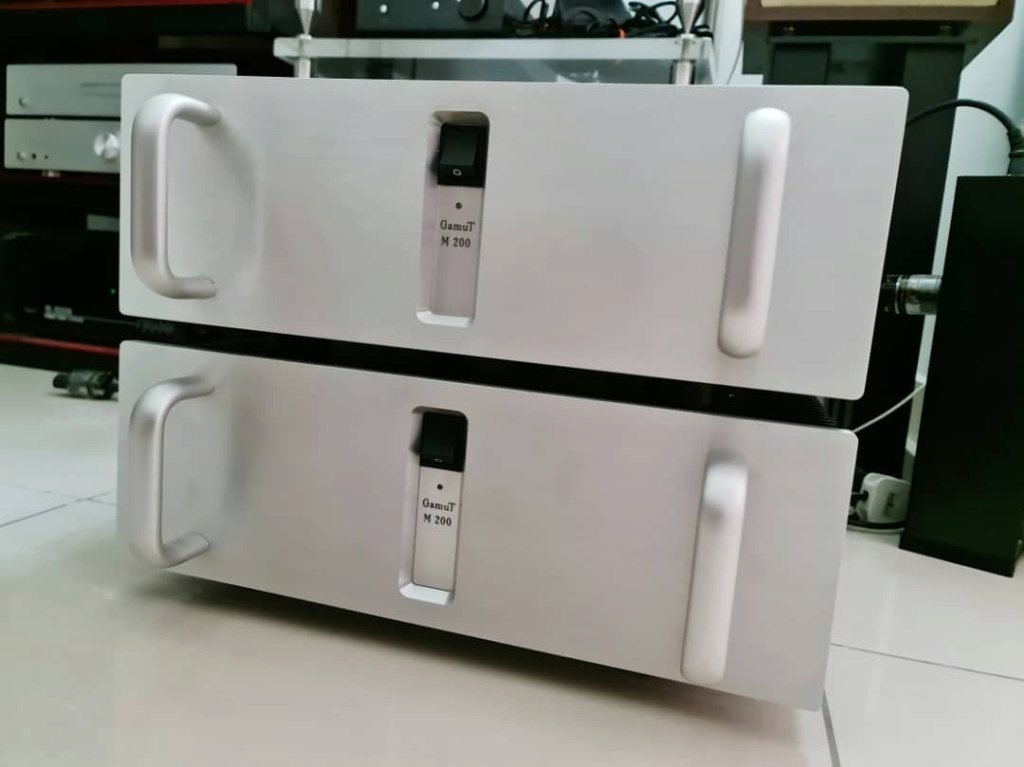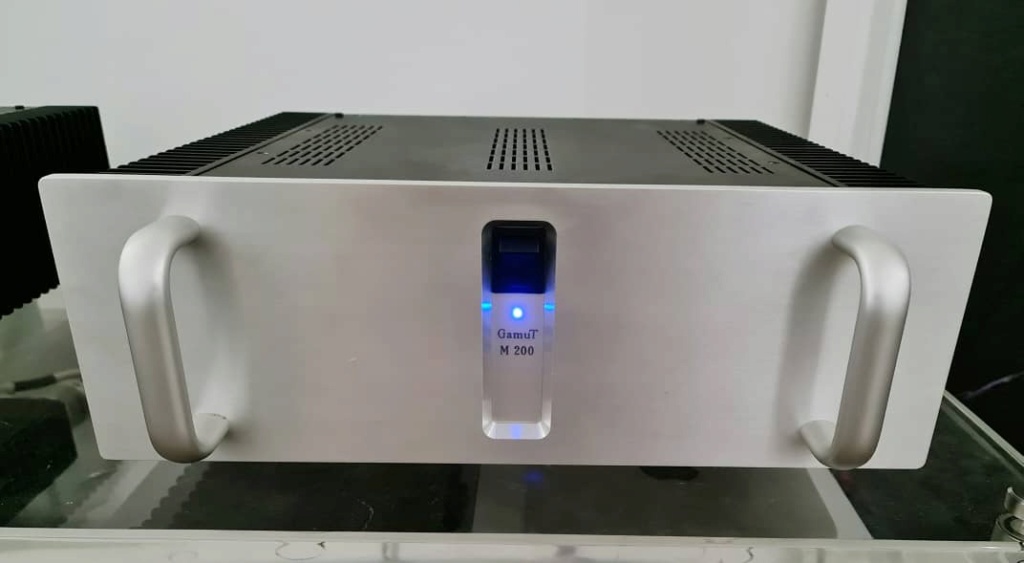 ·        Shipping weight is 70 lbs (31 kg) each.   
·        Dimensions are 6.5" high, 17" wide, and 18" deep (164 mm high, 431 mm wide, and 470 mm deep).
·        Idle power consumption is 100 Watts.
·        The slow blow mains fuse limits power consumption at 1,150 Watts long-term.
·        Output power in 8 Ohms resistive load is 200 Watts or 23dbW.
·        Speaker loads below 1.5 Ohms are not allowed by the protection circuit.
·        Noise is at least 100 dB below 200 Watts in 8 Ohms. This depends on the gain selected, and it is below the noise from a CD.
·        Strong external electromagnetic fields can increase the noise level. Use only shielded signal cables.
·        The balanced XLR input has a 40 kOhm input impedance.
·        The 3-pin XLR socket has Pin 2 as plus, Pin 3 as minus, and Pin 1 as ground.
·        The RCA unbalanced input has a 20 kOhm input impedance.
·        Sensitivity can be selected internally by your dealer to be 0.775V, 1.55V, 3.1V or 3.9V for full power.
·        The output for a loudspeaker is single or bi-wiring, using 4 mm banana plugs, spade lugs or stripped wire.
·        Made in Denmark.
Website: 
https://www.ukaudiomart.com/details/649278980-gamut-audio-m200-mkiii-like-new/
http://www.gamutaudio.com/amplifiers/m250i/
https://docplayer.net/32629874-Gamut-d200i-stereo-power-amplifier-a-classic-reimagined-kirk-midtskog.html
https://review.u-audio.com.tw/reviewdetail.asp?reviewid=193
https://www.hifizero.com/cht/index.php?q=gamut
https://www.gzhifi.com/audio/200906/7332_2.html
http://www.audioreview.com/product/amplification/amplifiers/gamut-audio/d200-mkiii.html
https://www.hifiengine.com/manual_library/gamut/entire-range.shtml
VIEW ALL MY OTHER STUFFS BY CLICKING BELOW:https://my.carousell.com/hifijunction/https://my.carousell.com/hifijunction/https://my.carousell.com/hifijunction/
Thank you
---
Permissions in this forum:
You
cannot
reply to topics in this forum