Item: EnigmAcoustics Sopranino Electrostatic Super Tweeter
Condition: 9.5/10. Item is in like new condition. Comes complete original box and packaging and accessories. Like buying new.
Price:
RM11k
  RM9.5k or swap/topup
New was: RM17k+
Contact: 012-3816611
Click here to Whatsapp: 
http://wasap.my/60123816611
There has been a long history in high-end audio of super-tweeters and, more commonly, subwoofers to enhance the overall performance of a listener's speaker system. As I mentioned in my past review on the REL Acoustics T-7 subwoofer, the major advantage of using a subwoofer, if properly set up, is not just to lower the frequency extension, but to open up the size and space of the soundstage, leading to a more three-dimensional presentation of the music. Likewise, while it has been objectively proven that the average listener does not hear much above 12 kHz to 15 kHz, if a super-tweeter can cover from 8 kHz to over 40 kHz, it can have a major effect on overall system performance.
The subject of this review is the ENIGMAcoustics Sopranino electrostatic super-tweeter, which retails for $3,690 per pair. ENIGMAcoutics is the first company to produce a self-polarizing electrostatic diaphragm that does not need an external DC power supply. It is a gray, rectangular, horn-loaded electrostatic diaphragm. The diaphragm measures 4.75 inches wide by 3.5 tall, and the Sopranino's overall dimensions are 8.15 inches high by 7.6 wide by 8.15 deep, with a weight of six pounds. The diaphragm is enclosed in a beautiful case of white, crystal-like glass, with a layer of felt on the bottom to protect your other speaker from being scratched when you place the Sopranino on top of it. Behind the Sopranino are a pair of WBT binding posts, a high/low gain switch, and a rotary crossover dial that can set the crossover point at 8, 10, or 12 kHz. For a quick, easy setup, you use a short speaker wire to connect each Sopranino to the back of your speaker's binding posts, match the gain of the speakers, and experiment with which crossover point gives the greatest positive effect without causing harm to the overall performance of the speakers.
Specification:
Driver complement: self-biasing, horn-loaded electrostatic driver Frequency Response: 8kHz – 40kHz, ± 3dB Sensitivity (1m/1W): 90 dB Impedance: 4 Ohms Dimensions (W X H x D): 181mm x 193mm x 207mm Weight: 10.4kg (shipping weight), 2.7kg (each)
The Sopraninos perform as advertised. They are a supertweeter that seems to blend in very easily with different audio systems. Visually, they are eye candy and can be placed in mega buck systems without looking out of place. And most importantly, the Sopraninos do provide additional energy at the top frequencies which I and my fellow listeners interprete as additional air, space, and sparkle. We all found these additions to be improvements.
If you are looking for something to add some life, some zing to your top end you really need to audition a pair of the Sopraninos in your own system. They are really remarkable. Roger S. Gordon
Sopranino Super Tweeters
Retail: US$3690 per paid, Optional Stands for Sopranino - US$600
EnigmAcoustics
11 Chrysler
Irvine, CA 92618
(949) 340-7590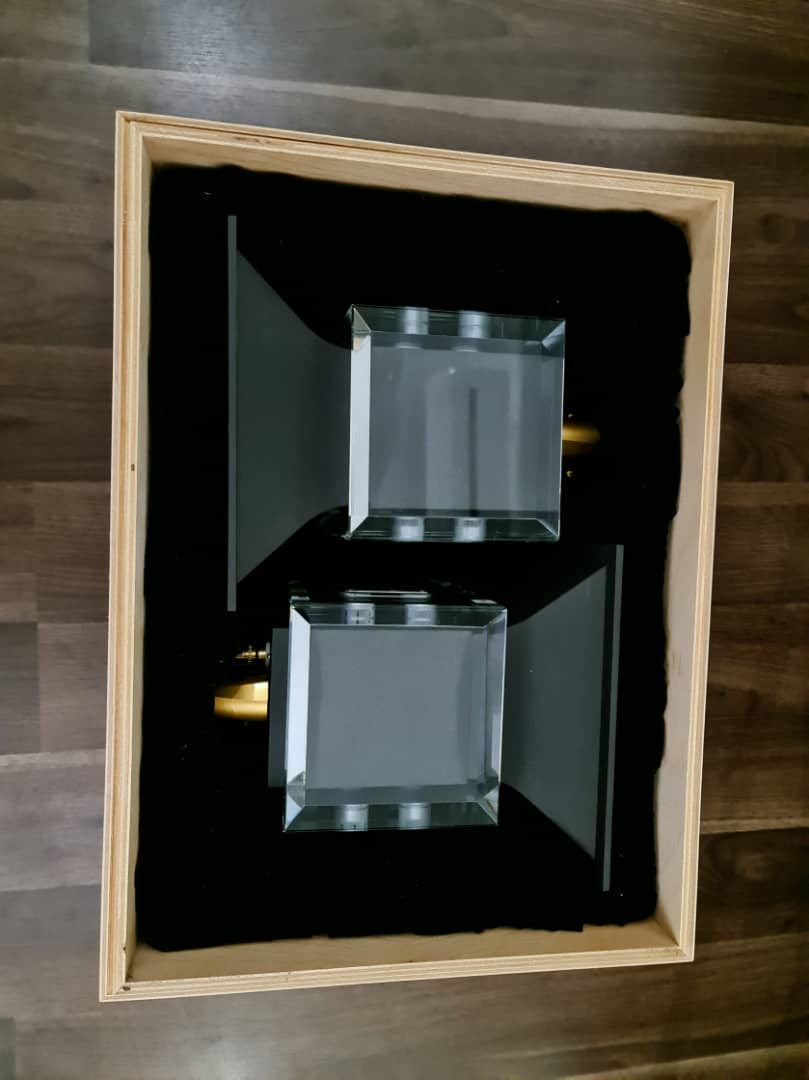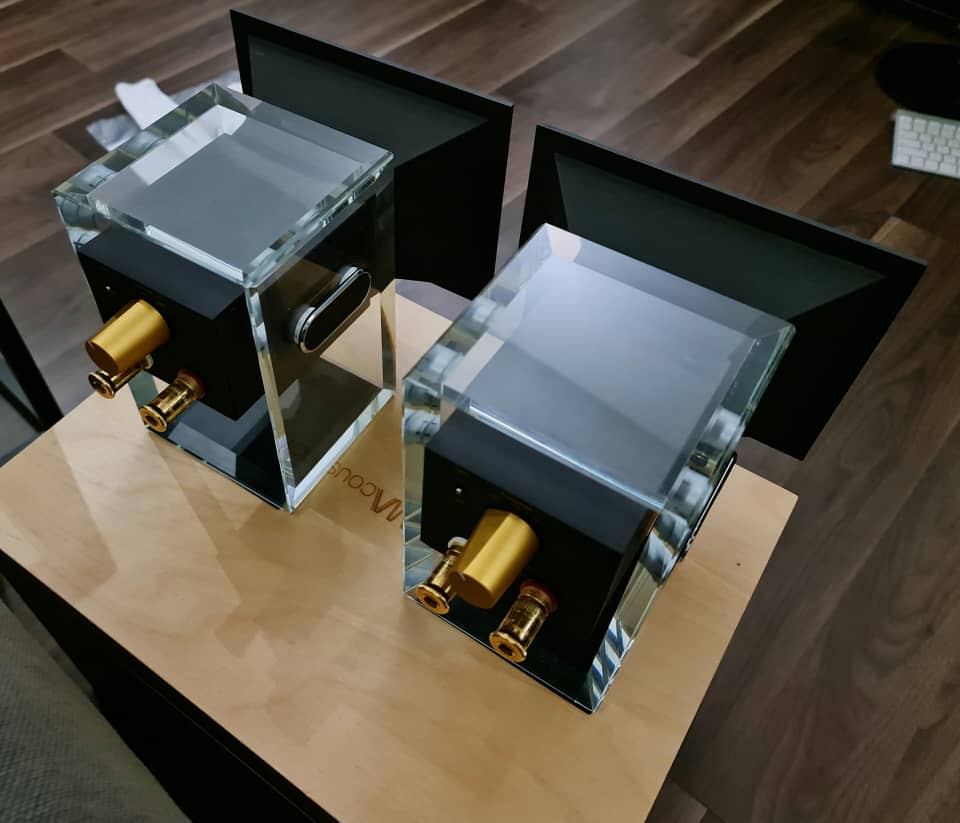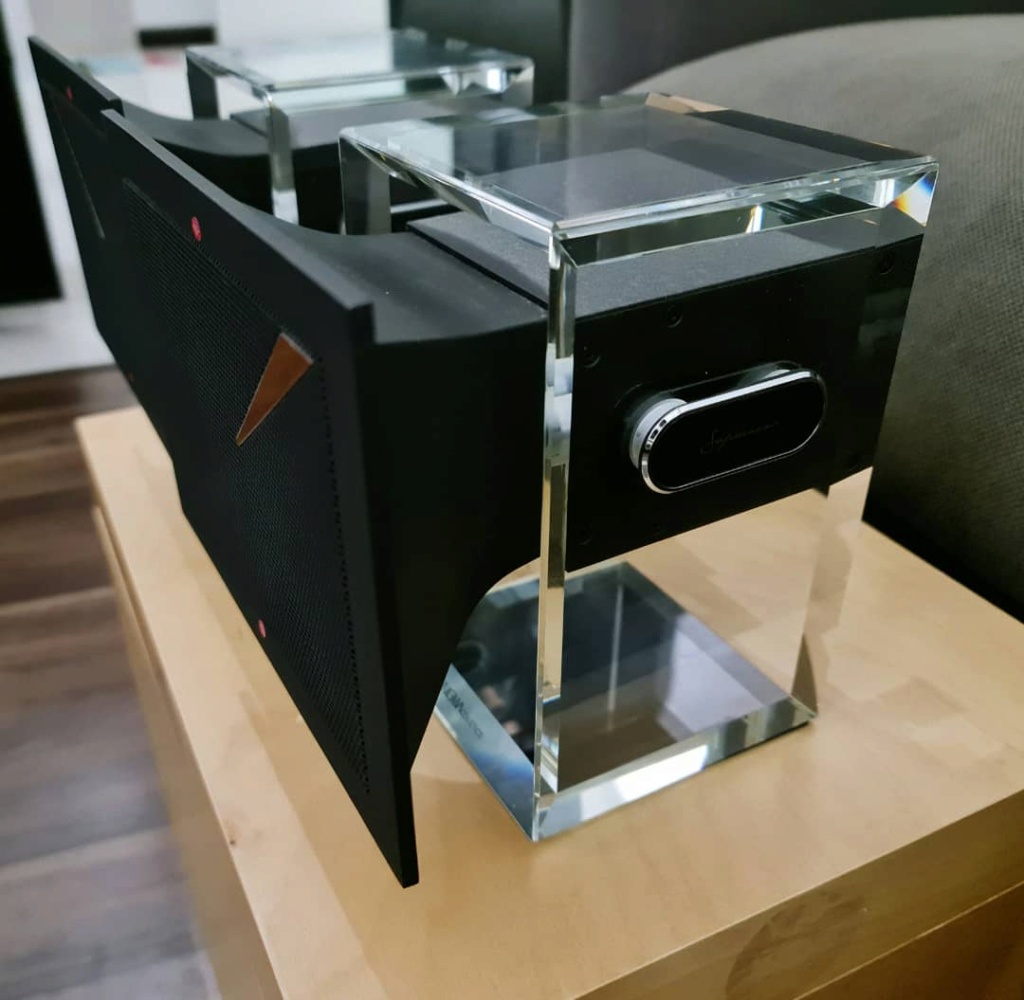 Website:
https://6moons.com/audioreviews/enigma/1.html
https://www.enigmacoustics.com/shop/sopranino/
https://www.dagogo.com/enigmacoustics-sopranino-electrostatic-super-tweeter-review/
https://hometheaterreview.com/enigmacoustics-sopranino-electrostatic-super-tweeter-reviewed/
https://www.monoandstereo.com/2014/12/enigmacoustics-sopranino-electrostatic.html
https://www.stereophile.com/content/enigmacoustics-sopranino-electrostatic-supertweeter
https://positive-feedback.com/Issue73/enigmacoustics_sopraninos.htm
https://hometheaterreview.com/enigmacoustics-sopranino-electrostatic-super-tweeter-reviewed/
VIEW ALL MY OTHER STUFFS BY CLICKING BELOW:https://my.carousell.com/hifijunction/https://my.carousell.com/hifijunction/https://my.carousell.com/hifijunction/
Thank you
Similar topics
---
Permissions in this forum:
You
cannot
reply to topics in this forum