Item for sell speaker only, without stand.
Product highlights:
frequency response 51-20,000 Hz (±3 dB)
sensitivity 86 dB
6-ohm impedance handles up to 125 watts
1" aluminum dome tweeter
6-1/2" polypropylene woofer
magnetically shielded for safe placement next to tube TVs
5-way binding posts
acoustic suspension (sealed) enclosure
threaded insert for optional wall mounting bracket high-gloss black finish
7-1/8"W x 12-1/8"H x 9-1/2"D
weight: 12.7 lbs.
I am posting this on behalf of friend, please contact seller directly.
Seller contact: Dominic - 019-881 3618
Price: RM1,700.00
Location: Kota Kinabalu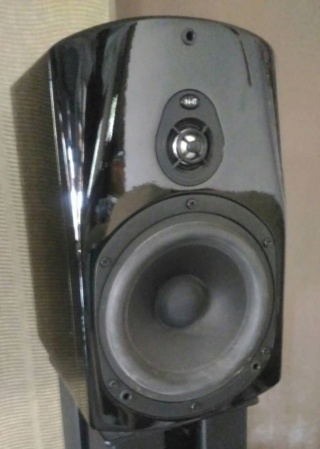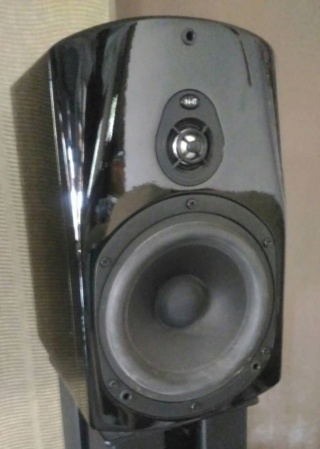 chinprada

Frequent Contributor





Number of posts

: 159


Age

: 37


Location

: KL


Registration date :

2009-05-09

Character sheet
Source(s): laptop jriver - ifi iusb 3.0
Amplification: teradak chameleon 4.5 DAC / Khadas Tone Pro 2 to LM-219IA PLUS
Speakers: Dynaudio S40 + super tweeter



chinprada

Frequent Contributor





Number of posts

: 159


Age

: 37


Location

: KL


Registration date :

2009-05-09

Character sheet
Source(s): laptop jriver - ifi iusb 3.0
Amplification: teradak chameleon 4.5 DAC / Khadas Tone Pro 2 to LM-219IA PLUS
Speakers: Dynaudio S40 + super tweeter



chinprada

Frequent Contributor





Number of posts

: 159


Age

: 37


Location

: KL


Registration date :

2009-05-09

Character sheet
Source(s): laptop jriver - ifi iusb 3.0
Amplification: teradak chameleon 4.5 DAC / Khadas Tone Pro 2 to LM-219IA PLUS
Speakers: Dynaudio S40 + super tweeter



chinprada

Frequent Contributor





Number of posts

: 159


Age

: 37


Location

: KL


Registration date :

2009-05-09

Character sheet
Source(s): laptop jriver - ifi iusb 3.0
Amplification: teradak chameleon 4.5 DAC / Khadas Tone Pro 2 to LM-219IA PLUS
Speakers: Dynaudio S40 + super tweeter



chinprada

Frequent Contributor





Number of posts

: 159


Age

: 37


Location

: KL


Registration date :

2009-05-09

Character sheet
Source(s): laptop jriver - ifi iusb 3.0
Amplification: teradak chameleon 4.5 DAC / Khadas Tone Pro 2 to LM-219IA PLUS
Speakers: Dynaudio S40 + super tweeter



chinprada

Frequent Contributor





Number of posts

: 159


Age

: 37


Location

: KL


Registration date :

2009-05-09

Character sheet
Source(s): laptop jriver - ifi iusb 3.0
Amplification: teradak chameleon 4.5 DAC / Khadas Tone Pro 2 to LM-219IA PLUS
Speakers: Dynaudio S40 + super tweeter



chinprada

Frequent Contributor





Number of posts

: 159


Age

: 37


Location

: KL


Registration date :

2009-05-09

Character sheet
Source(s): laptop jriver - ifi iusb 3.0
Amplification: teradak chameleon 4.5 DAC / Khadas Tone Pro 2 to LM-219IA PLUS
Speakers: Dynaudio S40 + super tweeter



chinprada

Frequent Contributor





Number of posts

: 159


Age

: 37


Location

: KL


Registration date :

2009-05-09

Character sheet
Source(s): laptop jriver - ifi iusb 3.0
Amplification: teradak chameleon 4.5 DAC / Khadas Tone Pro 2 to LM-219IA PLUS
Speakers: Dynaudio S40 + super tweeter



chinprada

Frequent Contributor





Number of posts

: 159


Age

: 37


Location

: KL


Registration date :

2009-05-09

Character sheet
Source(s): laptop jriver - ifi iusb 3.0
Amplification: teradak chameleon 4.5 DAC / Khadas Tone Pro 2 to LM-219IA PLUS
Speakers: Dynaudio S40 + super tweeter



chinprada

Frequent Contributor





Number of posts

: 159


Age

: 37


Location

: KL


Registration date :

2009-05-09

Character sheet
Source(s): laptop jriver - ifi iusb 3.0
Amplification: teradak chameleon 4.5 DAC / Khadas Tone Pro 2 to LM-219IA PLUS
Speakers: Dynaudio S40 + super tweeter


---
Permissions in this forum:
You
cannot
reply to topics in this forum