Item:Goldmund Stellavox ST296kHz 24bits Time-Linear Professional D/A Converter 
It is from Goldmund's professional line but is widely used in japan by audiophiles with megabuck systems. It carries the DAC section from the extremely expensive Goldmund Mimesis 21 DAC. 
It locks on to the clock of your cd for ultra-low jitter and is mega low distortion.
Condition: 8.5/10. Item is in excellent condition. No dents or scratches. The sound from this is saturated, wet, ultra fast and foot tapping, detailed and dynamic.
Price: sold  or swap/topup
Retail Price: £1050.00
Contact: 012-3816611
Click here to Whatsapp: 
http://wasap.my/60123816611
Based on the Goldmund "Alize2" technology, the new Stellavox ST2 D/A converter provides exceptional performance and an easy access to any digital source for a professional system. Its unique time alignment, ultra-low noise and distortion provide a transparency and accuracy to digital signals with all the soft and delineate characteristics of analogue. Its 3 separate inputs, selectable from the front panel make it also a very practical input selector device for a digital-only source monitoring. Very reasonable in price for its professional quality, but also extremely small in dimensions for its performance, the Stellavox ST2 D/A converter is a very versatile converter providing SPDIF coaxial, XLR balanced and optional Toslink and ATT input connectors to receive any kind of source equipment. The components used in this circuit are of extremely high quality, most are military grade. The mechanical construction is typical of the notorious "Swiss Made" precision and strength.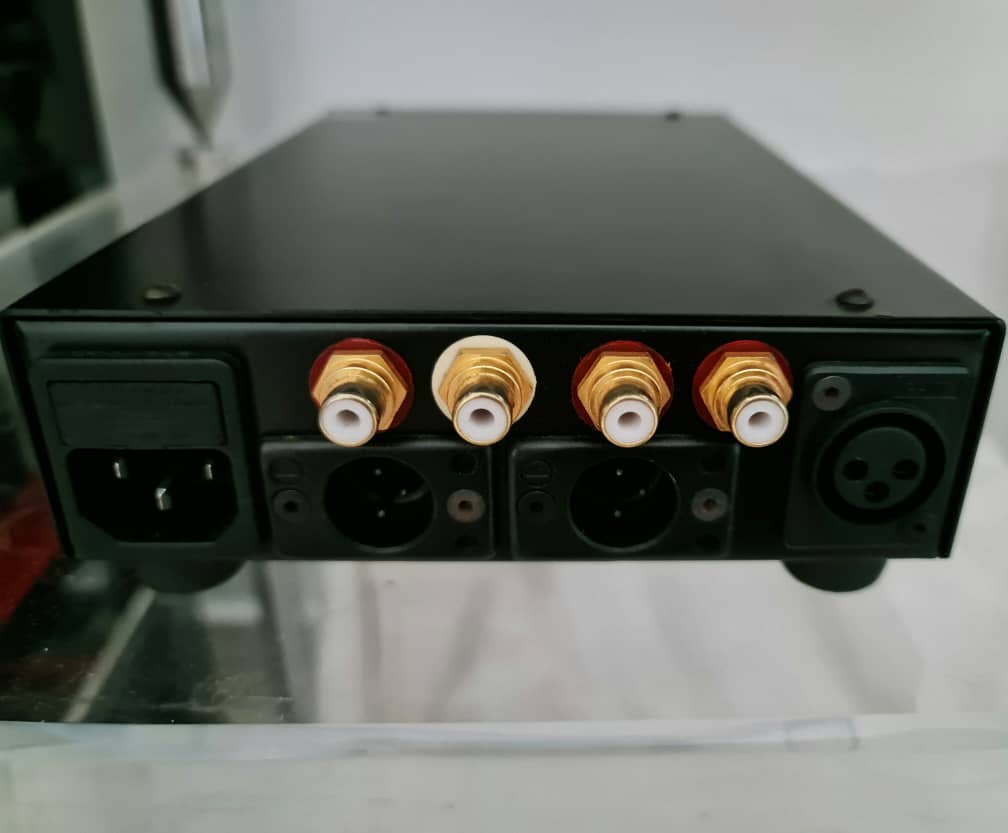 Specifications
INPUTS
Standard Version: 1 XLR AES-EBU and 2 x RCA SPDIF.
Front panel selection.
Signal up to 24 bits 96kHz.
OUTPUTS
Standard Version: 2 XLR balanced and 2 x RCA unbalanced usable simultaneously.
FREQUENCY RESPONSE
At 44.1 kHz : +/- 0.25 dB, 20 Hz - 20 kHz.
OUTPUT LEVEL
2V on 2.2kOhms in unbalanced.
Up to 15 dBU in balanced.
GROUP DELAY
Propagation delay stable with frequency within 100 picosecond from 20 Hz to 20 kHz.
DISTORTION
Harmonic on 24 bits signal at 44.1 kHz : THD < 0.002 %.
DYNAMIC RANGE
At 44.1 kHz with 24 bits signal EIAJ A Weighted : > 104 dB.
SAMPLING FREQUENCY
30-96 kHz.
CHANNEL GAIN MISMATCH
< 0.2 dB.
POWER CONSUMPTION
At 44.1 kHz with digital silence : 2W.
SIZE AND WEIGHT
15 cm W x 20 cm D x 5 cm H. - Weight : 1.5 kg net.
FINISH
Silver anodized metal front panel. Available half-rack and full rack panels.
Website:
https://www.jdbbs.com/thread-2536279-1-1.html
http://www.stellavox.com/st2.html
http://www.stellavox.com/StellaST2.pdf
VIEW ALL MY OTHER STUFFS BY CLICKING BELOW:https://my.carousell.com/hifijunction/https://my.carousell.com/hifijunction/https://my.carousell.com/hifijunction/
Thank you
Last edited by raymond88 on Tue Mar 02, 2021 11:32 pm; edited 1 time in total
---
Permissions in this forum:
You
cannot
reply to topics in this forum