Item: Copland CTA504 Power Amplifier
Condition: 8/10. Item is in excellent condition. No dents and scratches.
Price:  SOLD or swap/topup
Contact: 012-3816611
Click here to Whatsapp: 
http://wasap.my/60123816611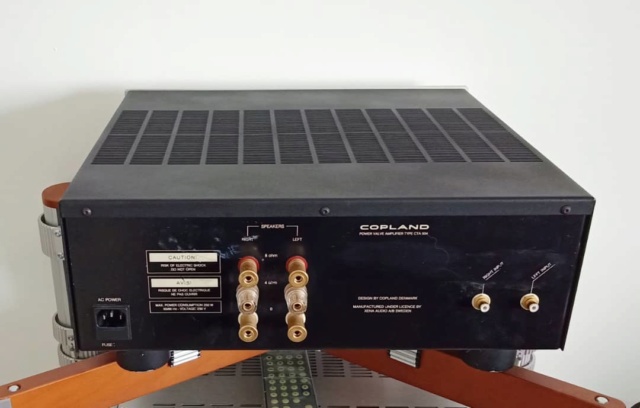 Specs:
-  Effective output.....Pentode mode: 50W + 50W
                              Triode Mode: 26W + 26W
-  Output load impedance.....4 ohms or 8 ohms
-  Valves employed.....Input stage: 5 x E83CC
                              Output stage: 4 x 6550
-  Dimension.....430 x 175 x 375mm
-  Weight.....25kg
The Copland CTA 504 is of Danish design that brings joy to their owners who wish to listen to music, rather than "high fidelity". This high quality, effortless and natural sounding amplifier invites disk after disk, bringing out the essence in music. The current supply circuit is classified into seven lines, was protected by the respectively quality film capacitor, and has controlled the mutual intervention also in the super-high region. The condenser which fully took the special order toroidal transformer and proof-pressure margin of the tanker cage is adopted as a power-source part. Although the output power is driven by 6550A tubes, the phase inversion circuit of the push pull composition using two for a Twin Triode is adopted. That means this amplifier is pentode and triode switchable. Triode Mode gives the listener all the classic, free-spirited openness that SET amplifiers are famous for, with a vibrant presentation and plenty of the coveted "triode cream." The sound is intimate, honest, and natural, with a captivating musicality that holds the listener in his listening chair and won't let him go. Acoustic music in Triode Mode produces off-the-scale "goosebump factor." The extreme realism of strings and wind or brass instruments will send chills down his spine. Triode Mode also excels in the reproduction of female voice with fluidity and realism, which is a very difficult test for any amplifier. With twice the power of Triode Mode, Pentode Mode turns up the heat with speed and slam galore. While Triode Mode is generally preferred for most acoustic music, Pentode Mode works well for many types of electric music. The slap of kick drums, the crack of snares, and the attack of percussion in general is noticeably presented differently.
Specifications :

Form.......................................................Tube power amplifier
Effective output.........................................At the time of pentode connection: 50W+50W
                      .........................................At the time of triode connection: 26W+26W
THD.........................................................Below 0.08% (1kHz/1W)
      .........................................................Below 1% (1kHz/50W)
Frequency response..................................5Hz - -65kHz three dB
Output bandwidth......................................8Hz - -45kHz three dB
Signal to noise ratio...................................100dB (IHF / input short-circuit)
Input sensitivity.........................................1.5V
Input impedance........................................250kohm
Output load impedance..............................4ohm or Eight ohms
                                 ..............................(minus community, plus connection substitute)
Negative feedback.....................................16dB
The phase between input and output............Right phase
Valves employed.......................................Voltage magnification and phase inversion: E83CC x 5
                         .......................................Electric-power magnification: 6550 x 4
Power consumption...................................185W (Electrical Appliance and Material Control Law) 
Dimensions(w x d x h)................................43 x 44 x 17.5 cm
Weight......................................................20 kg 

Miscellaneous :
Made in.....................................................Design in Denmark
http://audio-database.com/COPLAND/amp/cta504-e.html 
VIEW ALL MY OTHER STUFFS BY CLICKING BELOW:https://my.carousell.com/hifijunction/https://my.carousell.com/hifijunction/https://my.carousell.com/hifijunction/
Thank you
Last edited by raymond88 on Sun Mar 07, 2021 11:11 pm; edited 1 time in total
---
Permissions in this forum:
You
cannot
reply to topics in this forum