Item: Holfi Aura Integrated Amplifier
Condition: 8/10. Item is in very good working condition. Comes with power cord.
Price: RM1500 or swap/topup
Retail Price: RM2950.00
Contact: 0123816611
Holfi Aura Integrated amplifier
Jacob Magnussen and Peter Holstein are a partner couple who, if nothing else, have left their mark and clear mark in the hi-fi sand as innovative constructors of extremely well-sounding amplifiers. The fact that there was no doubt that it was about Holfi, when the gaze fell on fronts that were beautifully made of cherry wood, meant that all prerequisites were present for a world success. That's not how it went, but it's a very different story, as a famous poet once said.
It's extremely difficult to find information on Holfi's early little Aura amplifier. Neither online nor in various hi-fi yearbooks is there much help to be had in terms of data on performance and production. But what I do know is that it is 35 watts, not equipped with RIAA or any kind of tone controls, remote control or anything superfluous. In addition, it plays extremely powerfully of a smaller amplifier to be with a very soft and warm sound. So it can not be much better. 
Some of Holfi's models in the company's start - up were so hot that you could mirror eggs on them. Extra air holes have been drilled on this, so it could indicate that it has been one of them, but the problem is certainly no longer relevant. It is only warm as it should be.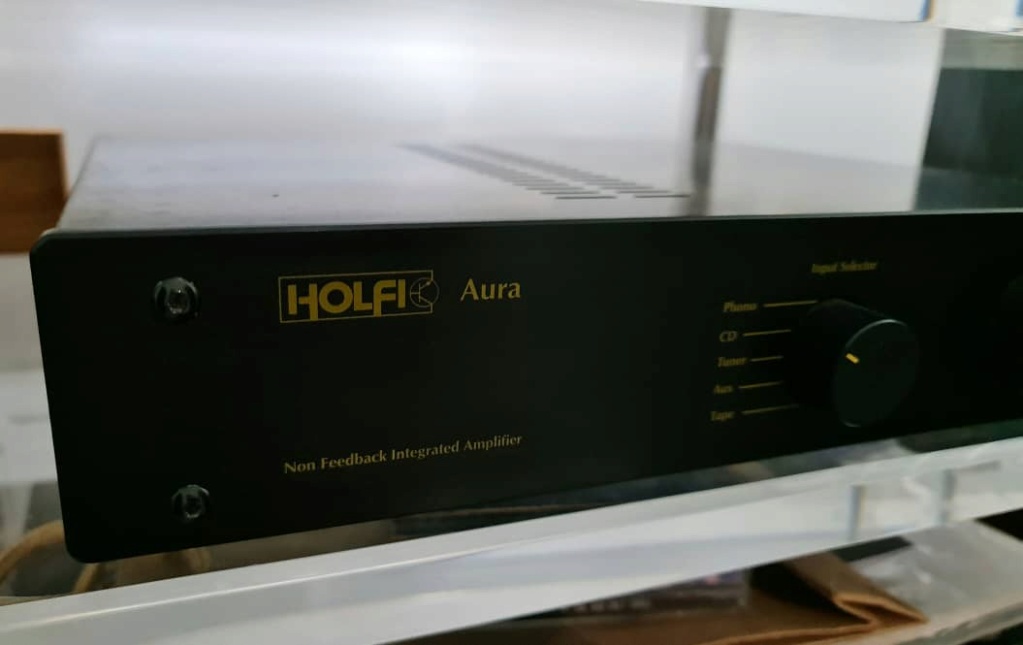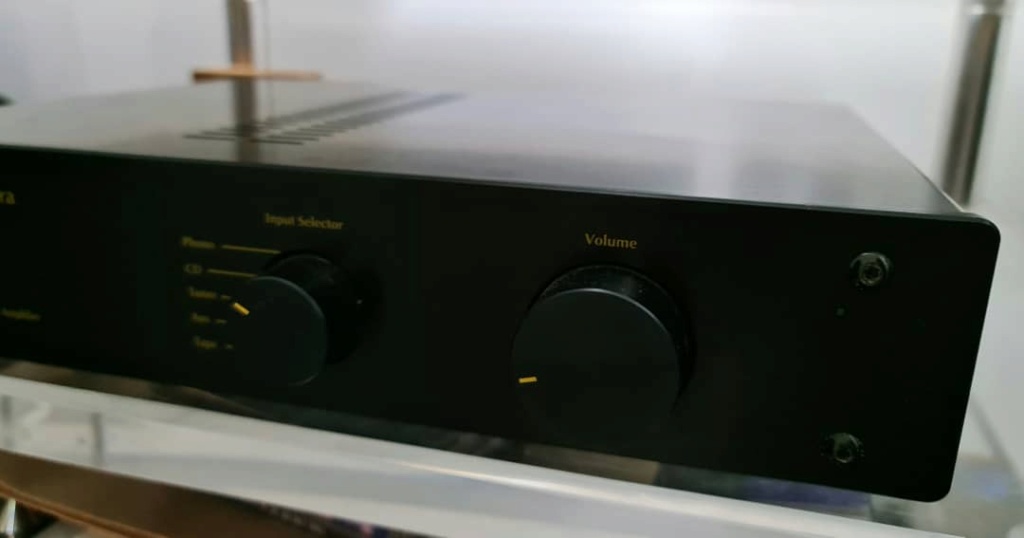 Brand: Holfi , 
Type: Integrated Amplifier, 
Number of Channels: 2, 
Model: Aura, 
Audio Inputs: Stereo L/R RCA, 
Number of L/R RCA Inputs: 5, 
Audio Outputs: Banana Speaker Jacks, 
RMS Power: 35W, 
Amplifier Class: AB, 
Country/Region of Manufacture: Denmark
******************************
Item: Mission MS-800 12″ Active Subwoofer
Condition: 8.5/10. Item is in excellent condition. No dents or scratches. Comes with original box, power cable, manual. 
Price: RM1800 or swap/topup
Bought new: RM2950.00
Contact: 012-3816611
Click here to Whatsapp: 
http://wasap.my/60123816611
The Mission MS-800 is the largest of the new MS range of Active Subwoofers, newly designed to compliment the MX range of bookshelf, floorstanding and centre speakers. The MS-800 features a 12″ long-throw cone which offers astounding bass performance to really bring the low end of movies and music to life. The MS-800 is the top of the MS range.
Specifications:
Drive Units: 1x 12" 300mm
Frequency responce: 30-120 HZ 3dB
Power output: 400w
Crossover Range: 30-120HZ
input impedance: 10
Dimensions: 447 x 400 x 425 mm
Weight: 20.3 KG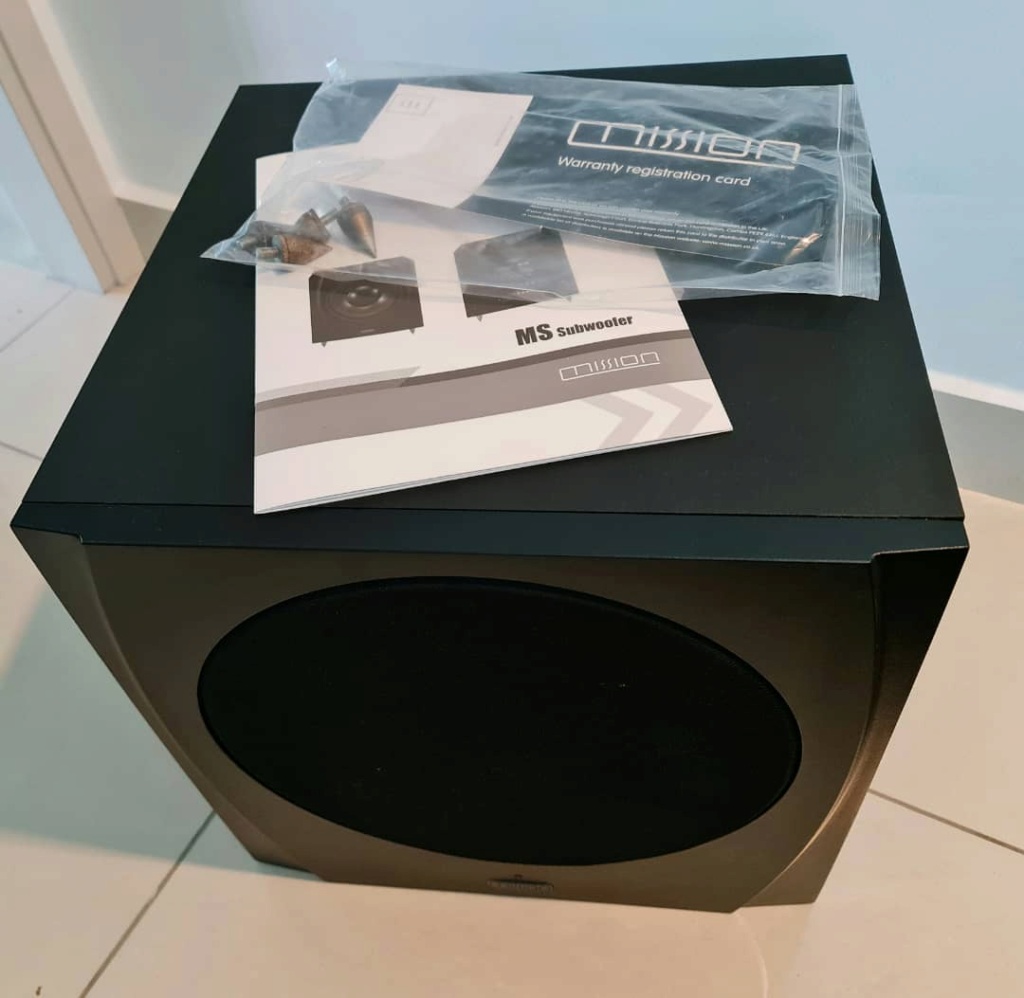 VIEW ALL MY OTHER STUFFS BY CLICKING BELOW:https://my.carousell.com/hifijunction/https://my.carousell.com/hifijunction/https://my.carousell.com/hifijunction/
Thank you
**********************************
Item: Onkyo TX-NR828 7.2-channel home theater receiver with Wi-Fi and Bluetooth
Condition: 8.5/10. Item is in excellent condition. No dents or scratches. Comes with remote control, calibration mic, power cable and original box.
Price: RM1800  or swap/topup
Contact: 012-3816611
Click here to Whatsapp: 
http://wasap.my/60123816611
Power and Processing:
7-channel amplifier
130 watts per channel into 8 ohms (20-20,000 Hz) at .08% THD, with 2 channels driven
THX
 Select2 Plus
 certified for uncompromised home theater sound
Dolby
 and DTS
 surround sound decoding, including Dolby Pro Logic IIz
analog-to-HDMI video upconversion (up to 1080p and 4K) with Marvell Qdeo
 video processing
Audyssey MultEQ
 auto speaker calibration (microphone included)
Audyssey DSX
 processing for enhanced surround sound height or width effects using additional front speakers
Audyssey Dynamic Volume
 mode to maintain steady listening levels
Audyssey Dynamic EQ
 for fuller surround sound at lower volumes
Digital and Streaming Music Options:
built-in Wi-Fi for listening to music from a networked PC, free Internet radio, and music services
includes support for Pandora, Spotify, Rhapsody, SiriusXM, Slacker, TuneIn, and Aupeo! (subscription required for some services)
built-in Bluetooth for wireless music streaming from a compatible smartphone, tablet, or computer
front-panel MHL-ready HDMI input for accessing content from select Android smartphones and tablets
DLNA-certified for streaming music with compatible devices and computers
plays high-resolution digital music files via USB storage device or a networked computer (up to 24-bit/192kHz resolution)
plays DSD files (2.8 MHz .dsf files) from network and USB storage devices
Multi-room Audio:
three-room/three-source output
powered stereo audio output for 2nd room
using powered 2nd-room output allows 5.2 home theater in main room
line-level 2nd and 3rd room outputs for use with separate amplifiers or receivers
output in 3rd room requires the use of separate amplifier or powered speakers
only analog, network or USB audio sources can be output to Zones 2 and 3
Audio Performance Features:
high-current amplifier design with massive power transformer
192kHz/24-bit Burr-Brown digital-to-analog converters for all channels
direct mode switches off unnecessary circuitry to provide cleaner sound
Music Optimizer function enhances the sound quality of compressed music files
Connections:
HDMI 1.4a audio/video switching: 8 in (includes 1 front-panel MHL-compatible input), 2 out
component video switching: 2 in, 1 out
composite video switching: 5 in (includes 1 front-panel input), 1 out
digital audio inputs: 2 optical and 3 coaxial
7 analog stereo audio inputs (includes 1 front-panel input)
7.2-channel preamp outputs include outputs for 2 powered subwoofers
phono input for connecting a turntable
front-panel USB port for audio playback from USB storage devices; iPod
/iPhone
 use requires the Onkyo DS-A4 or DS-A5 docks
Ethernet port for network connection
outputs for 11 speakers (Front L/R, Center, Surround L/R, Surround Back L/R, Front High/Bi-Amp L/R, Front Wide/Zone 2 L/R)
receiver can power a maximum of 7 channels at once
RS 232, IR, and 12-volt trigger inputs
General Features:
free Onkyo remote app lets you use your Apple or Android device as a Wi-Fi remote
4K and 3D video pass-through
This receiver is not HDCP 2.2-compliant and will not support copy-protected 4K video content.
Audio Return Channel function receives digital audio signals from a compatible HDTV's tuner via HDMI (Main HDMI output only)
Phase-Matching Bass optimizes low frequencies to preserve clarity with vocals and movie dialogue
HDMI standby pass-through allows HDMI switching without powering up receiver
40 AM/FM presets
programmable remote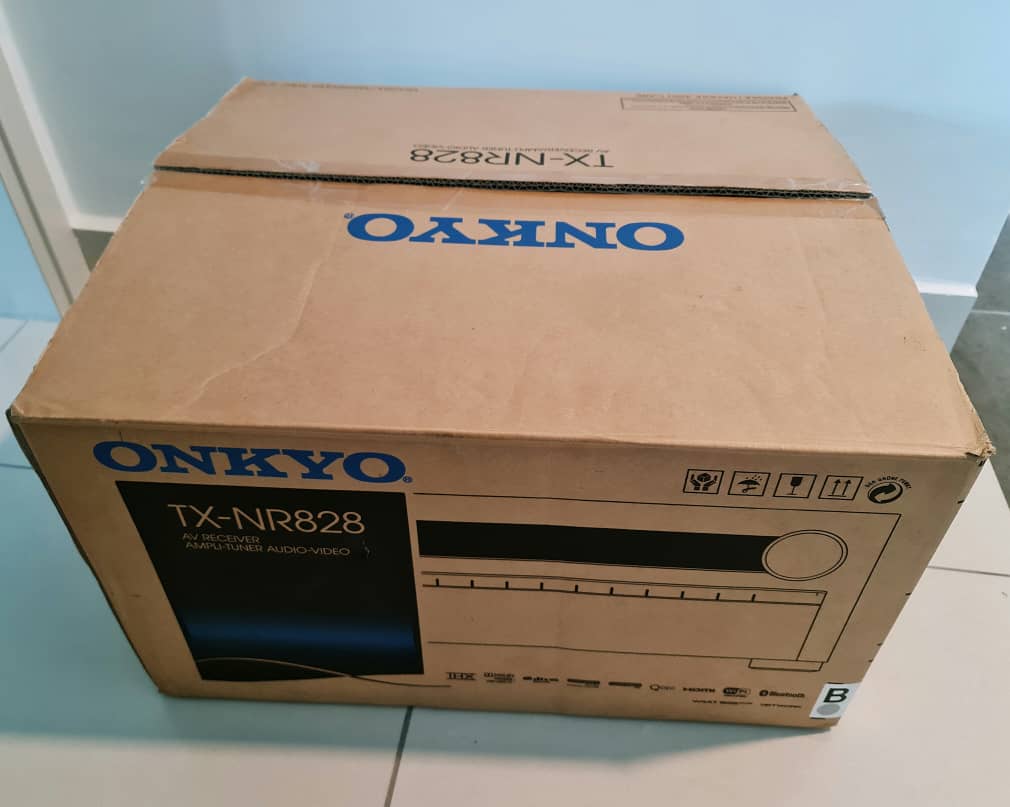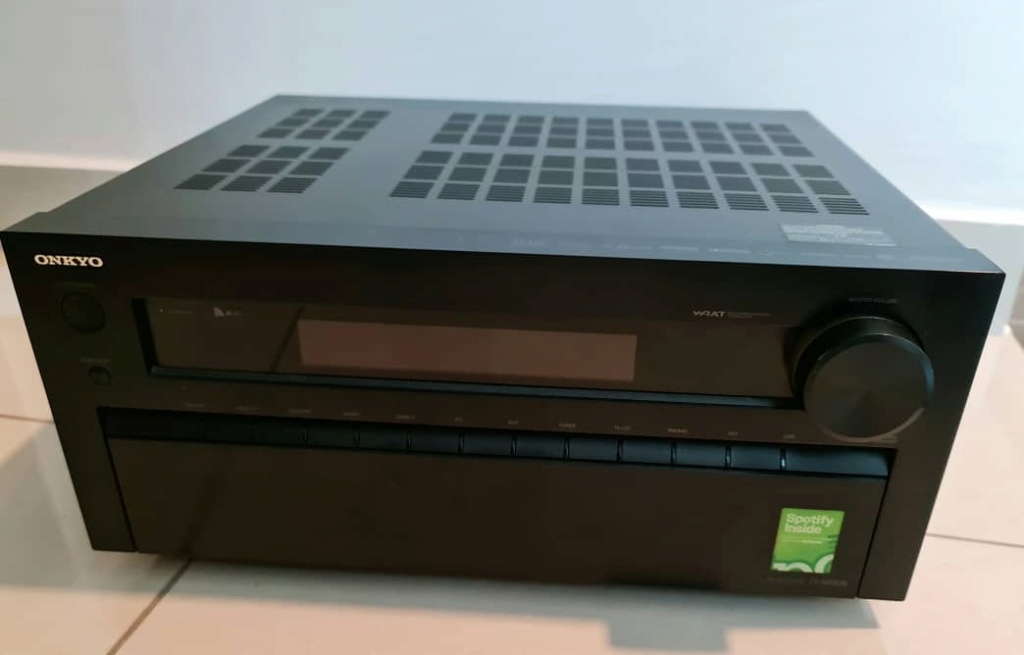 VIEW ALL MY OTHER STUFFS BY CLICKING BELOW:https://my.carousell.com/hifijunction/https://my.carousell.com/hifijunction/https://my.carousell.com/hifijunction/
Thank you
Last edited by raymond88 on Tue Mar 02, 2021 1:21 am; edited 5 times in total
---
Permissions in this forum:
You
cannot
reply to topics in this forum