Item: Musical Fidelity M1 CLiC Universal Music Controller / Network Player /Streamer/ Pre-Amplifier
Condition: 8.5/10. Item is in excellent condition. No dents or scratches. Comes with original remote control, manual, power cable and original box
Price: 
RM3500
 RM3150 or swap/topup
Retail Price: USD1999 
Contact: 012-3816611
Click here to Whatsapp: 
http://wasap.my/60123816611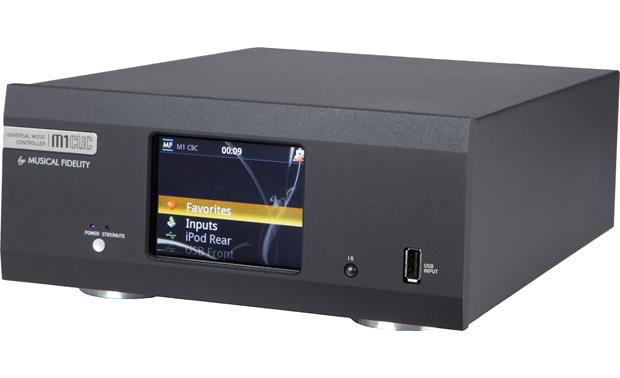 MUSICAL FIDELITY M1 CLIC NETWORK PLAYER
What's the CLiC? To describe this as a streamer, or an electronic preamp, doesn't do it complete justice. Easier to think of this as a component which chooses music files from various sources, and internet radio - including wireless and wired networks and data stores, Red Book CD players as well as analogue.
All that is needed to make use of the CLiC using a computer network is an item of software called a media server. Download and install the server software on Mac or your personal computer - Twonky is recommended by Musical Fidelity - add some music downloaded in the net or ripped from your own CDs and you are prepared.
To connect to your wireless network, simply turn on and wait 15 seconds for the screen to reveal a menu list. Pick 'Media Server' as well as the colour display reveals your wireless network's name. Input your wireless security password also the CLiC remembers it. From now on just choose your Media Server in the menu using the button that is OK as well as the CLiC connects to your own computer-stored music group.
It is possible to stop up the CLiC into your router via an Ethernet cable, that no password is demanded in the event that do not have any wireless system. Select Internet Radio from lists and podcasts, and the initial menu appear. USB DAC the S/PDIF and analogue sources are chosen in the Inputs menu.
Any network player drops and stands from the caliber of its DAC. The one is MF's M1, therefore the prospects seemed great. Hooked as much as a CD player through the coaxial S/PDIF input signal, and therefore utilized as a DAC that is pure, with no networking or web streaming, the CLiC was remarkable. A new, open sound was created by the DAC, with business, wellformed bass and sharp treble that was lengthy.
Was there a huge difference with all the CD ripped and saved on a notebook, in uncompressed WAV format? Perhaps the S/PDIF seemed a tad clearer and more tidy, but any differences disappeared into insignificance when the CLiC was hardwired to the network. The wired network as well as the front panel USB outlet in a nutshell, S/PDIF CD replay, while seeming considerably much better than many standalone CD players, itself.
The CLiC is a critical merchandise, that will bring high quality digital music streaming to many more audiophile houses, in addition to, as well as replacing CD replay. It's not merely a DAC that is brilliant, but forms the very heart of an audio system, using the colour display a window on an entirely new world.
M1CLiC  - Overview
We describe the M1 CLiC as a universal music controller for all your digital and analogue sources.
Essentially it combines a high-quality streamed music player, internet radio, 24-bit/192kHz digital-to-analogue converter (DAC) and pre-amplifier in one compact box.
The multi-faceted M1 CLiC handles and enhances a vast array of sources and formats, with support for both wired and wireless networking increasing its flexibility further still.
Whether you're enjoying a new level of music quality from a laptop, Apple iPod/iPhone/iPad, USB drive or more traditional sources, the M1 CLiC clearly displays what it's playing on its bright, colourful display.
The M1 CLiC's exceptional capabilities may mean it's a hard product to categorise, but they make it easy to praise. EISA - Europe's most prestigious technology association – named the M1 CLiC as Best Network Player in its 2011-2012 Awards; Gramophone's review called it "remarkable for the money", Hi-Fi News dubbed it "outstanding' and Hi-Fi World declared 'it's hard to think of another product that's as versatile'.
[size=13]INTERFACE

[/size]


Colour LCD QVGA Screen 320x240 pixels


[size=13]AUDIO

[/size]


Signal to Noise Ratio: >119dB "A"- wtd.


THD(+ noise): <0.0025% 10Hz to 20 kHz


Frequency Response: 10Hz to 20 kHz -0.1dB max.


[size=13]INPUTS

[/size]


4x RCA / Phono Line Level


2x RCA coaxial SPDIF 32-192 kbps (16-24 bit stereo PCM)


1x TOSLINK optical connector 32-96 kbps (16-24 bit stereo PCM)


1x Front mounted USB type 'A' socket for USB "pen"/hard disk drive


1x Rear mounted USB type 'A' socket for iPod or iPhone USB lead (Does not support Apple "Dock")


1x USB type 'B' connector for computer/PDA 32-48 kbps


1x UTP RJ45 10/100Mbps socket ("wired" network connection)


1x Wifi Aerial input ("wireless" network connection) 802.11b/g


[size=13]OUTPUTS

[/size]


1x Line level RCA (phono)


1x Fixed outputs, not controlled by volume at 0dB (same source as main out)


1x Pre-amp out


1x Trigger output 1 3.5mm Jack socket +12V


[size=13]GENERAL

[/size]


Dimensions - WxHxD (mm): 220 x 100 x 300


Weight (unpacked / packed): 3.3 kg/ 4.5 kg


Website:
https://www.stereophile.com/content/musical-fidelity-m1clic-universal-music-controller
https://www.musicalfidelity.com/m1clic
https://www.avforums.com/reviews/musical-fidelity-clic-universal-music-controller.458
https://reviewtechgame.blogspot.com/2014/07/musical-fidelity-m1-clic-pre-amplifier.html
https://zstereo.co.uk/2017/09/05/musical-fidelity-clic/
https://audiophilestyle.com/ca/reviews/Musical-Fidelity-M1-CLiC-Universal-Music-Controller-Review/
https://www.whathifi.com/musical-fidelity/m1-dac/review
https://www.hifi-advice.com/blog/review/digital-reviews/spdif-dac-reviews/musical-fidelity-clic/
VIEW ALL MY OTHER STUFFS BY CLICKING BELOW:https://my.carousell.com/hifijunction/https://my.carousell.com/hifijunction/https://my.carousell.com/hifijunction/
Thank you
Last edited by raymond88 on Fri Mar 19, 2021 1:47 pm; edited 2 times in total
---
Permissions in this forum:
You
cannot
reply to topics in this forum