Denon PMA-A110 110th Anniversary Edition Integrated Amplifier Made In Japan
Brand
New. Now Selling At RM19,499. Free Shipping Within West Malaysia.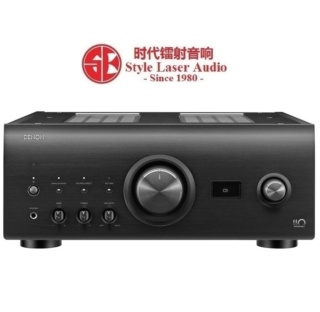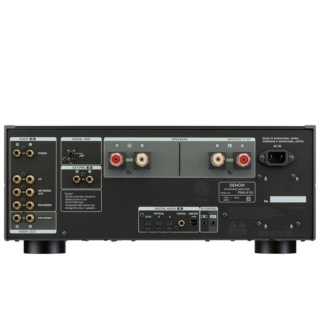 PMA-A110
Celebrating 110 years of audio excellence, Denon is proud to deliver the limited edition Anniversary Series PMA-A110 Integrated Amplifier marking the pinnacle of Denon HiFi technology.
為慶祝Denon110年的卓越音響成就,Denon自豪地推出限量週年紀念版PMA-A110合併放大器,該放大器具有最新技術,可以體驗Denon給與的Hi-Fi特質。
FEATURES - PMA-A110
Limited Edition Denon 110-Year Anniversary Series PMA-A110 Silver Graphite Integrated Amplifier with 160 Watts per Channel
Overview
Designed with 110 years of audio heritage to please the most discerning audiophile, the Denon PMA-A110 is the superior choice for listeners who want to build the 2-channel Hi-Fi system of their dreams. Powered by Denon's patented Advanced Ultra High Current (UHC) single-push-pull circuit power amplifier, the PMA-A110 integrated amplifier delivers 160 Watts of power-per-channel. Easily connect both analogue and digital sources or your turntable to the built-in phono pre-amp. Listen to your favourite Hi-Res audio content through the Quad 384-kHz/32-bit DAC section with the highest resolution in audio quality. Paired perfectly with the DCD-A110, the PMA-A110 Integrated Amplifier was designed to upgrade your expectations with your music in mind.
DENON PMA-A110具有110年的音響設計承傳,可讓最挑剔的發燒友滿意,對於想要構建夢想中的2聲道HiFi系統的聽眾來說,它是絕佳的選擇。 PMA-A110擁有DENON獲得專利的高級超大電流(UHC)單端推挽電路功率放大器,每聲道功率為160W(4ohm,1kHz,THD:0.7%)。 輕鬆將模擬和數碼音源或您的黑膠唱盤連接到內置唱機前置放大器。 使用4組384 kHz / 32bit DAC聆聽您喜歡的高清音頻內容,以實現最高質量的音頻播放。 PMA-A110合併放大器與DCD-A110完美搭配,旨在提升您對音樂的期望。
DESIGNED WITH YOUR EXPECTATIONS IN MIND
Denon's new PMA-A110 was designed to exceed your expectations. With its limited edition Anniversary Series silver graphite colour, aluminium feet, double layer steel transformer plate, and new premium back panel and speaker panels, the PMA-A110 is specially crafted for the demanding audiophile. Designed and engineered with precision and refinement in mind, the PMA-A110 offers a defined audio experience.
以您的期望作為我們的設計開始
Denon的新型PMA-A110旨在超越您先前放大器的期望。 PMA-A110採用限量版系列的周年紀念石墨銀色,鋁製機腳,雙層鋼製變壓器承板以及新型的高級背板和揚聲器連接端子,是專為最專業的發燒友而設計的。 PMA-A110在設計和製造時考慮了精確度和精緻度,可提供高祈望值的音頻體驗。
DENON CELEBRATES 110 YEARS OF DEFINING AUDIO EXCELLENCE
Since 1910, Denon has been upgrading your audio and video expectations and we are proud to celebrate this exceptional achievement with the silver graphite, limited edition Denon Anniversary Series PMA-A110.
DENON 110年慶祝卓越音響成就
自1910年以來,Denon一直在提高您對音頻和視頻的期望,我們很榮幸以石墨銀色限量Denon週年紀念版PMA-A110慶祝這非凡成就。
High Power 160W Integrated Amplifier
Give your loudspeakers the power they deserve with the Denon PMA-A110 Integrated Amplifier. Engineered to exceed your expectations, the PMA-A110 offers 160 Watts of power-per-channel to always deliver precise and powerful sound. This integrated amplifier offers compatibility with the widest range of speaker types and impedances for exceptional operational stability.
大功率160W合併放大器
Denon PMA-A110合併放大器為您的揚聲器提供足夠的功率。 PMA-A110的設計超出了您的期望,每聲道可提供160W的功率(4ohm,1kHz,THD 0.7%),可提供精確而強勁的聲音。 PMA-A110合併放大器可與最廣泛的揚聲器類型和阻抗匹配,具有出色的驅動穩定性。
Certificate of Authenticity and 5-Year Warranty
With your purchase of the limited-edition PMA-A110, you will receive a Certificate of Authenticity signed by Denon's Head of Engineering. You will receive a special, 5-year out-of-box warranty.
真品證書和5年保養
購買限量版PMA-A110後,您將收到由Denon工程主管簽名的真品及5年的特別即用保養證書。
7th Generation Advanced Ultra High Current MOS Single Push-Pull Circuit
The PMA-A110 features a new generation of Advanced UHC (Ultra High Current)-MOS Single Push-Pull circuit design, which combines with a differential 2-stage amplifier circuit to drive almost any speaker configuration with improved sound quality. To achieve impeccable balance between delicate details of music reproduction and vigor of low frequency sound, the PMA-A110 is capable of delivering a massive current output in a single push-pull configuration to drive even the most demanding speaker and ensure superior linearity in the output stage.
第七代高級超大電流MOS單端推挽電路
PMA-A110採用新一代高級UHC(超大電流)- MOS單端推挽電路設計,與差分2級放大器電路相結合,可驅動幾乎任何揚聲器配置,並提高音質。 聲音在音樂重播的微妙細節和低頻的活力之間實現無可挑剔的平衡,PMA-A110能夠以單端推挽電路提供大電流輸出,甚至可以驅動要求最苛刻的揚聲器並確保有出眾的線性表現。
High Precision Electrical Controls
The PMA-A110 embraces electrical volume, balance and tone controls while preserving the analogue feeling of operation. Clever engineering offers the feel of an analogue volume knob while an MCU measures the position of the knob and converts that position to control the master volume digitally. This unique mechanism offers a smoother, more linear control of the master volume by adjusting the curve of the analogue volume control in the digital world. The same configuration is also used for Balance and Tone controls.
高精度電子音量控制
PMA-A110採用電子音量,平衡和音調控制功能,同時保留了模擬操作感覺。 巧妙的工程設計提供了模擬音量旋鈕的感覺,而MCU則測量旋鈕的位置並轉換該位置以數字方式控制主音量。 這種獨特的機制通過調整數字世界中模擬音量控件的曲線,可以對主音量進行更平滑,更線性的控制。相同的設計也用於平衡和音調控制電路上。
HIGH-GRADE AUDIO COMPONENTS
Denon engineers carefully constructed the amplifier circuit within the PMA-A110 to secure a frequency response of up to 100-kHz during applied use. The volume circuit suppresses noise in the amplifier, achieving high sonic resolution. The PMA-A110 handles a wide, dynamic range of Hi-Res audio sources with tone control and power throughout. In addition, the Quad D/A converter which uses the Burr Brown PCM1795, chip operates in a quadruple configuration for optimal high-grade sound. Each channel has two PCM1795 chips working in a different mode to achieve the highest accuracy and best signal to noise ratio.
高檔音頻組件
Denon工程師在PMA-A110內精心構造了放大器電路,以確保在應用過程中頻率響應可高達100kHz的頻率。 音量電路可抑制放大器中的雜訊,從而實現高質聲音分辨率。 PMA-A110可處理範圍廣泛的動態高清音頻信源,並具有音調控制和強大的輸出功能。 此外,使用Burr Brown PCM1795芯片用並列4 D / A轉換器方式以四重配置工作,以獲取最佳的聲音品質。 每組通道具有兩個以不同模式工作的PCM1795芯片,以實現最高精度和最佳的信噪比。
USB-DAC SUPPORTING 11.2-MHZ DSD AND 384-KHZ/32-BIT PCM
To accurately synchronize its digital circuits, the PMA-A110 provides a USB-DAC input for Hi-Res audio functions that support Hi-Res up to 11.2-MHz DSD and 384-kHz/32-bit PCM input signals. Crafted with exceptional quality, the DAC suppresses jitter and ensures optimal precision in D/A conversion. In addition, the DSD transmission methods support Wasapi, ASIO native playback and DSD Audio over PCM Frames (DoP). The D/A converter used in the PMA-A110 is the same 384-kHz/32-bit and DSD capable premium DAC used in the DCD-A110 to deliver a clean, high-grade sound.
USB-DAC支持11.2MHZ DSD和384KHZ / 32BIT PCMM
為了精確地同步數碼電路,PMA-A110提供了一個USB-DAC輸入用於Hi-Res音頻功能,該功能支持高達11.2MHz DSD和384kHz / 32bit PCM輸入信號。 DAC擁有卓越的品質,可抑制抖動並確保D / A轉換的最佳精度。 此外,傳輸方法還支持Wasapi,ASIO的DSD直接轉換和DSD封裝於PCM音頻串流(DoP)。 PMA-A110與DCD-A110中使用的384 kHz / 32bit和DSD功能的高級DAC是相同,可提供乾淨的高等級的聲音。
DAC MASTER CLOCK DESIGN
To accurately synchronize digital circuits and the four audio DACs, the PMA-A110's Master Clock Design adopts a Dual Low Phase Noise Oscillator which positions the master clock immediately adjacent to the D/A converters (DAC) suppressing jitter and ensuring optimum precision in D/A conversion.
DAC主時鐘設計
為了精確地同步數碼電路和四個音頻DAC,PMA-A110的主時鐘設計採用了雙低相位噪聲振盪器,該振盪器將主時鐘放置在緊鄰D / A轉換器(DAC)的位置,從而抑制了抖動並確保了D / A的轉換有最佳精度。
此外,時鐘是半導體操的參考器件,其質量對於確保數碼音頻電路發揮其最大潛力是極為重要。 PMA-A110使用時鐘振盪器來降低引起頻率偏移的相位噪聲。 PMA-A110還配備了兩個時鐘振盪器,每個時鐘振盪器用於一個採樣頻率(44.1 kHz或48 kHz),可以在頻率之間切換以徹底抑制抖動。
In addition, the quality of the clock, which becomes the reference for semiconductor operation, is extremely important for ensuring that the digital audio circuitry performs at its maximum potential. The PMA-A110 employs a clock oscillator to dramatically reduce phase noise that is can cause displacement of frequencies. The PMA-A110 is further equipped with two clock oscillators, one for each sampling frequency (44.1-kHz and 48-kHz), that can be switched between the frequencies to thoroughly suppress jitter.
數碼隔離器和純模擬模式
PMA-A110結合了模擬和數碼領域的優點,在這兩部分之間均配備了高速數碼隔離器電路,以避免模擬領域中來自數碼世界的任何干擾。 PMA-A110還具有三個獨立的電源,以確保每部分可以完全隔離並避免任何干擾。 當PMA-A110設置為Pure Analog Mode(純模擬模式)時,它將關閉所有數碼電路,以使模擬輸入信號的聲音清晰再現。 純模擬模式還可以關閉小熒幕顯示,允許PMA-A110可以作為純模擬放大器工作(在純模擬模式期間,USB-B,同軸數字和光纖數碼輸入均被禁用),並消除任何可能對聆聽體驗產生不利影響的電氣干擾。
DIGITAL ISOLATOR AND PURE ANALOG MODE
Combining the best of both the analogue and digital world, the PMA-A110 is equipped with a high-speed digital isolator circuit between both sections to avoid any interference from the digital world in the analogue domain. The PMA-A110 also features three independent power supplies to ensure complete isolation for each section and avoid any interference. When the PMA-A110 is set to Pure Analog Mode it turns off all digital circuits for the perfectly clear sound reproduction of an analogue input signal. Pure Analog Mode also turns off the fluorescent display, allowing the PMA-A110 to operate as a purely analogue amp (during Pure Analog Mode, USB-B, coaxial digital, and optical digital inputs are disabled) and remove any electrical disturbances that may adversely affect your listening experience.
數碼隔離器和純模擬模式
PMA-A110結合了模擬和數碼領域的優點,在這兩部分之間均配備了高速數碼隔離器電路,以避免模擬領域中來自數碼世界的任何干擾。 PMA-A110還具有三個獨立的電源,以確保每部分可以完全隔離並避免任何干擾。 當PMA-A110設置為Pure Analog Mode(純模擬模式)時,它將關閉所有數碼電路,以使模擬輸入信號的聲音清晰再現。 純模擬模式還可以關閉小熒幕顯示,允許PMA-A110可以作為純模擬放大器工作(在純模擬模式期間,USB-B,同軸數字和光纖數碼輸入均被禁用),並消除任何可能對聆聽體驗產生不利影響的電氣干擾。
ROBUST POWER SUPPLY CIRCUITRY
The PMA-A110 is equipped with two transformers that have been mounted facing opposite directions in a leakage cancelling (LC) mount system to cancel mutual influences of magnetic flux, a source of noise, leaking from the transformers. Denon's new, custom-designed, powerful large-capacity electrolytic capacitors have been used for rectification, and low-loss, low-noise, high-speed Schottky Barrier Diodes were used in the rectifier circuitry. This ensures a sufficient supply of clean current. To achieve a simple and straight circuit configuration, the connection unit between the diode unit and the block capacitor was removed to drastically shorten the current supply line to the power amp. Extremely thick OFC wiring material was used for the power line to reduce impedance.
強大的電源電路
PMA-A110配備兩個變壓器, 分別裝置在洩漏消除 (LC) 安裝系統中朝相反方向安裝,可消除變壓器洩漏的磁通量(雜訊源)的相互影響。 Denon 新款定製強大的大容量電解電容用於整流電路,在電路中更使用了低損耗、低雜訊、高速肖特基勢壘二極管。 這樣可以確保提供足夠的清潔電源。 為了實現"簡單直接"的電路配置,二極管單元和電容器之間的連接單元被拆除,以大幅縮短功率放大器的電流供應線路。 內部電源引線使用了非常粗的OFC線材以降低阻抗。

USB-B, Optical and Coaxial Digital Inputs
The PMA-A110 features a USB-B input to directly connect a computer and supports PCM signal 384-kHz/32-bit and 11.2-MHz DSD. Use the USB-B input to listen to Hi-Res audio recording from an audio source on your computer in native mode. You can also take advantage of three Optical inputs and one Coaxial input which support PCM 192-kHz/24-bit. These digital inputs improve sound quality of your TV audio, Blu-ray, media players, and more.
USB-B,光纖和同軸數碼輸入
PMA-A110具有USB-B輸入,可直接連接電腦,並支持384-kHz / 32bit PCM信號和11.2MHz DSD信號。 使用USB-B輸入時可用原來硬解碼模式收聽來自電腦上的音訊來源的 Hi-Res 音訊錄製。 您還可以利用三個光纖輸入和一個同軸輸入來支持PCM 192 kHz / 24bit 信號。 這些數碼輸入可改善電視音頻,藍光,媒體播放器等的音質。
TV Auto Standby (digital input)
The Optical and Coaxial digital inputs have an auto sensing mechanism that automatically turns on the unit when an audio signal is detected from an external source like your television.
電視自動待機(數碼輸入)
光纖和同軸數碼輸入具有自動感應機制,當從電視等外部來源檢測到音頻信號時,該機制會自動開啟設備。
ULTRA AL32 PROCESSING WITH 384-KHZ/32-BIT SUPPORT
The PMA-A110 is equipped with Ultra AL32 Processing, the latest in analogue waveform reproduction technology from Denon. Ultra AL32 Processing utilizes data interpolation algorithms and supports Hi-Res 192-kHz/24-bit PCM signal input. These algorithms interpolate points that should exist before and after the points in large quantities of data to achieve a smooth waveform that is close to that of the original signal.
These algorithms upsample the bandwidth from the original content, smoothing out the waveform and improving sound reproduction. Ultra AL32 Processing doubles the processing bandwidth from the previous generation upsampling 384-kHz content to 1.536-MHz. By carefully restoring data that was lost during digital recording, the resulting playback sound is highly detailed, free of interference, accurately localized, richly expressive in the lower range, and beautifully faithful to its original sound.
支持384KHZ / 32BIT的ULTRA AL32 PROCESSING 處理
PMA-A110配備了Denon最新的模擬波形再現技術Ultra AL32 Processing。 Ultra AL32 Processing利用數據插值演算法,並支持Hi-Res 192 kHz / 24bit PCM信號輸入。 這個算法在大量數據中的點之前和之後應該存在的位置進行插值,以實現接近原始信號的平滑波形。
這種演算法並從原始內容中對帶寬進行了上採樣,從而使波形變得平滑並改善了聲音的重播。 Ultra AL32 Processing處理帶寬從上一代768-kHz上採樣倍增至1.536-MHz,從而使處理帶寬增加了一倍。 通過仔細恢復在數碼錄製過程中丟失的數據,可以讓最終的播放聲音有更高度細緻,免除干擾,定位準確,在低音範圍內富有表現力,並且忠實於其原來的聲音。
MM AND MC PHONO EQUALIZER
The PMA-A110 includes a phono input that supports both MM and MC cartridges for complete enjoyment of your entire vinyl collection. The PMA-A110 phono equalizer is a CR type that is superior sonically to the NF type phono equalizer. It is exceptionally stable in the high frequency range and is able to reproduce superior sound especially when a high-quality cartridge like the DL-A110 is used.
MM和MC唱機均衡器
PMA-A110包含一個唱機輸入,可同時支持MM和MC唱頭,讓您欣賞整個黑膠唱片系列。 PMA-A110唱機均衡器是CR型,在聲音上優於以往的NF型唱機均衡器。 它在高頻範圍內格外穩定,並且能夠再現出色的聲音,尤其是使用諸如DL-A110這樣的高質量MC唱頭時。
EXTERNAL PRE-AMP INPUT TERMINALS
The PMA-A110 provides "EXT.PRE" input terminals – fixed gain inputs – that can be used for connecting an external pre-amp and using the PMA-A110 as a power amp. This is convenient when connecting an A/V amp via its pre-outs so that the listening space with the same front speakers can be used as a home theater.
外部前置放大器輸入端子
PMA-A110提供" EXT.PRE"輸入端子-固定增益輸入-可用於連接外部前置放大器並將PMA-A110用作功率放大器。 通過前置放大器連接A / V放大器時,這很方便,因此具有相同前置揚聲器的聆聽空間可用作家庭影院。
GOLD-PLATED SPEAKER TERMINALS
The PMA-A110's speaker terminals are gold plated to prevent corrosion over time and maintain reliable, long-term connections. Thick spades and banana plugs are also supported.
鍍金揚聲器端子
PMA-A110採用的鍍金揚聲器端子,以防止隨著時間的流逝腐蝕,並保持可靠的長期連接。 還支持厚實的叉和香蕉插頭。
6-BLOCK CHASSIS CONFIGURATION & DIRECT MECHANICAL GROUND CONSTRUCTION
Constructed with an aluminium top panel, the PMA-A110 chassis protects the signal circuits from external vibration and eliminates adverse effects of mutual interference among the circuits. It's configured with six independent blocks that house phono equalizer and input circuitry, volume control circuitry, USB-DAC circuitry, amplification circuitry, power section and the control section. With the power section at the center, solid aluminium feet that support the weight of internal components and heat sinks on both sides, the construction is well-balanced and prevents unwanted vibration.
6組機箱配置和直接機械接地施工
PMA-A110機箱採用鋁製頂板構成,可保護信號電路免受外部振動的影響,並消除了電路之間相互干擾的不利影響。 它配置有六組獨立的模塊,這些模塊包含唱機均衡器和輸入電路,音量控制電路,USB-DAC電路,放大電路,電源部分和控制部分。 以電源部分為中心,堅固的鋁製機腳支撐著內部組件和散熱器的重量,兩側結構均衡,可以防止不必要的震動。
Interested
 please feel free to contact:
Peter  012-2536225

Fong   016-3098668
Business hour:
MONDAY - 10AM-7PM
TUESDAY - 10AM-7PM
WEDNESDAY - CLOSED(PASAR MALAM)
THURSDAY - 10AM-7PM
FRIDAY - 10AM-7PM
SATURDAY - 10AM-7PM
SUNDAY - 1PM-6PM
PUBLIC HOLIDAY - 1PM-6PM
Style Online Store 24Hous
Location:
STYLE LASER AUDIO SDN BHD
No.148, Jalan Cerdas, Taman
Connaught, Cheras 56000 Kuala Lumpur
( NEXT TO ALLIANCE BANK )
We buy in your old items in CASH!!
Got something keep at home but seldom use or planning to upgrade?
Items that we buy:
Subwoofer

Integrated Amplifier

Speaker

CD player
AV Receiver
Please Whatsapp the item photo to me and get the price immediately, once confirmed the deal, we will pick up your item from you and pay you in cash.


Please visit [You must be registered and logged in to see this link.] find out more products for sale at very special price..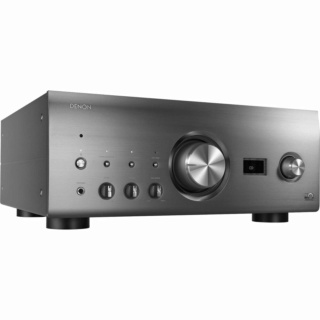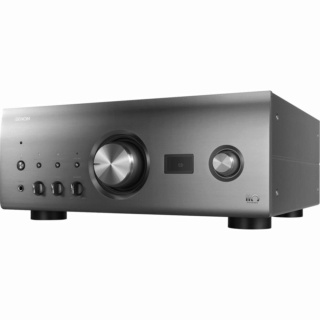 Features
Channels    2
110th Anniversary Audio Tuning    Yes
All black interior    Yes
Exclusive A110 speaker terminals    Yes
Aluminium Top Cover    Yes
Aluminium Feet    Yes
Digital in: USB-B / optical / coaxial / USB-A    1 / 3 / 1 / No
Sample Rate digital In    192 kHz / 24-bit
USB-B DSD Audio Streaming (DoP): DSD2.8 / DSD5.6    <=DSD11.2
USB-B PCM sample rate    384 kHz / 32-bit
Quad DAC Configuration    Yes
DAC chip    4x PCM1795, Burr Brown
Mono-Mode
Asynchronous mode rear USB    Yes
Bit-perfect transmission    Yes
Ground isolator for DAC Mode operation    Yes
AL 32 Processing    ULTRA AL32
DAC Master Clock Design    Yes
Streaming audio from PC    Yes
Analogue Mode    Yes
UHC-MOS single push pull circuit    7th Generation
LC mounted twin transformer    Yes
Wide range amplifier    Yes
High current dynamic power supply    Yes
Power amp discrete construction    Yes
Balance / Bass / Treble / Loudness    Yes / Yes / Yes / No
Others
Shottky diodes    Yes
Solid Heat Sinks    Yes (BLACK)
Source Direct    Yes
Power Amp direct    Yes
Inputs Outputs
Audio Inputs    5
Digital in: USB-B / optical / coaxial / USB-A    1 / 3 / 1 / No
Phono Input: MM / MC    Yes / Yes
Audio Outputs    1
Power Amp Direct IN    Yes
Gold plated Cinch    Yes
Number of terminals    4
Remote Control Bus in / out    Yes
Headphone Out    Yes
Specifications
Output power 8 Ohm (20 Hz - 20 kHz, T.H.D. 0.07%)    80 W
Output power 4 Ohm (1 kHz, T.H.D. 0.7%)    160 W
Total Harmonic Distortion    0.01%
Input Sensitivity: MM    2.5 mV / 47 kohm
Input Sensitivity: MC    200 uV-100 ohm
Signal to Noise Ratio: MM/MC    89 dB / 74 dB
Input Sensitivity: High level    135 mV / 47 kohms
Signal to Noise Ratio: High level    110dB
Treble Control    ± 8 dB at 10 kHz
Bass Control    ± 8 dB at 100 Hz
General
Available colors: Premium Silver / Black    Silver Graphite
Metal Front Panel    Yes
Power Consumption in W    400
Standby Consumption in W    0.2
Auto Power Off    Yes
Detachable Power Cable    Yes
Remote Control    RC-1237
System Remote Function    Yes
Maximum Dimensions (W x D x H) in mm    434x450x182
Weight in kg    25
Carton Maximum Dimensions (W x D x H) in Inches    573 x 533 x 317
Carton Weight (inc. product) in LBS    29.8     
Thanks for viewing.
[You must be registered and logged in to see this link.]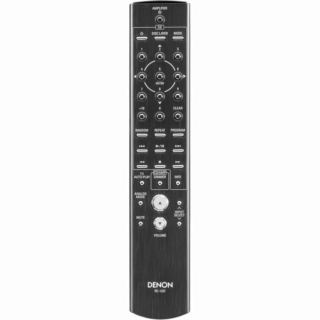 stylelaser.com.my

Dealer\Reseller\Trader\Service Provider





Number of posts

: 875


Age

: 44


Location

: Cheras


Registration date :

2018-01-20



---
Permissions in this forum:
You
cannot
reply to topics in this forum