Item: BAT Balanced Audio Technology VK-75SE Power Amplifier 75W RMS per channel Fully Balanced
Condition: 8.5/10. Item is in EXCELLENT condition. Looks very clean and new. 
The VK-75SE's power supply stores 700 Joules of energy. That is a big number for 75 watts per channel, but that is what it takes for a top notch amplifier. The output is in Class A to 64 watts (each channel).
Each Channel of the The VK-75Se has
Three 6SN7 Input Stage Tubes
One 6V6 Driver Tuebe
One 6H30 Driver Tube, and
Two 6C33 Output Stage Power Tubes
Price:SOLD or swap/topup
Contact: 012-3816611
Click here to Whatsapp: 
http://wasap.my/60123816611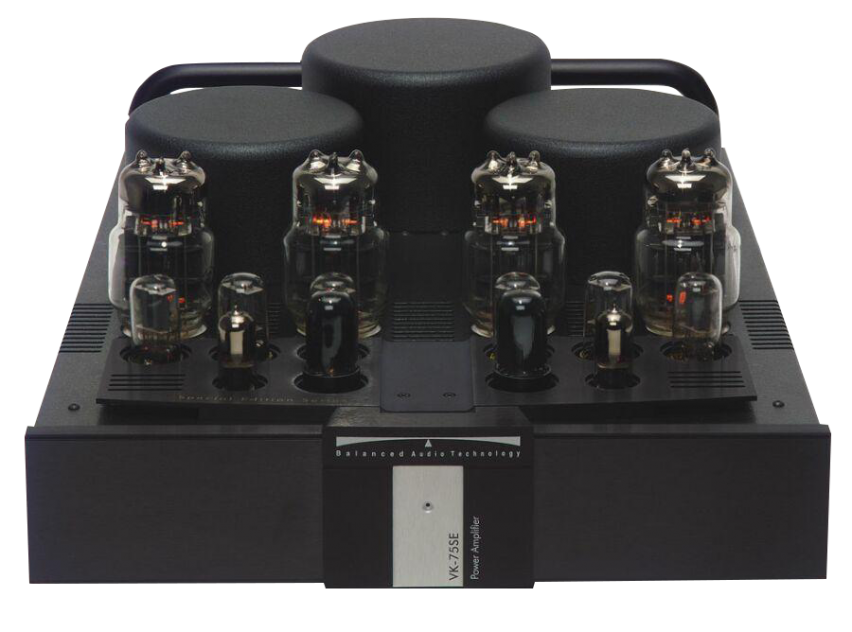 BAT's Best All-Tube Design! One of the Best Amps You'll Ever Hear! 

[/size]
The Balanced Audio Technology VK-75SE establishes a new standard of transparency for tube amplification. This unique Special Edition design incorporates the 6H30 Super Tube. Operating in BAT's all-triode, fully balanced, zero-feedback topology, this driver tube feeds the power tubes a waveform of unprecedented fidelity. With this pristine signal, the virtues of the single-ended bridge design are multiplied, resulting in a presentation of the musical event that is astonishing in its realism.
The VK-75SE is startlingly quiet. Instrumental timbres are rendered with effortless accuracy. Retrieval of the subtlest ambient information, coupled with the completely natural decay of musical tones, creates a spatial illusion constrained only by decisions in the recording booth. The VK-75SE's sound is virtually grain-less, sharing the liquid ease of previous tube designs without their thickening of instrumental images. The VK-75SE sounds like no other amplifier, tube or solid-state. More than ever before, it sounds like no amplifier at all. Just pure music!
Supported by its own dedicated power supply, the 6H30 Super Tube's high current, high transconductance, and low plate resistance allow it to track amplitude changes in the musical signal with vanishingly small error. This accuracy makes possible the VK-75SE's superior ambience retrieval, but it also works in synergy with the VK-75SE's 6C33C-B power tubes to create dynamic responsiveness. Each note's fundamental and its harmonics retain their correct relative loudness, defining timbre and texture. Micro-dynamic shadings are rendered with delicacy. The slam and growl of orchestral thunder remain visceral and undiluted. If, as all audio engineers assert, dynamic honesty remains the most recognizable difference between live music and recordings, the VK-75SE closes the gap substantially.
The VK-75SE features BAT's sophisticated automatic bias control for each individual output tube. Complementing the amplifier's convenience and remarkable sound is a redesigned two-piece black and silver faceplate machined from block aluminum, incorporating an elegant "wing" that dissipates heat and provides additional vibration control for the sensitive driver stage.
Number of Channels: 2
Watts per channel at <3% THD, 8 Ohm or 4 Ohm: 75 W
Frequency Response @ -3dB: 7Hz - 200kHz
Input Connection: XLR
Input Resistance - phase to ground: 215k Ohm / 100 k Ohm
Input Sensitivity: 1 V
Power Supply Energy Storage: 6000 joules
Power Consumption Idle: 500 VA
Full Power: 1000 VA
Tube Complement:
   8x 6SN7
   4x 6C33B
   2x 6H30
   2x 6V6
Dimensions (W x H x D): 17" x 8" x 24"
Weight - unpackaged: 90 lb.
Website:
https://www.musicdirect.com/power-amp/bat-vk-75se-tube-power-amp
https://www.usaudiomart.com/details/649002095-bat_balanced_audio_technology_vk75se_power_amplifier_75w_rms_per_channel_fully_balanced/images/449115/
VIEW ALL MY OTHER STUFFS BY CLICKING BELOW:https://my.carousell.com/hifijunction/https://my.carousell.com/hifijunction/https://my.carousell.com/hifijunction/
Thank you
Last edited by raymond88 on Wed Apr 14, 2021 10:12 pm; edited 1 time in total
---
Permissions in this forum:
You
cannot
reply to topics in this forum