HiFi Set for sale Tube Amp, Full Range Speaker and DAC Tube Output & AK4497EQ Output
(1) Mona A1 Class A single-ended KT120 tube amplifier
Condition: 9/10 Excellent Full Set with Original Box
Selling at  Negotiable.(Only tube amplifier price)
Product Specifications:
Note: Bluetooth Upgrade to V5.0 ESS9038+CSR8675 Board.
Brand: MONA A1 (China AMP)
Power supply voltage: 220V
Output power: Single Ended 28W" 2 (KT120)
Tubes: KT120 x 2, 6H8C x 2, 5Z3P X 1
Bluetooth : Upgrade to V5.0 ESS9038+CSR8675 Board.
Signal to noise ratio: 88dB
Harmonic distortion: 05% (1 kHz)
Frequency Response: 20Hz-25KHz
Net weight: 18KG
Input sensitivity: 500m ~ 2000m,
Output impedance: 4Ω8Ω
Size: 370mmx220mmx320mm (Width X Height X Depth)
(2) XIANGSHENG DAC-05B II 2X AK4497EQ XMOS BALANCED DSD 512 TUBE DAC HIFI EXQUIS DECODER SOUND CARD DAC05B DAC05 BLUETOOTH
Condition: 9/10 Excellent Full Set with Original Box
Selling at  Negotiable.(Only DAC price)
Postage can be arrange....
Product Specifications:
Simple dimensions: width 330mm, depth 220mm, height 70mm (except button, machine feet, connector size)
Frequency response: 20Hz-35KHz
SNR: General port output: 110dB (hifi exquisite)
Harmonic distortion: general port output: <0.001%
Support format:
DSD-DOP, Native DSD, (only supported on Windows PC)
PCM (wav, wma, APE, Flac, Mp3, etc.)
Support sampling: (hifi exquisite)
All of them support 24bit, 192khz, (hifi exquisite)
USB input for PCM: up to 32bit 384 khz, or 32bit 192 khz, for DSD 64/28/256/512
SPDIF (coaxial / optical) support at 24bit 192khz, DSD-Dop64
Output level: balanced 9V output, Standard 2V output
Dynamic range: balanced output greater than 120dB, unbalanced output greater than 110d
Output impedance: 600 ohms
Outputs:
1 Standard analog RCA group output with op-amp
1 RCA group Analog tube output with op-amp and also vacuum tube
Coaxial output: only works with USB input box
Net Weight: 2.6Kg, (hifi exquisite)
Packing gross size weight: about 5.6Kg (hifi exquisite)
Input voltage: 110v-240v 60 / 50Hz for all customer countries
Upgrade Parts Done:
In order to provide better bluetooth connection, Upgrade to LHDC & CSR8675 APTX-HD 5.0 Bluetooth module, Tube upgrade to USA GE 5670 Tube 1 pc
and Upgrade to OPA627 two single-turn double gold-plated pins.
(3) PAIYON P-F8  8'' Full Range Woofer Speaker HIFI EXQUIS 20W Hifi Bookshelf Speaker
Condition: 9/10 Excellent Full Set with Original Box
Selling at Negotiable.(Only Speaker price)
Product Specifications:
Feature:
P-F8 full-range speaker paper cone shape design with a 8 inch caliber took a very good balance point. It will not be caused by too large caliber or high 
frequency upper limit, causing high frequency boring, or the separation vibration of the paper cone is too large, causing the faintness on the tone. 
The special pulp gradient extension thickness technology plus the glue coating process and the shape structure of the paper cone are also matched with 
the high-fibre compensation of the rubberized and well-matched high-pitched cup, which suppresses the separation vibration to a certain extent and ensures 
the sweet mid-range sound while the sound is sufficient. Soft and not a book, but also got good high-frequency details. And with the concave special 
soft book anti-skin, effectively guarantee the sensitivity, while the smooth midrange can be extended to a better low frequency. P-F8 complete retains 
the full-range natural sound, more sweet midrange Features. The overall listening is very natural.
Technical parameters:
Power: 20 W
Frequency Range: 42-20000HZ
Impedance:8 ohms(HIFI EXQUIS)
Sensitivity: 93dB
Case Size: 517*377*257mm
Net Weight: 26kg 
Packaging Weight: 30kg strong double package​
Package size: 65*50*65cm
Package size weight: 42kg
https://www.chinaglobalmall.com/products/613627976728
https://hifi-exquis.com/bookshelf-full-range/603-paiyon-p-f8-8-full-range-woofer-speaker.html?search_query=Paiyon+p-f8&results=1
https://hifi-exquis.com/ak4xxx-decoder/701-xiangsheng-dac-05b-ii-2x-ak4497eq-xmos-balanced-dsd-512-tube-dac.html
Contact : 0174365998
Can request photo & Video
Note offer for 3 units  : Selling Full Sets Pric Plus Posting
Postage can be arrange....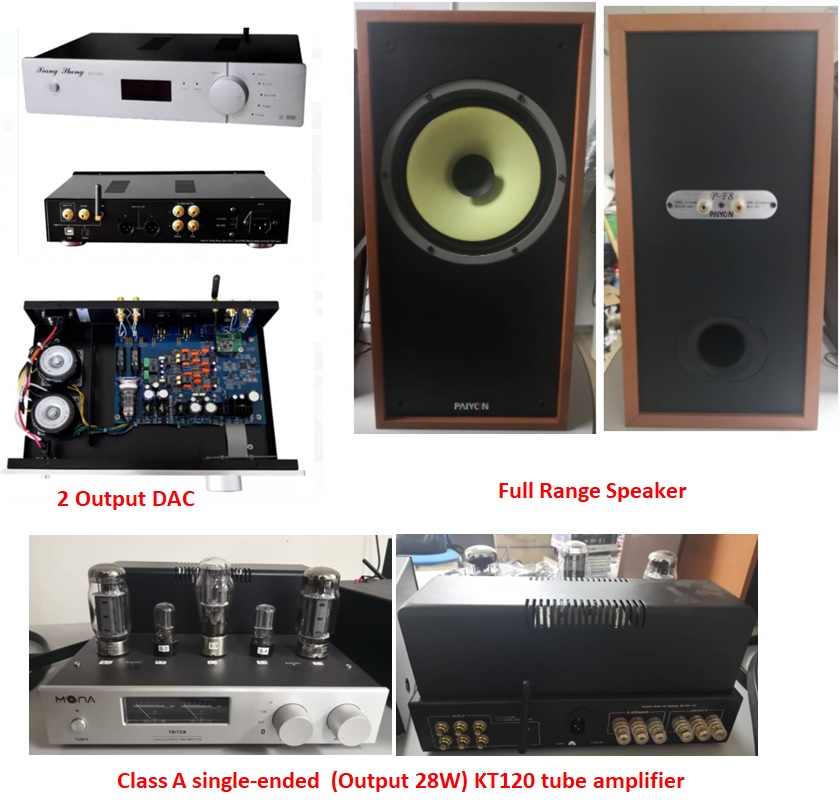 Jason Eng

Club Member





Number of posts

: 45


Age

: 51


Location

: Penang


Registration date :

2020-09-09



Similar topics
---
Permissions in this forum:
You
cannot
reply to topics in this forum