All my items for sale:
CD Player:
NAD CD Player C565 BEE @ RM1450
DAC:
Cambridge Audio DACMagic Upsampling DAC @ RM750
Wadia 27ix Version 3 DAC @ RM11,500
XiangSheng DAC-05B II 2x AK4497EQ XMOS Balanced DSD 512 Tube DAC with Bluetooth 5.0 @ RM1500
Musical Fidelity M1 DAC 24bit/192khz @ RM1750
Audio Research DAC9 Tube DAC @ RM27k
Audiolab Q-DAC Digital To Analogue Converter @ RM1100
Phono Stage:
Pathos Acoustics In The Groove Mk2 MM/MC Phono Stage @ RM3800
Rega Aria Switchable MM/MC Turntable Phono Stage @ RM3500
Pre Amplifier:
Clarity Audio Model KC-1 Tube Preamplifier @ RM2800
Naim NAC 202 Pre Amplifier @ RM6300
Oppo HA-1 Headphone Amplifier, DAC & Pre-Amplifier @ RM3300
Melos SHA-1 Tube Preamp/ Headphone Amplifier @ RM2200
Musical Fidelity M1 CLiC Universal Music Controller / Network Player /Streamer/ Pre-Amplifier @ RM3300
Power Amplifier:
Rogue Audio Magnum M-120 Monoblock Power Amplifier @ RM8500
ATI AT1502 2-Channel Power Amplifier @ RM2300
Naim NAP-155xs Power Amplifier @ RM4500
Naim NAPSC Power Supply @ RM1500
Conrad Johnson Premier 140 Tube Power Amplifier @ RM16,500
Integrated Amplifier:
Denon PMA-360 Integrated Amplifier @ RM650
Naim Supernait Integrated Amplifier@ RM7600
Speakers:
Wharfedale 10.CM Center Speaker @ RM1000
ProAc Studio 110 Bookshelf Speakers @ RM3300
Sonus Faber Olympica III Floorstanding Speaker @ RM30k
Speaker Stand:
Guizu Solid Teak Wood Speaker Stand with Cast-iron Base and Spikes @ RM1000
Custom-made 6-Columns Audiophile Bookshelf Speakers Stands @ RM1600
Bowers & Wilkins B&W FS700 Speaker Stands @ RM2000
Speaker Cables:
Yter Speaker Cables - 3m pair @ RM3500
XLO UNLIMITED Speaker Cable - 6 ft pair @ RM6800
XLO Ultra 12 Bi-wire Speaker Cable - 6 feet pair @ RM1500
Subwoofers:
JL Audio Dominion D-110 10"Inch Powered Subwoofer - 750W (Black Ash) (NEW) @ RM5500
Interconnects:
Stage III Concepts Baron AG Pure Silver RCA Interconnect - 1.5m @ RM2300
Van Den Hul The Second XLR Interconnect - 0.8m @ RM730
Kimber Kable Illuminati Orchid AES/EBU Digital Cable - 1.5m @ RM1850
FURUTECH FireBird-96 ( 9pin-6pin ) IEEE1394 Fire Wire Cable 0.6m @ RM450
Power Cables:
Tice Power Cord Model "Power Conductor 2"- 2.5m @ RM1500
Furutech NanoFlux Power Cord - 1.8m @ RM8500
Power Conditioner:
PS Audio Quintet Power Center Power Conditioner @ RM1750
Others:
JL Audio JLINK TRX: Wireless, High-Fidelity Audio Transmitter & Receiver Kit @ RM1290
Solid Tech Feet Of Silence (Set of 4) NEW @ RM1500
Entreq Cleanus Ground Box (Made In Sweden) @ RM3600
Gobel Lacorde Statement Jumpers @ RM2300
Subwoofer Base Vibration Isolation Platform @ RM800
Graham Slee - Solo Ultra-Linear Headphone Amplifier + PSU1 Power Supply @ RM1800
CAN VIEW THE DETAILS HERE:https://my.carousell.com/hifijunction/https://my.carousell.com/hifijunction/https://my.carousell.com/hifijunction/
Item: PS Audio Quintet Power Center Power Conditioner 
Condition: 8.5/10. Item is in excellent working condition.
Price: SOLD or swap/topup
Retail Price: RM3350
Contact: 012-3816611
Click here to Whatsapp: 
http://wasap.my/60123816611
Advanced protection for your A/V gear
If you've spent the time and money to put together a high-performance audio/video system, you need state-of-the-art power conditioning and protection to keep your gear safe and operating at its best. PS Audio's Quintet Power Center uses a highly advanced filter design to purify and distribute up to 1750 watts of clean, safe and unrestricted power. You'll hear real sonic improvements — powerful, better-defined bass and smoother, more transparent highs. You'll also see the difference on your TV screen, in the form of a better, cleaner picture.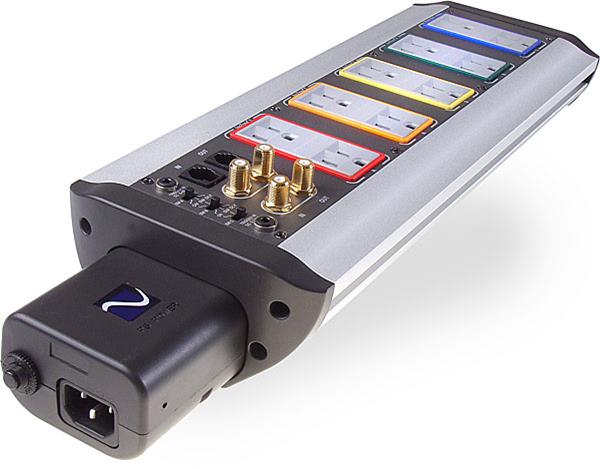 ---
Heavy-duty construction

PS Audio builds the Quintet to the highest quality standards. A compact solid aluminum casing houses 1/4" inch thick solid copper power bars, heavy extruded aluminum covers and nickel-plated, hand-polished AC receptacles. The Quintet's microprocessor-controlled protection circuitry guards against power spikes, and automatically disconnects the unit from your power line in the event of extreme high or low voltage conditions. This helps your equipment run smoother and last longer.
---
Protection for up to 10 components
You get 10 protected outlets grouped in five isolated pairs. Isolation ensures your components won't interfere with each other as they draw power. You also get signal protection for a telephone line and two coaxial connections for antenna, cable TV or satellite TV.
[size=20]SEQUENTIAL START-UP ELIMINATES SPEAKER "THUMP"

[/size]
Delay settings in the Quintet allow individual components to turn on sequentially. This helps eliminate the annoying, and potentially damaging, "thumps" that occur when all your components are powered on or off at once. And two 12-volt triggers let you use other components to start up the Quintet automatically.
---
Replaceable AC input module
PS Audio's Power Cartridge serves as the first line of defense against harmful power anomalies. It contains the surge protection circuitry, the over/under voltage control and the circuit breaker. Should a major power spike damage the cartridge, don't worry. You can replace it to make your Quintet as good as new again.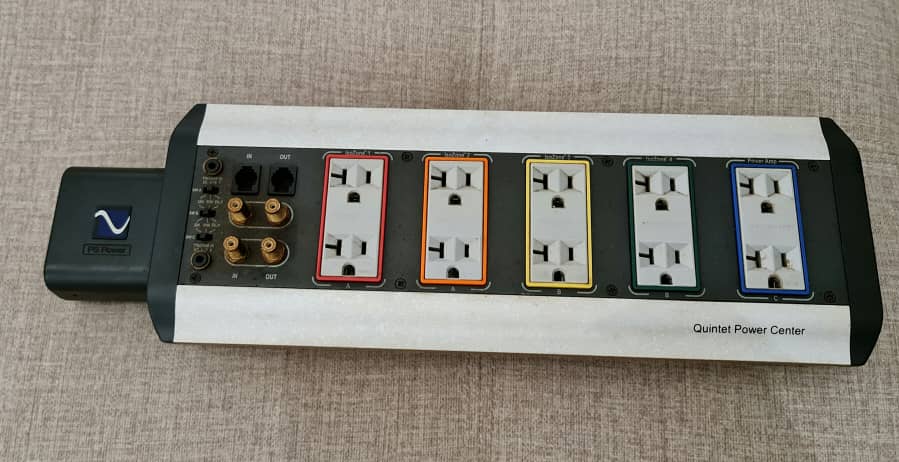 [*]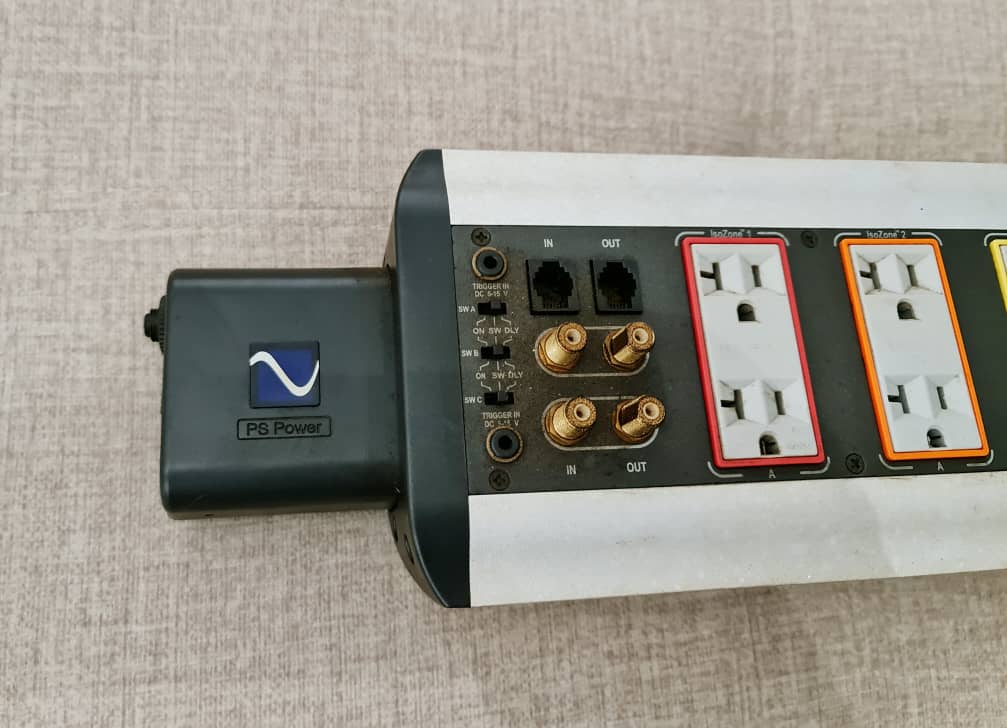 [*]Website:
https://www.crutchfield.com/S-SpuJM0dUTe0/p_681QUINTET/PS-Audio-Quintet-Power-Center.html
[*]
VIEW ALL MY OTHER STUFFS BY CLICKING BELOW:https://my.carousell.com/hifijunction/https://my.carousell.com/hifijunction/https://my.carousell.com/hifijunction/
Thank you
Last edited by raymond88 on Tue Jul 13, 2021 7:16 pm; edited 2 times in total
---
Permissions in this forum:
You
cannot
reply to topics in this forum