NAD M50.2 Digital Music Player 
Brand
New. 
Now Selling At RM20,999.
 Free Shipping Within West Malaysia.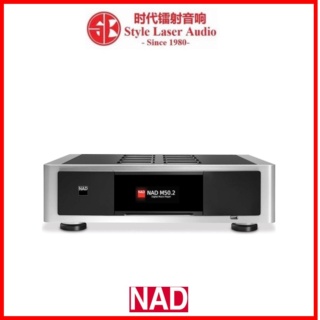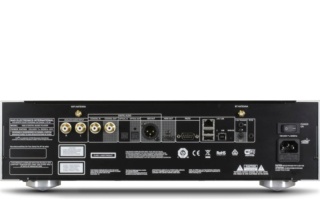 M50.2
Digital Music Player
A hybrid of NAD's renowned M50 and M52, the M50.2 Digital Music Player offers everything you need to hear the music you love in the best quality possible. Harnessing the power of BluOS
, the M50.2 allows you to organize and store your music library, while making it easily accessible via the BluOS app. A high resolution network music player, the M50.2 was designed to house 24/192 files whether it be from a CD or music download site. The M50.2 CD transport can playback or rip to internal storage, and ripping is completely automatic. You can also connect to the M50.2 via Bluetooth
, opening the doors to virtually any music streaming service. The M50.2 brings you closer to your favourite music and makes it remarkably simple to access it. A wondrous integration of hardware and software, the M50.2 has 2TB of storage and a mirrored backup, ensuring you'll never have to sacrifice any music or worry about losing it.
作为NAD著名的M50和M52的混合体,M50.2数字音乐播放器提供了您所需要的一切,让您以最佳的质量聆听您所喜爱的音乐。M50.2利用
的强大功能,让您可以组织和存储您的音乐库,同时通过应用程序轻松访问。作为一款高分辨率的网络音乐播放器,M50.2的设计可以容纳24/192的文件,无论是从CD还是音乐下载网站上下载的文件。M50.2的CD传输器可以播放或翻录到内部存储,翻录是完全自动的。您还可以通过蓝牙
连接到M50.2,几乎可以打开任何音乐流媒体服务的大门。M50.2让你更接近你最喜欢的音乐,让你的音乐访问变得异常简单。M50.2是硬件和软件的奇妙整合,它拥有2TB的存储空间和镜像备份功能,确保您永远不用牺牲任何音乐,也不用担心丢失音乐。
Take Two
When we introduced the M50/M51/M52 Digital Music Suite in 2012 (in honour of our 40th anniversary) we were betting that audiophiles around the world would embrace the new digital format of High Resolution Audio. These 'highest quality' recordings were just becoming available to consumers. For music lovers it was a dream come true. Exact copies of the Studio Master could now be easily downloaded, stored, and played back at any time in the home. Music lovers could finally get all the music the artist created. The Masters Suite makes it easy to download these high-res music files and securely store them, without reverting to using a computer for this task.
A lot has changed since we introduced the original Masters Digital Music Suite, but the M50 has kept abreast of these changes because of the incredible power of BluOS. This proprietary music-only operating system can be remotely updated to include new features and access to new sources of music. BluOS brings all your music together, from timeless CDs to cutting edge 24/192 downloads; all are organized and easily accessed via the BluOS app.
Now, high-res music listening, multi-room wireless streaming, 24/192 storage and CD ripping can all be found in one beautiful component: the M50.2. With 4TB of internal redundant storage featuring programmable RAID backup, this is a complete music solution that does not require a computer and is not prone to the viruses and program conflicts encountered when using a multi-purpose computer for music storage and playback. The M50.2 is a noise-free component that offers state-of-the-art digital performance and requires no additional programs to buy. Just add the DAC of your choice and enjoy.
当我们在2012年推出M50/M51/M52数字音乐套件时(为纪念公司成立40周年),我们曾打赌全世界的发烧友们都会接受新的数字格式的高分辨率音频。这些 "最高品质 "的唱片刚刚开始为消费者所接受。对于音乐爱好者来说,这简直是梦想成真。现在,录音室母带的精确拷贝可以很容易地下载、存储,并在家中随时播放。音乐爱好者们终于可以得到艺术家创作的所有音乐了。这套软件可以轻松地下载这些高分辨率的音乐文件,并安全地存储它们,无需再使用电脑来完成这项任务。
自从我们推出原始的数字音乐套件以来,发生了很多变化,但M50已经跟上了这些变化,因为M50拥有强大的功能。 这个专有的音乐专用操作系统可以远程更新,包括新的功能和访问新的音乐源。
现在,高清音乐聆听、多房间无线串流、24/192存储和CD翻录都可以在一个漂亮的组件中找到:M50.2。M50.2拥有4TB的内部冗余存储空间,具有可编程的RAID备份功能,是一个完整的音乐解决方案,不需要电脑,也不容易出现使用多功能电脑存储和播放音乐时遇到的病毒和程序冲突。M50.2是一款无噪音的组件,拥有最先进的数字性能,不需要额外购买程序,只需在电脑上添加DAC即可。只需加入自己选择的DAC即可享受。
Digital Music Player
The M50.2 is a "software defined" product, meaning that much of the functionality of the system is defined by software not hardware. This means that new cloud services or audio codecs can be integrated at a future date by simply updating the software of the M50.2. This software upgrade potential means that there is a software 'roadmap' that allows the M50.2 to live on and maintain its cutting edge functionality.
数字音乐播放器
M50.2是一款 "软件定义 "产品,这意味着系统的大部分功能是由软件而非硬件定义的。这意味着,只要更新M50.2的软件,就可以在未来的某一天集成新的云服务或音频编解码器。这种软件升级的可能性意味着有一个软件 "路线图",使M50.2能够继续保持其最先进的功能。
Hands-free Voice Control with Alexa
Add the BluOS Voice Skill inside the Amazon Alexa app and enjoy hands-free voice control of personal music collections, streaming services and more using a list of simple streamlined commands. Using an Echo device you can ask Alexa to play popular songs from Tidal, queue up saved playlists, adjust the volume in different rooms, or ask what's playing in the Kitchen. No Echo device and want to try it out? No problem. Download the Amazon Alexa app, activate the skill, tap the speech bubble in the bottom drawer of the Amazon Alexa app and say anything from the list of commands.
Since its introduction, the original M50 has added TuneIn Internet radio tuner, Spotify, Tidal, Qobuz, Deezer, iHeart Radio, Murfie, and many more. We also include 'direct download' of High Res Audio from HDtracks.com and HighResAudio.com, allowing you to purchase and download new music from right inside the BluOS app. The new M50.2 uses the same BluOS software, but has added some hardware features like a new, more powerful processor and Bluetooth 4.0 with aptX for direct audio streaming from a wide variety of popular devices.
使用Alexa免提语音控制
在亚马逊Alexa应用内添加语音技能,使用一系列简单的流线型命令,享受免提语音控制个人音乐收藏、流媒体服务等。使用 Echo 设备,你可以要求 Alexa 播放 Tidal 中的流行歌曲,排队保存的播放列表,调整不同房间的音量,或者询问厨房里正在播放的音乐。没有Echo设备,想尝试一下?没问题。下载亚马逊Alexa应用,激活该技能,点击亚马逊Alexa应用底部抽屉里的语音气泡,从命令列表中说出任何命令。
M50自推出以来,在原有的基础上增加了TuneIn网络电台调音台、Spotify、Tidal、Qobuz、Deezer、iHeart Radio、Murfie等。同时,我们还加入了HDtracks.com和HighResAudio.com的 "直接下载 "HighRes Audio,让你可以直接在APP内购买和下载新音乐。新的M50.2使用了相同的软件,但增加了一些硬件功能,如新的、更强大的处理器和蓝牙4.0与aptX的蓝牙4.0,可以直接从各种流行的设备上串流音频。
Remarkable Performance
The hardware of the M50.2 includes the latest generation of low power, super high performance ARM processors that one can find. These have more computing power than a PC, yet run cool and do not require noisy fans. Many different digital outputs are supported in the hardware including SPDIF and HDMI.
卓越的性能
M50.2的硬件包括最新一代低功耗、超高性能的ARM处理器。这些处理器拥有比PC更强的计算能力,但运行时不需要风扇的噪音。硬件上支持多种不同的数字输出,包括SPDIF和HDMI。
The Choice is Yours
There is a choice of wired or wireless network connection using standard Wi-Fi protocol IEEE 802.11 b/g/n. While it is possible to stream 24/96 music wirelessly, we recommend a wired connection or local storage for HD music to avoid any possibility of dropouts. The Wi-Fi capability does offer the option of control from a smartphone or tablet with Wi-Fi, which is a fantastic way to enjoy your music collection. The M50.2 CD transport can playback or rip to internal storage, and ripping is completely automatic. The BluOS app with a network connection to the Internet, allows this music management software to fetch metadata and cover art; organized and instantly available for playback without the need for a computer. You can browse your music collection using album art or category listing, and easily create playlists on the fly.
选择权在你手中
有线或无线网络连接方式可供选择,采用标准的IEEE 802.11 b/g/n协议。雖然可以用無線方式串流24/96音樂,但我們建議使用有線連接或本地儲存高清音樂,以避免可能出現的漏網問題。而Wi-Fi功能确实可以通过智能手机或平板电脑的Wi-Fi控制,这也是享受音乐收藏的绝佳方式。M50.2的CD传输器可以播放或翻录到内部存储,翻录是完全自动的。通过网络连接到互联网的APP,让这款音乐管理软件可以抓取元数据和封面图;整理好后,无需电脑即可即时播放。你可以使用专辑艺术或分类列表浏览你的音乐收藏,还可以轻松地创建播放列表。
Master Quality Authenticated
Master Quality Authenticated (MQA) is a revolutionary end-to-end technology built into every Bluesound Player that captures and delivers master quality audio to any room in your home. All Bluesound Players include a powerful decoder and audio renderer for the MQA system. The MQA logo shown in the BluOS app indicates that the unit is decoding and playing an MQA stream or file, and lets you know that you are hearing exactly what the artist recorded and approved in the studio.
质量认证大师
Master Quality Authenticated (MQA)是一种革命性的端到端技术,每台Bluesound播放器都内置了MQA系统,可以捕捉并将大师级的音频传输到您家中的任何房间。所有Bluesound播放器都包含了MQA系统的强大解码器和音频渲染器。应用程序中显示的MQA标志表明该设备正在解码和播放MQA流或文件,并让您知道您听到的是艺术家在录音室里录制和认可的声音。
Interested
 please feel free to contact:
Peter  012-2536225

Fong   016-3098668
Business hour:
MONDAY - 10AM-7PM
TUESDAY - 10AM-7PM
WEDNESDAY - CLOSED(PASAR MALAM)
THURSDAY - 10AM-7PM
FRIDAY - 10AM-7PM
SATURDAY - 10AM-7PM
SUNDAY - 1PM-6PM
PUBLIC HOLIDAY - 1PM-6PM
Style Online Store 24Hous
Location:
STYLE LASER AUDIO SDN BHD
No.148, Jalan Cerdas, Taman
Connaught, Cheras 56000 Kuala Lumpur
( NEXT TO ALLIANCE BANK )
We buy in your old items in CASH!!
Got something keep at home but seldom use or planning to upgrade?
Items that we buy:
Subwoofer

Integrated Amplifier

Speaker

CD player
AV Receiver
Please Whatsapp the item photo to me and get the price immediately, once confirmed the deal, we will pick up your item from you and pay you in cash.


Please visit [You must be registered and logged in to see this link.] find out more products for sale at very special price..
Key Features


Wireless (Wi-Fi) and gigabit Ethernet inputs

Automatic ripping of CD to internal RAID of two 2TB hard drives

Real time playback of CDs

Decodes FLAC, ALAC, MP3, WMA, AAC, Ogg

SPDIF Outputs; AES/EBU, Coaxial, Optical

1x front and 2x rear USB Type A inputs

RS-232 for external control

IR in

TFT touch panel display

Bluetooth AptX
Software defined product with upgrade path
BluOS Features
Supported File Formats
MP3, AAC, WMA, OGG Vorbis, WMA-L, FLAC, ALAC, WAV, AIFF, MQA, HRA
Supported Cloud Services
WiMP, Slacker Radio, Qobuz, HighResAudio, JUKE, Deezer, Murfie, HDTracks, Spotify, TIDAL, Napster, Microsoft Groove (with OneDrive), Classics Online, KKBox.
Supported Operating Systems
Microsoft Windows 7 SP1 or higher, Apple Macintosh OSX 10.7.5 or higher
Free Internet Radio
TuneIn Radio, iHeartRadio, Calm Radio, Radio Paradise
Integration Partners
Control4, RTI, Crestron, URC, roon
Input
USB 2.0 Device (Type B) Storage (Digital Music Vault)
Front and Rear USB 2.0 Type A for playback via USB Stick, Hard Drive
IR Input
12V Trigger In
Output
AES/EBU
110 Ohms
Optical
TOSlink
Coaxial
75 Ohms
HDMI 1.4* (Audio only)
Digital AES/EBU
IR Out
12V Trigger Out
* Does not support I2S DACs
Network Activity
WiFi 802.11n/g 2.4G
Ethernet 10/100/1000Mbs
Bluetooth AptX
RS232
Overall Specs
Sample Rate
32kHz to 192kHz, 16/24 bit
USB File Systems
FAT 32, Linux EXT
Power Consumption
Auto Standby ON and Network Standby OFF – 0.8 Watts*
Auto Standby ON and Network Standby ON – 7.4 Watts**
OFF mode (Power switched OFF) – 0 Watts
Weights & Dimensions
Dimensions (WxHxD)
435 x 133 x 380mm (17 1/8 x 5 1/4 x 15")
Net Weight
8.1kg (17.9lb)
Shipping Weight
16.5kg (36.4lb)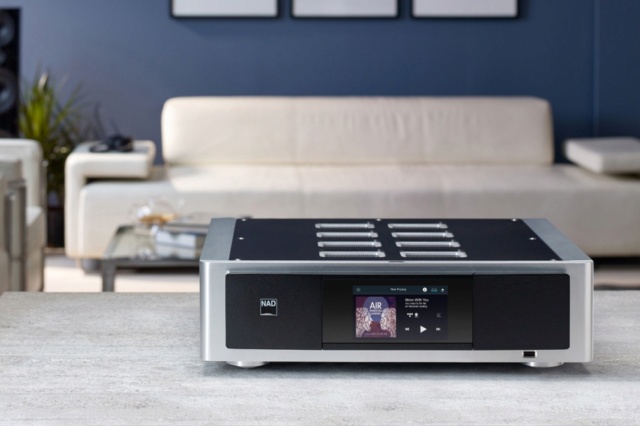 Thanks for viewing.
[You must be registered and logged in to see this link.]

stylelaser.com.my

Dealer\Reseller\Trader\Service Provider





Number of posts

: 876


Age

: 44


Location

: Cheras


Registration date :

2018-01-20



---
Permissions in this forum:
You
cannot
reply to topics in this forum