NAD M10 BluOS Streaming Amplifier 
Brand
New. 
Now Selling At RM13,999.
 Free Shipping Within West Malaysia.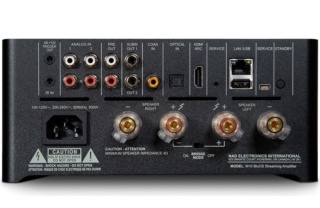 M10
M10 BluOS Streaming Amplifier
The audio world has shifted. Where once available solely on discs, the best quality of music is now delivered over the internet. Not only does it sound better, but entire catalogues of recorded music are more accessible than ever before. Curated playlists make music selection and discovery easy and fun, while multi-room wireless audio multiplies the possibilities. With the NAD Masters M10 we combine all of this goodness with state-of-the-art amplification to make it an all-in-one solution that will transport you to your favourite musical destination.
音频世界已经发生了变化。曾经只在光盘上提供,现在最好的音乐质量可以通过网络传输。它不仅听起来更好听,而且整个录音音乐目录也比以往任何时候都更容易获得。程式化的播放列表让音乐的选择和发现变得简单而有趣,而多房间的无线音频则增加了更多的可能性。NAD M10将所有这些优点与最先进的扩音技术结合在一起,使其成为一体式解决方案,将您带到您最喜爱的音乐目的地。
BluOS STREAMING AMPLIFIER
BluOS MAKES THE M10 SOMETHING SPECIAL
BluOS is the most advanced network streaming and multi-room operating system available. Part of a growing ecosystem of compatible products, BluOS tightly integrates hardware and software for an unbeatable user experience. The only wireless high-resolution multi-room system available today, BluOS supports the new standard for high res streaming, Master Quality Authenticated (MQA). With support for over 15 free and paid subscription services, as well as supporting locally stored music libraries, BluOS makes the M10 incredibly versatile. Adding additional rooms is easy and affordable using Bluesound's all-in-one speakers, or you can add premium components from NAD, DALI, and others to provide amazing sound throughout your home.
BluOS 流媒体放大器
BluOS 让M10与众不同
BluOS 是目前最先进的网络流媒体和多房间操作系统。作为一个不断增长的兼容产品的生态系统的一部分,将硬件和软件紧密地整合在一起,带来无与伦比的用户体验。作为目前唯一的无线高分辨率多房间系统,支持高清晰度流媒体新标准--Master Quality Authenticated (MQA)。M10支持超过15种免费和付费订阅服务,并支持本地存储的音乐库,使M10的用途非常广泛。使用Bluesound的一体式扬声器可以轻松、经济地增加额外的房间,也可以添加NAD、DALI等高级组件,为您的家庭提供惊人的声音。
UNDERSTATED ELEGANCE
With Industrial Design by award winning design firm DF-ID, the M10 takes a minimalist theme to new levels of elegance. The slender proportions are enhanced by authentic materials including solid brushed aluminum and smooth glass. Completely operable by Wi-Fi connection to the BluOS App, one need never touch the M10 in order to listen to your favourite songs. As you approach the M10, the high-resolution touch screen beckons as the graphic changes from 'now playing' to 'control panel' allowing many operations directly from the front panel without opening an app. It also shows what's currently playing and what is coming up next in the play queue.
低调高雅
M10由获奖设计公司DF-ID的工业设计,将极简主义主题提升到了新的高度。纤细的机身比例,加上实心拉丝铝材和光滑玻璃等正宗的材质,使M10的机身比例更加修长。M10完全可以通过Wi-Fi连接到App进行操作,无需触摸M10,就能聆听自己喜欢的歌曲。当你走近M10时,高分辨率的触控屏就会向你招手,画面由 "正在播放 "变为 "控制面板",让你无需打开App就能直接在前面板上进行多项操作。它还可以显示当前正在播放的歌曲和下一个播放队列中的播放内容。
UNMATCHED PERFORMANCE
The M10 uses NAD's most sophisticated Masters Series technology to create a sonic performance that is second to none. HybridDigital amplification featuring the remarkable Hypex nCore amplification stage offers state-of-the-art performance along with the ability to drive any loudspeaker. Highly efficient and remarkably powerful, the M10 can render even the subtlest of musical details with vivid realism. Effortless dynamics and a complete absence of electronic noise are hallmarks of this advanced technology.
无与伦比的性能
M10采用了NAD最先进的系列技术,创造出无与伦比的音质表现。HybridDigital 放大器采用了卓越的Hypex nCore 放大级,提供了最先进的性能,并能驱动任何扬声器。M10效率高、功能强大,即使是最细微的音乐细节也能呈现出生动逼真的效果。轻松的动态和完全无电子噪音是这项先进技术的标志。
EASY SMART HOME INTEGRATION
We have spent considerable effort to make the M10 fully compatible with today's leading smart home systems from companies such as Apple, Crestron, Control4, Lutron, and many others. This means that along with your lighting, shades, HVAC, and security, you can seamlessly control your BluOS multi-room music system from a common interface. All of our integrations are certified for reliable operation. We also have custom BluOS apps for iOS and Android mobile devices and tablets, as well as desktop control from Windows and Apple OS.
轻松的智能家居集成
我们花费了大量的精力,使M10完全兼容当今领先的智能家居系统,如苹果、快思聪、Control4、Lutron等公司的智能家居系统。这意味着,您可以通过一个共同的界面无缝地控制您的多房间音乐系统,与您的照明、窗帘、暖通空调和安防系统一起,实现对多房间音乐系统的无缝控制。我们的所有集成都通过了可靠的运行认证。我们也有针对iOS和Android移动设备和平板电脑的定制应用程序,以及Windows和苹果操作系统的桌面控制。
HANDS-FREE VOICE CONTROL
Add the BluOS Voice Skill inside the Amazon Alexa or Google Assistant app and enjoy hands-free voice control of personal music collections, streaming services and more using a list of simple streamlined commands. Using an Echo or Google Home device you can ask Alexa or Google Assistant to play songs from your local library, queue up saved playlists, adjust the volume in different rooms, or ask what's playing in the Kitchen. Want to try it out? No problem. Download the Amazon Alexa or Google Assistant app, activate the skill, tap the speech bubble in the bottom drawer of the Amazon Alexa app and say anything from the list of commands.
免提语音控制
在亚马逊Alexa或Google Assistant应用程序内添加语音技能,使用一系列简单的流线型命令,享受免提语音控制个人音乐收藏、流媒体服务等。使用 Echo 或 Google Home 设备,你可以要求 Alexa 或 Google Assistant 播放本地音乐库中的歌曲,排队保存的播放列表,调整不同房间的音量,或者询问厨房里正在播放的内容。想尝试一下吗?没问题。下载亚马逊Alexa或Google Assistant应用,激活该技能,点击亚马逊Alexa应用底部抽屉里的语音气泡,然后从命令列表中说出任何命令。
MUSIC MEANT TO BE HEARD, NOT SEEN
The NAD M10 represents a new kind of high-end audio system that is luxurious and smart, but very discreet. It can perform the same functions that once required a rack full of components and in many ways is superior. The elegant form factor takes up very little space and can even be hidden away, but the beautiful design and colourful display will encourage you to place the M10 front and center.


BluOS Streaming Amplifier

HybridDigital nCore Amplifier

Continuous Power: 100W into 8/4 Ohms

Dynamic Power: 160W into 8 Ohms 300W into 4 Ohms

32-BIT/384kHz ESS Sabre DAC

1GHz ARM CORTEX A9 Processor

Dirac Live Room Correction*

Color LCD display

Supports Amazon Alexa and Google Assistant Voice Control Skills

AirPlay 2 Integration

Supports Siri Voice Assistant via AirPlay 2

Two-way Qualcomm aptX HD Bluetooth

NFC Bluetooth pairing for compatible smart devices

BluOS multi-room compatible

Gigabit Ethernet

HDMI eARC, USB Type A Input

Stereo Line Inputs, Coax/Optical Inputs

Preamp Output, Dual Mono Subwoofer Outputs

IR Input, 12V Trigger Out

Apps for iOS, Android, Mac OS, Windows,
Crestron, Control4, RTI, URC, Elan, Lutron,
iPort

Wide variety of premium music services
supported in App, including Amazon, Spotify,
Tidal, TuneIn, Napster, Deezer, Qobuz and
many others

*The M10 includes a license for Dirac Live with the option for advanced users to upgrade to a Dirac Live Full Frequency version.
耳听为虚,眼见为实
NAD M10代表了一种新型的高端音响系统,它既豪华、智能,又非常低调。它可以实现曾经需要满架子组件的功能,在很多方面都是非常优越的。优雅的外形设计占用的空间非常小,甚至可以隐藏起来,但漂亮的设计和多彩的显示屏会促使你把M10放在最前面和中间。


BluOS 流媒体放大器

混合式数字nCore放大器

连续功率:100W成8/4欧姆的100W

动态功率:160W转8欧姆 300W转4欧姆

32-BIT/384kHz ESS Sabre DAC

1GHz ARM CORTEX A9处理器

Dirac直播室矫正*

彩色液晶显示

支持亚马逊Alexa和谷歌助手语音控制技能

AirPlay 2集成

通过AirPlay 2支持Siri语音助手

双向高通aptX高清蓝牙技术

兼容智能设备的NFC蓝牙配对

BluOS 多房间兼容

千兆以太网

HDMI eARC,USB Type A 输入

立体声线路输入,同轴/同轴/光学输入

前置放大器输出,双单声道超低音输出

红外线输入,12V触发器输出

适用于iOS、Android、Mac OS、Windows的应用程序。
Crestron、Control4、RTI、URC、Elan、Lutron。
iPort

丰富多样的优质音乐服务
App中支持的,包括亚马逊、Spotify。
Tidal、TuneIn、Napster、Deezer、Qobuz 和
许多其他

*M10包含了Dirac Live许可证,高级用户可以选择升级到Dirac Live全频版。
Interested
 please feel free to contact:
Peter  012-2536225

Fong   016-3098668
Business hour:
MONDAY - 10AM-7PM
TUESDAY - 10AM-7PM
WEDNESDAY - CLOSED(PASAR MALAM)
THURSDAY - 10AM-7PM
FRIDAY - 10AM-7PM
SATURDAY - 10AM-7PM
SUNDAY - 1PM-6PM
PUBLIC HOLIDAY - 1PM-6PM
Style Online Store 24Hous
Location:
STYLE LASER AUDIO SDN BHD
No.148, Jalan Cerdas, Taman
Connaught, Cheras 56000 Kuala Lumpur
( NEXT TO ALLIANCE BANK )
We buy in your old items in CASH!!
Got something keep at home but seldom use or planning to upgrade?
Items that we buy:
Subwoofer

Integrated Amplifier

Speaker

CD player
AV Receiver
Please Whatsapp the item photo to me and get the price immediately, once confirmed the deal, we will pick up your item from you and pay you in cash.


Please visit [You must be registered and logged in to see this link.] find out more products for sale at very special price..
AMPLIFIER SECTION
LINE INPUT, SPEAKER OUT
Continuous output power into 8 ohms and 4 ohms
>100W (ref. 20 Hz-20 kHz at rated THD, both channels driven)
THD (20 Hz – 20 kHz)
<0.03 % (250 mW to 100 W, 8 ohms and 4 ohms)
Signal-to-Noise Ratio
>90 dB (A-weighted, 500 mV input, ref. 1 W out in 8 ohms)
Clipping power
>130 W (at 1 kHz 8 ohms 0.1 % THD)
>230 W (at 1 kHz 4 ohms 0.1 % THD)
IHF dynamic power
8 ohms: 160 W
4 ohms: 300 W
Damping factor
>190 (ref. 8 ohms, 20Hz to 6.5kHz)
Frequency response
±0.6 dB (20 Hz – 20 kHz)
Tone controls
Treble: ±6.0 dB at 20 kHz
Bass: ±6.0dB at 60 Hz
Channel separation
>75 dB (1 kHz)
>70 dB (10 kHz)
Input sensitivity (for 100 W in 8 ohms)
Line In: 1.0 V
Digital In: -6.2 %FS
Standby power
0.5W
DAC SECTION
Supported audio file formats
MP3, AAC, WMA, OGG, WMA-L, ALAC, OPUS
Hi-Resolution audio formats
MQA, FLAC, WAV, AIFF, Supports converted DSD playback via the BluOS desktop app (only)
Sampling rate
up to 32 bit/192 kHz PCM
Bit depths
16 – 24
BluOS SECTION
Supported operating systems
Plays music from network shares on the following desktop operating systems: Microsoft Windows XP, 2000, Vista, 7, 8 to current Windows Operating Systems and Mac OS X versions
User interface mobile operating system BluOS
BluOS – Free Android and iOS App available online at Google Play and Apple App store
Supported cloud services*
Amazon Alexa, Amazon Music, Spotify, TIDAL, Deezer, Qobuz, HDTracks, HighResAudio, Murfie, JUKE, Napster, Slacker Radio, KKBox, Bugs
Free internet radio*
TuneIn Radio, iHeartRadio, Calm Radio, Radio Paradise
Bluetooth quality
Bluetooth aptX HD built-in
Bluetooth connectivity
Two-Way (Receive and Headphone modes)
Network connectivity
Gigabit Ethernet RJ45, Wi-Fi 5
DIMENSION AND WEIGHT
Gross dimensions
 (W x H x D)**
215 x 100 x 260 mm
8 1/2 x 3 15/16 x 10 1/4 inches
Shipping weight
5 kg (11 lbs)                                                               
Thanks for viewing.
[You must be registered and logged in to see this link.]

stylelaser.com.my

Dealer\Reseller\Trader\Service Provider





Number of posts

: 876


Age

: 44


Location

: Cheras


Registration date :

2018-01-20



---
Permissions in this forum:
You
cannot
reply to topics in this forum