All my items for sale:
CD Player:
NAD CD Player C565 BEE @ RM1450
DAC:
Audio Research DAC9 Tube DAC @ RM27k
Audiolab Q-DAC Digital To Analogue Converter @ RM1100
Phono Stage:
Pathos Acoustics In The Groove Mk2 MM/MC Phono Stage @ RM3800
Rega Aria Switchable MM/MC Turntable Phono Stage @ RM3500
AV Processors/Receiver:
Denon AVC-X8500H Receiver @ RM15,900
Pioneer LX-88 Receiver @ RM3650
Emotiva XPA-5  5-Channels Power Amplifier
Pioneer BDP-450 Blu-ray/SACD player @ RM750
Pre Amplifier:
Conrad Johnson PV-12 Pre Amplifier 
Herron Audio VTSP-1 Tube Preamp
Bryston BP17 Preamplifier @ RM7800
Clarity Audio Model KC-1 Tube Preamplifier @ RM2800
Naim NAC 202 Pre Amplifier @ RM6300
Melos SHA-1 Tube Preamp/ Headphone Amplifier @ RM2200
Musical Fidelity M1 CLiC Universal Music Controller / Network Player /Streamer/ Pre-Amplifier @ RM3300
Conrad Johnson Premier 16LS
Spec RSA - M3 EX 
Power Amplifier:
Music Reference RM-10 Power Amplifier @ RM7800
Rogue Audio Magnum M-120 Monoblock Power Amplifier @ RM8500
ATI AT1502 2-Channel Power Amplifier @ RM2300
Naim NAP-155xs Power Amplifier @ RM4500
Naim NAPSC Power Supply @ RM1500
Conrad Johnson Premier 140 Tube Power Amplifier @ RM16,500
MONA A1 Class A KT120 Tube Single-Ended Integrated Amplifier With Bluetooth 5.0 @ RM2,100
Integrated Amplifier:
Denon PMA-360 Integrated Amplifier @ RM650
Naim Supernait Integrated Amplifier@ RM7600
Devialet D200 Integrated Amplifier
Speakers:
Wharfedale 10.CM Center Speaker @ RM1000
Sonus Faber Olympica III Floorstanding Speaker @ RM30k
Thiel CS3.6 Floorstanding Speakers @ RM7500
Rogers LS66 Bookshelf Speakers @ RM1500
Kef Q550 Floorstanding Speaker (Matte Black) @ RM3800
Dynaudio Contour S5.4 Floorstand Speakers
Odeon Audio Orfeo Bookshelf Speakers
Spendor Classic 200 Speakers
PSB Imagine X2T Tower Loudspeakers @ RM5500
Speaker Stand:
Guizu Solid Teak Wood Speaker Stand with Cast-iron Base and Spikes @ RM1000
Custom-made 6-Columns Audiophile Bookshelf Speakers Stands @ RM1600
Bowers & Wilkins B&W FS700 Speaker Stands @ RM2000
Speaker Cables:
XLO Ultra 12 Bi-wire Speaker Cable - 6 feet pair @ RM1500
Transparent HP14-4 Speaker Cables - 2.5m pair @ RM380
Xindak FS-1 Speaker Cable - 2.5m @ RM1200
Subwoofers:
JL Audio Dominion D-110 10"Inch Powered Subwoofer - 750W (Black Ash) (NEW) @ RM5500
MBWS Audio  MS-12 USA Subwoofer @ RM4999
Orisun USA SUB-1230 Active Sub 12" @ RM1999
Interconnects:
Stage III Concepts Baron AG Pure Silver RCA Interconnect - 1.5m @ RM2300
Van Den Hul The Second XLR Interconnect - 0.8m @ RM730
Kimber Kable Illuminati Orchid AES/EBU Digital Cable - 1.5m @ RM1850
FURUTECH FireBird-96 ( 9pin-6pin ) IEEE1394 Fire Wire Cable 0.6m @ RM450
Power Cables:
Tice Power Cord Model "Power Conductor 2"- 2.5m @ RM1500
Furutech NanoFlux Power Cord - 1.8m @ RM8500
Power Conditioner:
PS Audio Quintet Power Center Power Conditioner @ RM1750
Shunyata Hydra 6 Power Conditioner
Others:
JL Audio JLINK TRX: Wireless, High-Fidelity Audio Transmitter & Receiver Kit @ RM1290
Solid Tech Feet Of Silence (Set of 4) NEW @ RM1500
Entreq Cleanus Ground Box (Made In Sweden) @ RM3600
Gobel Lacorde Statement Jumpers @ RM2300
Subwoofer Base Vibration Isolation Platform @ RM800
Graham Slee - Solo Ultra-Linear Headphone Amplifier + PSU1 Power Supply @ RM1800
CAN VIEW THE DETAILS HERE:
https://my.carousell.com/hifijunction/
https://my.carousell.com/hifijunction/
https://my.carousell.com/hifijunction/
******************************
Item: Wharfedale 10.CM Center Speaker
Condition: 8.5/10. Item is in excellent condition.
Price: SOLD or swap/topup
Retail Price: RM1899.00
Contact: 012-3816611
Click here to Whatsapp: 
http://wasap.my/60123816611
[size=18]DESCRIPTION

[/size]
Wharfedale Diamond 10.CM Centre Speaker The top of Wharfedale's center channel offerings, the 10 CM offers a very high level of performance at this very affordable price. A true three-way design, the 10 CM uses Wharfedale's proprietary dome mid-range for a shocking level of dialog clarity and presence. This frees the bass drivers, allowing them to deliver excellent drive and punch. The 10 CM is tonally balanced to mate best with the 10.5 towers and up, offering complementary dynamic range and performance. The latest evolution of this classic speaker range builds upon the success of its multi-award-winning predecessors with numerous enhancements. The result is a sound that's crisp, focused and spacious, effortlessly dynamic yet firmly in control. Add the visual appeal of elegantly curved cabinets, enhanced by a choice of three perfectly formed finishes and everything becomes clear: the new Diamond 10 series is the sparkling jewel in Wharfedale's crown.
Features:
-Cast aluminum ports, binding post and Tweeter frame for fit and finish at this price point
-Tweeter, Midrange and ports are "locked" together stiffening the front baffle
-Cast aluminum frames for all drivers reduces resonance, improves power handling -Open back driver design for zero back-wave bleed through the cone
-Kevlar cones for highest stiffness to mass ratio, unheard of at this price point
-Low reflection MSBR surrounds with increased linear driver excursion, improves dynamics and isolates reflections
-Tweeter gets neodymium magnet for high power and ultimate control
-Polypropylene Capacitors on tweeter crossover for silky smooth highs
-Curved side panels reduce panel flex and cancel internal standing waves
-¾" MDF enclosure for solid impact and dynamics
-Full internal cross-bracing for reduced enclosure vibration
-Poly-fill stuffed enclosures improve bass and midrange performance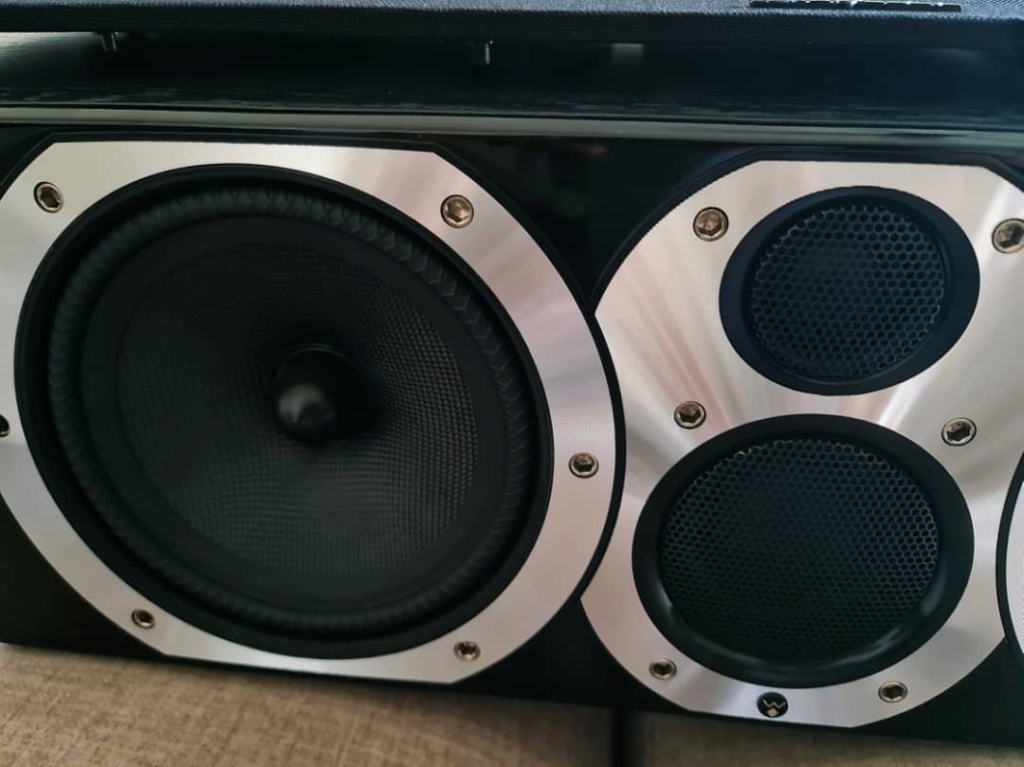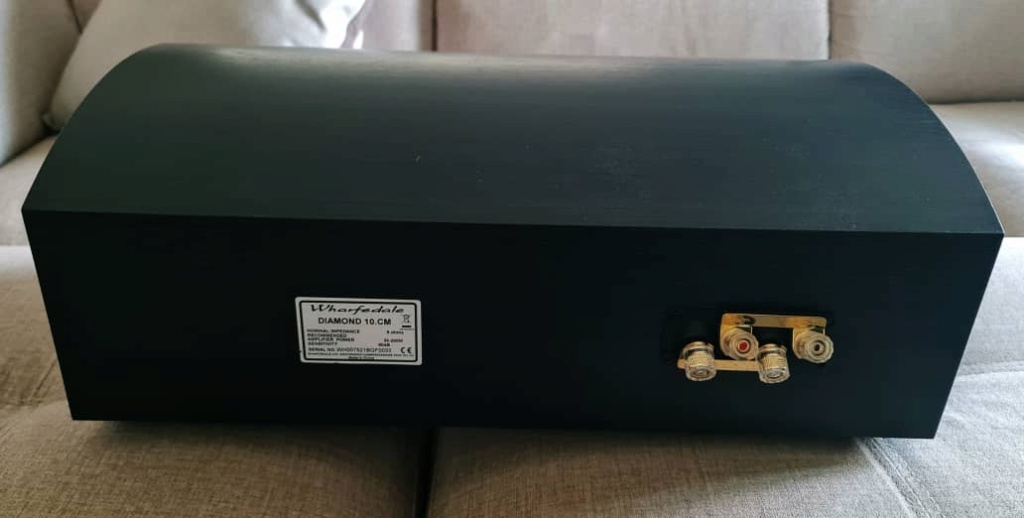 Website:
https://www.musicdirect.com/speakers/wharfedale-diamond-10cm-center-channel-speaker-ea
VIEW ALL MY OTHER STUFFS BY CLICKING BELOW:https://my.carousell.com/hifijunction/https://my.carousell.com/hifijunction/https://my.carousell.com/hifijunction/
Thank you
Last edited by raymond88 on Tue Jul 13, 2021 7:16 pm; edited 3 times in total
---
Permissions in this forum:
You
cannot
reply to topics in this forum