NAD C 275BEE Stereo Power Amplifier
Brand
New. 
Now Selling At RM
5,899
.
 Free Shipping Within West Malaysia.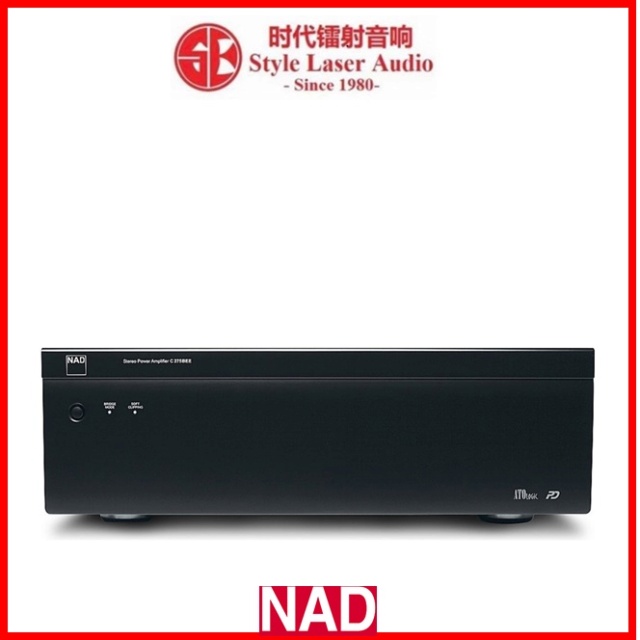 C 275BEE
Stereo Power Amplifier
When it comes to an NAD product, the utmost attention to detail is paid. From the heavy gauge steel chassis to the advanced power supplies and copper buss bars, the C 275BEE represents all that NAD stands for. Equipped with NAD's ATOLogic circuit, which includes both a 12V-trigger system and signal-sensing power-on option, this extra level of flexibility makes it easy to integrate the C 275BEE into any control system. The C 275BEE also benefits from NAD's PowerDrive
circuit topology, which allows the C 275BEE to deliver maximum performance under various circumstances. Delivering a well-rounded, mesmerizing performance, the C 275BEE will let you hear your music the way it was meant to be heard.
说到NAD的产品,我们对细节的关注度极高。从厚重的钢制机箱到先进的电源和铜制母线,C 275BEE代表了NAD的一切。配备了NAD的ATOLogic电路,其中包括12V触发系统和信号感应开机选项,这种额外的灵活性使C 275BEE很容易集成到任何控制系统中。C 275BEE还得益于NAD的PowerDrive
电路拓扑结构,使C 275BEE在各种情况下都能提供最大的性能。C 275BEE提供了一个全面的、令人着迷的性能,让你听到音乐的声音就像你想听到的那样。
Tons of Power for Every Situation
The C 275BEE boasts many upgrades and refinements taken directly from the highly acclaimed NAD Masters Series M3 Amplifier. These include the application of Bjorn Erik Edvardsen's innovative and patented Distortion Canceling Circuit in the output stage and BEE Clamp in the power supply. A carefully engineered PCB layout has reduced distortion and noise to unprecedented levels. Taken together, these improvements mark a sharp upturn in performance that simply must be heard to be fully appreciated.
海量的力量,适合各种情况
C 275BEE拥有许多升级和改进,直接从备受赞誉的NAD系列M3放大器中取材。其中包括在输出级应用了Bjorn Erik Edvardsen的创新和专利的失真消除电路,以及在电源中使用了BEE夹子。精心设计的PCB布局将失真和噪音降低到了前所未有的水平。总的来说,这些改进标志着性能的急剧提升,必须要听过才会有充分的体会。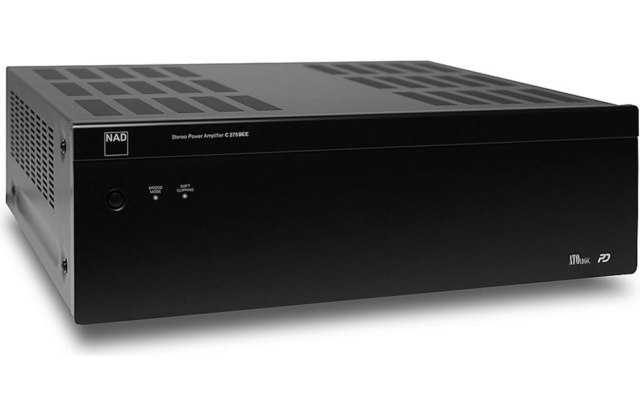 Interested
 please feel free to contact:
Peter  012-2536225

Fong   016-3098668
Business hour:
MONDAY - 10AM-7PM
TUESDAY - 10AM-7PM
WEDNESDAY - CLOSED(PASAR MALAM)
THURSDAY - 10AM-7PM
FRIDAY - 10AM-7PM
SATURDAY - 10AM-7PM
SUNDAY - 1PM-6PM
PUBLIC HOLIDAY - 1PM-6PM
Style Online Store 24Hous
Location:
STYLE LASER AUDIO SDN BHD
No.148, Jalan Cerdas, Taman
Connaught, Cheras 56000 Kuala Lumpur
( NEXT TO ALLIANCE BANK )
We buy in your old items in CASH!!
Got something keep at home but seldom use or planning to upgrade?
Items that we buy:
Subwoofer

Integrated Amplifier

Speaker

CD player
AV Receiver
Please Whatsapp the item photo to me and get the price immediately, once confirmed the deal, we will pick up your item from you and pay you in cash.


Please visit [You must be registered and logged in to see this link.] find out more products for sale at very special price..
Features


2 x 150W Continuous Power into 4 Ohms and 8 Ohms

250W, 410W, 600W IHF Dynamic power into 8, 4 and 2 Ohms, respectively

PowerDrive circuit

Holmgren Toroidal Power transformer

All discrete circuitry

Class A Voltage Stages

Distortion Canceling Circuit

BEE Anti-saturation Clamp

Short signal path from input to output

All sockets Gold-plated

Soft Clipping

ATOLogic 12 volt trigger/ signal sensing input

Detachable IEC Power Cable

<1W Standby Power Consumption

Free of lead and other environmentally dangerous substances

Fixed IN, Speaker OUT
Continuous output power into 8 Ohm and 4 Ohm (both channels driven)
>150W (ref. rated THD, 20Hz – 20kHz)
Continuous output power into 8 Ohm (Mono, Bridge mode)
>330W (ref. 20Hz – 20kHz, (Mono, Bridge mode) <0.02% THD)
Rated THD (250mW to rated power, CCIF IMD, DIM 100)
<0.008% (ref. 20Hz – 20kHz)
Clipping power (4 Ohm and 8 Ohm)
>170W (ref. 1kHz 1% THD)
IHF Dynamic Power
8 Ohm
250W
4 Ohm
410W
2 Ohm
600W
IHF dynamic power (Bridge mode)
8 Ohm
800W
4 Ohm
1200W
Peak output current
>50A (ref. 1 Ohm, 1ms)
Signal/Noise ratio
>102dB (A-weighted, ref. 1W)
>123dB (A-weighted, ref. 150W)
Damping factor
>180 (ref. 8 Ohm, 50Hz and 1kHz)
Frequency response
±0.1dB (ref. 20Hz – 20kHz)
3Hz – 100kHz (ref. -3dB)
Input impedance (Fixed IN)
10 kilohm + 200pF
Input impedance (Variable IN)
100 kilohm + 100pF
Input Sensitivity
1.2V (ref. rated power)
Voltage gain
29dB
Minimum input level for AUTO TRIGGER
10mV at 1kHz
Time to power OFF at no signal in AUTO mode
<10 minutes
Power Consumption
Normal operation
312W (ref. 230V AC 50Hz; 120V AC 60Hz)
Standby power
<1W
Idle power
<100W
Weight & Dimensions
Dimensions (W x H x D)
Net
435 x 133 x 352mm (17 1/8" x 5 1/4" x 13 3/4")
Gross*
435 x 150 x 396mm (17 1/8" x 6" x 15 3/8")
Net weight
32.2 lbs (14.6 kg)
Shipping weight
37.3 lbs (16.9 kg)     
Thanks for viewing.
[You must be registered and logged in to see this link.]

stylelaser.com.my

Dealer\Reseller\Trader\Service Provider





Number of posts

: 876


Age

: 44


Location

: Cheras


Registration date :

2018-01-20



---
Permissions in this forum:
You
cannot
reply to topics in this forum