Item: Herron Audio VTSP-1 preamplifier by Keith Herron
Condition: 8.5/10. Item is in MINT condition. No dents or scratches. Comes with 4 pcs BRAND NEW tubes.
The Herron VTSP-1 is a hybrid preamp that uses four 6922 tubes. This preamp is considered one of the best ever made and was recommended by Audiophile magazine and was a class A Stereophile recommended component.
This preamp is amazing, it is dead quiet- no his, no hum, no noise! It is also very musical; rendering a full rich sound that is very accurate.
Price: RM7500 or swap/topup
Retail Price: USD3650
Contact: 012-3816611
Click here to Whatsapp: 
http://wasap.my/60123816611
Description :

The Herron Audio VTSP-1A/166 Vacuum Tube Stereo Preamplifier, introduced in 1998, has delighted music lovers with its ability to reproduce the emotion, dynamics, and passion of the musical performance without adding or subtracting any colorations or distortions of its own. The clarity of its performance is true to the source. Individual voices are not lost amid the dynamics of full orchestra and chorus while inner detail and precise reproduction of time and three dimensional space are maintained through the entire range of dynamics.
Specifications :
Tube complement.....................................4 x 6922
Frequency response.................................1 Hz to beyond 100 kHz, 20 Hz to 20 kHz ±0.1 dB
                              .................................(volume control at 9 o'clock)
Volume Control.......................................166-position electronic stepped attenuator
Volume Tracking Maximum differential.......±0.1 dB channel to channel
Gain........................................................14dB
Output impedance...................................100 Ohms nominal at 1 kHz
Input impedance......................................100,000 ohms
Absolute Polarity.....................................Inverting
Power supply..........................................72,000 µF of energy storage
                  ............................................4 levels of high voltage regulation
                  ............................................Regulated soft start DC filament supply
                   ...........................................Regulated tube bias supply
                  ............................................Toroidal power transformer
Power requirements.................................230 VAC 50/60 Hz, 30 VA, Fuse 1/4 amp 250 volt slow blow
Input capacity.........................................18 Volts RMS
Dimensions(w x d x h).............................19 x 10 x 3.5 inch
Design Considerations
[list]
[*]Perfect tracking volume 166-step control system with unprecedented precision and dynamic range
[*]Infinite resolution indirect signal path balance control
[*]All-tube design operated conservatively for long life
[*]Relay input switching eliminates switching distortion
[*]Star grounding for low interference susceptibility and clean signal path
[*]Zero feedback - no feedback loops in the audio circuitry
[*]Super-low noise
[*]High input signal capacity without overload; see technical specifications
[*]Gold plated TIFF RCA and ground connectors
[*]Hand-picked components for accurate response and consistent unit-to-unit quality
[*]Automatic muting at startup and shutdown
[*]72,000 µF of power supply energy storage capacitance
[*]4 levels of high voltage regulation
[*]Regulated soft-start DC filament supply
[*]Regulated tube bias supply
[*]Toroidal power transformer
[*]Rugged 0.10" thick aluminum chassis with 0.25" thick heavily anodized faceplate
[*]Reversing power line (AC) polarity switch for minimizing line-to-chassis reactive currents and noise pickup
[*]Controlled warm-up of tube filaments and high voltage for extended tube life
[*]Low plate operating currents for extended tube life and cool operation
[*]Front panel indicators for power, filament voltage, and output/mute/monaural
[*]Each unit is given an extensive burn-in, including rigorous bench and listening tests
[*]Specifications
[*]Tube complement 4 x 6922
[*]Frequency response 1 Hz to beyond 100 kHz, 20 Hz to 20 kHz ±0.1 dB (volume control at 9 o'clock)
[*]Volume Control 166-position electronic stepped attenuator
[*]Volume Tracking Maximum differential: ±0.1 dB channel to channel
[*]Output impedance 100 Ohms nominal at 1 kHz
[*]Input impedance 100,000 ohms
[*]Power supply 72,000 µF of energy storage
[*]4 levels of high voltage regulation
[*]Regulated soft start DC filament supply
[*]Regulated tube bias supply
[*]Toroidal power transformer
[*]Power requirements U.S.: 120 VAC 60 Hz, 30 VA, Fuse 1/2 amp 250 volt slow blow
[*]Export: 230 VAC 50/60 Hz, 30 VA, Fuse 1/4 amp 250 volt slow blow
[*]Input capacity 18 Volts RMS
[*]Overall dimensions 19" wide x 3.5" high x 10" deep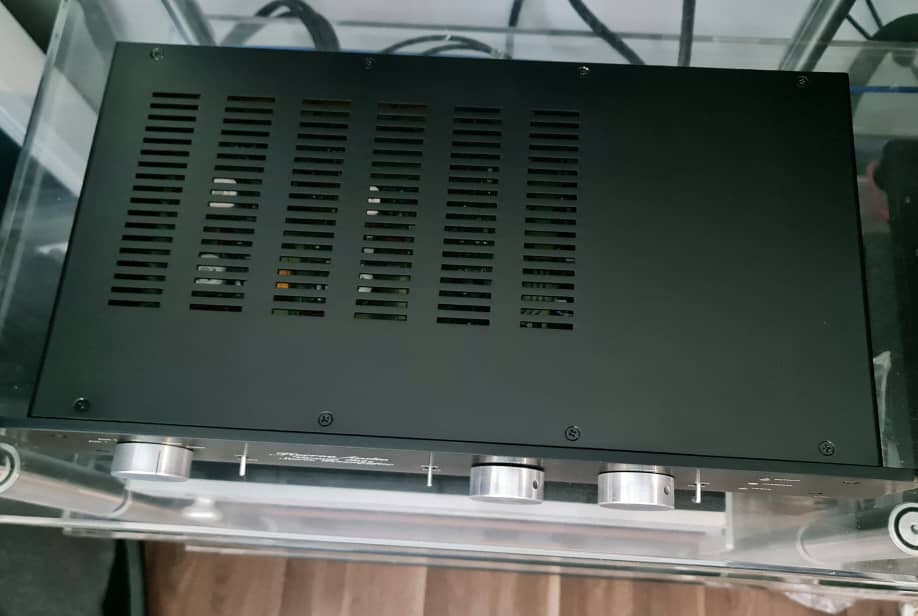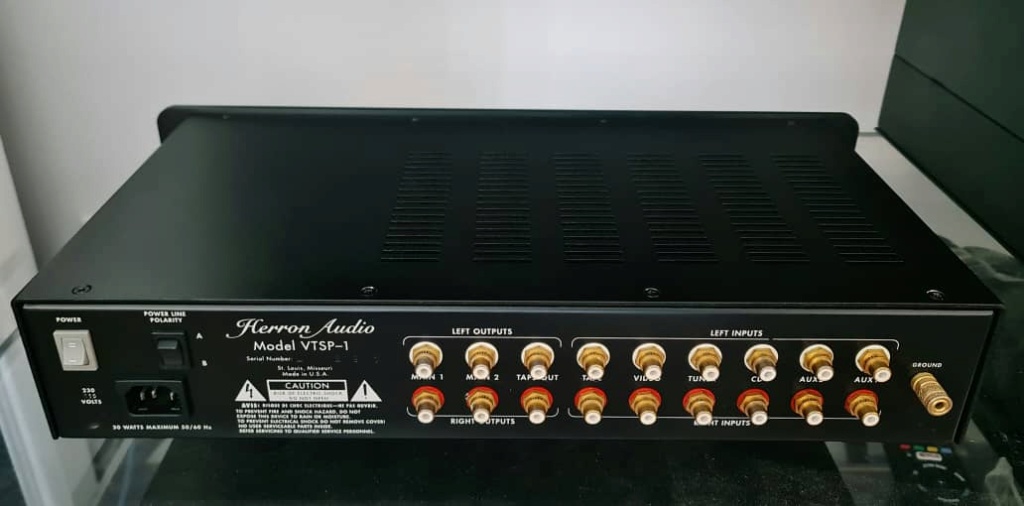 Website:
http://www.enjoythemusic.com/magazine/equipment/1200/herronaudio.htm
https://www.stereophile.com/tubepreamps/211/index.html
http://www.soundstagenetwork.com/revequip/herronaudio_vtsp1_preamp.htm
VIEW ALL MY OTHER STUFFS BY CLICKING BELOW:https://my.carousell.com/hifijunction/https://my.carousell.com/hifijunction/https://my.carousell.com/hifijunction/
Thank you
All my items for sale:
CD Player:
NAD CD Player C565 BEE @ RM1450
Marantz CD63 SE CD Player @ RM750
DAC:
Audio Research DAC9 Tube DAC @ RM27k
Audiolab Q-DAC Digital To Analogue Converter @ RM1100
Phono Stage:
Pathos Acoustics In The Groove Mk2 MM/MC Phono Stage @ RM3800
Rega Aria Switchable MM/MC Turntable Phono Stage @ RM3500
AV Processors/Receiver:
Denon AVC-X8500H Receiver @ RM15,900
Pioneer LX-88 Receiver @ RM3650
Emotiva XPA-5  5-Channels Power Amplifier
Pioneer BDP-450 Blu-ray/SACD player @ RM750
Pre Amplifier:
Conrad Johnson PV-12 Pre Amplifier 
Herron Audio VTSP-1 Tube Preamp
Bryston BP17 Preamplifier @ RM7800
Clarity Audio Model KC-1 Tube Preamplifier @ RM2800
Melos SHA-1 Tube Preamp/ Headphone Amplifier @ RM2200
Musical Fidelity M1 CLiC Universal Music Controller / Network Player /Streamer/ Pre-Amplifier @ RM3300
Conrad Johnson Premier 16LS
Spec RSA - M3 EX 
Power Amplifier:
Music Reference RM-10 Power Amplifier @ RM7800
Rogue Audio Magnum M-120 Monoblock Power Amplifier @ RM8500
ATI AT1502 2-Channel Power Amplifier @ RM2300
ATC P1 Dual Mono Power Amplifier @ RM8300
Naim NAP-155xs Power Amplifier @ RM4200
Naim NAPSC Power Supply @ RM1500
Conrad Johnson Premier 140 Tube Power Amplifier @ RM16,500
Integrated Amplifier:
Devialet D200 Integrated Amplifier
MONA A1 Class A KT120 Tube Single-Ended Integrated Amplifier With Bluetooth 5.0 @ RM2,100
Speakers:
Wharfedale 10.CM Center Speaker @ RM1000
Sonus Faber Olympica III Floorstanding Speaker @ RM30k
Thiel CS3.6 Floorstanding Speakers @ RM7500
Rogers LS66 Bookshelf Speakers @ RM1500
Dynaudio Contour S5.4 Floorstand Speakers
Odeon Audio Orfeo Bookshelf Speakers
Spendor Classic 200 Speakers
PSB Imagine X2T Tower Loudspeakers @ RM5500
Dynaudio Audience 72 SE Floor Standing Speakers @ RM3300
Speaker Stand:
Guizu Solid Teak Wood Speaker Stand with Cast-iron Base and Spikes @ RM1000
Custom-made 6-Columns Audiophile Bookshelf Speakers Stands @ RM1600
Bowers & Wilkins B&W FS700 Speaker Stands @ RM2000
Speaker Cables:
XLO Ultra 12 Bi-wire Speaker Cable - 6 feet pair @ RM1500
Transparent HP14-4 Speaker Cables - 2.5m pair @ RM380
Xindak FS-1 Speaker Cable - 2.5m @ RM1200
Subwoofers:
JL Audio Dominion D-110 10"Inch Powered Subwoofer - 750W (Black Ash) (NEW) @ RM5500
MBWS Audio  MS-12 USA Subwoofer @ RM4999
Orisun USA SUB-1230 Active Sub 12" @ RM1999
Interconnects:
Stage III Concepts Baron AG Pure Silver RCA Interconnect - 1.5m @ RM2300
Van Den Hul The Second XLR Interconnect - 0.8m @ RM730
Kimber Kable Illuminati Orchid AES/EBU Digital Cable - 1.5m @ RM1850
FURUTECH FireBird-96 ( 9pin-6pin ) IEEE1394 Fire Wire Cable 0.6m @ RM450
Power Cables:
Tice Power Cord Model "Power Conductor 2"- 2.5m @ RM1500
Furutech NanoFlux Power Cord - 1.8m @ RM8500
Power Conditioner:
PS Audio Quintet Power Center Power Conditioner @ RM1750
Shunyata Hydra 6 Power Conditioner
Others:
JL Audio JLINK TRX: Wireless, High-Fidelity Audio Transmitter & Receiver Kit @ RM1290
Solid Tech Feet Of Silence (Set of 4) NEW @ RM1500
Entreq Cleanus Ground Box (Made In Sweden) @ RM3600
Subwoofer Base Vibration Isolation Platform @ RM800
Graham Slee - Solo Ultra-Linear Headphone Amplifier + PSU1 Power Supply @ RM1800
CAN VIEW THE DETAILS HERE:https://my.carousell.com/hifijunction/https://my.carousell.com/hifijunction/https://my.carousell.com/hifijunction/
---
Permissions in this forum:
You
cannot
reply to topics in this forum