NAD C 316BEE V2 + Monitor Audio Bronze 50 6G Hi-Fi System Package
Brand
New. 
Now Selling At RM3,799.
 Free Shipping Within West Malaysia.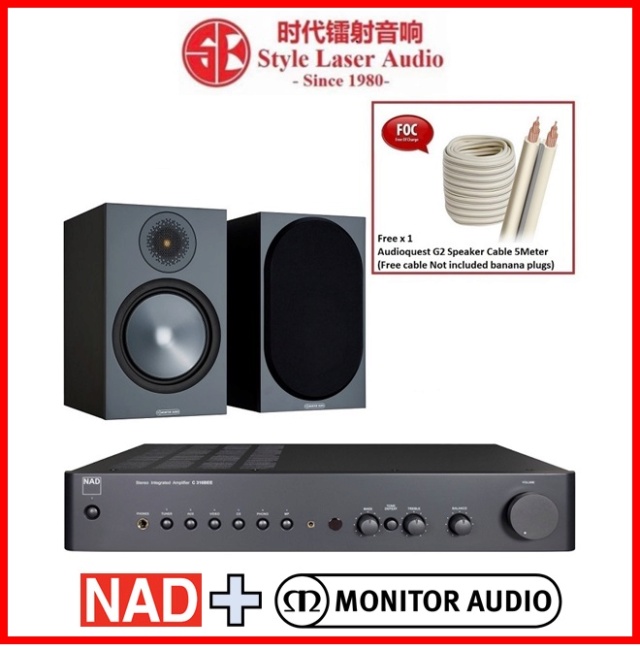 NAD C 316BEE V2 + Monitor Audio Bronze 50 6G Hi-Fi System Package
C 316BEE V2
Stereo Integrated Amplifier
NAD has a distinct reputation for creating some of the best performing budget amplifiers of all time. The lineage is impressive, all the way from the 3020 of 1978 to the current C 328, with many "Best Amp" awards and five-star reviews along the way. The C 316BEE lived up to expectations, garnering multiple accolades including an EISA award for 'Best Product 2008-2009' and top recommendations from the world's leading audio publications. With the resurgence of vinyl we decided to update the design by including NAD's highly acclaimed RIAA phono stage. This sophisticated circuit combines low noise with high overload margins to eliminate noise and distortion. RIAA equalization is extremely accurate (a rarity at this price) and there is even an infrasonic filter to reject airborne vibrations that can cause parasitic feedback.
Improving the Budget Reference Amplifier
Proven Technology Enhanced by Innovation
NAD's PowerDrive Circuit has been proven to offer a remarkable combination of high current drive needed for complex loudspeaker loads, and high levels of undistorted dynamic power. By monitoring the precise operating condition of the power amplifier, PowerDrive uses this intelligence to automatically optimize the power supply settings for uniformly low distortion and maximum power in the real world of music listening. As featured in our top Masters Series models, PowerDrive uses a complex 'analogue computer' to determine the optimal settings. For the C 316BEE V2, NAD's Director of Advanced Development, Bjorn Erik Edvardsen, developed a clever new computation circuit requiring fewer parts at a much lower cost without any reduction in effectiveness.
All the hallmarks of NAD technology are present, from the generously sized toroidal power transformer and low ESR smoothing capacitors, to the multiple regulated secondary supplies, to the heavy duty discrete output transistors, the C 316BEE V2 is every bit as refined and sophisticated as other NAD amplifiers.
改进预算参考放大器
经过实践证明的技术,通过创新增强了技术
NAD的PowerDrive电路已被证明能够提供复杂扬声器负载所需的大电流驱动和高水平的不失真动态功率的卓越组合。通过监测功率放大器的精确工作状态,PowerDrive利用这种智能自动优化电源设置,以实现在现实世界中聆听音乐时的均匀低失真和最大功率。正如我们顶级Masters 系列型号的特色,PowerDrive使用复杂的"模拟计算机"来确定最佳设置。对于C 316BEE V2,NAD的高级开发总监Bjorn Erik Edvardsen开发了一种巧妙的新计算电路,所需的零件更少,成本更低,而效果却不减。
所有NAD技术的特点都存在,从大尺寸的环形电源变压器和低ESR平滑电容,到多级稳压次级电源,再到重型分立输出晶体管,C 316BEE V2与其他NAD放大器一样精致和复杂。
Value
We are confident that the C 316BEE V2 will set new benchmarks for performance, both measured and audible, at this affordable price point. Unless you have power hungry speakers, listen at dangerously loud levels, or have a very large room, the C 316BEE V2 will be the amplifier for you. Fundamental specifications for noise, distortion, power, stereo separation, and volume control tracking, are all class leading and would be impressive on an amplifier costing many times its modest price.
值
我们有信心,C 316BEE V2将在这个实惠的价位上为性能设定新的基准,无论是测量还是听觉,都是如此。除非你有大功率的扬声器,听起来很吵,或有一个非常大的房间,C 316BEE V2将是你的放大器。噪声、失真、功率、立体声分离度和音量控制跟踪等基本规格都是一流的,在价格比它高很多倍的功放上会令人印象深刻。
Simplicity
While the C 316BEE V2 has everything necessary for musical enjoyment, it is refreshingly limited to the essentials: six inputs, one set of speakers, a headphone jack, and full function remote control. It has a compact size and a handsome yet understated exterior. It is essential NAD.
简单
虽然C 316BEE V2具备了音乐享受所需的一切,但它的基本功能却令人耳目一新:6个输入、一组扬声器、一个耳机插孔和全功能遥控器。它拥有小巧的体积和帅气而低调的外观。它是必不可少的NAD。
While its bells and whistles may not be as extensive as our more expensive offerings, the C 316V2 is far from a "stripped down" product. With five line level inputs, an MM Phono Input, full IR remote control, defeatable tone controls and a front panel input for a phone or tablet, the C 316V2 is fully equipped to be the control center for a high performance music system. Continuous power is a conservative 40 watts, and dynamic power (more important for music listening) is impressively more than 100 watts! This is far more usable power on tap than other amplifiers at this price, and this power is available across the entire audible band at a class leading 0.03%.
The sonic result of this high technology is a relaxed and inviting sound that digs out the subtle details in your favourite recordings and presents them across a panoramic stereo sound stage. The impressive dynamic power reserves make the C 316BEE V2 sound both articulate and alive. The silent background and low distortion gives a sense of solidity and presence to your music and brings out the best your loudspeakers have to offer
虽然C 316V2的功能可能没有我们更昂贵的产品那么丰富,但C 316V2绝不是一个 "精简 "的产品。C 316V2拥有5个线级输入、MM唱机输入、全红外遥控器、可击败的音质控制和一个用于手机或平板电脑的前面板输入,C 316V2完全可以成为高性能音乐系统的控制中心。保守的连续功率为40瓦,动态功率(对听音乐更重要)则是100瓦以上,令人印象深刻!这在音乐系统中的使用功率远远超过了传统的40瓦。这比这个价位的其他功放的可用功率要多得多,而且这个功率在整个可听频段内的功率都是0.03%,处于领先地位。
这种高科技的声音效果是一种轻松和诱人的声音,可以挖掘出您最喜爱的录音中的微妙细节,并在全景立体声舞台上呈现出来。令人印象深刻的动态功率储备使C 316BEE V2的声音既清晰又活泼。寂静的背景和低失真为您的音乐带来坚实感和存在感,并将您的扬声器所能提供的最好的声音展现出来。
Features


PowerDrive

5 Line Level Inputs

MM Phono Input for Vinyl

Front Panel Input for Portable Media Players

Bass and Treble Controls

Tone Defeat (Bypass)

Headphone Output

IR Remote Control

Multi-way Speaker Binding Posts

Gold Plated RCA Jacks

Toroidal Power Transformer

<0.5W Standby consumption

特点


驅動器

5线级输入

黑胶唱片的MM唱机输入

便携式媒体播放器的前面板输入

低音和高音控制

音效击败(旁路)

耳机输出

紅外線遙控器

多路扬声器装订柱

镀金RCA插座

环形电源变压器

<0.5W Standby consumption

Bronze 6G
Bronze 50
The Monitor Audio Bronze 50 bookshelf loudspeaker is the most compact model in the series and delivers a size-defying audio performance.
Designed to perform in the smallest of living spaces, the compact and bookshelf-friendly Bronze 50s will deliver the renowned Monitor Audio sound even when placed close to a wall. They are truly versatile and are ideal for both hi-fi and home cinema playback – they can bring games to life by revealing fresh audio detail. Add the 
Bronze AMS Dolby Atmos
 enabled speakers atop the Bronze 50 to heighten the surround experience.
The smallest speaker in the Bronze Series houses our renowned C-CAM mid-bass driver and C-CAM Gold dome tweeter to ensure powerful and detailed audio reproduction with an improved stereo performance.
The choice of four modern finishes and stylish contrasting baffle give the Bronze 50s a superior appearance and ensure they will complement the décor of any room. Should you prefer to have the speakers mounted on the wall, there's an option to do so utilising the rear fixing point and 
FIX-M Speaker Mount
.
Key Features


Monitor Audio signature C-CAM Gold Dome Tweeter upgraded with the new Uniform Dispersion (UD) Waveguide for an incredibly lifelike sound

C-CAM mid-bass driver featuring updated cone geometries and Damped Concentric Mode (DCM) technology which allows the speaker to have a deeper, fuller sound while retaining a clean and precise presentation

Designed for performance – intricately optimised listening experience for music and movies

Hive II rear port tuned for ease of positioning without affecting sound performance

Acoustically transparent hexagonal dispersion pattern grille also featured on our award-winning Silver and Gold Series, for the Monitor Audio family look

High-quality gold-plated bi-wire terminals

Pureflow silver-plated oxygen-free copper internal cabling for highest quality current transfer through the signal chain

Audio transparent bespoke cloth covered magnetic grilles for a more discreet appearance

Add Bronze AMS Dolby Atmos enabled speakers atop for use in any AV home cinema system

Can be wall-mounted using Monitor Audio FIX-M Speaker Mount, utilising its rear fixing point

Interested
 please feel free to contact:
Peter  012-2536225

Fong   016-3098668
Business hour:
MONDAY - 10AM-7PM
TUESDAY - 10AM-7PM
WEDNESDAY - CLOSED(PASAR MALAM)
THURSDAY - 10AM-7PM
FRIDAY - 10AM-7PM
SATURDAY - 10AM-7PM
SUNDAY - 1PM-6PM
PUBLIC HOLIDAY - 1PM-6PM
Style Online Store 24Hous
Location:
STYLE LASER AUDIO SDN BHD
No.148, Jalan Cerdas, Taman
Connaught, Cheras 56000 Kuala Lumpur
( NEXT TO ALLIANCE BANK )
We buy in your old items in CASH!!
Got something keep at home but seldom use or planning to upgrade?
Items that we buy:
Subwoofer

Integrated Amplifier

Speaker

CD player
AV Receiver
Please Whatsapp the item photo to me and get the price immediately, once confirmed the deal, we will pick up your item from you and pay you in cash.


Please visit [You must be registered and logged in to see this link.] find out more products for sale at very special price..
NAD C 316BEE V2 
Line In / Headphone Out
THD (20 Hz – 20 kHz)
<0.03 % in 300 ohms at 2 V out
Signal-to-Noise Ratio
>100 dB (A-weighted, 32 ohms, ref. 2V out, unity gain)
Frequency response
±0.3 dB (20 Hz – 20 kHz)
Output impedance
8 ohms
Line In / Speaker Out
Continuous output power into 8 ohms and 4 ohms
40W (ref. 20 Hz-20 kHz at rated THD, both channels driven)
THD (20 Hz – 20 kHz)
<0.03 % (250 mW to 40 W, 8 ohms and 4 ohms)
Signal-to-Noise Ratio
>95 dB (A-weighted, 500 mV input, ref. 1 W out in 8 ohms)
>97 dB (A-weighted, 500 mV input, unity gain in 32 ohms)
Clipping power (at 1 kHz 0.1 % THD)
>45 W in 8 ohms
>60 W in 4 ohms
IHF dynamic power
8 ohms: 90 W
4 ohms: 120 W
2 ohms: 170 W
Damping factor
>200 (ref. 8 ohms, 1 kHz)
Frequency response
±0.3 dB (20 Hz – 20 kHz, Tone Defeat ON)
Treble: ± 5dB at 10 kHz
Bass: ± 8 dB at 100 Hz
Channel separation
>70 dB (1 kHz)
Maximum input level
4.3V (1 kHz THD 0.1%)
Input sensitivity (for 40 W in 8 ohms)
200 mV
Standby power
<0.5 W
Phono In / Speaker Out
THD (20 Hz – 20 kHz)
<0.03 % (1 W to 40 W, 8 ohms and 4 ohms)
Signal-to-Noise Ratio
>75 dB with IHF MM cartridge (A-weighted, ref. 5mV input 1 kHz and 1W output in 8 ohms)
Frequency response (RIAA deviation)
+0.3 dB (20 Hz – 20 kHz, Tone Defeat ON)
Maximum input level
71 mV (1 kHz THD 0.1%)
Input sensitivity (for 40 W in 8 ohms
2.95 mV
Dimension and Weight
Gross dimensions (W x H x D)
17 1/8 x 3 9/16 x 11 1/4 inches
435 x 90 x 285 mm
Net weight
5.5 kg (12.1 lbs)
Shipping weight
6.4 kg (14.1 lbs)
Monitor Audio Bronze 50 6G 
System Format
2-Way
Frequency Response (-6 dB)
62 – 25,000 Hz (Free field)
40 – 30,000 Hz (In room)
Sensitivity (2.83v @ 1m)
85 dB
Nominal Impedance
8 ohms
Minimum Impedance
4.4 ohms
Maximum SPL
107 dBA (pair)
Power Handling (RMS)
80 W
Recommended Amplifier Requirements
20 — 80 W
Bass Alignment
Bass reflex - HiVe II port system
Crossover Frequency
2,500 Hz
Drive Unit Complement
1 x 51/2" C-CAM bass/mid-range driver
1 x 25 mm C-CAM Gold Dome tweeter with UD Waveguide
External Dimensions (Including Grille and Terminals (H x W x D))
281 x 166 x 265 mm (111/16 x 69/16 x 107/16")
External Dimensions (including Outrigger Feet and Spikes (H x W x D))
N/A
Weight (each)
5 kg (11 lb)
Sold As
Pair                 
Thanks for viewing.
[You must be registered and logged in to see this link.]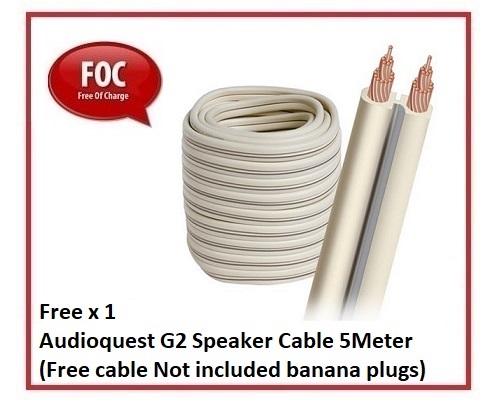 stylelaser.com.my

Dealer\Reseller\Trader\Service Provider





Number of posts

: 876


Age

: 44


Location

: Cheras


Registration date :

2018-01-20



---
Permissions in this forum:
You
cannot
reply to topics in this forum