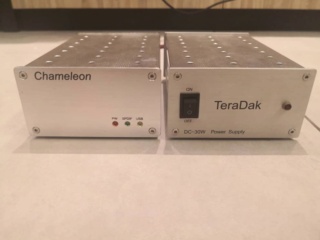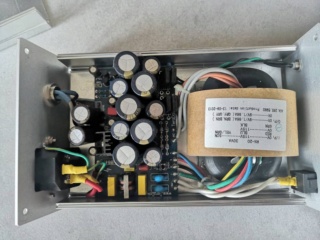 Teradak Chameleon Ultra Low Jitter USB DAC --- Ultra low jitter version with dual 1ppm tcxo and ad1896 ASRC for 96K upsampling for Valab16 pcs of tda1543 dac chips paralleling
Why non-oversampling DAC? ------ 'oversampling' kill music!
You may not know, the actual digital signal recorded on your CD title is 16bit/44.1k format. Yes, never doubt it! Then why almost all modern DAC feature 24bit/96k or even 192k specification? In modern digital recording studio, music will be recorded in new 24bit/192k format but when they need to 'write' onto CD, these information-rich formation must be downgraded into old format. These 'New' DACs will try 'restore' the downgraded back to more informative format using some smart algorithm worked out by smart mathematician. ----- That is problem! why? All music you hear from CD will be processed by some smart algorithm, then you hear the artificial sound ---- actually bad sound! My verdict? No! If you are an experienced audiophile, you will find if these cd players or DACs use the same dac chip inside, they all will have very similaer sound features, even their analog circuits designs are quite different. Why? You hear the same result derived from the same smart algorithm.
These artificial contaminations will damage your audio enjoyment! Why, they mask real tone color and even 'atmosphere' of music player. You do not believe!? Try to find CD records which also have vinyl LP version, compare music from vinyl and CD. You will know how bad this artificial sound is! Back to vinyl record?
No! Vinyl LP really too troublesome! Listening to music should be easy and relaxing. Non-oversampling DAC is a compromise answer.
NOS-DACs may be an acceptable answer to CD music. Why? No artificial processing anymore from these NOS-DACs. You get non-refined music recorded on CD although it is still a degraded music. But in my experience, it is still much better than artificial junk.
Why? 'modern' dac can not basically generate right music signal from downgraded recordings on CD, but rather adds mathematically-generated fill-in bits into your music.
So NOS-DAC is an obvious choice!
VALAB NOS-DAC TDA1543 --- simple elegance
All NOS-DACs are simple. because these old NOS dac chips are such small and simple IC with few pins and only need simple circuit to work well. TDA-1543 may be the most small but tough one. It is a real vintage chip developed by Philips 2 decades ago. We choose it to implement our own NOS-DAC. No special innovation on this chip for it is too simple. What we should do is try to extract its maximum potential! How?
1. Keep most accurate digital signal and feed to TDA1543 in low jitter fashion.
WM8805 digital receiver is the answer for this propose. WM8805 may be the best sound digital receiver chip on market. You will get very amazing vivid and analog sound from it.
2. Paralleling DAC chips. We parallel up to 16 TDA1543 chips, 16 chips paralleling does enhance performance, get better resolution and lower output impedance.
3. Professional-use power supply. 30W sealed military grade power transformer was used in this DAC, it can offer up to 15 times required electricpower. No vibration, heating from this transformer. In rectification circuit, we use best sound 1n5062 diode, this is most creditable diode which is popular in audio tweaking. It does significantly improve sound quality, more smooth and natural sound. Expensive LT1084 5A voltage regulator and Rubycon capacitor were used in power supply section to offer clean and low drop voltage to tda1543 and dir9001 chips.
4. Native 16bit 96K USB receiving for computer based source. We incorporate USB receiving capacity to our new version of 1543 dac. Unlike other USB dac use pcm170x chip which integrates USB receiving and dac into one chip, which is very low cost and low performance. Our approach of USB DAC use very delicate design, using independent TENOR TE7022L USB receiving chip and get I2S digital signal feed into TDA1543 chip.
5. Precision Clock. In order to get best quality digital signal for TDA1543 chip, we integrate independent precision clocking and re-data circuit for digital receiving. You will never find any commercial NOS DAC have so dedicate digital design. No matter what price they sell! We invest our best efforts to extrapolate potential of TDA1543 chip. Our implementation may be best TDA1543 based DAC in market.
6. AD1896 upsampling module for sampling rate extension. This must be most risky technique exploring for Valab nos dac. Why we add a 'upsampling' circuit to 'non over-sampling' dac? At first, we just want to test the possibility if the tda1543 dac can work at 96k mode or not. Our test results convinced us and many of our previous customers this design does significantly enhance sound performance. We explore new possibility and potential to tda1543 based NOS dac.
7. After several month of selling this dac, we have accumulated much know how in parts choice from our customers. Key components usage list below.
a. First stage filtering capacitors: 10 Panasonic FC 1000u/35v Long Life/Low impedance 105 degree C tolerance
b. Decoupling capacitors for digital circuit chips: Eight PSC-470uf 16V solid polymer (os-con) Low ESR/Low impedance 105 degree C tolerance c. Decoupling capacitors for TDA1543 chips: 16 NEC TOKIN 10uf/25v SMD type capacitors, one for each tda1543 chip
d. Analog output output capacitor: Two UCC 20uf 800v MKP capacitors
f. Digital input coupling capacitor : Two metal can oil filled 0.01uf/200v
8. New layout by Teradak research group, significantly shorten signal path and use chassis chassis as heatsink, it will have much better heat dissipation efficiency, keeping dac chip cooler and long time stable.
9. Independent power supply, removing power transformer, voltage regulator out of main circuit chassis. Vibration, noise and supply section now completely isolated from dac main circuit. This dac may be most quiet tda1543 based dac in the world. We hear no hiss, no hum from our 103db/1w altec 604 speaker.
This simple and small NOS-DAC does have a most delicate design and very very good parts choice. You can take it to compete other much much expensive DACs of your friends. You will be very happy.
This is an upgraded unit from stock. It has been modified and upgraded many electrical parts from previous owner, letting go at RM1200 including postage now. DAC is working in mint condition, can request for video call to perform any test requested by buyer, to show you the condition is working perfectly, and sound good.
You will receive a Teradak Chameleon 4.5 DAC with its separate unit of Linear Power Supply, and a 3 pin to 3 pin DC connecting cable. I will pack nicely in a box (not original box) with many layers of bubbled wrapping and well wrapping by stretched film to make the best possibility of protection.
Location: kota kinabalu , sabah
Whatsapp : 0193234662 adrian chin
Price: rm1200 including postage within Malaysia
Last edited by chinprada on Wed Jul 28, 2021 10:23 am; edited 1 time in total (Reason for editing : uploaded pictures)

chinprada

Frequent Contributor





Number of posts

: 182


Age

: 37


Location

: KL


Registration date :

2009-05-09

Character sheet
Source(s): laptop jriver - ifi iusb 3.0
Amplification: teradak chameleon 4.5 DAC / Khadas Tone Pro 2 to LM-219IA PLUS
Speakers: Dynaudio S40 + super tweeter



chinprada

Frequent Contributor





Number of posts

: 182


Age

: 37


Location

: KL


Registration date :

2009-05-09

Character sheet
Source(s): laptop jriver - ifi iusb 3.0
Amplification: teradak chameleon 4.5 DAC / Khadas Tone Pro 2 to LM-219IA PLUS
Speakers: Dynaudio S40 + super tweeter



chinprada

Frequent Contributor





Number of posts

: 182


Age

: 37


Location

: KL


Registration date :

2009-05-09

Character sheet
Source(s): laptop jriver - ifi iusb 3.0
Amplification: teradak chameleon 4.5 DAC / Khadas Tone Pro 2 to LM-219IA PLUS
Speakers: Dynaudio S40 + super tweeter


---
Permissions in this forum:
You
cannot
reply to topics in this forum