Item: Rogue Audio Pharaoh Tube Hybrid Integrated Amplifier (Made in USA)
The Rogue Pharaoh has a tube preamp and solid state amp. Pharaoh is unmistakeably tube like in preamp flavor and the control of a powerful solid state amp. 
Condition: 8.5/10. Item is in excellent condition. No dents or scratches. Comes with original machined aluminum remote.
Price: 
RM8000
 RM7300  or swap/topup
Contact: 012-3816611
Wasap.my/60123816611
Kudos to Rogue for building more products based on the Medusa hybrid amp. As technologies evolve, there is more than one way to arrive at the "perfect" listening experience; the Pharaoh is mighty close. I only had to listen to it for about five minutes before I selected it for an Everything Audio Network Stellar Sound Award.
[color:94cc=2C2D59]Pharaoh Integrated Amplifier
[color:94cc=2C2D59]When we began development of the Pharaoh amplifier we had one overarching goal: The realization of an integrated amplifier that, without compromise, would offer the performance of the finest separates. To that end, the Pharaoh uniquely combines solid state power amplification with tube preamplification to deliver amazing dynamics as well as the organic midrange and sweet top end that only a tube amp can provide. Along with truly outstanding sonics the Pharaoh boasts numerous features including a tube headphone circuit, mm/mc user adjustable phono, home theater bypass, remote controlled volume with mute, and a processor loop. The Pharaoh is truly a "one box" solution to all of your amplifier needs.
[color:94cc=2C2D59]
From a technical standpoint, the all important preamplifier section utilizes a pair of long plate 12AU7 tubes configured in a mu-follower topology. Large coupling caps and a host of exotic parts ensure that the audio signal is preserved perfectly during this critical stage of amplification. A huge linear power supply is then used to deliver energy to the solid state power amplifier section. Designed around the highly regarded Hypex OEM modules, the amplifiers provide  seemingly unlimited power and dynamics.
Overview


185 WPC at 8 ohms, 370 WPC at 4 ohms


Pure tube mu-follower preamplifier


Slow-start automated logical turn-on


Green design with extremely low power consumption


Built-in phono stage with adjustable phono loading (custom values available)


Tube driven headphone stage


Tube complement: 2 x long plate 12AU7 tubes


Massive high storage linear power supplies


Mundorf EVO oil coupling caps


Precision components throughout


Fully tested, burned-in, and auditioned


Detachable IEC power cord


Entirely designed and hand built in the USA


Connections


Three pairs of line level inputs


One pair phono inputs, mm/mc with 40/60 dB gain


One pair balanced XLR inputs


Tube driven 1/4" headphone jack


Specifications:


185 WPC at 8 ohms, 370 WPC at 4 ohms


Power consumption: Standby 6W, 1/2-Power 235W, Full power 435W


Damping factor > 1000


Dimensions: 18.25" wide x 18" deep (incl. posts and knobs) 6.5" high


Weight: 39 lbs.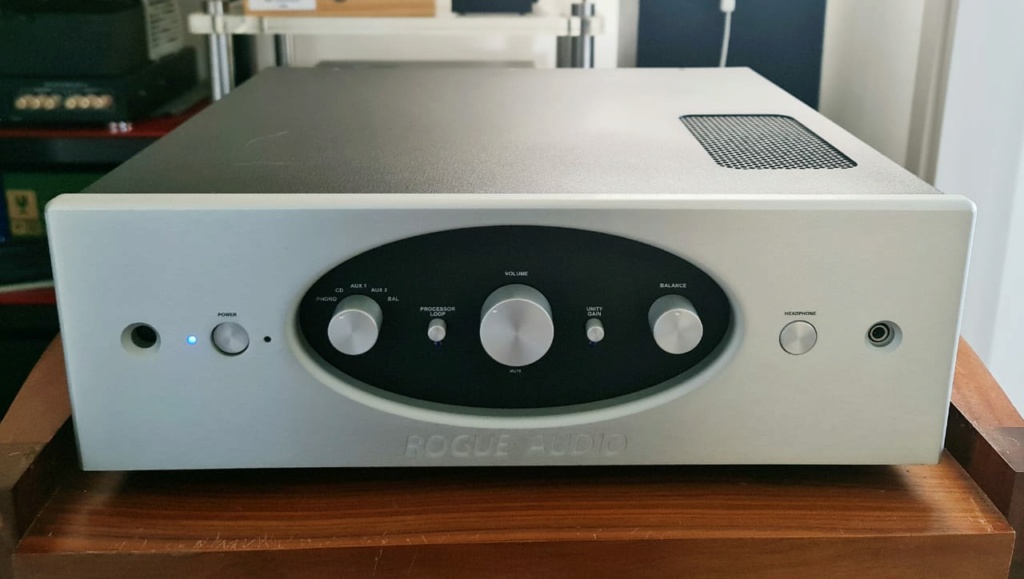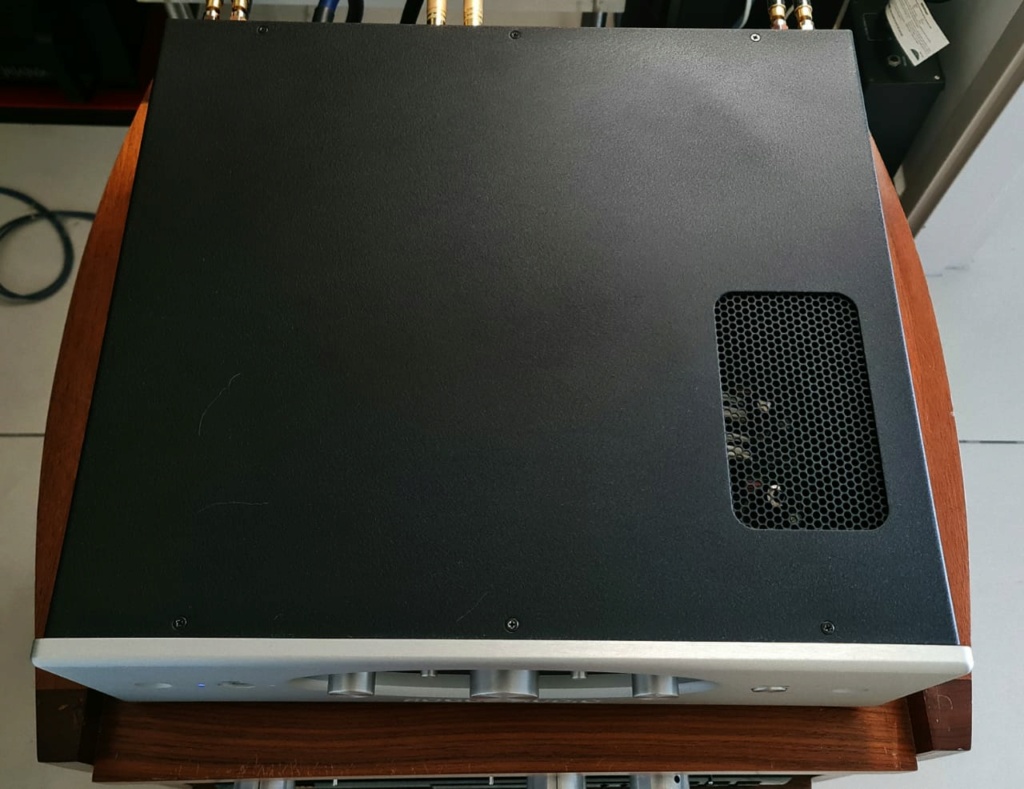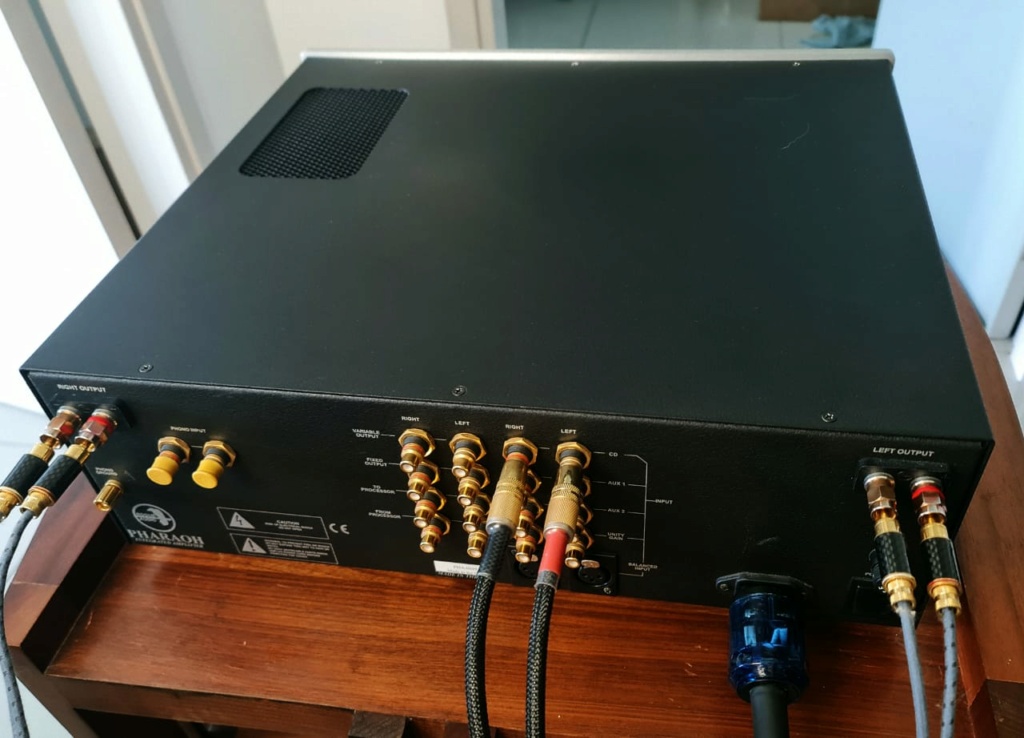 Website:
https://www.youtube.com/watch?v=385EY8aUCWE
https://www.audioadvisor.com/prodinfo.asp?number=RAPHAR
https://hometheaterreview.com/rogue-audio-pharaoh-tube-hybrid-integrated-amplifier-reviewed/
http://everythingaudionetwork.blogspot.com/2014/03/audiophile-review-rogue-audio-pharaoh.html
https://www.audioemporium.com/daves-faves-rogue-pharaoh/
https://www.ukaudiomart.com/details/649615994-rogue-audio-pharaoh-hybrid-integrated-amplifier-black/
VIEW ALL MY OTHER STUFFS BY CLICKING BELOW:https://my.carousell.com/hifijunction/https://my.carousell.com/hifijunction/https://my.carousell.com/hifijunction/
Thank you
All my other items for sale:
CD Player:
Bluesound Node 2i (New)
DAC:
Topping Audio D70 Bluetooth D70BT DSD DAC @ RM1500
Phono Stage:
Parasound JC3 Phono Preamplifier @ RM
AV Processors/Receiver:
Denon AVC-X8500H Receiver @ RM15,900
Pioneer LX-88 Receiver @ RM3650
Pre Amplifier:
Herron Audio VTSP-1 Tube Preamp @ RM7500
Bryston BP17 Preamplifier @ RM7800
Melos SHA-1 Tube Preamp/ Headphone Amplifier @ RM2200
Musical Fidelity M1 CLiC Universal Music Controller / Network Player /Streamer/ Pre-Amplifier @ RM3100
Conrad Johnson Premier 16LS
Music Reference RM-5 Mk4 Tube Preamplfier @ RM4500
Power Amplifier:
Music Reference RM-10 Power Amplifier @ RM7800
Rogue Audio Magnum M-120 Monoblock Power Amplifier @ RM8500
Naim NAP-155xs Power Amplifier @ RM4200
Naim NAPSC Power Supply @ RM1500
Sanders Magtech Stereo Power Amplifier @ RM12,800
XTZ Edge A2-300 Power Amplifier @ RM2300
Integrated Amplifier:
Devialet D200 Integrated Amplifier @ RM20k
MONA A1 Class A KT120 Tube Single-Ended Integrated Amplifier With Bluetooth 5.0 @ RM2,100
SPEC Corporation RSA-M3EX Integrated Amplifier @ RM29k
Sudgen Masterclass Ia-4 Integrated Amplifier @ RM13,500
Rogue Audio Pharaoh Tube Hybrid Integrated Amplifier @ RM7500
Speakers:
Thiel CS3.6 Floorstanding Speakers @ RM7500
Rogers LS66 Bookshelf Speakers @ RM1500
Dynaudio Contour S5.4 Floorstand Speakers 
Odeon Audio Orfeo Bookshelf Speakers
Spendor Classic 200 Speakers
PSB Imagine X2T Tower Loudspeakers @ RM5500
Dynaudio Audience 72 SE Floor Standing Speakers @ RM3000
Speaker Stand:
Guizu Solid Teak Wood Speaker Stand with Cast-iron Base and Spikes @ RM1000
Custom-made 6-Columns Audiophile Bookshelf Speakers Stands @ RM1600
Speaker Cables:
XLO Ultra 12 Bi-wire Speaker Cable - 6 feet pair @ RM1500
Xindak FS-1 Speaker Cable - 2.5m @ RM1200
Cardas Clear Light Speaker Cables - 2m pair @ RM2500
Cardas Clear Speaker Cables - 2.5m pair @ RM4500
XLO Ultra 6 Speaker Cables - 6 feet pair  @ RM900
Subwoofers:
JL Audio Dominion D-110 10"Inch Powered Subwoofer - 750W (Black Ash) (NEW) @ RM5500
MBWS Audio  MS-12 USA Subwoofer @ RM4999
Orisun USA SUB-1230 Active Sub 12" @ RM1999
Interconnects:
Van Den Hul The Second XLR Interconnect - 0.8m @ RM730
FURUTECH FireBird-96 ( 9pin-6pin ) IEEE1394 Fire Wire Cable 0.6m @ RM450
Cardas Audio Lightning 15 75 ohm SPDIF Coaxial Digital Cable - 1.5m @ RM1350
Power Cables:
Aural Symphonics 20A Missing Link Cubed Power Cable @ RM1900
Tice Power Cord Model "Power Conductor 2"- 2.5m @ RM1500
Furutech NanoFlux Power Cord - 1.8m @ RM8500
Vitus Andromeda Power Cord - 1.5m @ RM3600
Power Conditioner:
Torus IS Toroidal Isolation Power Transformers @ RM8300
Others:
JL Audio JLINK TRX: Wireless, High-Fidelity Audio Transmitter & Receiver Kit @ RM1290
Solid Tech Feet Of Silence (Set of 4) NEW @ RM1500
Subwoofer Base Vibration Isolation Platform @ RM690
Graham Slee - Solo Ultra-Linear Headphone Amplifier + PSU1 Power Supply @ RM1800
CAN VIEW THE DETAILS HERE:https://my.carousell.com/hifijunction/https://my.carousell.com/hifijunction/https://my.carousell.com/hifijunction/
---
Permissions in this forum:
You
cannot
reply to topics in this forum