Item: Musical Fidelity M1 PWR Power Amplifier
Condition: 8.5/10. Item is in excellent condition. Looks very new. No dents or scratches.Comes with original power cord, manual and box. Extremely low usage.
Price:
RM2500
RM2200 or swap/topup
Retail USD1300
Contact: 012-3816611
Click here to Whatsapp: 
http://wasap.my/60123816611
Musical Fidelity M1PWR Power Amplifier
[size=18][size=16]Plenty of Power plus Selectable Stereo/Mono Modes


Sometimes, good things come in small packages. Such is the case with the [size=16]Musical Fidelity M1PWR amplifier. No fancy name plates. No fancy chassis. No bells-and-whistles functions. Just a powerhouse high-end amplifier at a truly unbelievable price. 

This expectations-defying component provides plenty of power as well as selectable stereo or monoblock configuration

. That's right: Use a single amp for 60 watts per channel, or utilize a pair as monoblocks for 100 watts into 8 Ohms or 200 watts into 4 Ohms. And, while supplies last, 

take advantage of this special opportunity to own this compact amplifier for $800 off the regular price

!
A recipient of a Hi-Fi Choice Recommended honor, the M1PWR offers very low distortion, excellent frequency response, low signal-to-noise ratio, and incredible stereo separation. The forward-looking design means it produces little heat, goes easy on utility bills, and functions at peak efficiency at all times. If you face space constraints or have a partner that doesn't want stereo clutter, the M1PWR is a perfect solution without having to sacrifice musical quality.
Time and again, the M1PWR treats you to a sound prized for purity, cleanliness, detail, and airiness. It handles complicated recordings in which instruments and voices seem to be tangled by de-congesting the mix. Listeners that opt for a second unit and run two M1PWRs as monoblocks will be justly rewarded. We're awestruck at the dimensions, soundstages, and images these likable amps produce with such consistency and clarity.
Musical Fidelity has long been renowned for rich, powerful sounding amplifiers. Don't miss this special chance to own one at a remarkable price. Comes with the Music Direct 100% satisfaction guarantee!
"The M1PWR sounds clean, fresh, and open, displaying a natural tonal balance and conveying a fine portrayal of dynamics. It is well-balanced and crisply detailed, giving the impression of having ample power in reserve. Tonally, it delivers a lean, lucid presentation of great clarity and transparency."
– Hi-Fi Choice,
"As a stereo power amp, the M1 PWR is a no-nonsense little belter, with plenty of power. As a pair of monoblocks, however, they really bring the music to life with superb imagery on a grand scale."
– HiFI News, Recommended Product[/size][/size][/size]
The latest addition to the M1 series came from customer demand – they were clamouring for the perfect power amplifier partner for the award-winning M1 CLiC music controller.
After intensive technical development, we've delivered just that – and more – in the compact shape of the M1 PWR.
It's a premium performance mono/stereo power amplifier. A single M1 PWR offers 60 watts per channel of stereo drive, but at the slide of a switch it becomes a 100 watt monobloc. All circuitry is internally switched: all you need to do is connect up a second M1 PWR for an excellent, easy upgrade.
Even in its single-box mode it drives speakers with ease, delivering superb stereo separation and a punchy, pure sound. Add another M1 PWR and the performance steps up to another level again.
The svelte design and outstanding value of the M1 range means stacking up an amazing hi-fi system has never been easier, even if your space and budget are limited
[size=13]PERFORMANCE

[/size]


Power output: Stereo Mode 65W into 8Ω, 130W into 4Ω, Mono Mode 100W into 8Ω, 200W into 4Ω


THD(+ noise): Stereo <0.03%, Mono <0.02%


Signal to Noise Ratio: Stereo >94dB, Mono >100dB


Frequency Response: <0.5dB, (20Hz to 20kHz)


[size=13]INPUTS

[/size]


1x RCA Phono Line Level


1x Trigger input 3.5mm (⅛") mono jack ±4.5 to ±15V DC


[size=13]GENERAL

[/size]


Dimensions - WxHxD (mm): 220 x 100 x 315


Weight (unpacked / packed): 3.9 kg / 4.6 kg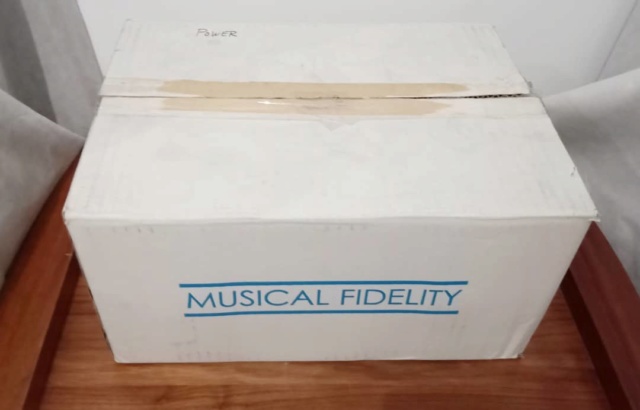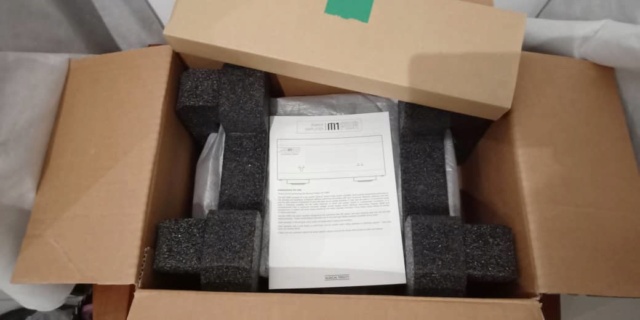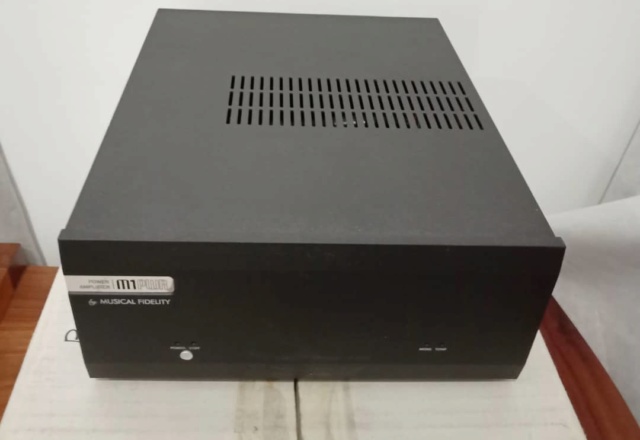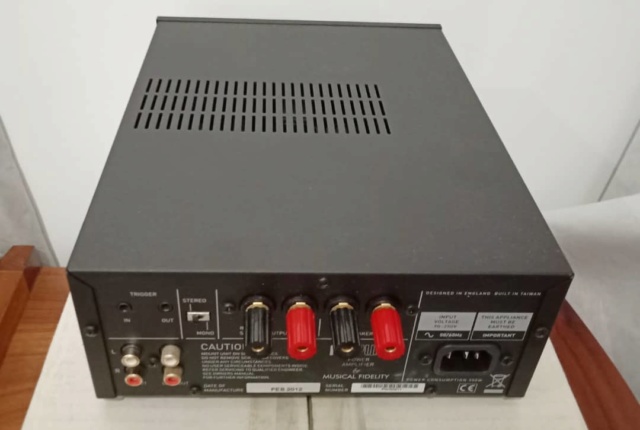 Website:
https://www.musicalfidelity.com/m1pwr
https://www.kenrockwell.com/audio/musical-fidelity/m1pwr.htm
https://hometheaterreview.com/musical-fidelity-m1pwr-stereomono-amplifier/
VIEW ALL MY OTHER STUFFS BY CLICKING BELOW:https://my.carousell.com/hifijunction/https://my.carousell.com/hifijunction/https://my.carousell.com/hifijunction/
Thank you
Last edited by raymond88 on Wed Sep 22, 2021 7:17 pm; edited 10 times in total
Bump


All my other items for sale:

CD Player:
Bluesound Node (New)

DAC:

Phono Stage:

AV Processors/Receiver:
Denon AVC-X8500H Receiver @ RM15,900
Pioneer LX-88 Receiver @ RM3650

Pre Amplifier:
Herron Audio VTSP-1 Tube Preamp @ RM7500
Bryston BP17 Preamplifier @ RM7800
Melos SHA-1 Tube Preamp/ Headphone Amplifier @ RM2200
Musical Fidelity M1 CLiC Universal Music Controller / Network Player /Streamer/ Pre-Amplifier @ RM3100
Conrad Johnson Premier 16LS
Music Reference RM-5 Mk4 Tube Preamplfier @ RM4000
Jeff Rowland Capri S1 Preamplifier w Phono @ RM6300

Power Amplifier:
Music Reference RM-10 Power Amplifier @ RM7800
Rogue Audio Magnum M-120 Monoblock Power Amplifier @ RM8500
Naim NAP-155xs Power Amplifier @ RM4200
Naim NAPSC Power Supply @ RM1500
Sanders Magtech Stereo Power Amplifier @ RM12,800
XTZ Edge A2-300 Power Amplifier @ RM2300

Integrated Amplifier:
Devialet D200 Integrated Amplifier @ RM20k
MONA A1 Class A KT120 Tube Single-Ended Integrated Amplifier With Bluetooth 5.0 @ RM2,100
SPEC Corporation RSA-M3EX Integrated Amplifier @ RM29k
Rogue Audio Pharaoh Tube Hybrid Integrated Amplifier @ RM7500

Speakers:
Thiel CS3.6 Floorstanding Speakers @ RM7500
Rogers LS66 Bookshelf Speakers @ RM1500
Dynaudio Contour S5.4 Floorstand Speakers 
Odeon Audio Orfeo Bookshelf Speakers @ RM7500
PSB Imagine X2T Tower Loudspeakers @ RM5500
Dynaudio Contour S1.4 Bookshelf Speakers @ RM6800

Speaker Stand:
Guizu Solid Teak Wood Speaker Stand with Cast-iron Base and Spikes @ RM1000
Custom-made 6-Columns Audiophile Bookshelf Speakers Stands @ RM1600

Speaker Cables:
XLO Ultra 12 Bi-wire Speaker Cable - 6 feet pair @ RM1500
Xindak FS-1 Speaker Cable - 2.5m @ RM1200
Cardas Clear Light Speaker Cables - 2m pair @ RM2500
Cardas Clear Speaker Cables - 2.5m pair @ RM4500
XLO Ultra 6 Speaker Cables - 6 feet pair  @ RM900

Subwoofers:
JL Audio Dominion D-110 10"Inch Powered Subwoofer - 750W (Black Ash) (NEW) @ RM5500
MBWS Audio  MS-12 USA Subwoofer @ RM4999
Orisun USA SUB-1230 Active Sub 12" @ RM1999

Interconnects:
Van Den Hul The Second XLR Interconnect - 0.8m @ RM730
FURUTECH FireBird-96 ( 9pin-6pin ) IEEE1394 Fire Wire Cable 0.6m @ RM450
Cardas Audio Lightning 15 75 ohm SPDIF Coaxial Digital Cable - 1.5m @ RM1350

Power Cables:
Aural Symphonics 20A Missing Link Cubed Power Cable @ RM1900
Tice Power Cord Model "Power Conductor 2"- 2.5m @ RM1500
Furutech NanoFlux Power Cord - 1.8m @ RM8500
Vitus Andromeda Power Cord - 1.5m @ RM3600
ASI Liveline Power Cable - 1.8m @ RM2700

Power Conditioner:
Torus IS Toroidal Isolation Power Transformers @ RM8300

Others:
JL Audio JLINK TRX: Wireless, High-Fidelity Audio Transmitter & Receiver Kit @ RM1290
Solid Tech Feet Of Silence (Set of 4) NEW @ RM1500
Subwoofer Base Vibration Isolation Platform @ RM690
Graham Slee - Solo Ultra-Linear Headphone Amplifier + PSU1 Power Supply @ RM1800


CAN VIEW THE DETAILS HERE:

https://my.carousell.com/hifijunction/
https://my.carousell.com/hifijunction/
https://my.carousell.com/hifijunction/
---
Permissions in this forum:
You
cannot
reply to topics in this forum