Item: Pro-Ject CD Box S2 Compact single-disc CD player 
Condition: 9/10. Item is in LIKE NEW condition. No dents or scratches. Comes with all accessories and original box. With warranty left.
Retail Price: RM2195.00
Selling Price: RM1650 or swap/topupCan Trade-In your CD Player/Amplifier/Speakers/Etc
Contact: 012-3816611
Wasap.my/60123816611

A space-saving CD player
If you want to listen to your prized CD collection, but have limited room for new components, the Pro-Ject CD Box S2 may just be the ideal solution. This low-profile CD player offers hi-fi audio quality, with a built-in 32-bit/384kHz digital-to-analog converter for highly accurate playback. If you happen to have plenty of room, and prefer to use a separate component DAC, there's a Toslink optical digital output on the back. 
Product highlights:


plays CD, CD-R, CD-RW and Hybrid-SACD


32-bit/384kHz DAC for highly accurate playback


frequency response: 20-20,000 Hz (-0.15 dB)


selectable digital filters let you fine-tune the sound according to taste

FIR (finite impulse response)

IIR (infinite impulse response)

all-aluminum case reduces vibration and interference


Toslink optical digital output


stereo RCA analog output


remote included


external AC power supply included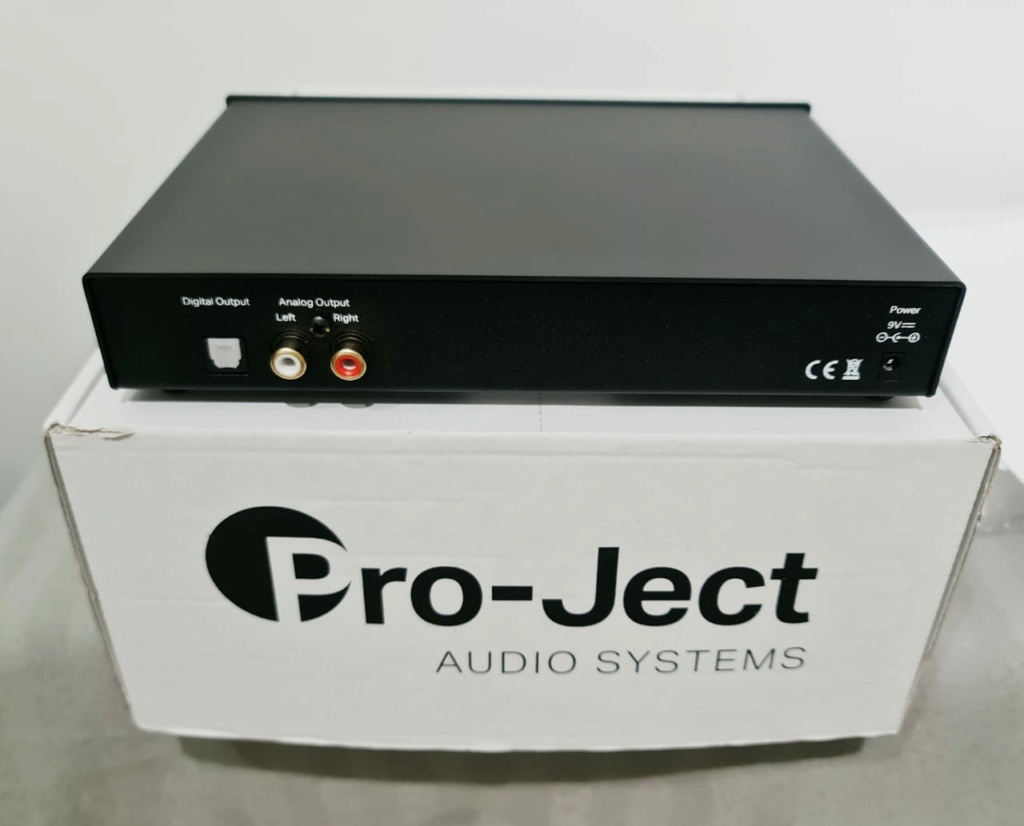 Website:
https://www.crutchfield.com/S-ETP4rAPZNT1/p_252CDS2B/Pro-Ject-CD-Box-S2-Black.html
https://www.hifix.co.uk/project-cd-box-s2-cd-player
https://www.hifichoice.com/content/pro-ject-cd-box-s2
https://www.project-audio.com/en/product/cd-box-s2/
All my other items for sale:
CD Player/Streamer:
Pro-Ject CD Box S2 Compact single-disc CD player @ RM1,650
Bluesound NODE 2021 Wireless Multi-Room Hi-Res Music Streamer @ RM2699
DAC:
Cambridge Audio DacMagic @ RM850
Phono Stage:AV Processors/Receiver:
Denon AVC-X8500H Receiver @ RM15,900
Pioneer LX-88 Receiver @ RM3650
Pre Amplifier:
Bryston BP17 Preamplifier @ RM7500
Melos SHA-1 Tube Preamp/ Headphone Amplifier @ RM2200
Music Reference RM-5 Mk4 Tube Preamplfier @ RM4000
Power Amplifier:
Music Reference RM-10 Power Amplifier @ RM7800
Rogue Audio Magnum M-120 Monoblock Power Amplifier @ RM8500
Naim NAPSC Power Supply @ RM1500
Sanders Magtech Stereo Power Amplifier @ RM12,800
XTZ Edge A2-300 Power Amplifier @ RM2300
Integrated Amplifier:
SPEC Corporation RSA-M3EX Integrated Amplifier @ RM26k
Einstein Audio 'The Absolute Tune' Integrated Amplifier @ RM14,800
Speakers:
Usher Audio Technology Compass X-719 Loudspeaker @ RM2,900
Thiel CS3.6 Floorstanding Speakers @ RM6900
Rogers LS66 Bookshelf Speakers @ RM1500
Odeon Audio Orfeo Bookshelf Speakers @ RM7500
PSB Imagine X2T Tower Loudspeakers @ RM5500
Sonus Faber Venere Center Speaker @ RM2,200
ATC CICA Center Speaker @ RM1,800
Speaker Stand:
Guizu Solid Teak Wood Speaker Stand with Cast-iron Base and Spikes @ RM1000
Custom-made 6-Columns Audiophile Bookshelf Speakers Stands @ RM1600
Speaker Cables:
ASI Liveline Speaker Cables - 3.4m @ RM
XLO Ultra 12 Bi-wire Speaker Cable - 6 feet pair @ RM1500
Xindak FS-1 Speaker Cable - 2.5m @ RM1200
XLO Ultra 6 Speaker Cables - 6 feet pair  @ RM900
Purist Audio Design Neptune Luminist Revision Speaker Cable - 2.5m @ RM8300
AudioQuest Volcano Speaker Cable with 24V DBS - 3m @ RM6,000
Subwoofers:
JL Audio Dominion D-110 10"Inch Powered Subwoofer - 750W (Black Ash) (NEW) @ RM5500
JBL Stage A120P 12" Powered Subwoofer @ RM1899
Interconnects:
FURUTECH FireBird-96 ( 9pin-6pin ) IEEE1394 Fire Wire Cable 0.6m @ RM450
Audioquest Diamondback RCA Interconnect - 1m @ RM380
Shunyata Research Cobra XLR Interconnect - 1.5m @ RM3300
NBS Professional IV Digital AES/EBU Cable - 1m @ RM3800
Black Rhodium Twist RCA Interconnect - 1.5m @ RM250
AudioQuest Sky RCA Interconnects DBS36v - 1.5m @ RM3300
Norodst Heimdall 2 RCA Interconnect - 1m @ RM3300
The Chord Co. Cobra RCA Interconnect - 1m @ RM380
Wireworld Silver Starlight 5 AES/EBU XLR Digital Cable - 1m @ RM880
Wireworld Soltice 8 Interconnect RCA To RCA 1 Meter Pair @ RM380
Transparent Cable MusicLink Plus XLR - 1 pair @ RM650
Power Cables:
Tice Power Cord Model "Power Conductor 2"- 2.5m @ RM1500
Furutech NanoFlux Power Cord - 1.8m @ RM8500
Vitus Andromeda Power Cord - 1.5m @ RM3600
ASI Liveline Power Cable - 1.8m @ RM2700
Aural Symphonics 20A Missing Link Cubed Power Cable @ RM1900
Cardas Quadlink Power Cable - 2m @ RM880
Harmonix X-DC Studio Master Power Cord - 1.5m @ RM1,800
Power Conditioner:
Torus IS Toroidal Isolation Power Transformers @ RM7800
Others:
JL Audio JLINK TRX: Wireless, High-Fidelity Audio Transmitter & Receiver Kit @ RM1290
Subwoofer Base Vibration Isolation Platform @ RM690
Graham Slee - Solo Ultra-Linear Headphone Amplifier + PSU1 Power Supply @ RM1800
CAN VIEW THE DETAILS HERE:https://www.carousell.com/u/hifijunctionhttps://www.carousell.com/u/hifijunctionhttps://www.carousell.com/u/hifijunction
---
Permissions in this forum:
You
cannot
reply to topics in this forum