Item: Einstein Audio 'The Absolute Tune' Integrated Amplifier
Condition: 8.5/10. Item is in near mint condition. No dents or scratches. Comes with original remote control, original right-angle power cable, manual,tube grill cover and original wooden box.
Einstein Absolute Tune hybrid amp--a killer integrated and more powerful than its 50W/85W rating suggests. It is fanless, very quiet in operation, and is highly transparent. 
Manufacturer: Einstein Audio, Germany
Model: The Absolute Tune integrated amplifier.
Pre-amplifier: Class A using 4 units of 6922 tubes (original Jan Philips).
Power amplifier: Solid state using Circlotron technology, similar to OTL in Tube amplifier.
100% German designed and German made.
Overall: dual mono design, everything in the design optimized for sound quality. Beautiful (not at all German looking) design and heavy (about 25kg)
Price: 
RM16,000
RM14,300
or swap/topup
Can Trade-In your CD Player/Amplifier/Speakers/Etc
Retail Price: $10,300 USD
Contact: 012-3816611
Wasap.my/60123816611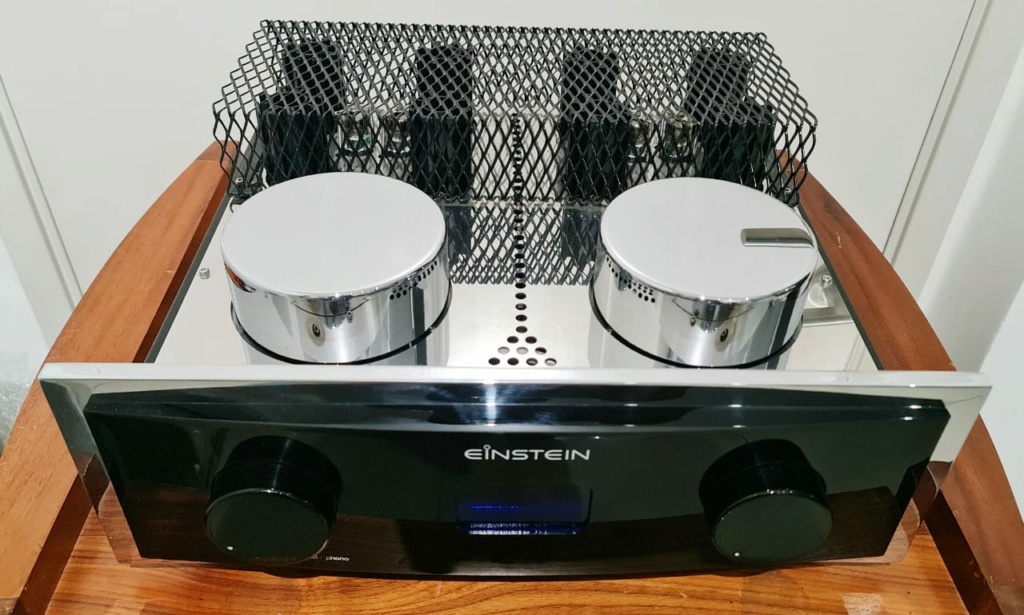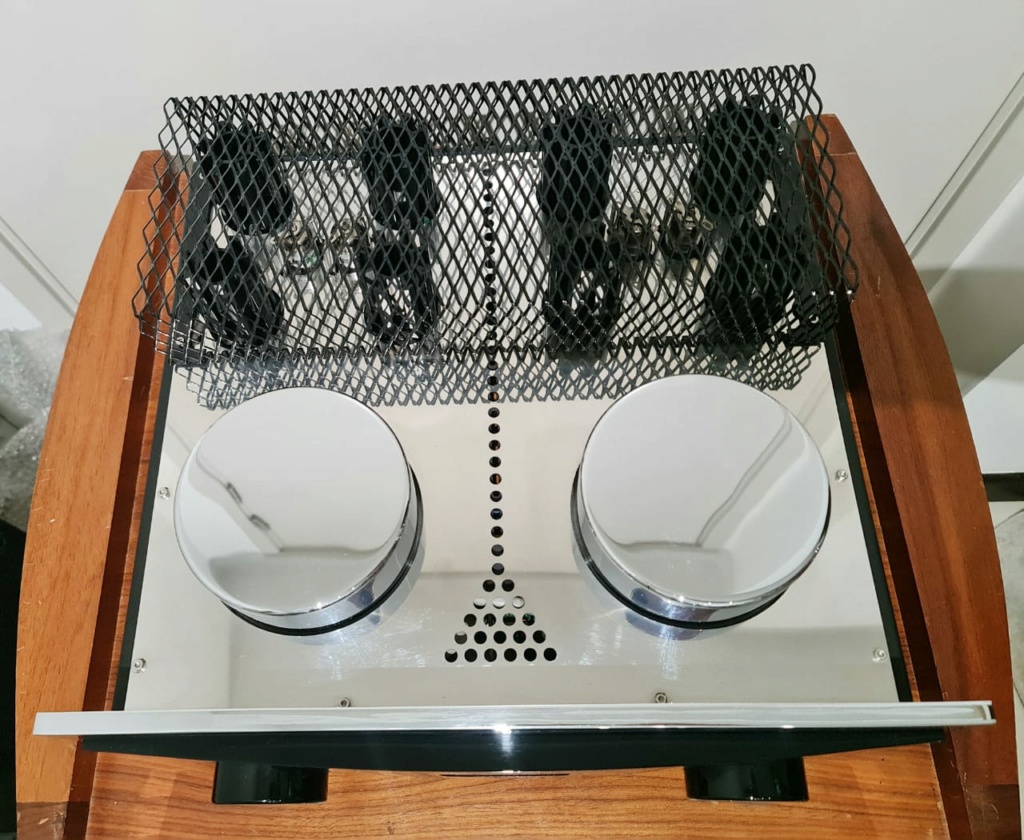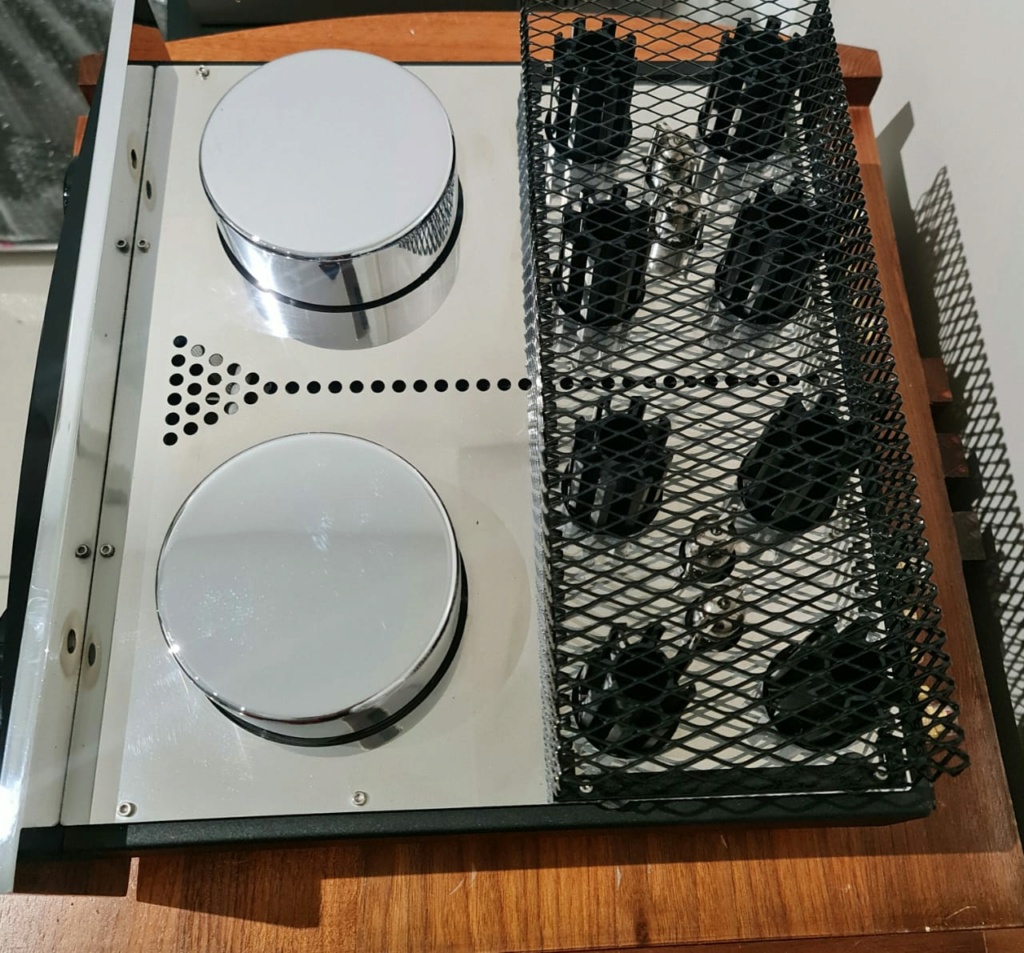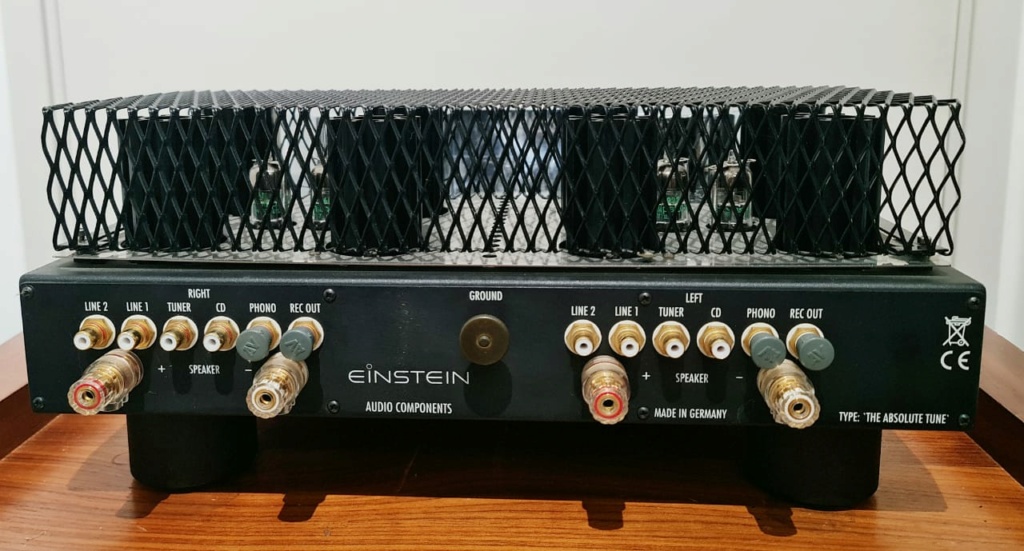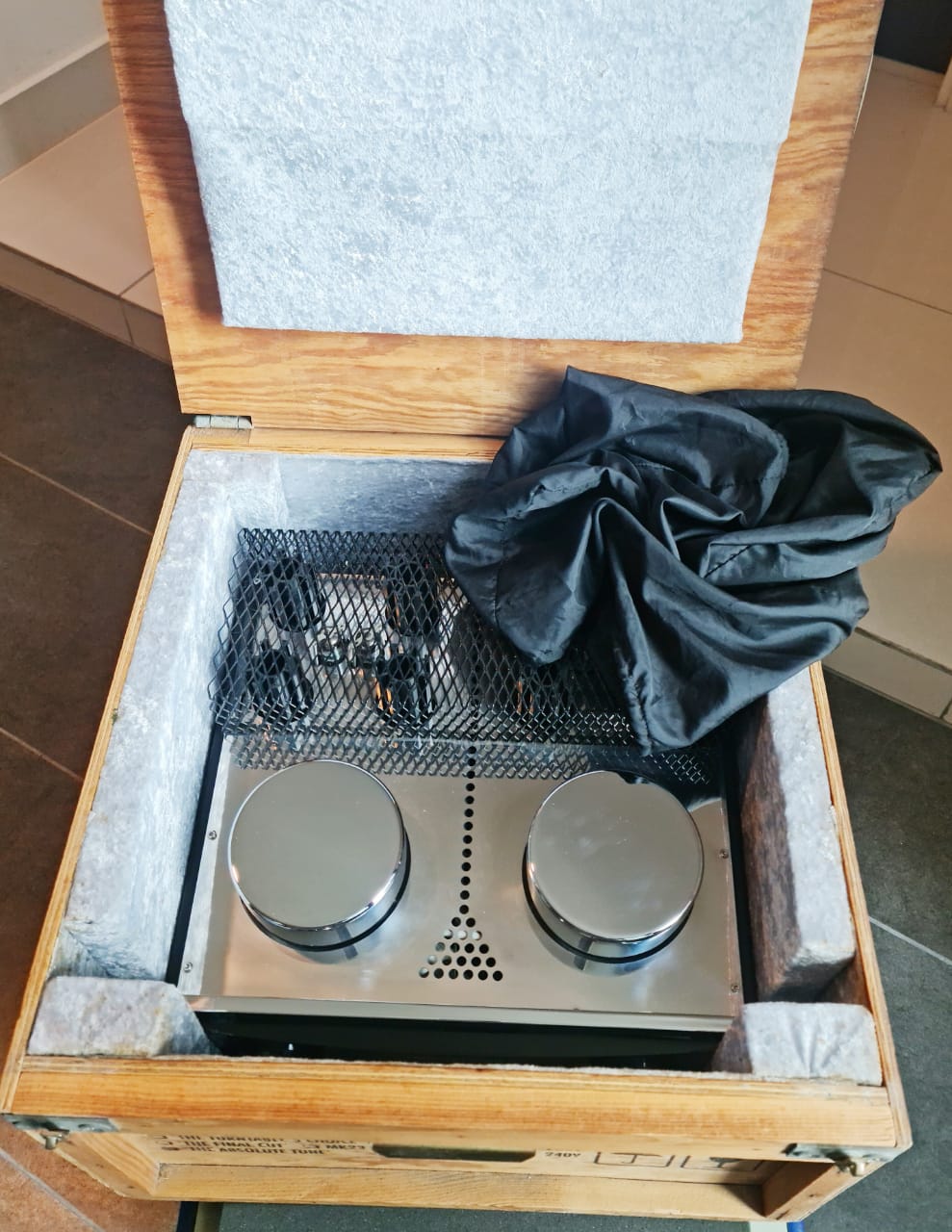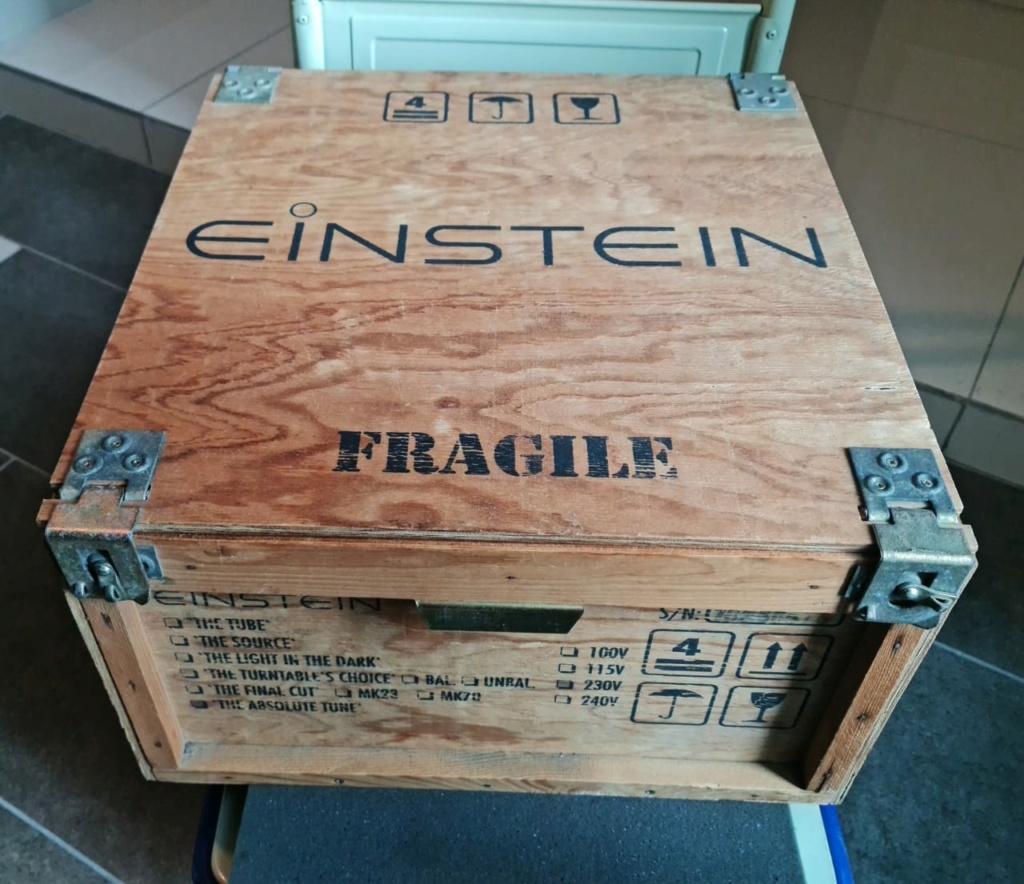 Type: Fully balanced power amplifier
S/N ratio: > 96dB
THD: < 0.02% Channel separation: > 80dB
Damping factor: > 250wpc/8Ω
Output power: 50 watts into 8Ω, 100 watts into 4Ω
Input sensitivity: 1V for full rated power
Tube complement: 4 x E88C /6922 dual triode
Weight: 20 kg 
Website:
https://www.usaudiomart.com/details/649752850-einstein-the-absolute-tune/
http://www.soundstagenetwork.com/revequip/einstein_absolute_tune.htm
http://www.6moons.com/audioreviews/einstein/einstein.html
https://www.einstein-audio.de/en/factory/einstein-audio
https://6moons.com/audioreviews/einstein3/1.html
https://reverb.com/item/38616493-einstein-the-absolute-tune-amplifier
VIEW ALL MY OTHER STUFFS BY CLICKING BELOW:https://my.carousell.com/hifijunction/https://my.carousell.com/hifijunction/https://my.carousell.com/hifijunction/
All my other items for sale:
CD Player/Streamer:
Pro-Ject CD Box S2 Compact single-disc CD player @ RM1,650
Bluesound NODE 2021 Wireless Multi-Room Hi-Res Music Streamer @ RM2699
DAC:
Cambridge Audio DacMagic @ RM850
Phono Stage:AV Processors/Receiver:
Denon AVC-X8500H Receiver @ RM15,900
Pioneer LX-88 Receiver @ RM3650
Pre Amplifier:
Bryston BP17 Preamplifier @ RM7500
Melos SHA-1 Tube Preamp/ Headphone Amplifier @ RM2200
Music Reference RM-5 Mk4 Tube Preamplfier @ RM4000
Power Amplifier:
Music Reference RM-10 Power Amplifier @ RM7800
Rogue Audio Magnum M-120 Monoblock Power Amplifier @ RM8500
Naim NAPSC Power Supply @ RM1500
Sanders Magtech Stereo Power Amplifier @ RM12,800
XTZ Edge A2-300 Power Amplifier @ RM2300
Integrated Amplifier:
SPEC Corporation RSA-M3EX Integrated Amplifier @ RM26k
Einstein Audio 'The Absolute Tune' Integrated Amplifier @ RM14,800
Speakers:
Usher Audio Technology Compass X-719 Loudspeaker @ RM2,900
Thiel CS3.6 Floorstanding Speakers @ RM6900
Rogers LS66 Bookshelf Speakers @ RM1500
Odeon Audio Orfeo Bookshelf Speakers @ RM7500
PSB Imagine X2T Tower Loudspeakers @ RM5500
Sonus Faber Venere Center Speaker @ RM2,200
ATC CICA Center Speaker @ RM1,800
Speaker Stand:
Guizu Solid Teak Wood Speaker Stand with Cast-iron Base and Spikes @ RM1000
Custom-made 6-Columns Audiophile Bookshelf Speakers Stands @ RM1600
Speaker Cables:
ASI Liveline Speaker Cables - 3.4m @ RM
XLO Ultra 12 Bi-wire Speaker Cable - 6 feet pair @ RM1500
Xindak FS-1 Speaker Cable - 2.5m @ RM1200
XLO Ultra 6 Speaker Cables - 6 feet pair  @ RM900
Subwoofers:
JL Audio Dominion D-110 10"Inch Powered Subwoofer - 750W (Black Ash) (NEW) @ RM5500
JBL Stage A120P 12" Powered Subwoofer @ RM1899
Interconnects:
FURUTECH FireBird-96 ( 9pin-6pin ) IEEE1394 Fire Wire Cable 0.6m @ RM450
Audioquest Diamondback RCA Interconnect - 1m @ RM380
Shunyata Research Cobra XLR Interconnect - 1.5m @ RM3300
NBS Professional IV Digital AES/EBU Cable - 1m @ RM3800
Black Rhodium Twist RCA Interconnect - 1.5m @ RM250
Power Cables:
Tice Power Cord Model "Power Conductor 2"- 2.5m @ RM1500
Furutech NanoFlux Power Cord - 1.8m @ RM8500
Vitus Andromeda Power Cord - 1.5m @ RM3600
ASI Liveline Power Cable - 1.8m @ RM2700
Aural Symphonics 20A Missing Link Cubed Power Cable @ RM1900
Cardas Quadlink Power Cable - 2m @ RM880
Power Conditioner:
Torus IS Toroidal Isolation Power Transformers @ RM7800
Others:
JL Audio JLINK TRX: Wireless, High-Fidelity Audio Transmitter & Receiver Kit @ RM1290
Subwoofer Base Vibration Isolation Platform @ RM690
Graham Slee - Solo Ultra-Linear Headphone Amplifier + PSU1 Power Supply @ RM1800
CAN VIEW THE DETAILS HERE:https://www.carousell.com/u/hifijunctionhttps://www.carousell.com/u/hifijunctionhttps://www.carousell.com/u/hifijunction
---
Permissions in this forum:
You
cannot
reply to topics in this forum