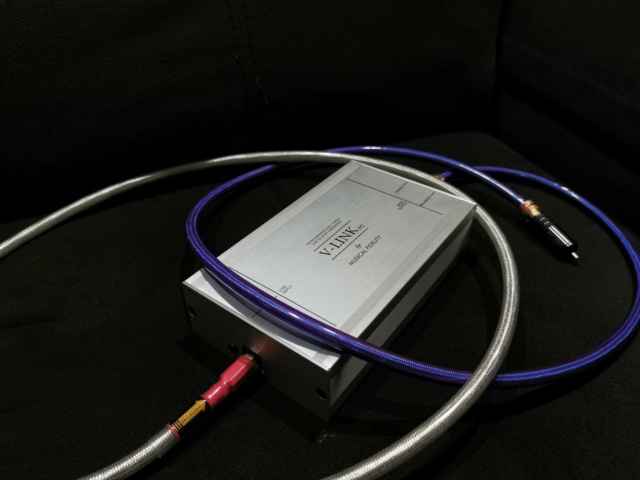 V-link 192 for computer audio with Spdif and AES/EBU output for better out for your device. Galvanic isolation for your computer usb output. 
The Musical Fidelity V-Link 192 is the top USB to S/PDIF converter in the V Series. It is completely powered by the USB bus of the connected computer. No wall-wort external power adapters needed or even possible. Using the V-Link 192 is as simple as connecting a standard USB cable on one end and an AES or coaxial cable on the other. There are no settings or switches to mess with on the V-Link 192. Its asynchronous USB input, developed in-house using the XMOS chipset, supports all pertinent PCM sample rates from 44.1 kHz through 192 kHz. The "192" is a Class 2 USB audio device that requires drivers on Windows operating systems but not on newer versions of Linux and OS X. Connected to my MacBook Pro running 10.7.4, the Weiss Engineering MAN301, and the Aurender W10 the V-Link 192 worked flawlessly. On the Windows platform Musical Fidelity uses the very robust Thesycon software and drivers. Simple installation and flawless performance just like Linux and OS X servers. 
Internally the V-Link 192 has improved power supply regulation over the first generation of V Series converters. This power supply feeds the internal clock Musical Fidelity placed next to key components to shorten the signal path. The V-Link 192 has two fairly average fixed oscillators from the Shin Koln Cooperation. One 22.579 MHz for the 44.1 kHz family of sample rates and one 24.576 MHz for the 48 kHz family. As data enters the V-Link 192 it traverses an I2S bus to the S/PDIF converter. According to Musical Fidelity this reduces jitter. After conversion to S/PDIF data flows via transformer coupled galvanically isolated AES/EBU or coaxial S/PDIF outputs to one's DAC of choice. The 30T-2521NL transformers from Yuan Dean Scientific are used for isolation and ground loop prevention, a major issue in many audio systems, although the 30T-2521NL doesn't offer great high frequency isolation. I used the balanced AES output to connect to the EMM Labs DAC2X for the entire review period. Adjacent to the AES and coaxial outputs are LED indicators of power, lock, and sample rate. The sample rate indicators are a very nice feature. They don't indicate if the audio is bit perfect from the computer but they do provide feedback that can indicate something major has gone wrong. For example, if a user is playing CD quality content at 44.1 kHz but the V-Link 192 indicates the sample rate is 96 kHz the user immediately knows something isn't right.
RM395 WA o12 332 nine 2 44
Similar topics
---
Permissions in this forum:
You
cannot
reply to topics in this forum