Item: Torus Power IS Series High-Power Isolation Power Conditioner
Weight: 25 kgs
Casing Size: 3U (17 Inch Silver)
Condition: 9/10. Item is in MINT condition. Comes with original box and packaging. 
Price: 
RM8300
 RM7300 or swap/topup
Can Trade-In your power conditioner, amplfier, CD player, etc
Contact: 012-3816611
Wasap.my/60123816611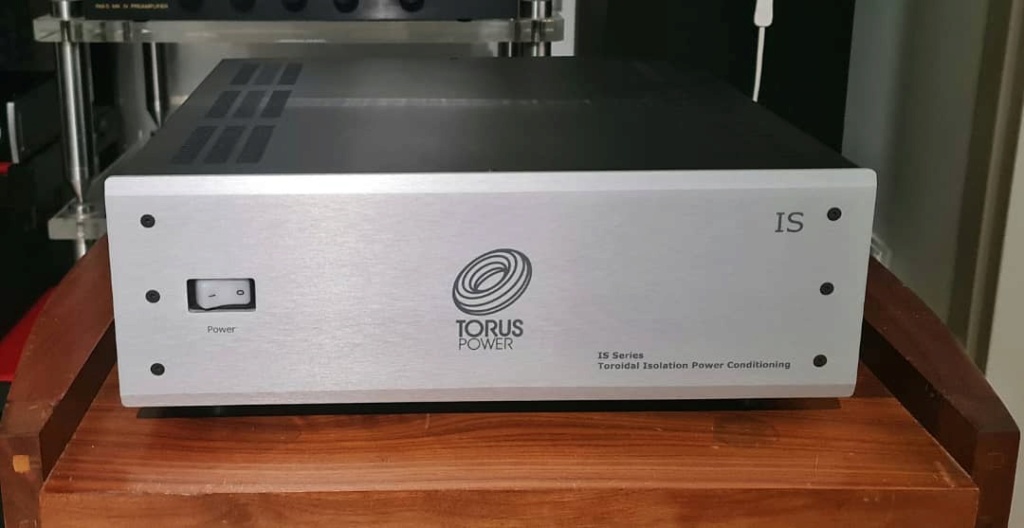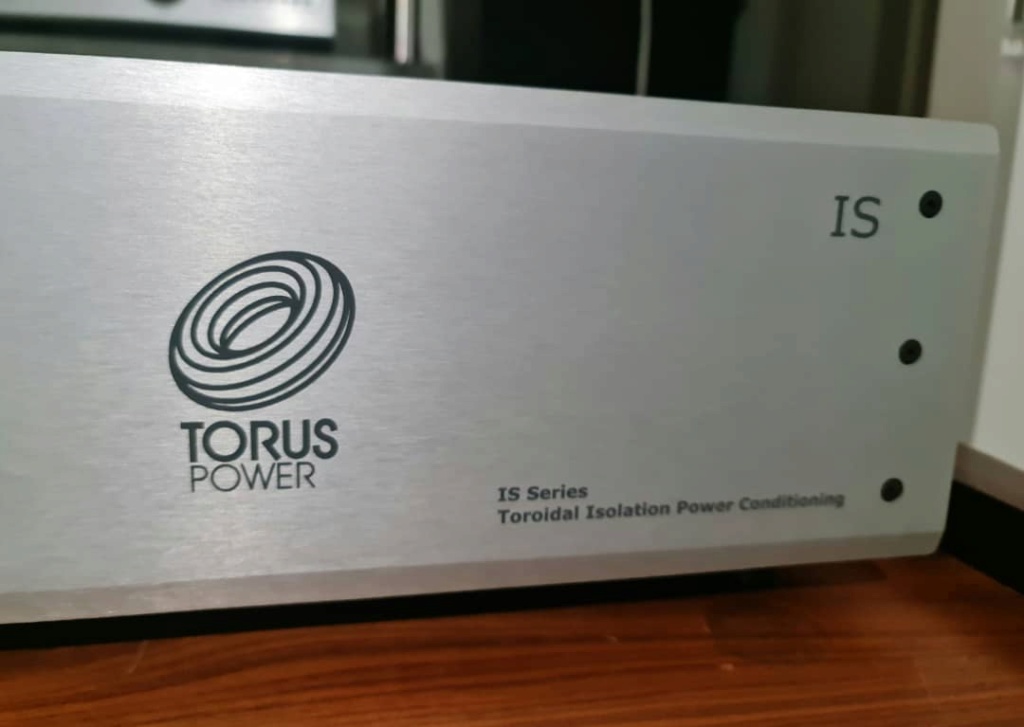 Torus Power Isolation Power Line Conditioners include unique toroidal transformer technologies from Plitron to provide the ultimate in AC power conditioning and protection for sensitive audio and video equipment applications. Isolation is combined with proven proprietary technologies from Plitron in the over-sized toroidal transformer. NBT works as a low pass filter using the controlled leakage inductance and capacitances within the transformer to effectively reduce noise.
LoNo technology has been used for years by high-end audio companies who demand silent transformers. UST provides additional common mode filtering using a highly efficient Faraday screen. Low output impedance technology allows high instantaneous peak current capability, providing the most unconstrained, yet protected, energy source available to your equipment. Torus Power, a technological world leader in power isolation, conditioning and regulation for audio video, introduces the IS series – premium power conditioning at entry level prices.
Like all Torus Power products, IS series models provides true isolation from the external power grid, noise filtration using toroidal isolation transformers featuring Plitronâ€
s proprietary NBT technology and high levels instantaneous (peak) current on demand. To achieve the lower price point, the IS series does not include series mode surge suppression, which remains available in other Torus Power models. There is no compromise in the IS series – it performs like all Torus Power conditioners, offering sparkling performance with noticeable increase in dynamic range, imaging, bass response, depth in audio, and increased definition in video.
Website:
https://www.toruspower.com/
VIEW ALL MY OTHER STUFFS BY CLICKING BELOW:https://my.carousell.com/hifijunction/https://my.carousell.com/hifijunction/https://my.carousell.com/hifijunction/
All my other items for sale:
CD Player/Streamer:
Pro-Ject CD Box S2 Compact single-disc CD player @ RM1,650
Bluesound NODE 2021 Wireless Multi-Room Hi-Res Music Streamer @ RM2699
DAC:
Cambridge Audio DacMagic @ RM850
Phono Stage:AV Processors/Receiver:
Denon AVC-X8500H Receiver @ RM15,900
Pioneer LX-88 Receiver @ RM3650
Pre Amplifier:
Bryston BP17 Preamplifier @ RM7500
Melos SHA-1 Tube Preamp/ Headphone Amplifier @ RM2200
Music Reference RM-5 Mk4 Tube Preamplfier @ RM4000
Goldmund Stellavox PR2 Passive Controller Passive Pre-Amplifier @ RM2800
Power Amplifier:
Music Reference RM-10 Power Amplifier @ RM7800
Rogue Audio Magnum M-120 Monoblock Power Amplifier @ RM8500
Naim NAPSC Power Supply @ RM1500
Sanders Magtech Stereo Power Amplifier @ RM12,800
XTZ Edge A2-300 Power Amplifier @ RM2300
Integrated Amplifier:
SPEC Corporation RSA-M3EX Integrated Amplifier @ RM26k
Einstein Audio 'The Absolute Tune' Integrated Amplifier @ RM14,800
Speakers:
Usher Audio Technology Compass X-719 Loudspeaker @ RM2,900
Thiel CS3.6 Floorstanding Speakers @ RM6900
Rogers LS66 Bookshelf Speakers @ RM1500
Odeon Audio Orfeo Bookshelf Speakers @ RM7500
PSB Imagine X2T Tower Loudspeakers @ RM5500
Sonus Faber Venere Center Speaker @ RM2,200
ATC CICA Center Speaker @ RM1,800
Speaker Stand:
Guizu Solid Teak Wood Speaker Stand with Cast-iron Base and Spikes @ RM1000
Custom-made 6-Columns Audiophile Bookshelf Speakers Stands @ RM1600
Speaker Cables:
ASI Liveline Speaker Cables - 3.4m @ RM
XLO Ultra 12 Bi-wire Speaker Cable - 6 feet pair @ RM1500
Xindak FS-1 Speaker Cable - 2.5m @ RM1200
XLO Ultra 6 Speaker Cables - 6 feet pair  @ RM900
Purist Audio Design Neptune Luminist Revision Speaker Cable - 2.5m @ RM8300
AudioQuest Volcano Speaker Cable with 24V DBS - 3m @ RM6,000
Subwoofers:
JL Audio Dominion D-110 10"Inch Powered Subwoofer - 750W (Black Ash) (NEW) @ RM5500
JBL Stage A120P 12" Powered Subwoofer @ RM1899
Interconnects:
FURUTECH FireBird-96 ( 9pin-6pin ) IEEE1394 Fire Wire Cable 0.6m @ RM450
Audioquest Diamondback RCA Interconnect - 1m @ RM380
Shunyata Research Cobra XLR Interconnect - 1.5m @ RM3300
NBS Professional IV Digital AES/EBU Cable - 1m @ RM3800
Black Rhodium Twist RCA Interconnect - 1.5m @ RM250
AudioQuest Sky RCA Interconnects DBS36v - 1.5m @ RM3300
Norodst Heimdall 2 RCA Interconnect - 1m @ RM3300
The Chord Co. Cobra RCA Interconnect - 1m @ RM380
Wireworld Silver Starlight 5 AES/EBU XLR Digital Cable - 1m @ RM880
Wireworld Soltice 8 Interconnect RCA To RCA 1 Meter Pair @ RM380
Transparent Cable MusicLink Plus XLR - 1 pair @ RM650
Power Cables:
Tice Power Cord Model "Power Conductor 2"- 2.5m @ RM1500
Furutech NanoFlux Power Cord - 1.8m @ RM8500
Vitus Andromeda Power Cord - 1.5m @ RM3600
ASI Liveline Power Cable - 1.8m @ RM2700
Aural Symphonics 20A Missing Link Cubed Power Cable @ RM1900
Cardas Quadlink Power Cable - 2m @ RM880
Harmonix X-DC Studio Master Power Cord - 1.5m @ RM1,800
Power Conditioner:
Torus IS Toroidal Isolation Power Transformers @ RM7800
Others:
JL Audio JLINK TRX: Wireless, High-Fidelity Audio Transmitter & Receiver Kit @ RM1290
Subwoofer Base Vibration Isolation Platform @ RM690
Graham Slee - Solo Ultra-Linear Headphone Amplifier + PSU1 Power Supply @ RM1800
CAN VIEW THE DETAILS HERE:https://www.carousell.com/u/hifijunctionhttps://www.carousell.com/u/hifijunctionhttps://www.carousell.com/u/hifijunction
Similar topics
---
Permissions in this forum:
You
cannot
reply to topics in this forum