I have for sale a special 
custom-made turntable
 based on a Rega motor and arm. Other elements of the turntable were replaced and added to give additional audible benefits. For those that don't like to tinker this is not the turntable for you. 
However for those of you that are willing to give modifications a try this turntable will surprise you as much as it surprised me when it was first assembled. Better still it improved a little more with every added (or replaced) item.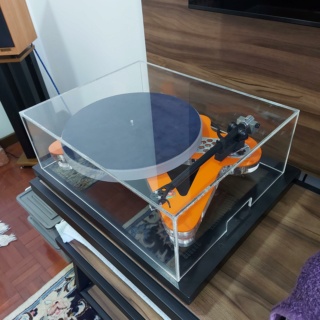 Phase 1 .. replaced the standard mdf plinth to a skeletal acrylic material. It's basically an inert material giving way to less 'bounced-like' effect. The orange top was chosen as a show stealer (hahaha). Next the original plastic sub-platter was ousted and in came an aluminum one. Light but precise. As a set, a steel pulley was brought in plus an orange silicon belt. A ceramic ball bearing replaced a steel one.
The glass platter was removed and an acrylic platter was put on. A cork mat was placed on top. At the bottom of the plinth 3 adjustable aluminum feet came on and blended seamlessly with the rubber feet. Then a stainless steel brace was added connecting the 3 feet and another metal alloy brace was added on top between the tonearm and the main bearing hub. This ensured a rigid connection. 
On the RB251 arm the round counterweight was replaced with an underslung counterweight. A motor isolation based was added to detach the motor from the plinth. This is crucial in ensuring vibration-free operation.
The sound? In a word .. massive. Massive because the noise floor deepened so low it resulted in a black background. Dynamics improved tremendously, bass went further down and extended. Image stability improved, soundstaging expanded and resolution and details were more precise. Oh btw, I was only using the original Rega Bias cartridge.
Phase 2 .. more changes. This time the internal arm wires were replaced with Litz and the interconnect cables replaced. A bronze bearing hub was put in and a massive heavy-duty tonearm stabilizer anchored the tonearm. A triple pulley with 3 silicon belts were now in place ensuring even more speed stability. A leather mat replace the cork one. To top it off, a new Hana EL cartridge replaced the Rega Bias.
Result? A sound so good it blows away any competition below 10k .. seriously. I then replaced the Hana EL to an MC version which is the Hana SL. Sublime. This is where it stands at the moment.
So you may ask .. why sell? The answer? I have another TT, the Linn LP12. And after going through the pandemic I need to consolidate my system. Still the Orange TT deserves a good home.
In summary these are the specs:
Plinth:
Unique shaped Skeletal acrylic plinth in glossy Orange
Top and bottom bracing
3 adjustable aluminium feet system
Aluminium sub platter
Acrylic Platter
Bronze bearing hub
Motor isolation base + outboard electronics kit
Std Pulley (33/45) / Triple Pulley (33) + 3 Silicon Belts
Ceramic Ball Bearing
Arm:
Modified Rega RB251 arm with new Litz tonearm cable
New Canare phono cable
New arm bearing
Heavy duty tonearm stabilizer
New Underslung Counterweight
Spacer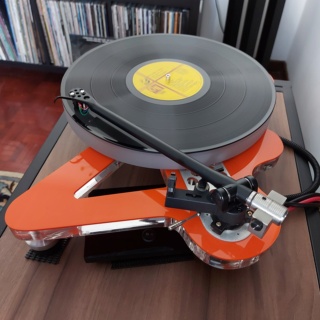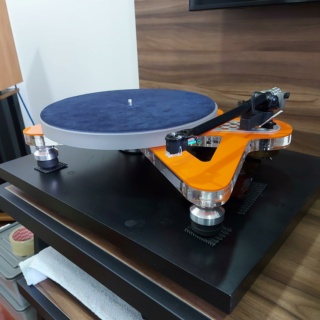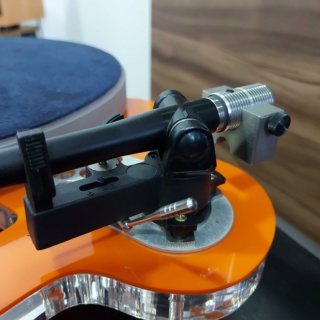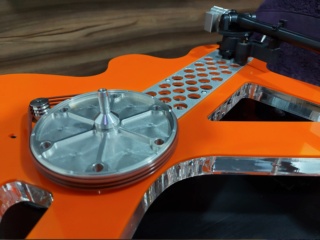 Presently installed with a Hana SL MC cartridge the sound can outperform a similar looking RP8 /P8 at less than half the price. Voices are clear with a slight warmth, the highs sparkle and the bass well defined and extended.
As you can see the turntable is in immaculate condition. 
Letting go for
RM4,200 NOW RM3,888 
and included is a Rega Bias Cartridge, Acrylic Cover & Wooden Platform. I'll even throw in a record brush.
For pick up in Ampang only.
If you want the Hana SL cartridge it can had for an additional RM1750 (still in excellent condition and with box). 
Call or WA Nizam at 016-2620488.
Once purchased I will introduce you to the designer / engineer so service and maintenance will be ensured.
Last edited by izamjazz on Thu Feb 03, 2022 10:49 am; edited 6 times in total (Reason for editing : price reduced)

izamjazz

Frequent Contributor





Number of posts

: 338


Age

: 61


Location

: Ampang


Registration date :

2009-12-29




izamjazz

Frequent Contributor





Number of posts

: 338


Age

: 61


Location

: Ampang


Registration date :

2009-12-29




izamjazz

Frequent Contributor





Number of posts

: 338


Age

: 61


Location

: Ampang


Registration date :

2009-12-29




izamjazz

Frequent Contributor





Number of posts

: 338


Age

: 61


Location

: Ampang


Registration date :

2009-12-29




izamjazz

Frequent Contributor





Number of posts

: 338


Age

: 61


Location

: Ampang


Registration date :

2009-12-29



---
Permissions in this forum:
You
cannot
reply to topics in this forum