Fyne Audio F501 Floorstanding Loudspeakers
Condition: 9/10 Excellent Full Set with Original Box.
Finished Color : Black Oak
New Price : RM12900/=
Was Retail Price : RM10500/= Now Online Selling RM8600/=
Selling Price :
Sold
Contact : 0174365998
Postage can be arrange....
Product Specifications:
The award winning F501 is the smaller of the two floorstanding loudspeakers in 
the F500 series but capable of delivering low bass and effortless dynamics from a compact, 
small footprint cabinet. Bringing additional scale and power to the F500 Series' signature clarity 
and articulation, the 150mm (6″) proprietary IsoFlareTM driver is accompanied by 
a matched 150mm (6″) bass driver. The IsoFlareTM driver delivers isotropic energy radiation with 
point source constant directivity providing outstanding stereo imaging, even off axis. Ideal for 
small to medium-sized rooms, the F501 is supplied with a dedicated plinth incorporating our 
BassTraxTM Tractrix diffuser system, which integrates bass energy uniformly into the room
Enhancing its aesthetic appeal, it has a gently curved front and rear baffle which additionally 
benefits the acoustic performance by reducing colouration effects. 
The F501 is the perfect choice for a premium Home Theatre or a Hi-Fi application.
** System Type : 2 ½ way, downwards firing port, with BassTraxTMTractrix diffuser. Twin cavity coupled reflex
** Recommended amplifier power (Watt RMS) : 35- 150
** Continuous power handling (Watt RMS) : 75
** Sensitivity (2.83 Volt @ 1m : 90dB
** Nominal impedance : 8 Ohm
** Frequency response (-6dB typical in room) : 36Hz- 34kHz
** Drive unit complement : 1 x 150mm IsoFlareTM, multi-fibre bass / mid with 25mm titanium dome compression tweeter 1 x 150mm multi-fibre bass
** Crossover frequency : 250Hz & 1.7kHz
** Crossover type : 2nd order low pass, 1st order high pass
** Dimensions - HxWxD : 984 x 270 x 318mm (38.7 x 10.6 x 12.5")
** Weight - Each : 18.9kg (41.7lb)
Review: *****
https://www.whathifi.com/fyne-audio/f501/review
https://blog.richersounds.com/product-review-fyne-audio-f501-speakers/
https://jaguaraudiodesign.com/product/fyne-audio-f501/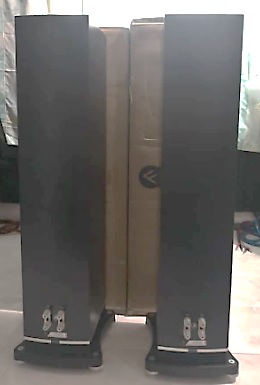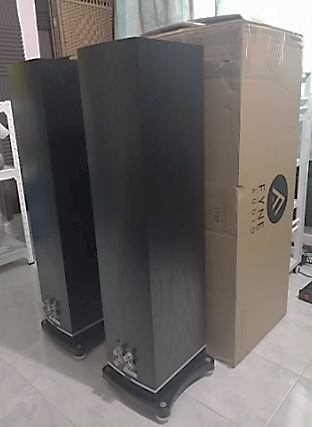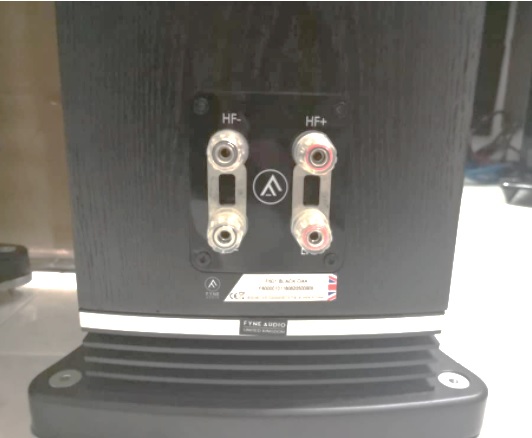 Last edited by Jason Eng on Fri Dec 24, 2021 5:24 pm; edited 4 times in total (Reason for editing : Price Reduce)

Jason Eng

Frequent Contributor





Number of posts

: 101


Age

: 52


Location

: Penang


Registration date :

2020-09-09



Jason Eng wrote:Fyne Audio F501 Floorstanding Loudspeakers

Condition: 9/10 Excellent Full Set with Original Box.

Finished Color : Black Oak

New Price : RM12900/=

Was Retail Price : RM10500/=

Selling Price :

RM6800/=

Negotiable. RM6300/=

Contact : 0174365998

Postage can be arrange....

Product Specifications:

The award winning F501 is the smaller of the two floorstanding loudspeakers in 

the F500 series but capable of delivering low bass and effortless dynamics from a compact, 

small footprint cabinet. Bringing additional scale and power to the F500 Series' signature clarity 

and articulation, the 150mm (6″) proprietary IsoFlareTM driver is accompanied by 

a matched 150mm (6″) bass driver. The IsoFlareTM driver delivers isotropic energy radiation with 

point source constant directivity providing outstanding stereo imaging, even off axis. Ideal for 

small to medium-sized rooms, the F501 is supplied with a dedicated plinth incorporating our 

BassTraxTM Tractrix diffuser system, which integrates bass energy uniformly into the room

Enhancing its aesthetic appeal, it has a gently curved front and rear baffle which additionally 

benefits the acoustic performance by reducing colouration effects. 

The F501 is the perfect choice for a premium Home Theatre or a Hi-Fi application.

** System Type : 2 ½ way, downwards firing port, with BassTraxTMTractrix diffuser. Twin cavity coupled reflex

** Recommended amplifier power (Watt RMS) : 35- 150

** Continuous power handling (Watt RMS) : 75

** Sensitivity (2.83 Volt @ 1m : 90dB

** Nominal impedance : 8 Ohm

** Frequency response (-6dB typical in room) : 36Hz- 34kHz

** Drive unit complement : 1 x 150mm IsoFlareTM, multi-fibre bass / mid with 25mm titanium dome compression tweeter 1 x 150mm multi-fibre bass

** Crossover frequency : 250Hz & 1.7kHz

** Crossover type : 2nd order low pass, 1st order high pass

** Dimensions - HxWxD : 984 x 270 x 318mm (38.7 x 10.6 x 12.5")

** Weight - Each : 18.9kg (41.7lb)

Review: *****

https://www.whathifi.com/fyne-audio/f501/review

https://blog.richersounds.com/product-review-fyne-audio-f501-speakers/

https://jaguaraudiodesign.com/product/fyne-audio-f501/

Jason Eng

Frequent Contributor





Number of posts

: 101


Age

: 52


Location

: Penang


Registration date :

2020-09-09



Jason Eng wrote:Fyne Audio F501 Floorstanding Loudspeakers

Condition: 9/10 Excellent Full Set with Original Box.

Finished Color : Black Oak

New Price : RM12900/=

Was Retail Price : RM10500/=

Selling Price :

RM6800/=

Negotiable. RM5800/=

Contact : 0174365998

Postage can be arrange....

Product Specifications:

The award winning F501 is the smaller of the two floorstanding loudspeakers in 

the F500 series but capable of delivering low bass and effortless dynamics from a compact, 

small footprint cabinet. Bringing additional scale and power to the F500 Series' signature clarity 

and articulation, the 150mm (6″) proprietary IsoFlareTM driver is accompanied by 

a matched 150mm (6″) bass driver. The IsoFlareTM driver delivers isotropic energy radiation with 

point source constant directivity providing outstanding stereo imaging, even off axis. Ideal for 

small to medium-sized rooms, the F501 is supplied with a dedicated plinth incorporating our 

BassTraxTM Tractrix diffuser system, which integrates bass energy uniformly into the room

Enhancing its aesthetic appeal, it has a gently curved front and rear baffle which additionally 

benefits the acoustic performance by reducing colouration effects. 

The F501 is the perfect choice for a premium Home Theatre or a Hi-Fi application.

** System Type : 2 ½ way, downwards firing port, with BassTraxTMTractrix diffuser. Twin cavity coupled reflex

** Recommended amplifier power (Watt RMS) : 35- 150

** Continuous power handling (Watt RMS) : 75

** Sensitivity (2.83 Volt @ 1m : 90dB

** Nominal impedance : 8 Ohm

** Frequency response (-6dB typical in room) : 36Hz- 34kHz

** Drive unit complement : 1 x 150mm IsoFlareTM, multi-fibre bass / mid with 25mm titanium dome compression tweeter 1 x 150mm multi-fibre bass

** Crossover frequency : 250Hz & 1.7kHz

** Crossover type : 2nd order low pass, 1st order high pass

** Dimensions - HxWxD : 984 x 270 x 318mm (38.7 x 10.6 x 12.5")

** Weight - Each : 18.9kg (41.7lb)

Review: *****

https://www.whathifi.com/fyne-audio/f501/review

https://blog.richersounds.com/product-review-fyne-audio-f501-speakers/

https://jaguaraudiodesign.com/product/fyne-audio-f501/

Jason Eng

Frequent Contributor





Number of posts

: 101


Age

: 52


Location

: Penang


Registration date :

2020-09-09



Jason Eng wrote:Fyne Audio F501 Floorstanding Loudspeakers

Condition: 9/10 Excellent Full Set with Original Box.

Finished Color : Black Oak

New Price : RM12900/=

Was Retail Price : RM10500/= Now Online Selling RM8600/=

Selling Price :

RM6800/=

Negotiable. RM5000/=

Contact : 0174365998

Postage can be arrange....

Product Specifications:

The award winning F501 is the smaller of the two floorstanding loudspeakers in 

the F500 series but capable of delivering low bass and effortless dynamics from a compact, 

small footprint cabinet. Bringing additional scale and power to the F500 Series' signature clarity 

and articulation, the 150mm (6″) proprietary IsoFlareTM driver is accompanied by 

a matched 150mm (6″) bass driver. The IsoFlareTM driver delivers isotropic energy radiation with 

point source constant directivity providing outstanding stereo imaging, even off axis. Ideal for 

small to medium-sized rooms, the F501 is supplied with a dedicated plinth incorporating our 

BassTraxTM Tractrix diffuser system, which integrates bass energy uniformly into the room

Enhancing its aesthetic appeal, it has a gently curved front and rear baffle which additionally 

benefits the acoustic performance by reducing colouration effects. 

The F501 is the perfect choice for a premium Home Theatre or a Hi-Fi application.

** System Type : 2 ½ way, downwards firing port, with BassTraxTMTractrix diffuser. Twin cavity coupled reflex

** Recommended amplifier power (Watt RMS) : 35- 150

** Continuous power handling (Watt RMS) : 75

** Sensitivity (2.83 Volt @ 1m : 90dB

** Nominal impedance : 8 Ohm

** Frequency response (-6dB typical in room) : 36Hz- 34kHz

** Drive unit complement : 1 x 150mm IsoFlareTM, multi-fibre bass / mid with 25mm titanium dome compression tweeter 1 x 150mm multi-fibre bass

** Crossover frequency : 250Hz & 1.7kHz

** Crossover type : 2nd order low pass, 1st order high pass

** Dimensions - HxWxD : 984 x 270 x 318mm (38.7 x 10.6 x 12.5")

** Weight - Each : 18.9kg (41.7lb)

Review: *****

https://www.whathifi.com/fyne-audio/f501/review

https://blog.richersounds.com/product-review-fyne-audio-f501-speakers/

https://jaguaraudiodesign.com/product/fyne-audio-f501/

Jason Eng

Frequent Contributor





Number of posts

: 101


Age

: 52


Location

: Penang


Registration date :

2020-09-09



Similar topics
---
Permissions in this forum:
You
cannot
reply to topics in this forum