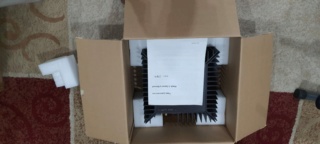 Amp is build like a tank. Very rarely seen in the used market. I have upgraded hence the sale. Item comes complete with box and manual with serial number. In very good condition and performs flawlessly. No dents or scratches. Brief audition to check functionality can be arranged. Specs as listed below:

Stereo power amplifier with single-ended, class-A output stage. Power output: 30W into 8 ohms (14.8dBW), 60W into 4 or 2 ohms (14.8dBW, 11.8dBW, respectively). Frequency response: 2Hz-100kHz, -0.5dB. Input impedance: 23k ohms. Voltage Gain: 20dB. Output impedance: 0.08 ohms. 1kHz distortion: 0.2% at 30W (8 ohms), 1% at 60W (4 or 2 ohms). DC offset: ±100mV. Power consumption: 250W.
Dimensions: 12" W by 6" H by 12" D. Shipping weight: 38 lbs.



Price is RM6,500 negotiable. Interested please whatsapp 0182553855
Last edited by eugenedcruz on Tue Jun 07, 2022 7:00 am; edited 2 times in total (Reason for editing : price change)

eugenedcruz

Regular





Number of posts

: 76


Age

: 53


Location

: Damansara


Registration date :

2018-12-21

Character sheet


Source(s)

:

Roksan, M2Tech, Pioneer, Marantz, Bluesound Node,AudioLab




Amplification

:

Pass Labs, Creek, Conrad Johnson, Yamaha




Speakers

:

Epos,Heco, Goldenear Triton 2, Rogers, Yamaha



Bump. Price is negotiable

eugenedcruz

Regular





Number of posts

: 76


Age

: 53


Location

: Damansara


Registration date :

2018-12-21

Character sheet


Source(s)

:

Roksan, M2Tech, Pioneer, Marantz, Bluesound Node,AudioLab




Amplification

:

Pass Labs, Creek, Conrad Johnson, Yamaha




Speakers

:

Epos,Heco, Goldenear Triton 2, Rogers, Yamaha



Bump. Price is negotiable

eugenedcruz

Regular





Number of posts

: 76


Age

: 53


Location

: Damansara


Registration date :

2018-12-21

Character sheet


Source(s)

:

Roksan, M2Tech, Pioneer, Marantz, Bluesound Node,AudioLab




Amplification

:

Pass Labs, Creek, Conrad Johnson, Yamaha




Speakers

:

Epos,Heco, Goldenear Triton 2, Rogers, Yamaha




eugenedcruz

Regular





Number of posts

: 76


Age

: 53


Location

: Damansara


Registration date :

2018-12-21

Character sheet


Source(s)

:

Roksan, M2Tech, Pioneer, Marantz, Bluesound Node,AudioLab




Amplification

:

Pass Labs, Creek, Conrad Johnson, Yamaha




Speakers

:

Epos,Heco, Goldenear Triton 2, Rogers, Yamaha




eugenedcruz

Regular





Number of posts

: 76


Age

: 53


Location

: Damansara


Registration date :

2018-12-21

Character sheet


Source(s)

:

Roksan, M2Tech, Pioneer, Marantz, Bluesound Node,AudioLab




Amplification

:

Pass Labs, Creek, Conrad Johnson, Yamaha




Speakers

:

Epos,Heco, Goldenear Triton 2, Rogers, Yamaha




eugenedcruz

Regular





Number of posts

: 76


Age

: 53


Location

: Damansara


Registration date :

2018-12-21

Character sheet


Source(s)

:

Roksan, M2Tech, Pioneer, Marantz, Bluesound Node,AudioLab




Amplification

:

Pass Labs, Creek, Conrad Johnson, Yamaha




Speakers

:

Epos,Heco, Goldenear Triton 2, Rogers, Yamaha




eugenedcruz

Regular





Number of posts

: 76


Age

: 53


Location

: Damansara


Registration date :

2018-12-21

Character sheet


Source(s)

:

Roksan, M2Tech, Pioneer, Marantz, Bluesound Node,AudioLab




Amplification

:

Pass Labs, Creek, Conrad Johnson, Yamaha




Speakers

:

Epos,Heco, Goldenear Triton 2, Rogers, Yamaha




eugenedcruz

Regular





Number of posts

: 76


Age

: 53


Location

: Damansara


Registration date :

2018-12-21

Character sheet


Source(s)

:

Roksan, M2Tech, Pioneer, Marantz, Bluesound Node,AudioLab




Amplification

:

Pass Labs, Creek, Conrad Johnson, Yamaha




Speakers

:

Epos,Heco, Goldenear Triton 2, Rogers, Yamaha



---
Permissions in this forum:
You
cannot
reply to topics in this forum