Item: Acoustic Revive: RTP-4 Ultimate Power Conditioner
Condition: 8.5/10. Item is in excellent condition.
Price: RM3300 or swap/topup
Can Trade-In your Amplifier/
CD Player/Speakers/Etc
Contact: 012-3816611
Wasap.my/60123816611
Acoustic Revive RTP-4
Outlets: 4
Type: Passive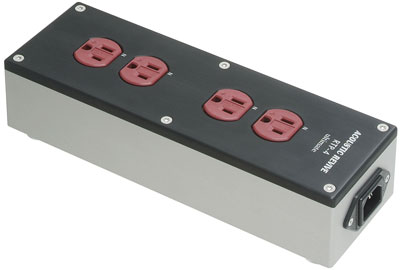 "The Acoustic Revive products have made me a believer in the power of optimizing a system to realize its full musical potential."Jeff Day, The Acoustic Revive Chronicles, Positive Feedback
"The RTP-4 delivers the lowest level details on the recording, better perhaps than any other conditioner available."                                                                                                                                                              Dagogo.com
Audio Excellence Award 2008 Top Prize for Accessories 


Audio Excellence Award 2008 Judge Special Prize


Stereo Times Most Wanted Components Award 2008


Principle and Structure

Machined from a single block of 2017 Duralumin!
RTP-2, 4 and 6 absolute boxes are made from 2017 Duralumin, which has the best vibration damping characteristic and sound quality.

Comparison of the vibration reduction characteristics of various metals

A machined structure has far better vibration damping characteristics, sound quality and overall lower distortion when compared with metal sheets bolted together to form a box.

The box's maximum thickness is 25mm, making it able to be very highly effectively in shielding the inner structural elements, and yielding a very high S/N ratio.
A block of Duralumin weighs 3kg (6.6 Pounds) for RTP-2 absolute, 4kg (8.8 Pounds) for RTP-4 absolute and 6kg 13.2 Pounds) for RTP-6 absolute.

It takes about 5 hours to machine one block and lid for RTP-2 ultimate using a high precision mill, 8 hours for the RTP-4 absolute and RTP-6 absolute. 
---
Eliminates noise and static electricity, non-magnetic!


RTP-2, 4 and 6 absolute`s box is filled with Green carborundum, Tourmaline powder and natural quartz powder to eliminate noise and static electricity.


Most power supply boxes use a series type noise filter, which converts noise to heat by magnetism which not only absorbs noise, but also absorbs important electrical energy.


Also the magnetic body of typical conditioners produces magnetic distortion which adds a distorted feel and thinness to the sound.


This is because the electromagnetic wave absorbent material itself is a strong magnetic body.


Also parallel type noise filters or choke coils cannot avoid loss in transmitting energy.


It may eliminate noise, but it the sense of freedom and energy from the sound.


Green carborundum has no such side effects because it is non-magnetic.


It only absorbs electromagnetic wave noise which is produced from receptacles and internal wiring.


Green carborundum is the only electromagnetic wave absorbent material which improves sound quality and S/N ratio.


Tourmaline powder releases negative ions to keep the amount static electricity very low.


The natural quartz powder releases far infrared rays which has an surface activation effect. This leads to very realistic and and alive sound.


Here is the Duralumin block after it has been machined. After this it is sand blasted and treated with Snow White Alumite. The lid is grained in and treated with Black Alumite. 
Electro magnet absorbing material Green carborundum is placed inside the Snow White Alumite treated chassis. 
Top quality Lithia tourmaline powder and natural quartz powder gets mixed into Epoxy resin. Instead of using industrial use black tourmaline, for RTP ultimate series, we use top jewel quality Lithia tourmaline which releases more negative ions. 
Epoxy resin which contains Lithia tourmaline powder and natural quartz powder gets pored on the top of Green carborundum carefully. 
---
Here is the chassis which has set with poured Green carborundum, Lithia tourmaline powder and natural quartz powder. The chassis is left for about a week for the epoxy resin to set.
Hollowed out brass foot with 21st century vibration control material!

Underneath the RTP-2, 4 and 6 absolute`s box, there are brass carved out large foot, white are height adjustable. Combination of 2017 Duralumin box and brass foot will eliminate both materials resonance frequency. 

To further improve vibration control effect, the vibration control sheet in placed underneath the brass foot. this special material was developed by professor Masao Sumita at Tokyo Institute of Technology with pre-venture support from JST (Japan Science and Technology Agency).

It is an epoch-making material with a powerful vibration control characteristic.

It transfers and eliminates vibration energy by conversion to heat.

A combination of Duralumin, brass leads to the ultimate vibration control structure. 



---
Cryogenically treated conductive parts.
---
The ultimate material for power supply inlet and internal wiring too!

We adopted the ultimate power supply inlet and internal wiring for the RTP-2, 4 and 6 absolute. As with the receptacles, the power supply inlet has been Super cryogenically treated and treated and plated with thick silver and rhodium plating.

The inlet wiring connection is non-solder. ACOUSTIC REVIVE avoids solder connections when possible because it destroys signal transmission..

For internal wiring, we are using our own PCTriple C Copper, oval shaped and very thick.

PCTriple C Copper has superior conductive characteristics. Because it originally is a single core crystal, the chance of absorbing impurities is very low even when it gets annealed.

The oval shaped single core is devoid of the peaky and distorted sound quality normally associated with round, rectangle, or flat shaped conductors. 

Website:
http://stereotimes.com/access111208.shtml
https://www.lotusgroupusa.com/rtp-series-power-conditioners.html
https://www.dagogo.com/acoustic-revive-rtp-4ultimate-power-conditioner-and-power-reference-power-cable-review/
https://positive-feedback.com/reviews/hardware-reviews/acoustic-revive-rtp-4eu-absolute-ac-power-strip/
http://www.highfidelityreview.com/acoustic-revive-rtp-2-and-rtp-4.html
http://www.acoustic-revive.com/english/rtp/rtp_01.html
SEE ALL MY AVAILABLE ITEMS HERE:https://www.carousell.com.my/u/hifijunction/https://www.carousell.com.my/u/hifijunction/https://www.carousell.com.my/u/hifijunction/
Thank you
Last edited by raymond88 on Sun Apr 17, 2022 10:29 am; edited 1 time in total
Similar topics
---
Permissions in this forum:
You
cannot
reply to topics in this forum