QED Reference XT-25 Bi-Wire Speaker Cable / 3M Pair (New) - Airloc Terminated
Description
QED Performance XT25 Bi-Wire Speaker Cable Airloc Terminated
QED Performance XT25 Bi-Wire Speaker Cable Airloc
 terminated was designed as the natural complement to XT25, the 
5-star award winning 
X-Tube speaker cable from QED.
QED XT25 Bi-Wire
 speaker cable was conceived from QED's flagship 
Supremus 
cable in a more affordable package. QED has won more 
What Hi-fi? awards
 than any other single brand and with its XT25, this heritage is delivered at a sensible price.
QED XT25 Bi-Wire
 speaker cable incorporates 4 separate conductor bundles into a single, convenient 
X-Quad
 type geometry and is intended to present a much more enjoyable rendition of the musical performance when used in a bi-wire or bi-amped configuration.
QED XT25 Bi-Wire
 cable is essentially a scaled down version of 
Genesis Silver Spiral
 speaker cable, sharing many of its features but having a smaller cross-sectional area and using oxygen-free copper conductors in place of the more expensive silver-plated variety.
Very Low DC Resistance
This is of paramount importance because the higher the resistance, the greater are the audible changes to the frequency response of the loudspeaker.
Very Low Inductance
A prime cause of high-frequency attenuation, high inductance leads to a rise in impedance with frequency, reducing output in the upper frequency range.
Low-Loss Dielectric
Electrical signals move via the medium of electromagnetic waveforms which exist not only within the copper conductors, but also within the dielectric which insulates one from another.
X-Tube Technology
The cable uses a variation of QED's 
X-Tube
Technology
 by creating a hollow tubular conductor geometry out of individual conductor bunches. This allows both high and low frequencies to pass with equal ease when compared to traditional solid or stranded conductors. 
QED Performance XT25 Bi-Wire speaker cable is an ideal upgrade for all speaker types whether they are floor-standing or book-shelf stereo or home theatre.
AIRLOC Termination
AIRLOC Forte plugs
 with improved pin section are fitted to maximise contact area throughout the wide tolerance range found in 4mm amplifier and speaker sockets.
This means that the connection remains uniformly tight and with its premium gold-plating, provides optimum sonic performance through time. 
QED XT25 Bi-Wire Speaker Cable is fitted with Airloc Forte banana plugs and/or spade terminals. Airloc ABS banana plugs shown with red and black plastic covers. Also available, Airloc ABS spades and all-metal Airloc banana plugs.
Specifications
Cross-sectional area – 5.0mm²

Wire gauge – 14 AWG

Jacket OD – 13.1mm

Self inductance – 0.36 µH/m

Loop resistance – 7.0 mΩ/m

Capacitance – 69pF/m

Dissipation factor @ 10kHz – 0.0001

Conductor chemistry – 99.9999% OFC

Dielectric properties – Air Gap (εr = 1.69)

Ideal for use in all installations

Connectors – Airloc banana plugs and/or spades

QED Lifetime Guarantee
https://www.qed.co.uk/xt25-biwire-speaker-cable.html"A high-tech cable that delivers the good at a sensible price. Outstanding, amongst the best."Hi-Fi World, 5 Globes - https://secure.armourhome.co.uk/awards/products/99af0f89a6a2a5c821d10167c8ba2b37/files/QED%20XT25%20Bi-Wire_HFW_Apr22.pdfQED Airloc BananaCMY Selling RM995
** 3M Pair (New) 
Location : Puchong 
Price : Sold 
Contact : 013-3380628 Chia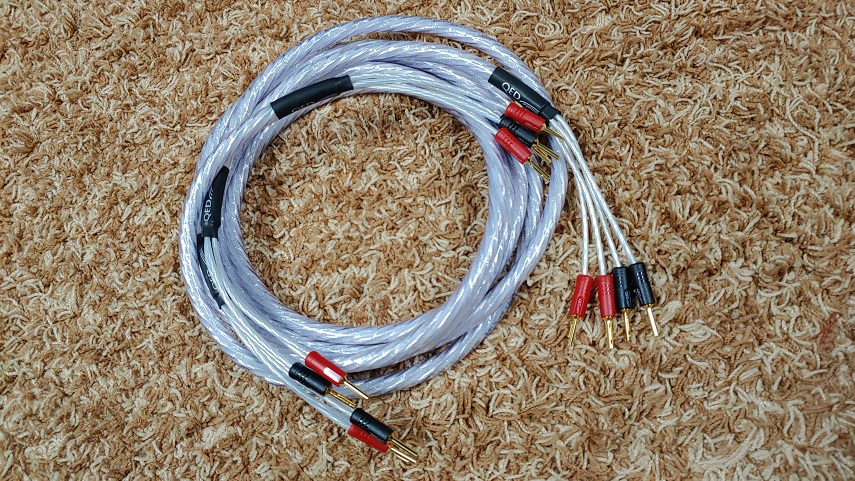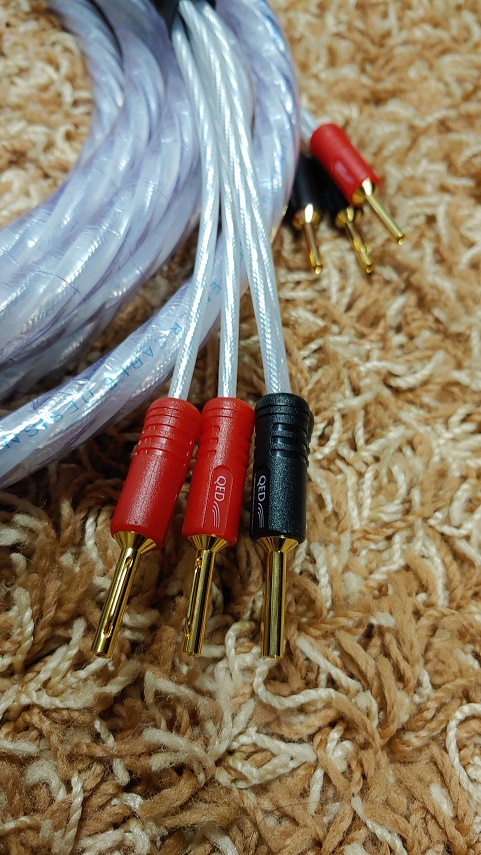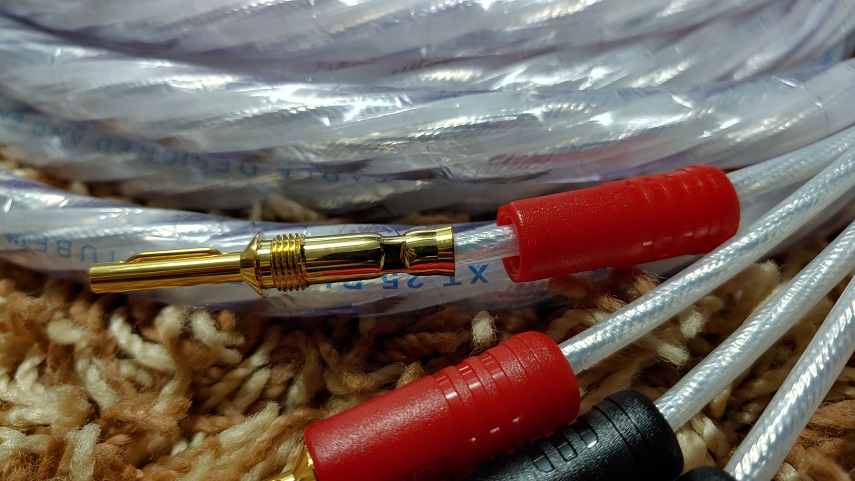 Last edited by 1stopbuysell@gmail.com on Sat Jan 14, 2023 8:51 pm; edited 1 time in total

1stopbuysell@gmail.com

Frequent Contributor





Number of posts

: 1612


Age

: 52


Location

: Puchong


Registration date :

2019-07-07

Character sheet


Source(s)

:


Amplification

:


Speakers

:



1stopbuysell@gmail.com

Frequent Contributor





Number of posts

: 1612


Age

: 52


Location

: Puchong


Registration date :

2019-07-07

Character sheet


Source(s)

:


Amplification

:


Speakers

:



1stopbuysell@gmail.com

Frequent Contributor





Number of posts

: 1612


Age

: 52


Location

: Puchong


Registration date :

2019-07-07

Character sheet


Source(s)

:


Amplification

:


Speakers

:



1stopbuysell@gmail.com

Frequent Contributor





Number of posts

: 1612


Age

: 52


Location

: Puchong


Registration date :

2019-07-07

Character sheet


Source(s)

:


Amplification

:


Speakers

:



1stopbuysell@gmail.com

Frequent Contributor





Number of posts

: 1612


Age

: 52


Location

: Puchong


Registration date :

2019-07-07

Character sheet


Source(s)

:


Amplification

:


Speakers

:



1stopbuysell@gmail.com

Frequent Contributor





Number of posts

: 1612


Age

: 52


Location

: Puchong


Registration date :

2019-07-07

Character sheet


Source(s)

:


Amplification

:


Speakers

:



1stopbuysell@gmail.com

Frequent Contributor





Number of posts

: 1612


Age

: 52


Location

: Puchong


Registration date :

2019-07-07

Character sheet


Source(s)

:


Amplification

:


Speakers

:



1stopbuysell@gmail.com

Frequent Contributor





Number of posts

: 1612


Age

: 52


Location

: Puchong


Registration date :

2019-07-07

Character sheet


Source(s)

:


Amplification

:


Speakers

:



1stopbuysell@gmail.com

Frequent Contributor





Number of posts

: 1612


Age

: 52


Location

: Puchong


Registration date :

2019-07-07

Character sheet


Source(s)

:


Amplification

:


Speakers

:


---
Permissions in this forum:
You
cannot
reply to topics in this forum