Item: Dynaudio Contour T2.5 Floorstand Speakers
Condition: Item is in good working condition. Comes with the original grill. No box.
Price: RM5900 RM4700 or swap/topup
Can Trade-In your Amplifier/
CD Player/Speakers/Etc
Contact: 012-3816611
Wasap.my/60123816611
If you are looking for a high performance audio system - no matter whether you prefer to listen to Classical, Jazz, Blues, or good old Rock & Roll - but would also like to enjoy the impact of the complete movie theatre experience in the comfort of your own horne, the new Dynaudio Contour T-Series is a must audition, especially for anyone looking for unsurpassed value and uncompromised performance.
Dynaudio develops and produces all cf its drivers in house, incorporating many proprietary technological advances into the designs, allowing for optimised performance synergies. For example, the pole piece utilises a venting hole with aerodynamic properties to avoid reflections and reduce resonance, resulting in a cleaner, undistorted sound.
The oversized voice coils are constructed out of pure aluminium, allowing a lighter weight than the typical copper alternative. Due to this lower weight, Dynaudio drivers are much faster than conventional units equipped with copper coils and can faithfully reproduce the complete dynamic range of the audio signal without compression or distortion.
The cabinets are hand-built by skilled master-craftsmen using only the finest materials and most exquisite non-endangered natural veneers. Dynaudio developed a special, non-toxid organic glue for use in the cabinets' construction, and all materials adhere to the highest environmental standards. As a result, these speakers will reproduce perfect sound even after many years.
When you listen to these speakers for the first time, you will be astonished by the precision, resolution and the realistic sound stage and image - whether enjoying the latest blockbuster movies or listening to your favorite music. Dynaudio has drawn from the experience with its flagship Evidence to reduce the energy lost to the ceiling and the floor, which would otherwise create reflections and colorations. Thus all acoustical information is precise and clear at all positions through the entire listening area.
Technical Specification: Contour T 2.5
Sensitivity (2.83 V/1 m): 86db
Small size rooms: 22w
Medium size rooms: 63w
Large size rooms: 123w
IEC Long Term Power Handling: 200w
Impedance, Nominal:? 6 ohms
Impedance, (20 - 200 Hz): 4.4 - 10.3 ohms
Impedance, (200 - 20 kHz): 4.5 - 7.2 ohms
Impedance, Phase Shift (20 - 200 Hz): -22̊ - +23.3̊
Impedance, Phase Shift (200 - 20 kHz): -6.6̊ - +14̊
Impedance, HF (200 kHz): 7.5 ohms
Frequency Response (+/- 3 dB): 29 Hz - 25 kHz
Resonance Frequency: 32 Hz
Internal Cabinet Volume: 35 litres
Bass Principle: Reflex
Weight: 53 lbs
Dimensions (W x H x L): 8" x 41" x 12.5"
Crossover: 2 way
Crossover Frequencies: 1600hz (impedance corrected)
Crossover Slope: Woofer 6 dB/oct, Tweeter 6 dB/oct
Connection: WBT CE-compliant gold binding posts
Recommended Placing: Floor
Tweeter: 28mm soft dome.Magnetic fluid.4mm die cast aluminum front. Pure aluminum wire voice coil. Rear chamber.?Double magnet
Woofer: 17cm one-piece moulded polypropylene cone.75mm aluminum wire voice coil
Cabinet: Sandwich enclosure.19mm MDF, front baffle 22mm MDF. High quality PP capacitors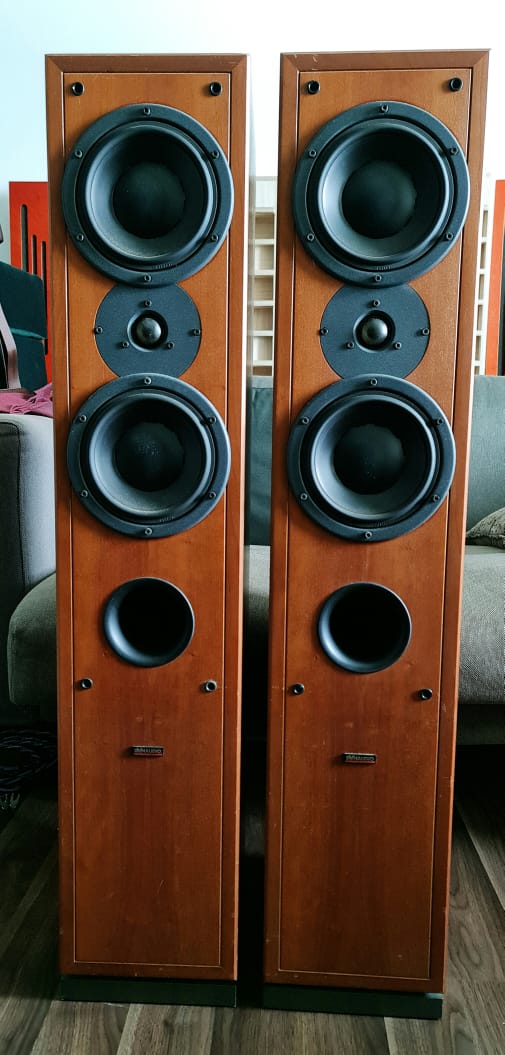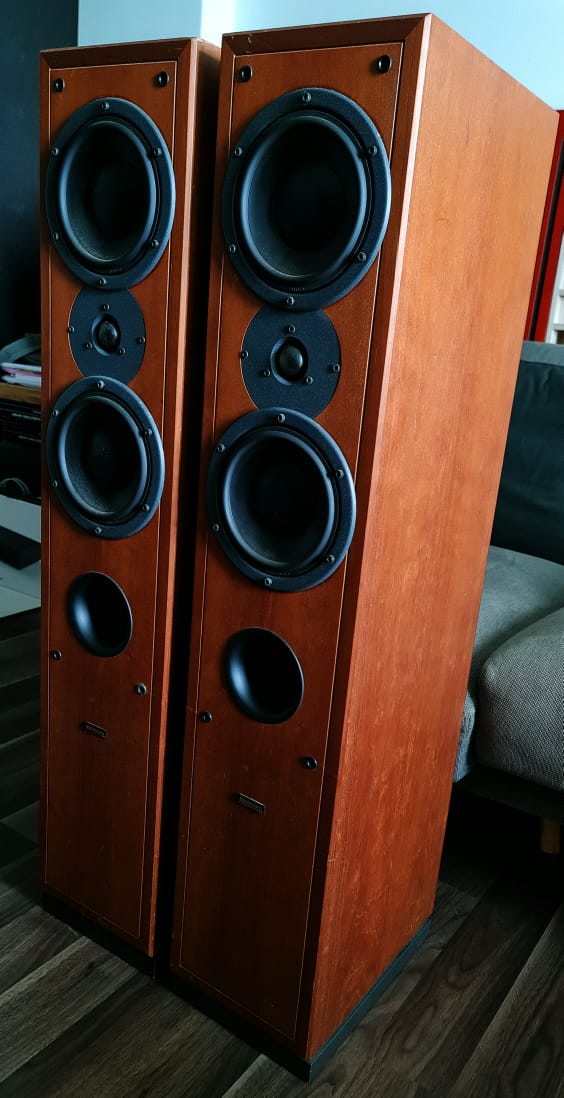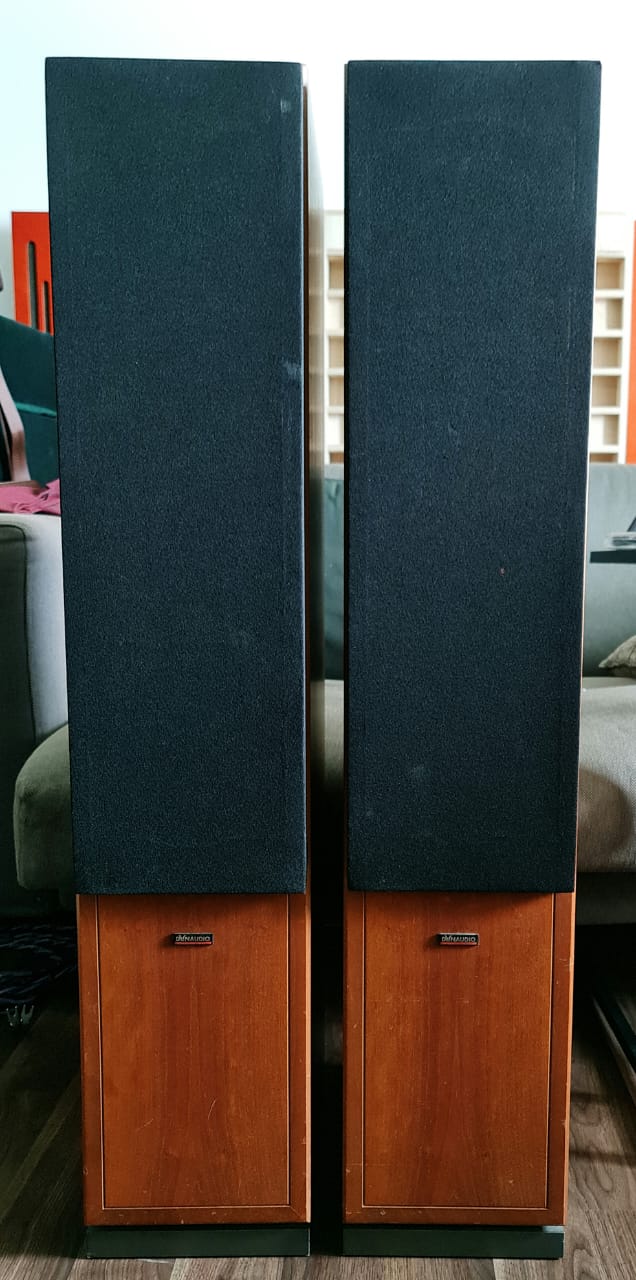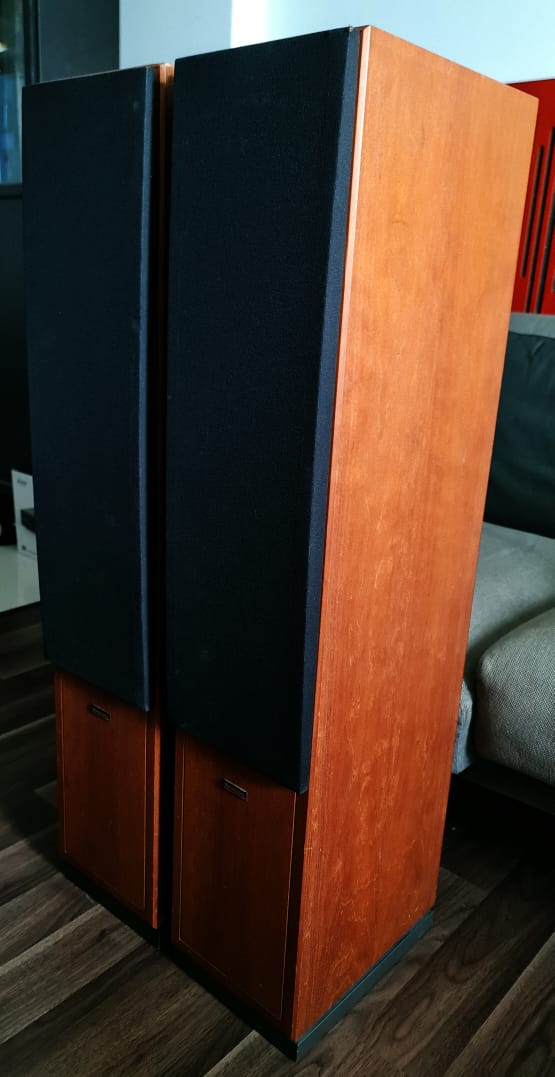 Website:
https://www.dynaudio.com/discontinued-models/contour/contour-t-25
http://www.audioreview.com/product/speakers/floorstanding-speakers/dynaudio/contour-t2-5.html
SEE ALL MY AVAILABLE ITEMS HERE:https://www.carousell.com.my/u/hifijunction/https://www.carousell.com.my/u/hifijunction/https://www.carousell.com.my/u/hifijunction/
Thank you
Similar topics
---
Permissions in this forum:
You
cannot
reply to topics in this forum