KEF Q500 Floorstanding Speaker
Used In Excellent Condition. 
Now Selling At RM2,850.
 Free Shipping Within West Malaysia.
Please visit www.stylelaser.com.my to find out more products for sale at very special price...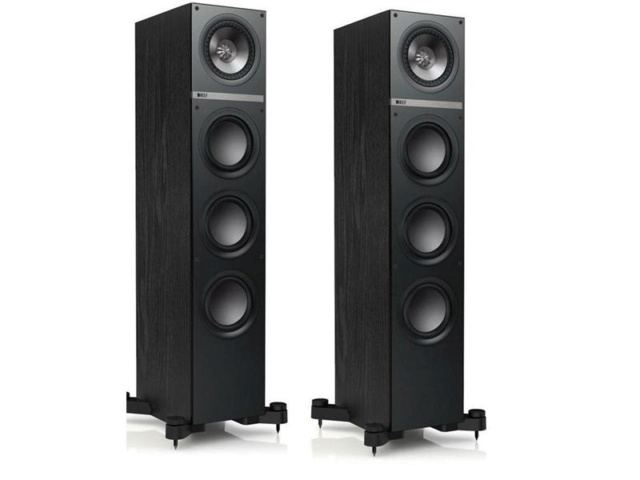 Q500 Floorstanding Speaker
The most compact of the Q Series floorstanders, the Q500 performs outstandingly for a speaker of its size. With a new generation Uni-Q MF/HF array paired with a new driver of 130mm (5.25in) in diameter of equal size, and two matching ABRs, the Q500s deliver a phenomenal audiophile performance, with all the clarity, fluidity and impact of much larger speakers.
Q500 座地揚聲器
Q500 是 Q 系列中最小的型號,表現非其他同尺寸的揚聲器可比擬的。Q500 採用新一代 Uni-Q 中/高音陣列,配以 130mm (5.25 寸) 單元及兩個輔助低音擴散器 (ABR),音質表現非凡,其清晰及順暢程序可媲美更大的揚聲器。
Uni-Q driver array
Sweet, spacious and true, wherever you sit. 
Thanks to the latest computer modelling techniques, years of painstaking development and a dash of design genius, the new iteration of the Uni-Q concept packs a formidable complement of design innovations. Based on the state-of-the-art HF driver developed for Concept Blade, the Q boasts a much larger (25mm/1 in. dome) tweeter for increased sensitivity and distortion-free power handling. It plays as loud as it plays true. 
全新Uni-Q 陣列
無論身處何處,盡享流暢、寬廣和真實的音效。 
得益於尖端的電腦模型技術、數十年如一日的辛勤努力以及敏銳的設計天賦,Uni-Q 的理念完成一項艱巨傑出設計革新。以專為「未來音色」開發的最新 HF 驅動器為基礎,全新 Q 系列揚聲器配有更大(1"/25mm 球形)的高音單元,提供更高靈敏度和無失真的功率承載,聲音宏亮真實。 
Advanced bass technologies
Deeper, tighter and more accurate bass. 
Featuring rigid new aluminium cone technology just like the Uni-Q array, the Q Series advanced bass driver is a tour de force in its own right. A die-cast aluminium chassis rigidly locates the high efficiency vented magnet assembly to prevent unwanted resonance, and the large (50mm) voice coil ensures impressive power handling. Its musicality is impeccable: seductively tuneful and well controlled, and on the floorstanding models, complemented by dedicated front-firing auxiliary bass radiators (ABRs). 
先進的低音單體技術
更深沉、更清晰以及更精準的低音表現。 
全新 Q 系列揚聲器的低音驅動單體採用與 Uni-Q 陣列相同的高剛性新型鋁質音盆,是 KEF 的精心傑作。透過開孔磁體組件緊密座落於模鑄鋁質底座,以防止不必要的共振,而大型(50mm)線圈確保功率承載。音質完美無瑕:音調諧美,控制精確,落地型號配備專用輔助低音擴散器 (ABR)。 
Total system design
A holistic approach with no compromises. 
The performance envelope of these sensational new drive units is so generous that the signal needs minimal intermediation - simple first order crossovers are all that's required, as you can tell from the transparency of the sound and the inaudibly fluent transitions. 
全方位設計
全方位設計理念,絕無妥協。 
由於這些新型驅動單體的性能範圍如此寬廣,因此信號僅需透過精簡的一階分音設計便可提供通透無暇、流暢自然的絕佳傳輸音效。 
Technical Specifications
DESIGN Two and a half-way bass reflex
DRIVE UNITS 130mm (5.25in.) aluminium Uni-Q 
25mm (1in.) vented aluminium dome 
130mm (5.25in.) aluminium LF 
2 x 130mm (5.25in.) aluminium ABR
FREQUENCY RESPONSE 40Hz - 40kHz (±3dB)
CROSSOVER FREQUENCIES 2.5kHz
MAXIMUM OUTPUT 110dB (SPL)
AMPLIFIER REQUIREMENTS 15 - 130W
SENSITIVITY 87dB (2.83V/1m)
IMPEDANCE 8 Ohms
DIMENSIONS 870 x 180 x 272 mm (34.3 x 7.1 x 10.7 in.)
917 x 295 x 312 mm (36.1 x 11.6 x 12.3 in.) with plinth
WEIGHT 15kg (33.1 lbs)
UNIT MEASUREMENT Pair
Interested please feel free to contact:

Peter  012-2536225

Fong   016-3098668



Business hour:

MONDAY - 10AM-7PM

TUESDAY - 10AM-7PM

WEDNESDAY - CLOSED(PASAR MALAM)

THURSDAY - 10AM-7PM

FRIDAY - 10AM-7PM

SATURDAY - 10AM-7PM

SUNDAY - 1PM-6PM

PUBLIC HOLIDAY - 1PM-6PM

Style Online Store 24Hous



location:

STYLE LASER AUDIO SDN BHD

No.148, Jalan Cerdas, Taman

Connaught, Cheras 56000 Kuala Lumpur

( NEXT TO ALLIANCE BANK )



We buy in your old items in CASH!!

Got something keep at home but seldom use or planning to upgrade?

Items that we buy:

BRANDED led tv

amplifier

speaker

cd player
Please Whatsapp the item photo to me and get the price immediately, once confirmed the deal, we will pick up your item from you and pay you in cash.


Please visit www.stylelaser.com.my to find out more products for sale at very special price..
Thanks for viewing.

stylelaser.com.my

stylelaser.com.my

Dealer\Reseller\Trader\Service Provider





Number of posts

: 378


Age

: 41


Location

: Cheras


Registration date :

2018-01-20



---
Permissions in this forum:
You
cannot
reply to topics in this forum