Item: Musical Fidelity A3.5 Dual Mono Integrated Amplifier 
Condition: Item in excellent working condition. No scratches or dents. Comes with original A3.5 remote control.
This amp has a smooth tube-like sound with lots of power on tap. Lots of details, smooth midrange and good low end.
Price:
sold
Contact: 012-3816611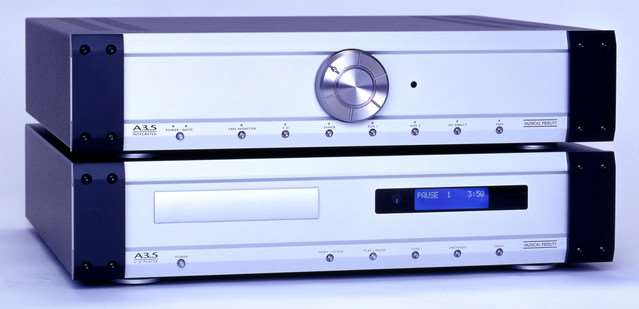 Musical Fidelity offers a variety of helpful connections. It can be used as a power amp through the home theatre bypass and you can biamp with the pre out feature. It's perfect if you want to save space because it offers good power in a compact design.
Power : 150 Watts per channel into 8 Ohms (22dBW),
240 Watts per channel into 4 Ohms
Voltage, RMS : 34 Volts 20Hz to 20kHz
Voltage, Peak-to-peak : 96 Volts
Current peak-to-peak : 50 Amps
Damping factor : 142
Output devices per channel : 4
Pre-out impedance : 50 Ohms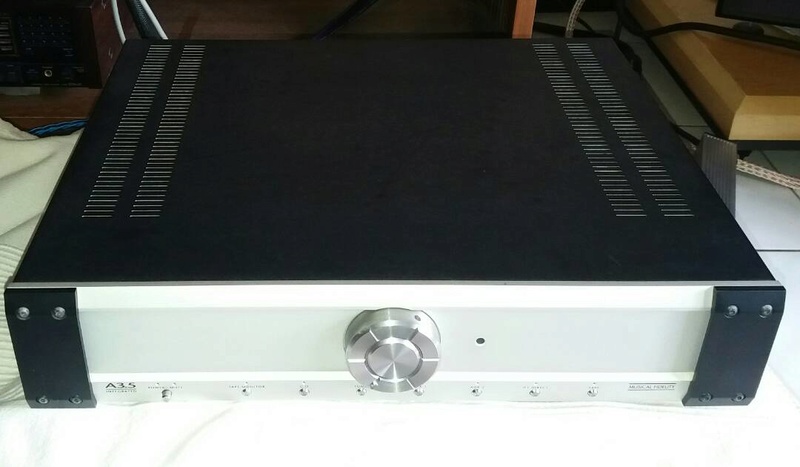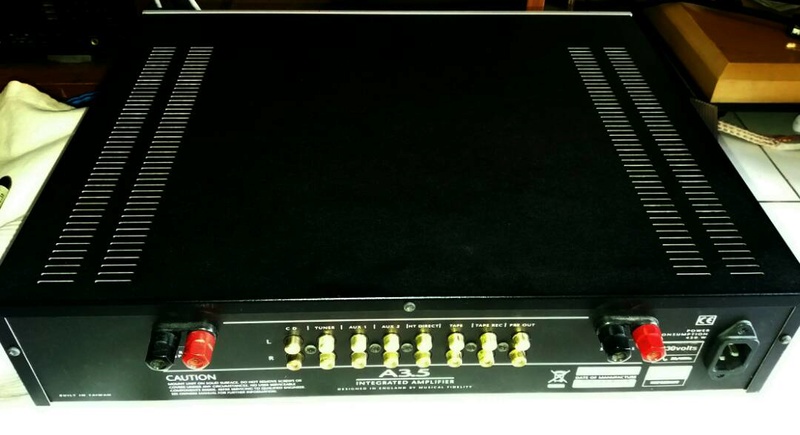 Website:
http://www.avhub.com.au/product-reviews/hi-fi/musical-fidelity-a35-cd-amp-review-and-test-395202
http://www.audioreview.com/cat/amplification/integrated-amplifiers/musical-fidelity/a3-5/prd_339139_2717crx.aspx
Line inputs :
Total harmonic distortion + noise, < 0.01%, 20Hz to 20kHz
Signal / noise ratio : > 100dB 'A'-weighted
Input sensitivity for 147 Watts into 8 Ohms : 282mV
Input impedance : 100k Ohms
Overload margin : 26dB
Channel separation : > 82dB typical
Frequency response : 20Hz to 20kHz, +0, -0.1dB
Home Theatre direct input sensitivity : 30dB gain (31.5 times) nominal
Inputs : 5 pairs line level RCA connectors,
1 pair direct power amplifier input RCA connectors for
Home Theatre use (not controlled by volume adjustment)
Outputs : 2 amplifier channels via 1 pair binding posts per channel
1 pair RCA audio outputs controlled by the volume,
1 pair RCA tape record fixed line level output.
Power requirement : 100 / 115 / 230Volts AC 50 / 60Hz (factory pre-set),
450 Watts maximum into 8 Ohms, 36 Watts idle
Weight : 9.7 kg, 21.4 lbs unit only, unboxed
14.4 kg, 31.8 lbs in shipping carton
Dimensions : 440 mm, 17.3 inches wide
100 mm, 3.9 inches high including feet
395 mm, 15.6 inches deep including terminals
Here are a few comments from Audioreview.com:
The A3.5 Amp is a joy to listen to and has the sonic punch to keep a beat with any music. I own the A5.5 which is also a great Amp, and I would put it on par with this Amp with a little less bass. It has more than enough power to please and it put my older Accuphase to shame, but not a fair comparison since that unit is 10 years older. If you can find one of these snag it as they are hard to come by. The A3.5 is a pleasure to use, and I won't be selling this one off for some time, I made that mistake once already!
This review is for the Musical Fidelity A3.5. The A3.5 is the latest offering from Musical Fidelity and in my opinion, far outperforms past models such as the A3.2. I've had mine for about 6 months now and the sound quality is incredible. There is a tube-like quality to the sound, which is very pleasing to listen to. The 150wpc this amp produces is quite powerful. I've never had to turn my volume knob any higher than the eleven o'clock position. An incredible integrated at a reasonable price. So get one if you can - new or used - I'm sure you'll be blown away.
Thank you.
---
Permissions in this forum:
You
cannot
reply to topics in this forum