Item: Supra Sword Loudspeaker Cables - 3m pair

Condition: 8.5/10. Item is in excellent condition. Comes with original wooden box and packaging. One owner. Spare set.

Price:  sold or swap/topup

Contact: 012-3816611





[size=17]"When it comes to conveying the sense, the spirit and the energy of a performance, there's little to separate the Supra from the expensive Nordost [Valhalla] cable…. One of the things that makes the Nordost so impressive is the coherence and sense of unforced organisation it brings to the recordings and music. Well, the Sword matches it in this vital respect, which makes it more than a match for most of the highly touted (and highly priced) cables out there."
[/size]
The Supra sword speaker cable is one of the best speaker cables in the world, irrespective of price.
Take a bunch of Swedish electrical engineers who also happen to be a bit nerdish when it comes to high fidelity and ask them to design a cable made of commercially available sonically benign materials, physically laid out to counteract the malignant electrical behaviour and not to use mystery boxes, batteries or cryogenic treatment of 9N copper.
Completely transparent is perhaps a worn-out cliché but is still what most users and testers agree on. The secret? The bifilar-wound litz conductors comprising 24 individually insulated strands per pole, 12 wound in one direction, the remaining 12 in the opposite, resulting in magnetic field cancellation and very low inductance. Further, the litz wound and individually insulated strands cancels the dynamic skin-effect. The Sword behaves as a non-inductive and in-phase cable through the entire audible frequency spectra. The only thing not cancelled is the sound, allowing you to hear every little note of the music, at full dynamics.
The Supra Sword range of cables are built and terminated at the factory in Sweden. We have a lot of experience in re-terminating this cable for those customers requiring shorter lengths due to a room change or damage.
I have demo cables available to try out and I encourage you to test them in your own system.
Specifications:



Cross section area: 2x3mm/12 AWG

Number of conductors: 2

Number of strands per conductor: 24

Strand diameter: 0.4mm

Conductor material: Enamelled oxygen free 5N copper

Conductor insulation and core: Polyethylene

Jacket: Heat and age resistant PVC

External size: 9.3mm x 18.4mm

Weight: 140g/m

Resistance: 5.2 Ohm/km

Inductance: 0.25 pH/m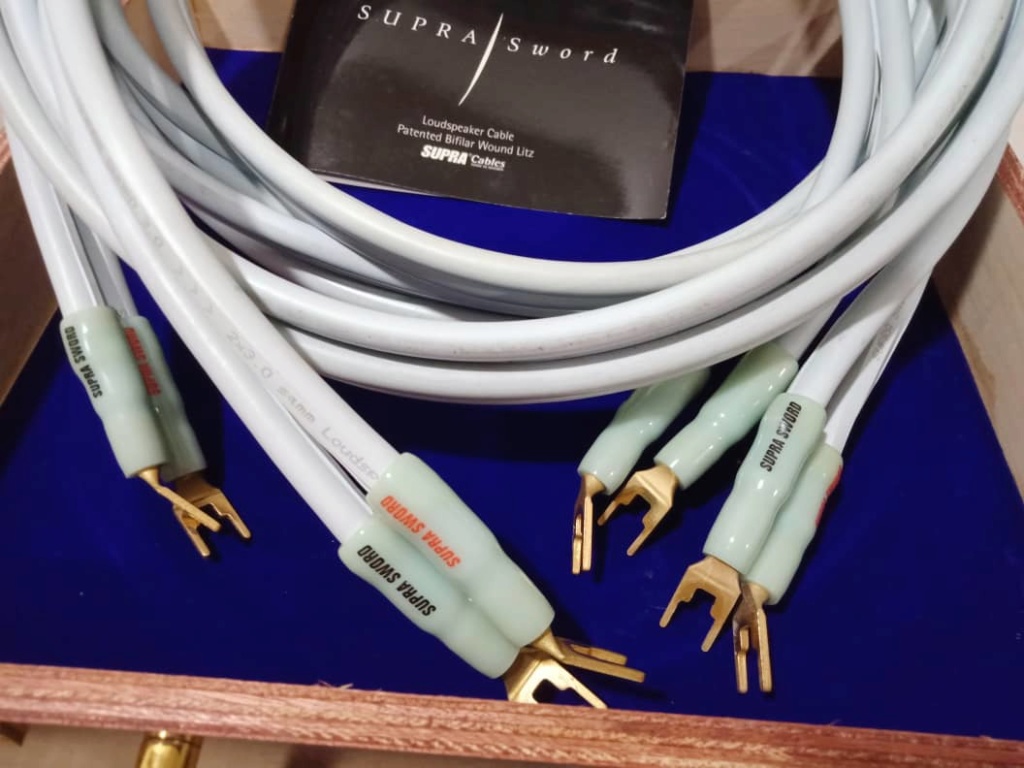 Websites:
https://www.techradar.com/reviews/audio-visual/hi-fi-and-audio/hi-fi-accessories/supra-sword-93961/review
http://www.jenving.com/products/view/sword-terminated-pair-1000000727
https://www.monoandstereo.com/2013/12/supra-sword-cables-just-arrived.html
https://www.divineaudio.co.uk/product/supra-sword-loudspeaker-cables/
https://www.amazon.co.uk/Supra-CombiCon-Cables-Sword-Speaker/dp/B0012VT3RM
https://www.hifisound.de/en/Hifi-Accessories/Cable-Crafted/Speaker/Supra-Sword-CombiCon-Speaker-Cable-2x3-mtr.html
https://www.madisoundspeakerstore.com/interconnects/supra-sword-cable-with-combicon-12-awg-pair/
https://www.coolgales.com/product/supra-sword-speaker-cable/
VIEW ALL MY OTHER STUFFS BY CLICKING BELOW:https://my.carousell.com/hifijunction/https://my.carousell.com/hifijunction/https://my.carousell.com/hifijunction/
Thank you


***************************

Item: RadioShack Subwoofer Y-Adapter Interconnect
Condition: 8.5/10. Item is in excellent condition.
Price: RM100




VIEW ALL MY OTHER STUFFS BY CLICKING BELOW:


https://my.carousell.com/hifijunction/
https://my.carousell.com/hifijunction/
https://my.carousell.com/hifijunction/




Thank you

Last edited by raymond88 on Fri Jan 01, 2021 12:08 am; edited 3 times in total
---
Permissions in this forum:
You
cannot
reply to topics in this forum