NAD M12 + NAD M22 V2 Pre and Power Amplifier
Brand
New. 
Now Selling At RM29,999.
 Free Shipping Within West Malaysia.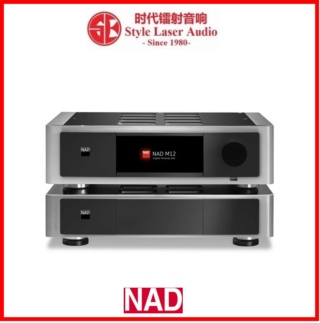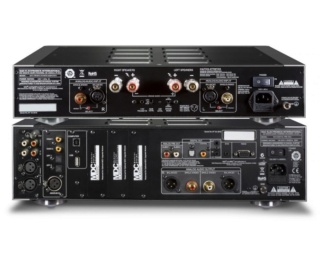 Interested
 please feel free to contact:
Peter  012-2536225

Fong   016-3098668
Business hour:
MONDAY - 10AM-7PM
TUESDAY - 10AM-7PM
WEDNESDAY - CLOSED(PASAR MALAM)
THURSDAY - 10AM-7PM
FRIDAY - 10AM-7PM
SATURDAY - 10AM-7PM
SUNDAY - 1PM-6PM
PUBLIC HOLIDAY - 1PM-6PM
Style Online Store 24Hous
Location:
STYLE LASER AUDIO SDN BHD
No.148, Jalan Cerdas, Taman
Connaught, Cheras 56000 Kuala Lumpur
( NEXT TO ALLIANCE BANK )
We buy in your old items in CASH!!
Got something keep at home but seldom use or planning to upgrade?
Items that we buy:
Subwoofer

Integrated Amplifier

Speaker

CD player
AV Receiver
Please Whatsapp the item photo to me and get the price immediately, once confirmed the deal, we will pick up your item from you and pay you in cash.


Please visit [You must be registered and logged in to see this link.] find out more products for sale at very special price..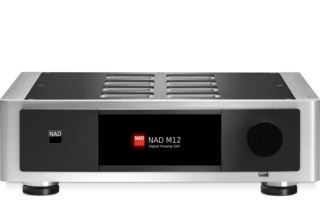 M12
Digital Preamp DAC
Built for the future, the M12 is neither a typical DAC nor a typical preamplifier. In fact, the M12 is an ultra-high resolution digital audio hub that boasts a full roster of audiophile-grade features. In addition, Modular Design Construction allows new features and functionality to be added now or in the future. These features leverage some of the most advanced digital audio thinking to date, resulting in a truly outstanding product. NAD's DirectDigital
processing, as well as a fully balanced Class-A buffer stage, provide amazing accuracy and transparency with a completely silent background. The M12 interfaces with all digital or analogue musical sources, and renders them perfectly to power amplifiers and active loudspeakers with its balanced or single-ended outputs. By adding the M12 to your system, you will finally get to hear your music in the best audio quality possible from every imaginable source, from vinyl to High Res digital.
M12是为未来而生,它既不是典型的DAC,也不是典型的前置放大器。事实上,M12是一个超高分辨率的数字音频集线器,拥有一整套发烧级的功能。此外,模块化设计结构允许现在或将来增加新的特性和功能。这些功能利用了迄今为止最先进的数字音频思想,创造出了真正出色的产品。NAD的DirectDigital
处理技术,以及全平衡的A类缓冲级,在完全无声的背景下提供了惊人的精度和透明度。M12可与所有数字或模拟音乐源接口,并通过其平衡或单端输出完美地将其还原为功率放大器和有源扬声器。通过将M12添加到您的系统中,您将最终以最佳的音频质量聆听到从黑胶唱片到High Res数字的各种音源的音乐。
DirectDigital Preamplifier Built for the Future.
NAD DirectDigital Innovation
DirectDigital
amplification offers the highest level of performance. The 35-bit data path with 24-bit coefficients and 62-bit accumulation, and dithered truncation back to 35-bits after DSP functions guarantee the overall 24-bit accuracy. With this degree of resolution, all preamp functions can be accomplished with a new level of precision all in the digital domain. Because of the super high resolution, even 24-bit files are processed without truncation or loss of information.
DirectDigital前置放大器是为未来而生的。
NAD DirectDigital创新
DirectDigital
放大器提供了最高水平的性能。35位数据路径的24位系数和62位累积,以及DSP功能后的35位截断,保证了整体24位的精度。在这样的分辨率下,所有的前置放大器功能都可以在数字域内完成,精度达到一个新的高度。由于超高的分辨率,即使是24位的文件,在处理时也不会出现截断或信息丢失的情况。
Uncompromised Connection
Standard inputs include AES/EBU, Asynchronous 24/192 USB, coaxial and optical digital inputs and balanced and single-ended line level inputs including a high performance MC/MM phono stage. Rounding out the picture, a pure Class-A buffer using the latest generation of Super OP Amps provide low impedance balanced and single-ended connections to power amplifiers or active loudspeakers. A remote controls all functions and IR repeaters, 12V triggers, and a serial port to make integration with advanced control systems a snap.
不妥协的联系
标准输入包括AES/EBU、异步24/192 USB、同轴和光纤数字输入、平衡和单端线路电平输入(包括高性能MC/MM唱机级)。此外,采用最新一代Super OP放大器的纯A级缓冲器,提供低阻抗平衡和单端连接到功率放大器或有源扬声器的低阻抗平衡和单端连接。遥控器控制所有功能和红外中继器、12V触发器和串口使其与高级控制系统的集成变得轻而易举。
Fine Tune Your System
Because of the massive computing power and high-resolution signal path, some interesting features have also been incorporated to further perfect the listening experience. Want to add a subwoofer to your system? The M12 includes a second order high pass and low pass crossover with selectable frequency. You can even select different frequency knees for each filter. This level of flexibility and precision is made possible by our highly perfected DirectDigital architecture. One of NAD's most innovative technological advancements— Modular Design Construction (MDC)—does away with obsolescence by providing a simple upgrade path to add future features and functionality. M12 owners can add an optional DD HDM-1 HDMI Module with 3 inputs and 1 output (3D video passthrough) and/or the network audio module, DD BluOS, with music management software that is controlled with an iOS or Android device.
微调你的系统
由于海量的计算能力和高分辨率的信号路径,还加入了一些有趣的功能,进一步完善了听觉体验。想给自己的系统加装一个低音炮吗?M12包含了二阶高通和低通分频器,可选择频率。你甚至可以为每个滤波器选择不同的频率膝盖。这种程度的灵活性和精度是由我们高度完善的DirectDigital架构所带来的。NAD最创新的技术进步之一--模块化设计结构(MDC)--通过提供简单的升级路径来增加未来的特性和功能,避免了过时的问题。M12的用户可以增加一个可选的DD HDM-1 HDMI模块,具有3个输入和1个输出(3D视频直通)和/或网络音频模块DD,并可通过iOS或Android设备控制音乐管理软件。
Future Forward MDC
The BluOS MDC Module allows streaming of a variety of music services, HD streaming from a NAS device, and TuneIn radio; plus it gives you full control of your music library. Integrated WiFi/Ethernet and aptX Bluetooth
connections are also offered with the BluOS Module.
未来发展委员会
MDC模块允许各种音乐服务、NAS设备的高清流媒体和TuneIn收音机;此外,它还能让您全面控制您的音乐库。该模块还提供集成的WiFi/以太网和aptX蓝牙
连接。
MASTER QUALITY AUTHENTICATED (MQA)
Master Quality Authenticated (MQA) is a revolutionary end-to-end technology built into every BluOS Enabled music player that captures and delivers master quality audio to any room in your home. All BluOS Enabled music players from NAD include a powerful decoder and audio renderer for the MQA system. The MQA logo shown in the BluOS app indicates that the unit is decoding and playing an MQA stream or file, and lets you know that you are hearing exactly what the artist recorded and approved in the studio.
主质量认证(MQA)
Master Quality Authenticated (MQA)是一种革命性的端到端技术,每台Enabled音乐播放器都内置了MQA系统,可以捕捉并向您家中的任何房间提供高质量的音频。NAD的所有Enabled音乐播放器都包含一个强大的解码器和MQA系统的音频渲染器。应用程序中显示的MQA标志表明该设备正在解码和播放MQA流或文件,让您知道您听到的是艺术家在录音室里录制和认可的内容。
M22 V2
Stereo Power Amplifier
Connect to the emotion of live performance through detailed sound with amazing control and transparency. This is the M22 V2. It is easy to find amplifiers that can excel in one or two areas, but the M22 is truly an amplifier that does everything well. Wide open-loop bandwidth, extremely low-phase shift, almost non-existent noise, harmonic and intermodulation distortion independent of load (load invariant), high current capability, low output impedance (high damping factor) uniformly at all audible frequencies—it all adds up to incredible performance. You just have to hear it to feel it.
通过细致入微的声音,以惊人的控制力和透明度来连接现场表演的情感。这就是M22 V2。很容易找到能在一两个方面都有出色表现的放大器,但M22确实是一款无所不能的放大器。宽广的开环带宽、极低的相位偏移、几乎不存在噪声、不受负载影响的谐波和互调失真(负载不变)、高电流能力、在所有可听频率上均匀的低输出阻抗(高阻尼系数)--这一切都让人难以置信的性能。你只需要听到它,就能感受到它。
Hybrid Digital Amplification
The M22 is using the latest nCore
 amplifier technology licensed from Hypex to provide a nearly ideal amplifier with distortion below measurement, ultra-high damping factor, and unconditional stability with any speaker. Tight, detailed sound with amazing control and transparency gets the best performance available. With nCore, Hypex has refined their UcD concept to new levels of perfection by improving the modulator for more accurate feedback subtraction and PWM generation. The all-discrete driver and output stage have also been improved for lower open-loop THD as well as lower idling losses, normally conflicting requirements with conventional IC driver circuitry. An added control loop incorporating an integrator with adaptive clipping enables 20dB more feedback to be used across the audio band because of its extremely low-phase shift resulting in a dramatic reduction in distortion across the audio band. This is added to UcD's already amazing characteristics of load invariance and high current capability, common characteristics of great-sounding amplifiers.
混合式数字放大
M22采用了Hypex公司授权的最新nCore
功放技术,提供了近乎理想的功放,失真度低于测量值,超高阻尼系数,无条件稳定地使用任何扬声器。严密、细腻的声音与惊人的控制力和透明度获得了最佳性能。通过nCore,Hypex将其UcD概念完善到了新的完美水平,改进了调制器,使反馈减法和PWM生成更精确。全分立驱动器和输出级也进行了改进,以降低开环THD和空载损耗,这通常是与传统IC驱动器电路相冲突的要求。新增的控制环路集成了一个自适应剪接的积分器,由于其极低的相位偏移,使得整个音频频段的失真显著降低,从而使整个音频频段的反馈量增加了20dB。此外,UcD还具有负载不变性和高电流能力等令人惊叹的特性,这些都是出色的放大器的共同特点。
Effortless Power
Employing the latest generation of digital PowerDrive
, the M22 offers a minimum of 300W per channel with amazing reserves of dynamic power at lower impedances. The M22 is capable of >400W dynamic power per channel even in 8 ohms, >700W in 4 Ohms, and 1,000W in 2 ohms. Need more power? Select Bridge Mode and the M22 offers 950W at 8 Ohms in Mono. It can effortlessly power any loudspeaker to live performance levels with amazing efficiency and low power consumption. Control for PowerDrive is derived by sensing the average output power, applying a time constant, and then cleanly hard clipping the signal thus limiting it to the rated continuous clipping power over a sustained loading. By controlling the power envelope maximum clean power is obtained for every operating condition.
不费吹灰之力
M22采用了最新一代的数字PowerDrive
,在较低的阻抗下,每声道最小功率为300W,动态功率储备量惊人。即使在8欧姆下,M22的每通道动态功率也能达到400W,在4欧姆下能达到700W,在2欧姆下能达到1000W。需要更多的功率?选择桥接模式,M22在单声道8欧姆下提供950W的功率。它可以不费吹灰之力地将任何扬声器的功率提升到现场表演水平,效率高、功耗低。PowerDrive的控制是通过感应平均输出功率,应用一个时间常数,然后对信号进行清洁的硬剪接,从而将其限制在持续负载的额定连续剪接功率。通过控制功率包络,在各种工作条件下都能获得最大的清洁功率。
Perfecting Performance
The output stage is only one of several circuits in the amplifier, and each must complement the other to obtain optimal performance. The amp is DC coupled throughout, from input to output, there is no capacitor in the forward signal path. Yet, it has a beneficial 12dB/octave roll-off below 2Hz. It does this using a unique circuit topology that is functionally a forward servo. It is however not a servo in the traditional sense as it does not measure DC at the output and send back a correction signal. Instead part of the input signal is fed to a side chain with a second order low-pass filter. The output of this is subtracted from the forward signal input to the second stage thus rejecting DC.
完善性能
输出级只是放大器中的几个电路之一,每个电路必须相互补充,才能获得最佳性能。该功放从输入到输出都是直流耦合,在前向信号通路中没有电容。然而,它在2Hz以下有12dB/倍频程的滚降。它使用独特的电路拓扑结构实现了这一点,在功能上是一个前向伺服。然而,它不是传统意义上的伺服,因为它不在输出端测量直流并发送修正信号。相反,输入信号的一部分被送入一个带有二阶低通滤波器的侧链。其输出从输入到第二级的正向信号中减去,从而拒绝直流。
Clean and Dynamic
The performance of the entire signal path is critically dependent on the power supply; in this case a well regulated, but not too tight, custom switch mode design. This allows maximum dynamic power, very high current yet with very low distortion. Secondary supplies are individually regulated and decoupled at each opamp for lowest possible noise and maximum dynamic range.
清洁与活力
整个信号通路的性能关键取决于电源;在这种情况下,电源是一个调节良好,但又不至于太紧的定制开关模式设计。这样可以获得最大的动态功率、非常高的电流和非常低的失真。次级电源在每个运算放大器上都有单独的调节和解耦,以实现最低的噪声和最大的动态范围。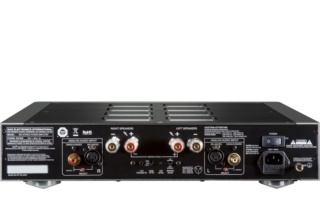 NAD M12 Digital Preamp DAC
Connections
Line Level Input
Input Impedance
56 kilohm + 220pF
Input Sensitivity
40mV (ref. 500mV out)
Maximum Input Signal
>8Vrms
Signal/Noise Ratio, A-weighted
>90dB (ref. 500mV in 500mV out, volume set to unity gain
>80dB (ref. 2V out, Volume maximum)
Channel Separation
>70dB (ref. 1kHz/10kHz)
Frequency Response
±0.3dB (ref. 20Hz-20kHz, Tone Controls – On)
±0.3dB (ref. 20Hz-20kHz, Tone Controls – Off)
Frequency Response (subwoofer out)
10-200Hz (ref. -3dB)
Output
Maximum Output Level
>8Vrms into 600 Ohms
THD (CCIF IMD, DIM 100)
>0.005% (ref. 20Hz-20kHz, 2V out)
Balanced
>2Vrms
Standby Mode
<0.5W
Tone Controls
Treble
±10dB at 10kHz (ref. 2V in 2V out)
Bass
±10dB at 100Hz (ref. 2V in 2V out)
USB Input
Digital USB Front/Digital USB Back (USB Type A)
MP3/WMA:48kHz
FLAC: 24bit/48kHz
Computer (USB Type B)
24 bit/192kHz PCM content from PC or Mac
Digital Input (Coaxial, Optical, AES/EBU)
Input Impedance
75 Ohms (coaxial)
110 Ohms (AES/EBU)
Sample Rate
32kHz to 192kHz
Frequency Response
±0.5dB (ref. 20Hz-96kHz @ 192kHz)
Channel Separation
>75dB (ref. 1/3 rated power, 10kHz 4 Ohms)
Weights & Dimensions
Gross Unit Dimensions* (WxHxD)
435 x 133 x 383mm (17 1/8 x 5 1/4 x 15 1/8″)
Net Weight
8.1kg (17.9lb)
Shipping Weight
14.5kg (32lb)
*Gross dimensions include feet, extended buttons and rear panel terminals
NAD M22 V2 Stereo Power Amplifier
Audio Specifications
Continuous output power into 8 ohms and 4 ohms (Stereo mode)
300 W (20 Hz-20 kHz at 0.1% THD, both channels driven)
Continuous output power into 8 ohms (Bridge mode) THD+N (20 Hz – 20 kHz, CCIF IMD, SMPTE IMD, DIM 100)
900 W (20 Hz – 20 kHz at 0.1% THD)
THD+N (20 Hz – 20 kHz, CCIF IMD, SMPTE IMD, DIM 100)
<0.005 % (250 mW to 290W, 8 ohms and 4 ohms)
Note: Measured with Audio Precision AUX-0025 or Prism dS-LPF passive low pass filter
Signal-to-Noise Ratio
>100 dB (A-weighted, ref. 1 W in 8 ohms
>120 dB (A-weighted, ref. 300W in 8 ohms)
Clipping power (Stereo mode, at 1 kHz 8 ohms 0.1 % THD)
>300 W
Clipping power (Bridge mode, at 1 kHz 8 ohms 0.1 % THD)
>950 W
IHF dynamic power (Stereo mode, at 1 kHz 1 % THD)
8 ohms: 400 W
4 ohms: 700 W
2 ohms: 1000 W
Damping factor
>800 (ref. 8 ohms)
Frequency response
±0.1 dB (20 Hz – 20 kHz)
Input sensitivity (for 300W in 8 ohms)
1.73 V
Gain level
Low: 19 dB
Medium: 24 dB
High: 29 dB
Minimum input level for Auto Trigger
5 mV at 1 kHz
Standby power
<0.5 W
Dimension and weight
Gross dimensions (W x H x D)
435 x 103 x 379 mm / 17 1/8 x 4 1/16 x 14 15/16 inches
Net Weight
8.9 kg (19.6 lbs)
Shipping Weight
15 kg (33.1 lbs)
Thanks for viewing.
[You must be registered and logged in to see this link.]

stylelaser.com.my

Dealer\Reseller\Trader\Service Provider





Number of posts

: 875


Age

: 44


Location

: Cheras


Registration date :

2018-01-20



---
Permissions in this forum:
You
cannot
reply to topics in this forum