Item: Shunyata Research Diamondback Platinum Power Cable - 20A
Condition: 8.5/10. Item is in excellent condition. No dents or scratches. Comes with original packaging.
Price: RM680 or swap/topup
Contact: 012-3816611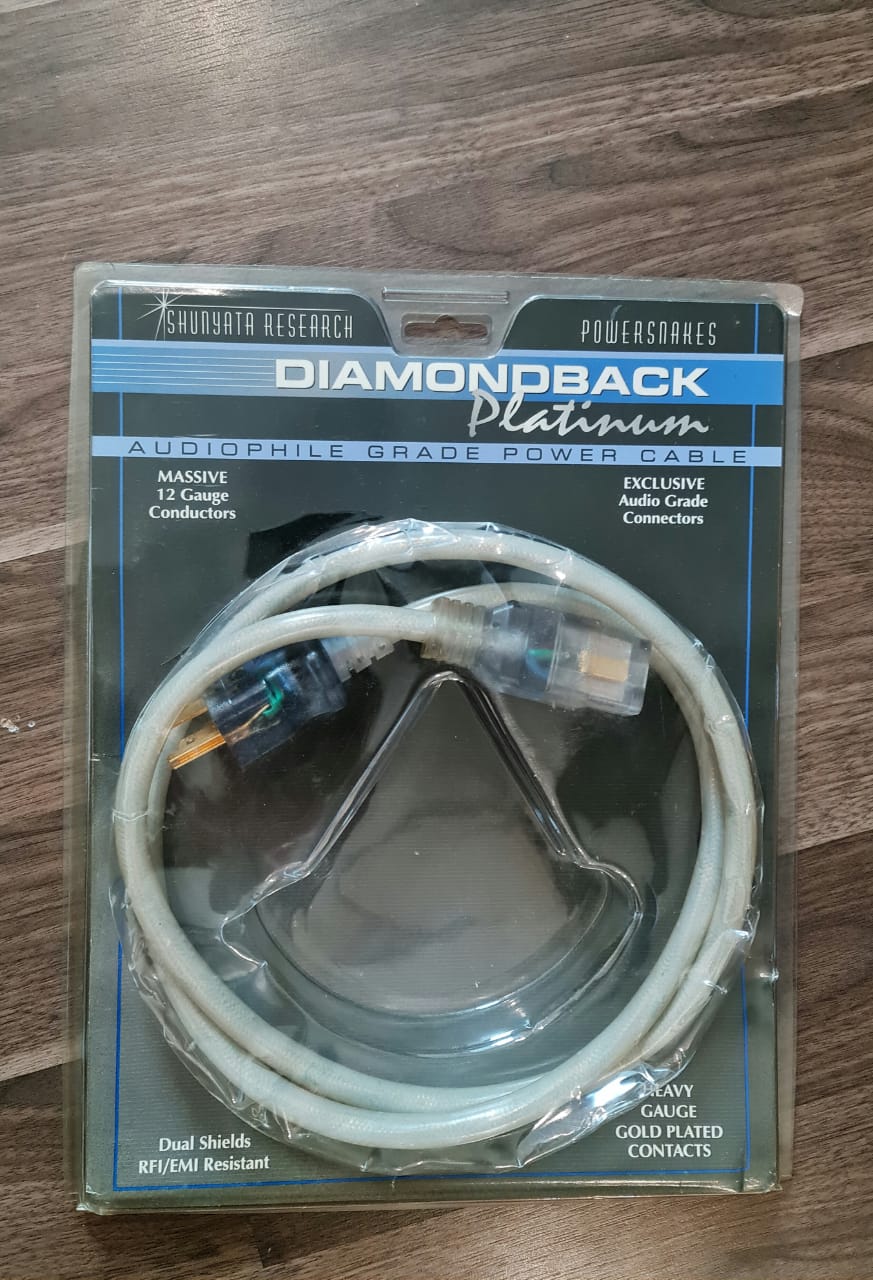 When we first introduced Shunyata's outstanding Diamondback Platinum Power Cable, we considered it one of the finest power cords we'd ever heard. The Diamondback Platinum was also relatively inexpensive which quickly made it one of our best-selling cables.
The 20Amp Shunyata Diamondback Platinum offers an impressively high level of performance, a substantial improvement to stock cords and most aftermarket cords, at a very reasonable price. The superior construction and materials of Diamondback Platinum gives you a taste of what the most expensive Shunyata Power Cords can do for your system.
The Diamondback Platinum is designed for any system with a 20A IEC. (Many power conditioners use this connection). The Diamondback Platinum can easily be recommended for use on power amplifiers, if it offers a 20A IEC. Plugging a Diamondback Platinum into your system will help you realize its full potential.
Diamondback Platinum has been engineered to deliver exceptional performance and value with the widest possible variety of electronics. Diamondback Platinum possesses a natural, organic tonal character and presents sound and visuals with incredible depth, dimension and background silence. Diamondback will engage you with pace, rhythm and timing and a surprisingly high level of clarity and dynamic range. Our highest recommendation!
The Diamondback Platinum's stunning performance and build quality have already caught the attention of the Music Industry's finest electronics manufacturers. Many manufacturers recommend Diamondback Platinum as a performance enhancing solution for use with their electronics.
Features:



NEW Gold plated contacts on both ends




Proprietary ultra-pure CDA-101 Copper conductors


Massive 12 gauge wire - 20 Amp Current Capacity



Dual 100% shielding (Foil and copper braid)





Exclusive, Shunyata designed connectors





Low power-loss 'crystal' dielectric materials




Website:
https://www.musicdirect.com/cables/shunyata-diamondback-platinum-power-cable
VIEW ALL MY OTHER STUFFS BY CLICKING BELOW:https://my.carousell.com/hifijunction/https://my.carousell.com/hifijunction/https://my.carousell.com/hifijunction/
Thank you
Last edited by raymond88 on Sat Jul 31, 2021 12:52 pm; edited 4 times in total
---
Permissions in this forum:
You
cannot
reply to topics in this forum