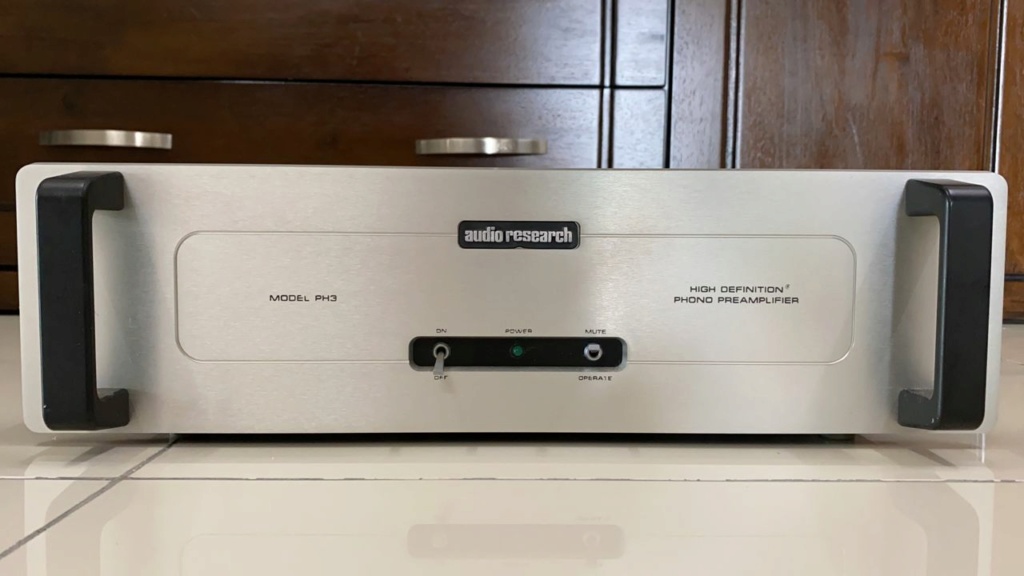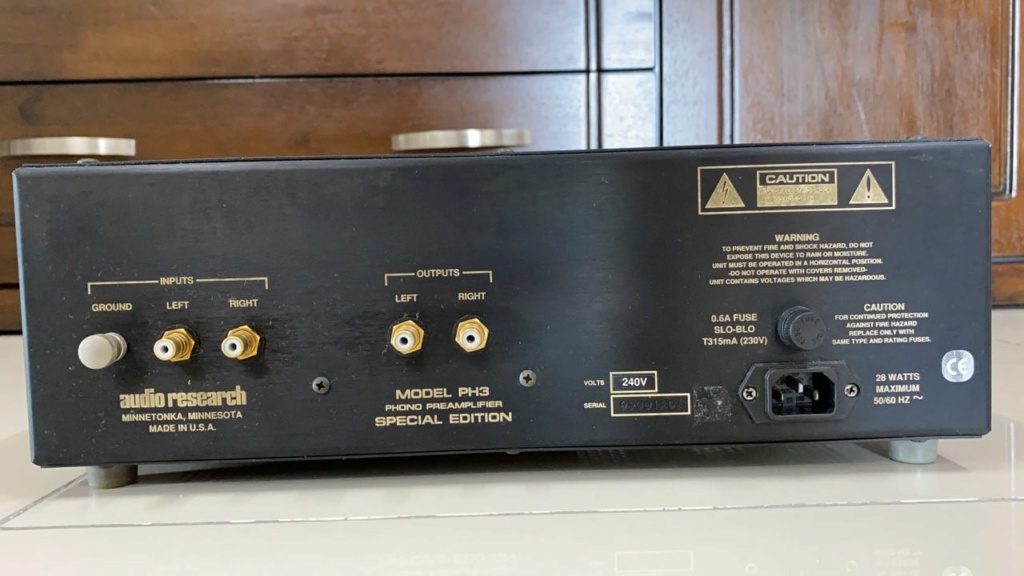 Brand:Audio Research
Model:PH3 SE (Special Edition)
Color:Silver
Condition:7/10
Functionality: Item was tested and is fully functional
Voltage: 240V 50/60Hz
PowerCord : no
Repair History: None
Price: RM 6400(nego)
Location: Pulau Pinang
Whatsapp: Jason 018 three 7637 two four
Description:
The PH3 is a phono preamplification stage intended for use with an active line-level stereo preamp. Fully single-ended from input to output, the PH3 uses a combination of J-FET input stage technology (for low inherent circuit noise) and class A operation vacuum-tube gain via three 6922 twin triodes. Total gain of the PH3 is 54 dB (non-adjustable). Used with typical line preamplifiers having 12 to 18 dB of gain, the PH3 is suitable for phono cartridges having .25 mV output or higher. Input impedance is factory-set at 47K ohms, and input capacitance at 90 pF. For optimal matching to moving-coil and moving-magnet phono cartridges, both input impedance and input capacitance may be adjusted via simple resistor and capacitor changes. A resistor kit (with solder) is supplied for proper loading values between 30 and 800 ohms. Additional resistor values and capacitors may be ordered from the factory. On the rear panel, the PH3 provides one pair of gold-plated, audiophile-grade single-ended connectors for L & R inputs, and one pair for outputs. The higher-cost PH3 Special Edition is identical in circuit design to the standard PH3 phono preamp, with the exception that more than 100 different parts upgrades have been made to the SE version, including costly Infinicaps in both audio circuits and power supply regulators, high-performance soft-recovery rectifiers, Holco resistors in key locations, gold tube sockets, proprietary Audio Research damping rings, extended chassis damping, and more. The sonic improvements are significant in every respect, yielding better soundstage focus, more musical bloom and richness, greater dynamic expression and more impact and control at the frequency extremes
Specifications:
Frequency response: ±.15dB of RIAA, 10Hz to 60kHz; 3dB points below 0.5Hz and above 400kHz
Distortion (THD): Less than .005% at .50V RMS 1kHz output
Noise & hum: 0.1µV equivalent input noise, IHF weighted, shorted input (80 dB below 1mV 1kHz input)
Gain: 54dB at 1kHz (MC & MM compatible)
Input impedance: 47K ohms and 90pF Unbalanced. (Provisions for any value below 47K ohms or added input capacitance for matching certain magnetic cartridges.)
Output impedance: 200 ohms Unbalanced. Recommended load 50K-100K ohms and 100pF. (10K ohms minimum and 2000pF maximum.)
Maximum inputs: 60mV RMS at 1kHz (240 mV RMS at 10kHz)
Rated outputs: .50V RMS 10Hz to 60kHz, 100K ohm load (output capability is 30V RMS output at 1/2% THD at 1kHz).
Power supplies: Electronically-regulated low and high voltage supplies. Line regulation better than .01%
Tube complement: (3) 6922/E88cc dual triodes
Dimensions: 19" (48 cm) W x 5.25" (13.4 cm) H (standard rack panel) x 10.25" (26 cm) D. Handles extend 1.50" (3.8 cm) forward of front panel. Rear chassis fittings extend .75" (2.2 cm)
Last edited by otara31 on Wed Sep 21, 2022 11:51 pm; edited 7 times in total

otara31

Club Member





Number of posts

: 35


Age

: 42


Location

: malaysia


Registration date :

2016-02-24




otara31

Club Member





Number of posts

: 35


Age

: 42


Location

: malaysia


Registration date :

2016-02-24




otara31

Club Member





Number of posts

: 35


Age

: 42


Location

: malaysia


Registration date :

2016-02-24




otara31

Club Member





Number of posts

: 35


Age

: 42


Location

: malaysia


Registration date :

2016-02-24




otara31

Club Member





Number of posts

: 35


Age

: 42


Location

: malaysia


Registration date :

2016-02-24




otara31

Club Member





Number of posts

: 35


Age

: 42


Location

: malaysia


Registration date :

2016-02-24




otara31

Club Member





Number of posts

: 35


Age

: 42


Location

: malaysia


Registration date :

2016-02-24




otara31

Club Member





Number of posts

: 35


Age

: 42


Location

: malaysia


Registration date :

2016-02-24




otara31

Club Member





Number of posts

: 35


Age

: 42


Location

: malaysia


Registration date :

2016-02-24




otara31

Club Member





Number of posts

: 35


Age

: 42


Location

: malaysia


Registration date :

2016-02-24



Similar topics
---
Permissions in this forum:
You
cannot
reply to topics in this forum