Selling beloved AQ Eagle Eye Digital Coaxial Cable 1.5m for RM1600
https://wa.me/60122738893
AudioQuest Eagle Eye digital coaxial cable, 1.5-meter length
A 72v (2x36v) DBS pack is included. 
2013 Editors' Choice award: "Eagle Eye offers excellent construction quality and terrific sound. Even when used to carry nothing but the clock signal in the dCS Vivaldi, it improves image focus, increases coherence, and produces a smoother and more organic presentation." - The Absolute Sound
. 
Note that there are directional arrows on either end at the RCA plugs, so connect by signal direction, by input/output. Video is not sensitive to directionality though.
Specifications: Direct-Silver plated OCC RCA plugs
100% PerfectSurfaceSilver Hard-Cell Foam Insulation Foil + Silver-Plated Shield
Conductive PVC Shield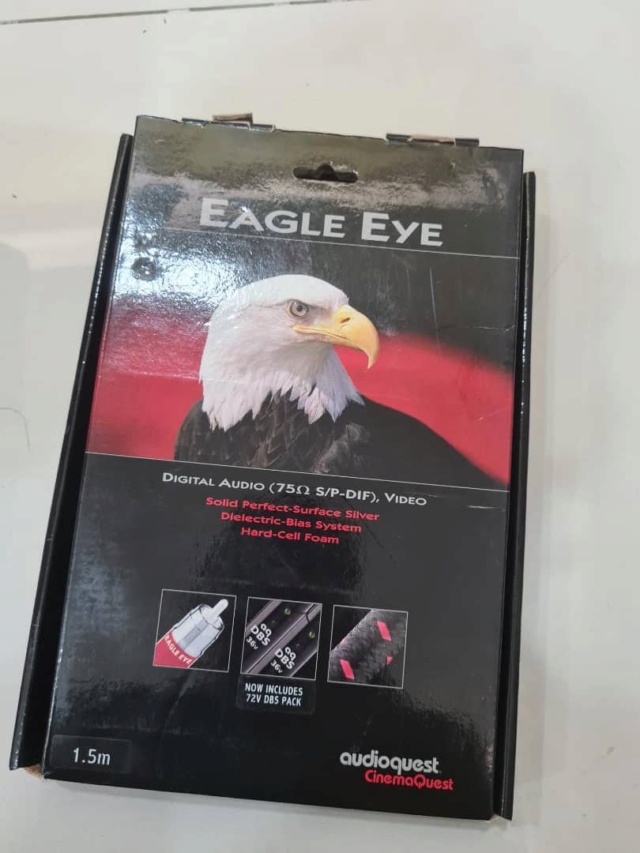 tongho

Frequent Contributor





Number of posts

: 568


Age

: 39


Location

: KL


Registration date :

2014-03-04

Character sheet


Source(s)

:

VPI Prime, Audia Flight Phono, SoulNote sc710




Amplification

:

Accuphase E470




Speakers

:

Quad z3




tongho

Frequent Contributor





Number of posts

: 568


Age

: 39


Location

: KL


Registration date :

2014-03-04

Character sheet


Source(s)

:

VPI Prime, Audia Flight Phono, SoulNote sc710




Amplification

:

Accuphase E470




Speakers

:

Quad z3




tongho

Frequent Contributor





Number of posts

: 568


Age

: 39


Location

: KL


Registration date :

2014-03-04

Character sheet


Source(s)

:

VPI Prime, Audia Flight Phono, SoulNote sc710




Amplification

:

Accuphase E470




Speakers

:

Quad z3




tongho

Frequent Contributor





Number of posts

: 568


Age

: 39


Location

: KL


Registration date :

2014-03-04

Character sheet


Source(s)

:

VPI Prime, Audia Flight Phono, SoulNote sc710




Amplification

:

Accuphase E470




Speakers

:

Quad z3




tongho

Frequent Contributor





Number of posts

: 568


Age

: 39


Location

: KL


Registration date :

2014-03-04

Character sheet


Source(s)

:

VPI Prime, Audia Flight Phono, SoulNote sc710




Amplification

:

Accuphase E470




Speakers

:

Quad z3




tongho

Frequent Contributor





Number of posts

: 568


Age

: 39


Location

: KL


Registration date :

2014-03-04

Character sheet


Source(s)

:

VPI Prime, Audia Flight Phono, SoulNote sc710




Amplification

:

Accuphase E470




Speakers

:

Quad z3




tongho

Frequent Contributor





Number of posts

: 568


Age

: 39


Location

: KL


Registration date :

2014-03-04

Character sheet


Source(s)

:

VPI Prime, Audia Flight Phono, SoulNote sc710




Amplification

:

Accuphase E470




Speakers

:

Quad z3




tongho

Frequent Contributor





Number of posts

: 568


Age

: 39


Location

: KL


Registration date :

2014-03-04

Character sheet


Source(s)

:

VPI Prime, Audia Flight Phono, SoulNote sc710




Amplification

:

Accuphase E470




Speakers

:

Quad z3




tongho

Frequent Contributor





Number of posts

: 568


Age

: 39


Location

: KL


Registration date :

2014-03-04

Character sheet


Source(s)

:

VPI Prime, Audia Flight Phono, SoulNote sc710




Amplification

:

Accuphase E470




Speakers

:

Quad z3




tongho

Frequent Contributor





Number of posts

: 568


Age

: 39


Location

: KL


Registration date :

2014-03-04

Character sheet


Source(s)

:

VPI Prime, Audia Flight Phono, SoulNote sc710




Amplification

:

Accuphase E470




Speakers

:

Quad z3



---
Permissions in this forum:
You
cannot
reply to topics in this forum