Item: EPOS K2 2.5-way Audiophile Floorstanding Speaker
Condition: 8.5/10. Item is in excellent condition. No dents or scratches. Comes with original spikes. Retail Price is RM6000
Price: RM2500 or swap/topup
Can Trade-In your Amplifier
CD Player/Speakers/Etc
Contact: 012-3816611
Wasap.my/60123816611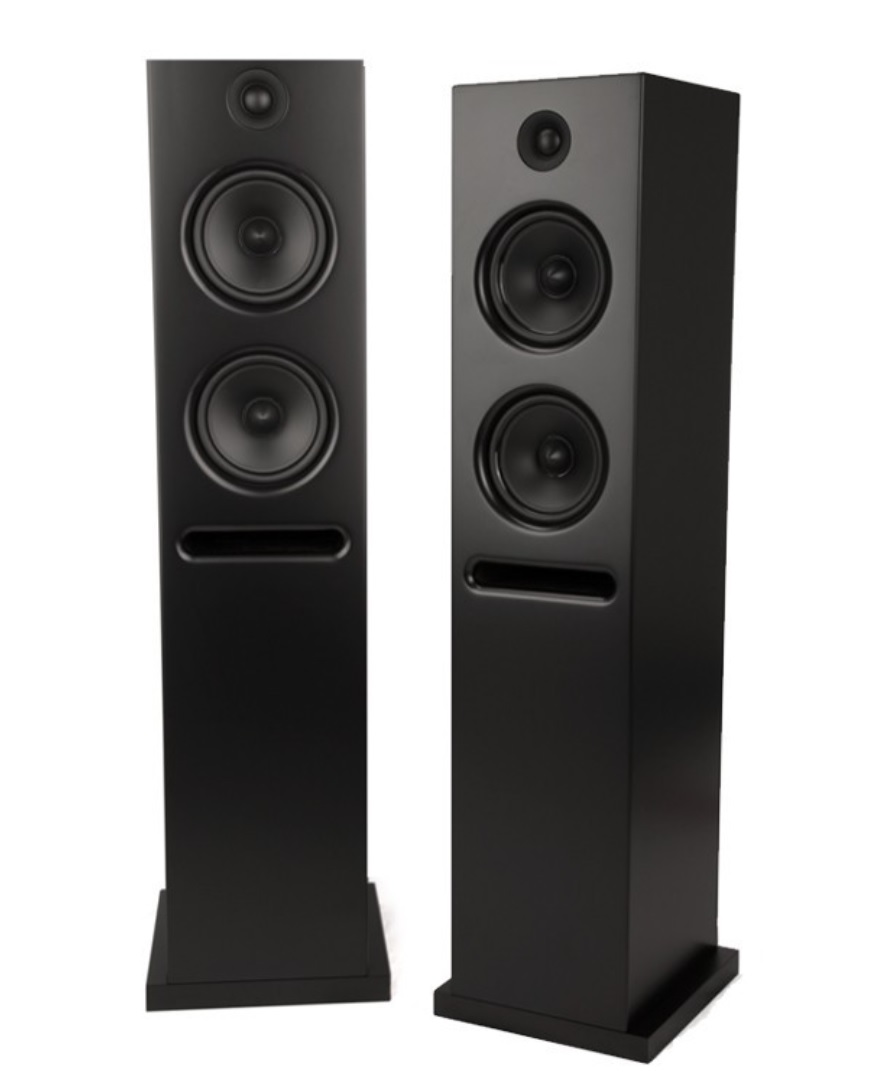 The K-Series marks the beginning of a new era for Epos. Designed by Luke Creek, the 2 ½ way K2 floor-standing loudspeaker is the second largest model within this range of loudspeakers.
The initial concept started out with a thought about how to take conventional cabinet loudspeakers into a new area of the market. This spawned the idea of how to make a loudspeaker the hub, or central place, for your Hi-Fi system. This concept had to be achieved whilst preserving Epos' high-end roots.
The K-Series has a number of unique design features that enables it to achieve its design goal. These features include: stylish looks, High Velocity Slot Ports (HVSP), rear mounted drivers, detachable rear baffles and upgradability to fully powered active mode. The K-Series is much more than just another box loudspeaker, it is 'probably' the future!
Technology
Within the K-Series are a number of new technologies developed to allow superior performance over previous models.
We have found that, if properly implemented, High Velocity Slot Ports (HVSP) can produce dramatic improvements over conventional cylinder ports. HVSP achieves lower audible distortion, by virtue of its lower intrinsic drag and reduced turbulent airflow within the port. HVSP can also lower air loading to the mid and bass drivers, which helps to keep them operating in a more linear region throughout their excursion range.
In a departure from earlier designs, the port is now located on the front baffle of the cabinet. Using a front firing port, the K-Series offers more flexibility with room placement. They can indeed by positioned closer to a wall, without restricting their operation.
The clever clamping mechanism used to secure the drivers has resulted in an even distribution of tension applied to the surface of the basket. This uniformed clamping pressure helps to reduce unwanted vibrations that would normally result in higher levels of distortion. The end result is a beautifully clear and transparent mid-range quality.
Cabinet colouration is a critical area of a loudspeakers design, that is sometimes overlooked; but not with the K-Series. Not only are the K series cabinets carefully braced internally, they have also been developed with removable rear baffles. This is an idea dating back to the ES11 days of Epos, with its sandwich construction method. The theory is to reduce the energy absorbed by the cabinet. One way to achieve this is by making the rear baffle a separate element in the construction. The aim is a reduction in cabinet colouration, or unwanted resonance. There is another reason for using removable rear baffles, which is to facilitate 'Active-K'.
Active-K is a novel feature, to allow the consumer to simply upgrade their loudspeaker from passive to active operation. More details on Active-K will be added to our website soon.
Further performance increases have been achieved with the implementation of high quality crossover components, including the selection of very high-grade polypropylene capacitors and metal oxide resistors. As standard, the K-Series comes pre-wired with Oxygen Free multi-stranded copper wire. Specially designed cable management holes inside the cabinet and high current connectors allow for aftermarket replacement cable sets to be installed, if required.
Design
The all new K-Series cabinet design is constructed from 15mm MDF and includes some very clever internal bracing to minimise cabinet coloration. The K-Series sees the introduction of a new front firing slot port technology. This slot port was designed for two especial reasons.
Firstly, it allows a high volume of air to pass without introducing any nasty audible effects such as chuffing, unlike some conventional tube ports. Secondly, the slot port has enabled Epos to achieve incredibly low frequency response performance from a relatively small driver area.
One of the key design factors included in the K-Series is the ability to upgrade into an 'active digital' speaker. The rear panel and passive crossover are designed to be removed and replaced with our own Active-K module.
The K-Series is available in two elegant silk White or Black finishes with an optional grille being available. Both finish options give you a wonderfully luxurious look and feel to these loudspeakers.
Going Active
The Active-K module sets this range of loudspeakers apart from the rest of the field. Either from new or as an upgrade path, the Active-K module replaces the rear panel of the K3 providing you with a number of benefits.
Built-in to the Active-K is a Class-D Creek designed power amplifier. A high quality multi input Wolfson DAC, Asynchronous USB and CSR Bluetooth receiver provide your digital inputs. The Active-K includes an analogue input for people who wish to use a turntable or other form of analogue source.
The Active-K replaces the passive crossover with an analogue active version, allowing superior driver integration and even wider dynamic range.
The Active-K module is controlled via a handheld remote, allowing you to change inputs and adjust the volume. With intuitive control defaults, the Active-K is easy to operate despite not having a display.
Tweeter
Using virtual performance CAD simulation tools, Epos has achieved very high performance, and a clean, open yet smooth sound quality from this tweeter.
The tweeter has a low resonance frequency, high sensitivity and extended high frequency response. With a 25mm fabric-dome, short horn, high-temperature ferro-fluid cooled voice-coil, and neodymium magnet, it is capable of high output levels for extended periods without degradation to sound quality.
Mid-Bass Drivers
The Epos K2 mid-bass drivers produces an even frequency response and smooth roll-off.
The Epos 150mm mid-bass driver has a high-quality polypropylene cone and a bullet-shaped dust cap. These components form a stiff, yet pliable, well-damped structure which retains its shape even under high power loading.
The K2 mid-bass drivers also benefits from a bucking-magnet system, ensuring all the magnetic force is concentrated around the voice-coil, allowing for low distortion and high efficiency.
I've sampled numerous new £1,000 floorstanders in the past year, and standards are high. At this price point, you're expecting a combination of serious power handling, wide frequency range with extended bass and treble, lots of detail, delicacy and good soundstaging. The K2 has all of these, and more – indeed it's one of the strongest contenders at its price point, and certainly the most amiable with a smooth, even, spacious sound that makes a direct line for the music. There's nothing not to like, and the active option should be a blast. 
LIKE: Smooth and easy, but highly enjoyable sound; active option
DISLIKE: Nothing at the price
WE SAY: Excellent floorstander with an active life ahead of it
Power Handling
150 Watts unclipped speech and music
Frequency Range
45 Hz – 30 kHz
Impedance
4 Ohm nominal
Sensitivity
89dB / 2.83V@1m ±3dB
Tweeter
Epos 25mm soft dome with high-temperature voice coil, ferrofluid cooling and neodymium magnet system.
Bass/Midrange Driver
x2 150mm Epos mid bass drivers, with 25mm high-temperature voice coil and polypropylene cone.
Internal wiring
18 AWG stranded oxygen free copper cable.
Finish
Black 
Size HxWxD
865 x 185 x 250mm
Weight
12 kg per single speaker
14 kg per carton
Packaged One speaker per carton.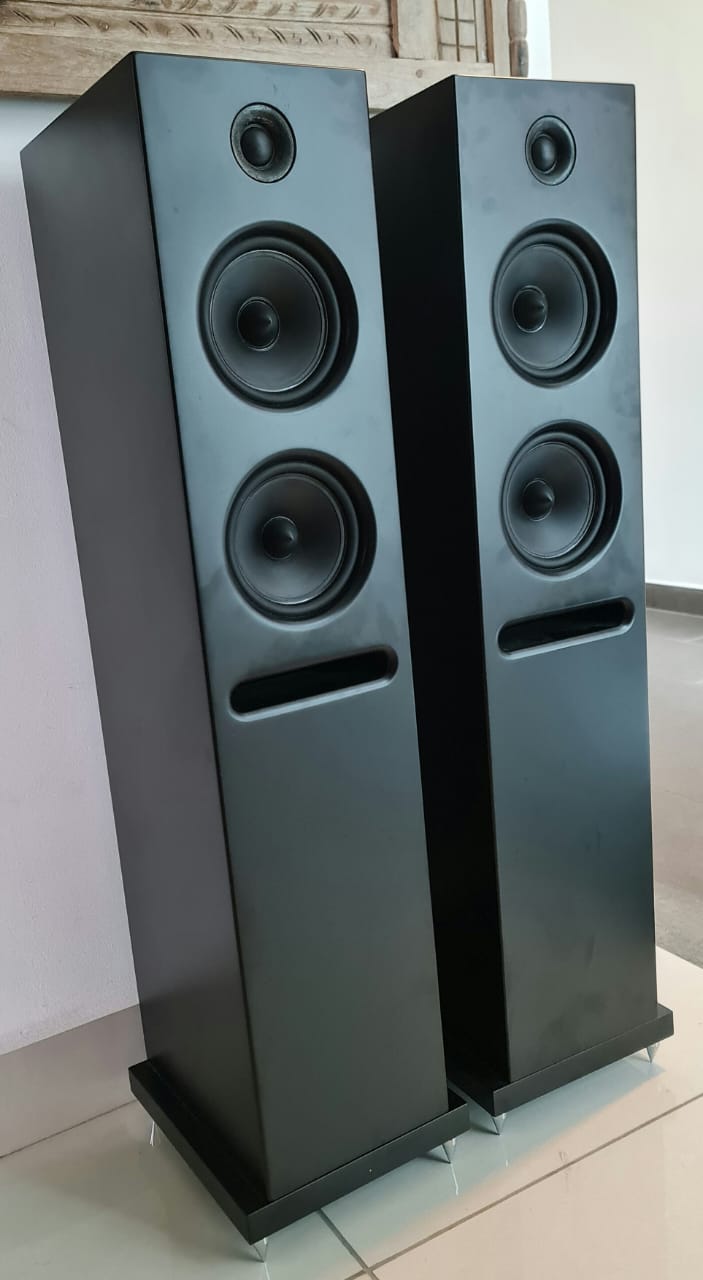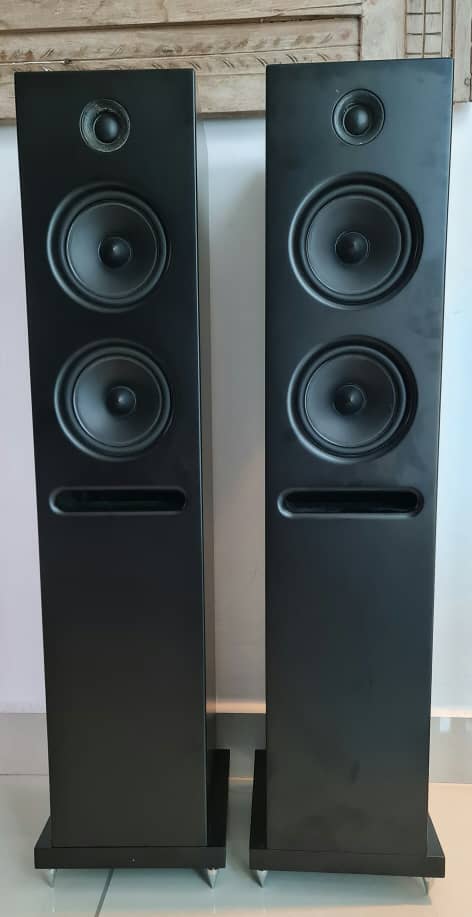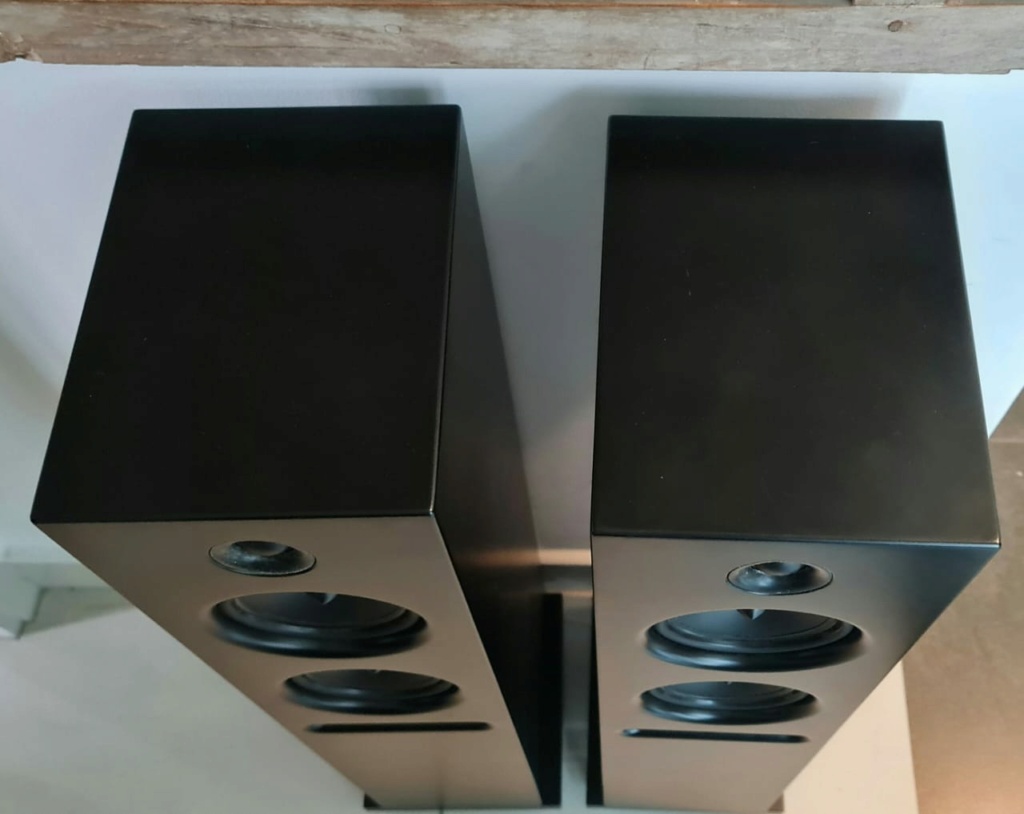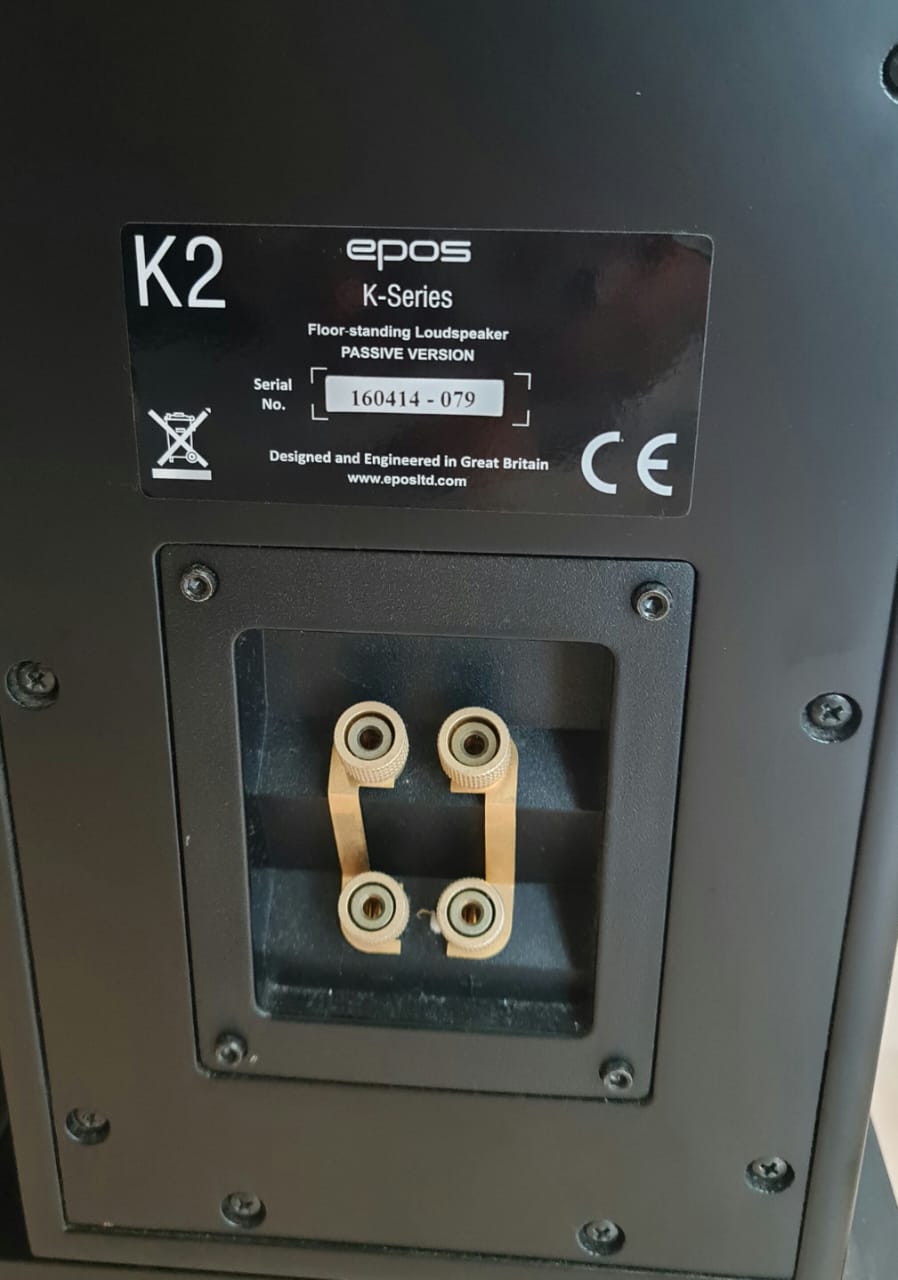 SEE ALL MY AVAILABLE ITEMS HERE:
https://www.carousell.com.my/u/hifijunction/
https://www.carousell.com.my/u/hifijunction/
https://www.carousell.com.my/u/hifijunction/
Thank you
Last edited by raymond88 on Sat May 20, 2023 5:36 pm; edited 1 time in total
Similar topics
---
Permissions in this forum:
You
cannot
reply to topics in this forum