Item: Musical Fidelity X-A50 Monoblock Power Amplifiers
Condition: 8.5/10. Item is in excellent condition. No dents or scratches. The Musical Fidelity X-A50 power amplifier delivers 50 watts ( 8 ohms) or 100 watts (4 ohms).
Price: RM1800/pair 
Can Trade-In your Amplifier
CD Player/Speakers/Etc
Contact: 012-3816611
Wasap.my/60123816611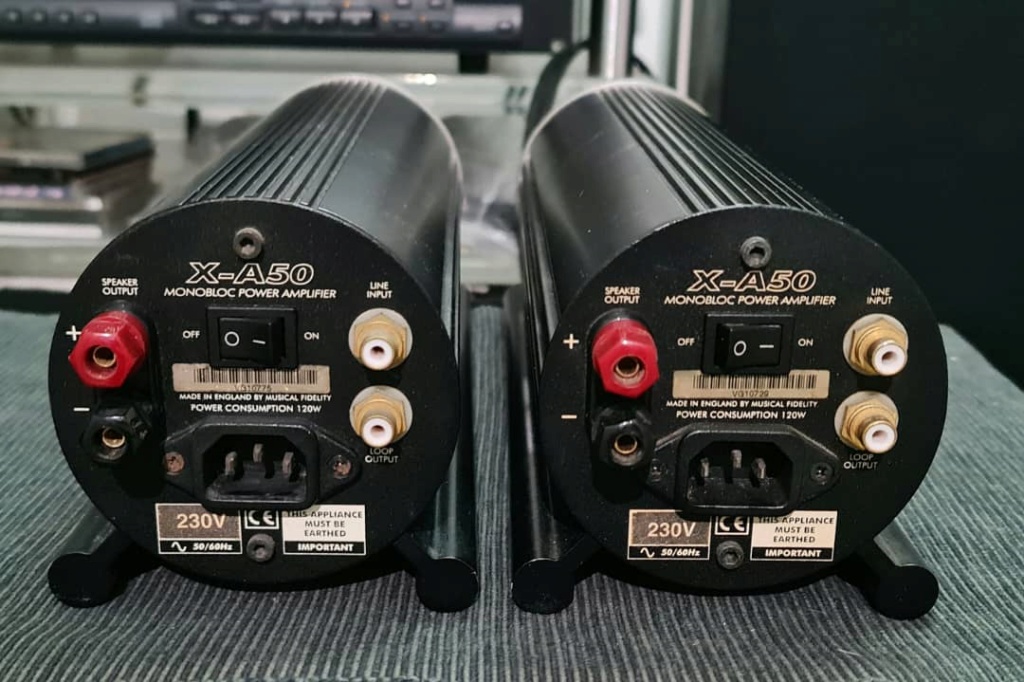 Description :
The Musical Fidelity X-A50 has an excellent build quality and an aesthetically pleasing look. The X-A50 is the music of the late 1990s fax products. It is a single-channel design, all the rectifiers are designed to be an amplifier board. The amplifiers are cylindrical shape with aluminium extrusion fins for heatsinking. The two pairs of high current bipolar power transistors provide excellent load driving ability coupled to solid bass control. The Musical Fidelity X-A50 has a "Loop Out" facility to allow for easy biamping of speakers with bi-wireable crossovers. The compact monoblock construction completely divides the left and right channels for faultless soundstaging and imaging properties.
The sound is sweet, with wide image depth and good mid band resolution. The bass is well extended, deep and controlled. It is warm on the mid and high ranges. When the Musical Fidelity X-A50 pair is configured for bi-amping, there is dramatic improvement in bass drive, sound staging and more 3D depth. The increase in the amount of detail was so apparent that subtle triangles sounds can be heard in the background in one piece. The power gives amazing dynamics with full emotion of the music cleverly captured. The high frequencies sound sweet and revealing yet not getting too bright. The vocal is well projected and sound very natural. The Musical Fidelity X-A50 is a pair of nice detailed amplifiers that transcends the ordinary.
Specifications :
Output Power...................................50W RMS into 8W
                 .....................................100W RMS into 4W
Total Harmonic Distortion..................<0.04% 20Hz-20kHz unweighted
                                    ...................<0.01% 20Hz-20kHz 'A' weighted
                                    ...................<0.008% 20Hz-20kHz @ 1W unweighted
Frequency Response........................+/-0.2dB 20Hz-20kHz
Signal-to-Noise Ratio.........................Greater than 102dB unweighted
                              .........................Greater than 114dB 'A' weighted
Power Consumption..........................120W
Power Requirements.........................100/115/230V 50/60Hz AC (Factory preset for country)
Dimensions(w x d x h).......................11 x 32.5 x 11cm
Weight.............................................4kg per side
Website:
http://www.listeninn.com/product/407001-11292/Power+Amplifier+/Musical+Fidelity+X-A50
http://www.hifi-review.com/150644-musical-fidelity-x-pre-x-a50.html
https://www.musicalfidelity.com/uploads/manuals/English/xa50.pdf
SEE ALL MY AVAILABLE ITEMS HERE:
https://www.carousell.com.my/u/hifijunction/
https://www.carousell.com.my/u/hifijunction/
https://www.carousell.com.my/u/hifijunction/
Thank you
Similar topics
---
Permissions in this forum:
You
cannot
reply to topics in this forum