Item: ToneWinner Flagship Pre + Power Hi-Fi system (AD-1 PA + AD-1PRE)
Condition: 9/10. Item is in pristine condition. No dents or scratches. Comes with original boxes. Like buying new.
Price: RM10,800 or swap/topup
Can Trade-In your Amplifier
CD Player/Speakers/Etc
Contact: 012-3816611
Wasap.my/60123816611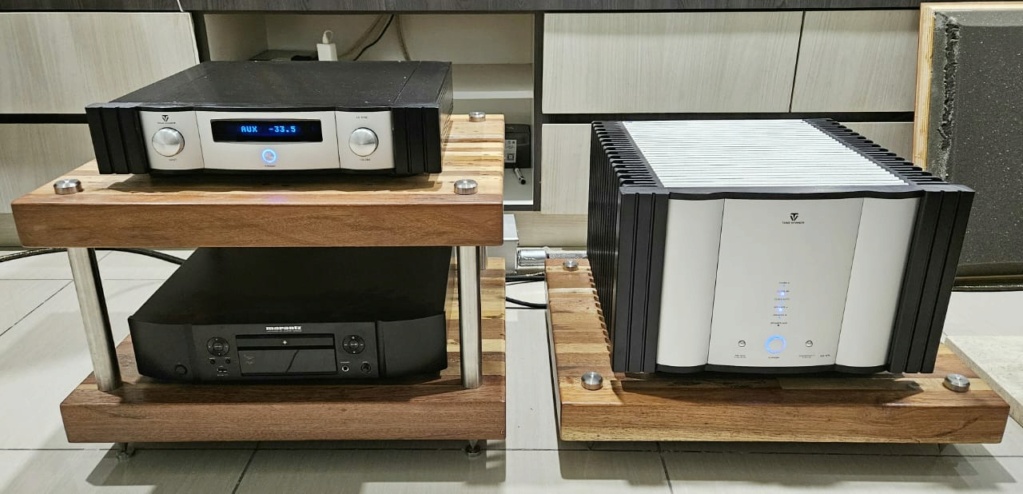 AD-1 PA - 2 CH AMP PURE CLASS "A" 100 WATTS & A/B 300W (8Ω)
Introducing the Tonewinner AD-1PA Class A Amplifier, a triumph of engineering that sets a new standard in audio amplification. Meticulously designed and expertly crafted, this 2-channel amplifier represents the pinnacle of high-fidelity audio, delivering an auditory experience that is truly unparalleled.
Model: AD-1PA Class A Amplifier - 2 Channel
Prepare to be captivated by the sonic prowess of the Tonewinner AD-1PA Class A Amplifier. This amplifier is a testament to the fusion of cutting-edge technology and timeless craftsmanship, resulting in a sound quality that is rich, detailed, and immersive.
Key Features:
Pure Class A Amplification: The AD-1PA operates in pure Class A mode, ensuring that the amplifier is always on and delivering the highest quality sound. This design choice eliminates the need for switching and provides a continuous flow of pristine audio.
Uncompromising Sound Quality: With a focus on audio purity, the amplifier's circuitry is meticulously optimized to minimize distortion and noise, resulting in a faithful reproduction of your music's nuances.
Exceptional Power and Control: The AD-1PA boasts a robust power output that ensures effortless driving of even demanding speakers. Its dynamic control lets you experience the full spectrum of sound, from delicate whispers to thundering crescendos.
Premium Build and Materials: Crafted with precision and care, the amplifier features high-quality components that contribute to its exceptional performance and durability.
Elegant Design: The amplifier's sleek and understated design seamlessly blends with any audio setup, making it a versatile addition to both contemporary and classic environments.
With the Tonewinner AD-1PA Class A Amplifier, your music transcends ordinary listening and becomes a captivating journey through every note and melody. Whether you're an audiophile seeking sonic perfection or someone who simply appreciates the beauty of sound, this amplifier promises an experience that will touch your soul.
Audio Specifications: Pure Class "A" Amp
Topology: Class A/Class AB
Numbers of Channel: 2 Channels - (High powered single channel modules): Independent windings for each channel from transformer.
Power Output: ( Rated Power; THD <0.1% @ 115V (Tested @ AC 115V) - (AC 240V Will Increase the output wattage and maintain the THD<0.1%.)
300 watts RMS/channel; 20 Hz – 20 kHz; THD<0.1%; 8 Ohms; Two channel driven.
500 watts RMS/channel; 20 Hz – 20 kHz; THD<0.1%; 4 Ohms; one channel driven.
320+ watts RMS/channel; THD<0.1%; 8 Ohms; one channel driven..
Pure Class "A" Mode 100 Watts at 8 ohms
Power Bandwidth (at rated power; 8 Ohm load): 20 Hz to 20 kHz (+ / – 0.1 dB).
Broad-Band Frequency Response: 10 Hz to 104 kHz +/-3 dB.
THD + noise: < 0.0016%; at 100 watts RMS; 1 kHz; 8 Ohms.
Signal to Noise Ratio (8 Ohm load):
> 116dB - 120dB;  FTC rated power; unbalanced input (A-weighted).
Minimum Recommended Load Impedance (per channel): 2 Ohms 
Damping Factor (8 Ohm load): > 200.
Input Sensitivity (for rated power; 8 Ohm load): 1.6 V.
Gain: 29.5 dB.
Maximum Power Consumption: 1200 watts.
Power Supply: 110V-240V: 15 Amps - 20 Amps Auto Switching Class A/AB Power Supply.
Modules: Separate Heatsinks for individual modules. 
Bi-Amp Option Available 
Full balance; holo symmetry; differential input; differential BTL output.
Each channel is equipped with 8 pairs of HI-FI power transistors 
60A current output capacity. 
1200W Toroidal transformer; 180000uF audio filter capacitor
Intelligent management of switching High/Low voltages ( Auto switch for 115/230V input power)
Class A/Class AB Auto/Manual switch
Multiple ways for protection: Overcurrent protection, DC protection, self-excitation protection, & overheat protection
Standby power consumption: ≤1W
Material: Aluminum
Color: Black
Front Panel: Silver 
Dimensions: 17.48 x 16.73 x 8.75 Inches 
Weight: 42kgs / 92.60LB
Accessories: Power Cable Included 
SEE ALL MY AVAILABLE ITEMS HERE:
https://www.carousell.com.my/u/hifijunction/
https://www.carousell.com.my/u/hifijunction/
https://www.carousell.com.my/u/hifijunction/
Thank you
---
Permissions in this forum:
You
cannot
reply to topics in this forum