Item: Parasound HCA-2200II Ultra High Current Power Amplifier, by John Curl.
Condition: 8/10. Item is in excellent condition. No dents or scratches.
Price: sold
Contact: 012-3816611
HCA-2200II ULTRA HIGH CURRENT AMPLIFIER. Our premiere amplifier created by legendary designer John Curl has been called by Stereophile,"...a benchmark product against which other amplifiers can be measured."
The Parasound HCA-2200 mk2 power amplifier was designed by one of the world's most renowned circuit designers, John Curl. He has designed some of the best sounding amplifiers in the world and this is one of the finest ever made. Every part, every direct-coupled circuit, has been painstakingly selected for optimum musical quality on the finest and most challenging music and loudspeaker loads. It has balanced XLR and RCA inputs and the amplifier can be run in Bridged Mono for even more power, up to 1 kilowatt of power. It also has two independent 1200vA toroid power transformers, independent transformer windings for driver stage regulators, higher driver rail voltages and independent regulation to prevent sag, and 100,000uF computer-grade, multiple polystyrene bypass capacitors in power supply. On the dual mono circuit there are cascode Class A input stages with matched J-FET pairs, hand picked MOSFETs in high voltage driver stages, output transistors direct-coupled without inductors, and linear tracking, instantaneous acting DC servos that are direct-coupled audio circuits with 0.3Hz rolloff.
Click here to Whatsapp: 
http://wasap.my/60123816611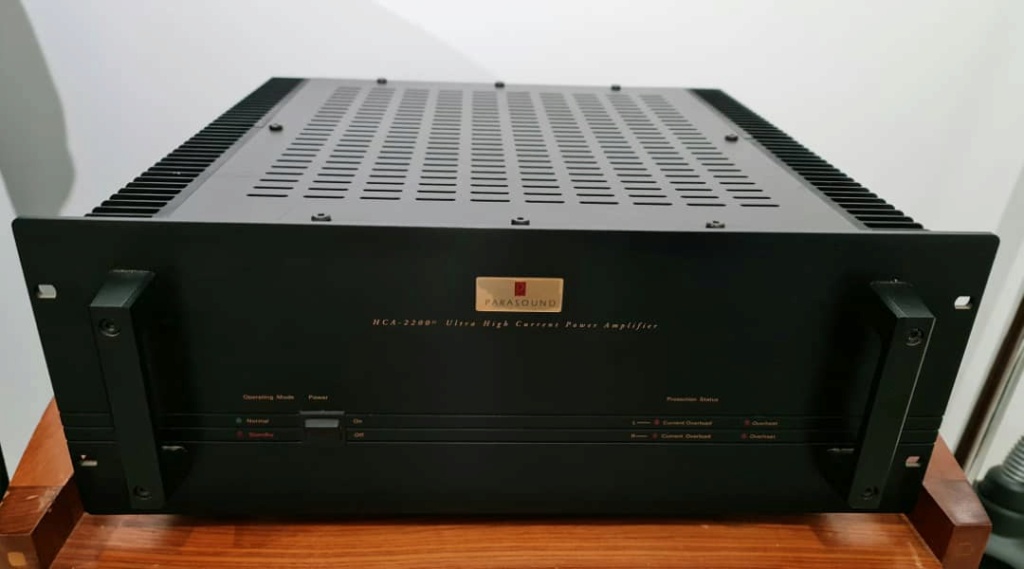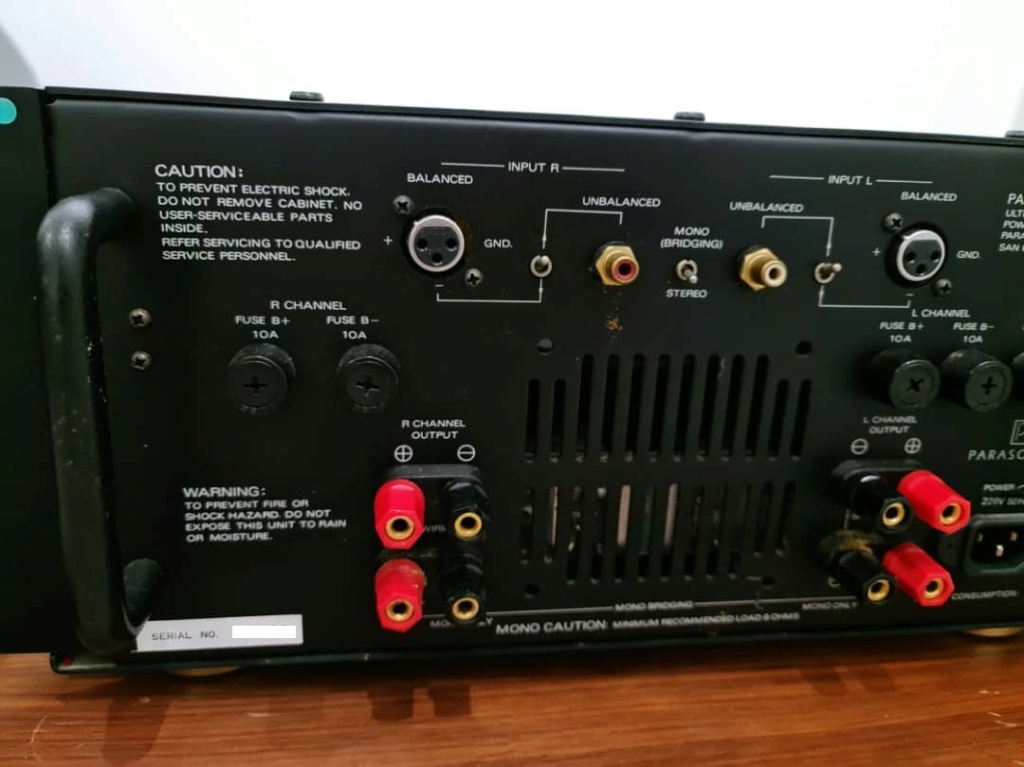 Specifications :
Continuous Power Output, Stereo.....2 x 220 watts RMS, 20Hz to 20kHz, 8 ohms
                                                ......2 x 385 watts RMS, 20Hz to 20kHz, 4 ohms
                                                ......2 x 385 watts RMS, 20Hz to 20kHz, 2 ohms
Continuous Power Output, Mono.......750 watts RMS, 20Hz to 20kHz, 8 ohms
                                               .......1000 watts RMS, 20Hz to 20kHz, 4 ohms
Current Capacity..............................50 amperes continuous
                        ..............................90 amperes peak
Slew Rate.......................................>135V/microsecond
Frequency Response.......................2Hz to 95kHz, +0/-1.5dB
Total Harmonic Distortion..................<0.05% at full power
                                    ..................<0.009% typical levels
Transient Intermodulation Distortion...Unmeasurable
Intermodulation Distortion.................<0.03%
Dynamic Headroom.........................>1.5dB
lnterchannel Crosstalk.....................>84dB at 1kHz
                                 .....................>74dB at 20kHz
lnput lmpedance..............................100k ohms/RCA-unbalanced, 200k ohms/XLR-balanced
S/N Ratio........................................>114dB, input shorted, IHF A weighted
Damping Factor...............................>1000 at 20Hz
AC Power Requirements..................1000 watts
Dimensions(w x d x h)......................48.5 x 48.5 x 19.5 cm
Weight............................................26kg
Miscellaneous :
XLR Inputs.......................................Yes
From...............................................San Francisco CA USA
Website:
https://www.carousell.com.my/p/parasound-hca-2200ii-used-1009381381/
http://www.audioreview.com/product/amplification/amplifiers/parasound/hca-2200ii.html
VIEW ALL MY OTHER STUFFS BY CLICKING BELOW:https://my.carousell.com/hifijunction/https://my.carousell.com/hifijunction/https://my.carousell.com/hifijunction/
Thank you
---
Permissions in this forum:
You
cannot
reply to topics in this forum