Item: Revelation Audio Labs Prophecy CryoSilver
 Reference True 110-ohm AES/EBU Digital Link Cable - 1.5m
Condition: 9.5/10. Item is new/unused. Comes with the original packaging.
Retail Price: RM2200
Selling Price: RM1300 or swap/topup
Contact: 012-3816611
Wasap.my/60123816611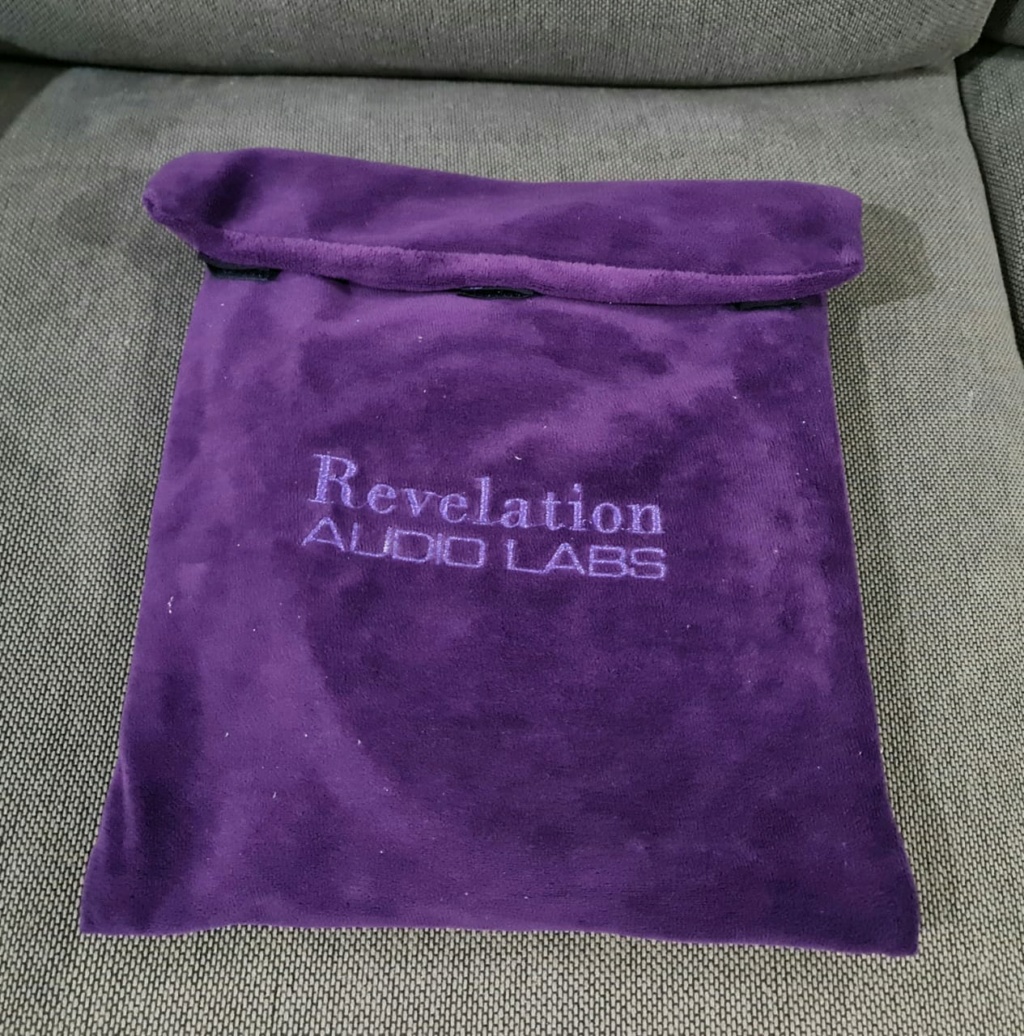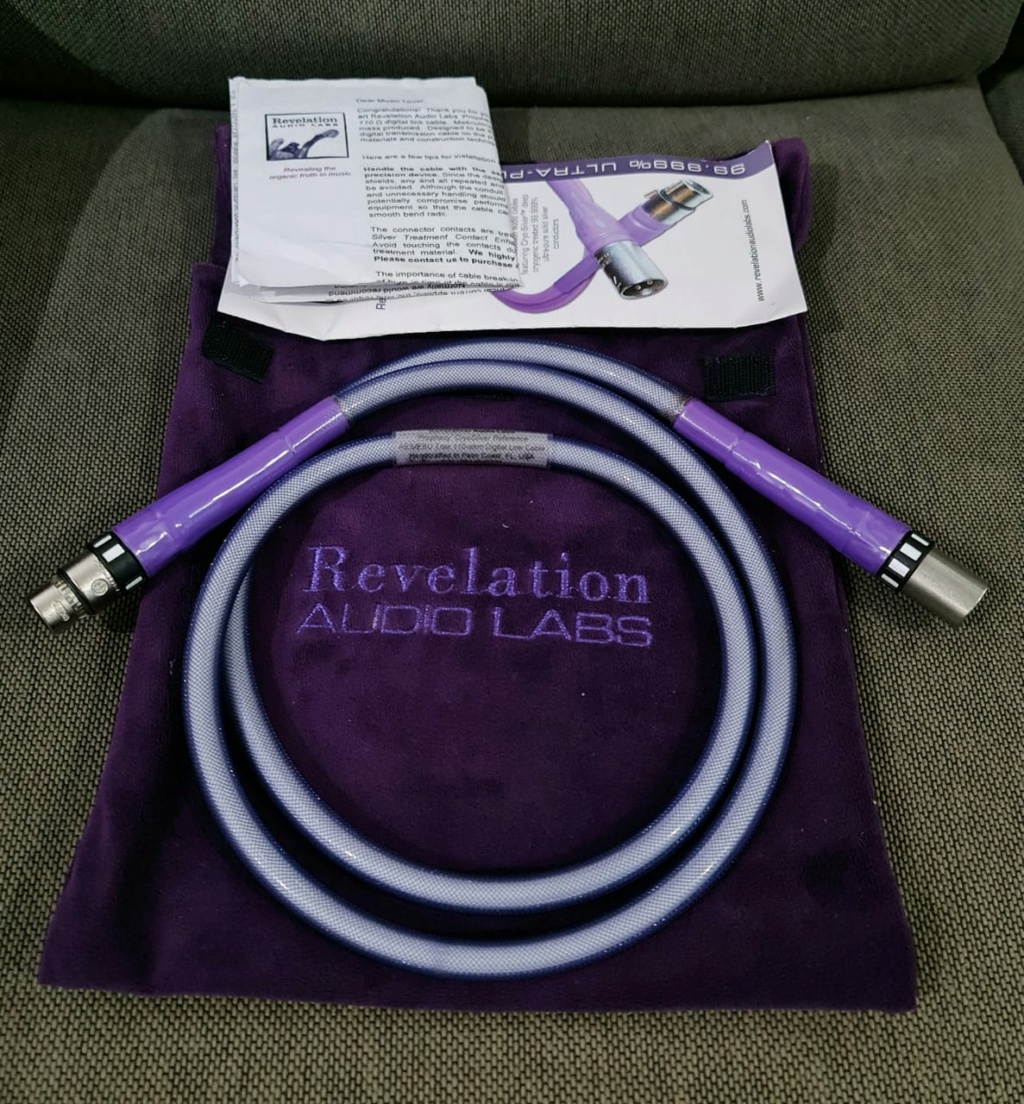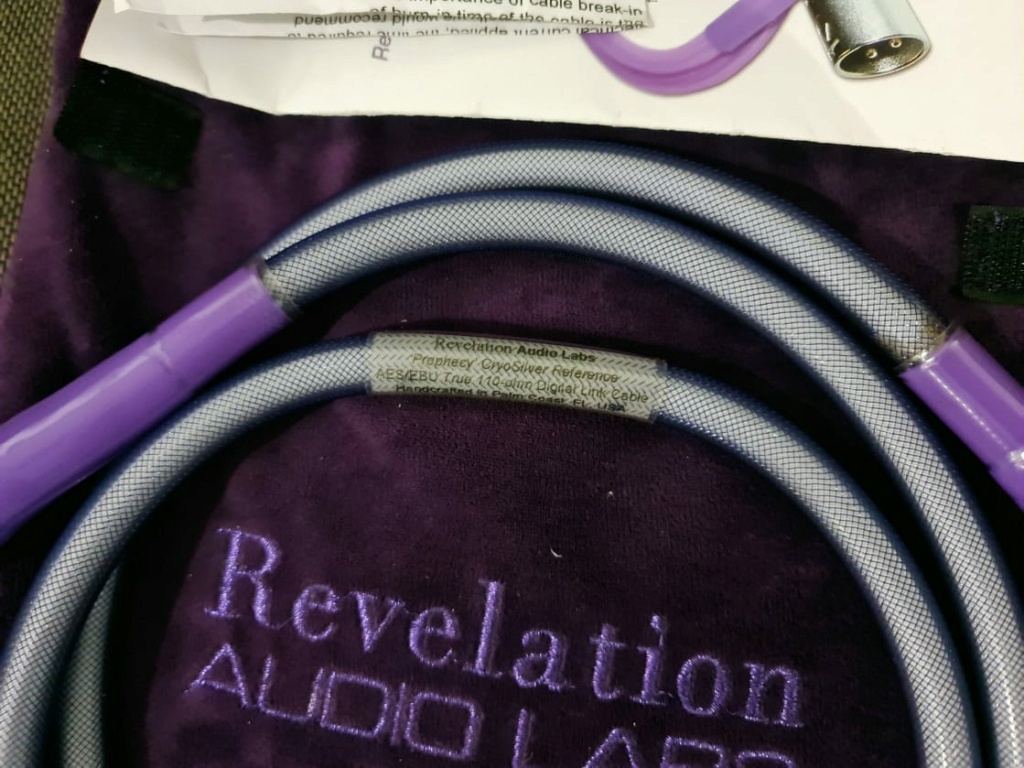 Prophecy CryoSilver:tm: Reference True 110-ohm AES/EBU Digital Link cable
 

True 110-ohm characteristic impedance balanced. Featuring Swiss-made Neutrik XCC Series connectors - the world's first and only XLR connectors specifically designed for the most efficient and reliable transmission of digital audio signals. Further customization of this connector set is realized through employing non-standard silver contacts for metallurgical compatibility with our conductor material, and substituting the standard male shell for the HD-version non-magnetic stainless steel shell.
The Absolute Sound 2018 Golden Ear Award - Revelation Audio Labs 'Prophecy' CryoSilver ReferenceTrue 110-ohm AES/EBU Digital Link Cable
Cynics may tell you otherwise, but the selection of the digital cable between computer (or disc transport) and DAC can matter as much as the choices you've made regarding analog interconnects and speaker cables. Those employing an AES/EBU interface should consider this solidly constructed, made-to-order-in-Florida product that, in my experience, has out-performed wires costing twice as much. The conducting elements are cryogenically treated 99.999% silver and the design features carefully chosen dielectric, conduit, and outer jacket materials. Robust Neutrik XLR connectors assure reliable signal transmission. For many computer/DAC systems, an AES/EBU connection will be superior-sounding to the USB option and the Prophecy CryoSilver Reference allows one to fully realize the advantages of this digital interface.
—Andy Quint, The Absolute Sound
Website:
http://www.revelationaudiolabs.com/
http://www.revelationaudiolabs.com/cables-digital/
VIEW ALL MY OTHER STUFFS BY CLICKING BELOW:https://www.carousell.com/u/hifijunctionhttps://www.carousell.com/u/hifijunctionhttps://www.carousell.com/u/hifijunction
Thank you
Last edited by raymond88 on Sun Sep 05, 2021 10:40 pm; edited 5 times in total
Bump


All my other items for sale:

CD Player:
Bluesound Node 2i (New)

DAC:

Phono Stage:
Pathos Acoustics In The Groove Mk2 MM/MC Phono Stage @ RM3300

AV Processors/Receiver:
Denon AVC-X8500H Receiver @ RM15,900
Pioneer LX-88 Receiver @ RM3650

Pre Amplifier:
Herron Audio VTSP-1 Tube Preamp @ RM7500
Bryston BP17 Preamplifier @ RM7800
Melos SHA-1 Tube Preamp/ Headphone Amplifier @ RM2200
Musical Fidelity M1 CLiC Universal Music Controller / Network Player /Streamer/ Pre-Amplifier @ RM3100
Conrad Johnson Premier 16LS
Music Reference RM-5 Mk4 Tube Preamplfier @ RM4500

Power Amplifier:
Music Reference RM-10 Power Amplifier @ RM7800
Rogue Audio Magnum M-120 Monoblock Power Amplifier @ RM8500
Naim NAP-155xs Power Amplifier @ RM4200
Naim NAPSC Power Supply @ RM1500
Sanders Magtech Stereo Power Amplifier @ RM12,800

Integrated Amplifier:
Devialet D200 Integrated Amplifier
MONA A1 Class A KT120 Tube Single-Ended Integrated Amplifier With Bluetooth 5.0 @ RM2,100

Speakers:
Thiel CS3.6 Floorstanding Speakers @ RM7500
Rogers LS66 Bookshelf Speakers @ RM1500
Dynaudio Contour S5.4 Floorstand Speakers
Odeon Audio Orfeo Bookshelf Speakers
Spendor Classic 200 Speakers
PSB Imagine X2T Tower Loudspeakers @ RM5500
Dynaudio Audience 72 SE Floor Standing Speakers @ RM3000

Speaker Stand:
Guizu Solid Teak Wood Speaker Stand with Cast-iron Base and Spikes @ RM1000
Custom-made 6-Columns Audiophile Bookshelf Speakers Stands @ RM1600

Speaker Cables:
XLO Ultra 12 Bi-wire Speaker Cable - 6 feet pair @ RM1500
Xindak FS-1 Speaker Cable - 2.5m @ RM1200

Subwoofers:
JL Audio Dominion D-110 10"Inch Powered Subwoofer - 750W (Black Ash) (NEW) @ RM5500
MBWS Audio  MS-12 USA Subwoofer @ RM4999
Orisun USA SUB-1230 Active Sub 12" @ RM1999

Interconnects:
Van Den Hul The Second XLR Interconnect - 0.8m @ RM730
FURUTECH FireBird-96 ( 9pin-6pin ) IEEE1394 Fire Wire Cable 0.6m @ RM450
Cardas Audio Lightning 15 75 ohm SPDIF Coaxial Digital Cable - 1.5m @ RM1350

Power Cables:
Aural Symphonics 20A Missing Link Cubed Power Cable @ RM1900
Tice Power Cord Model "Power Conductor 2"- 2.5m @ RM1500
Furutech NanoFlux Power Cord - 1.8m @ RM8500
Vitus Andromeda Power Cord - 1.5m @ RM3600

Power Conditioner:
Torus IS Toroidal Isolation Power Transformers @ RM8300

Others:
JL Audio JLINK TRX: Wireless, High-Fidelity Audio Transmitter & Receiver Kit @ RM1290
Solid Tech Feet Of Silence (Set of 4) NEW @ RM1500
Subwoofer Base Vibration Isolation Platform @ RM690
Graham Slee - Solo Ultra-Linear Headphone Amplifier + PSU1 Power Supply @ RM1800


CAN VIEW THE DETAILS HERE:

https://my.carousell.com/hifijunction/
https://my.carousell.com/hifijunction/
https://my.carousell.com/hifijunction/
Bump


All my other items for sale:

CD Player:
Bluesound Node 2i (New)

DAC:
Topping Audio D70 DAC @ RM1500

Phono Stage:

AV Processors/Receiver:
Denon AVC-X8500H Receiver @ RM15,900
Pioneer LX-88 Receiver @ RM3650

Pre Amplifier:
Herron Audio VTSP-1 Tube Preamp @ RM7500
Bryston BP17 Preamplifier @ RM7800
Melos SHA-1 Tube Preamp/ Headphone Amplifier @ RM2200
Musical Fidelity M1 CLiC Universal Music Controller / Network Player /Streamer/ Pre-Amplifier @ RM3100
Conrad Johnson Premier 16LS
Music Reference RM-5 Mk4 Tube Preamplfier @ RM4000
Jeff Rowland Capri S1 Preamplifier w Phono @ RM6300

Power Amplifier:
Music Reference RM-10 Power Amplifier @ RM7800
Rogue Audio Magnum M-120 Monoblock Power Amplifier @ RM8500
Naim NAP-155xs Power Amplifier @ RM4200
Naim NAPSC Power Supply @ RM1500
Sanders Magtech Stereo Power Amplifier @ RM12,800
XTZ Edge A2-300 Power Amplifier @ RM2300

Integrated Amplifier:
Devialet D200 Integrated Amplifier @ RM20k
MONA A1 Class A KT120 Tube Single-Ended Integrated Amplifier With Bluetooth 5.0 @ RM2,100
SPEC Corporation RSA-M3EX Integrated Amplifier @ RM29k
Rogue Audio Pharaoh Tube Hybrid Integrated Amplifier @ RM7500

Speakers:
Thiel CS3.6 Floorstanding Speakers @ RM7500
Rogers LS66 Bookshelf Speakers @ RM1500
Dynaudio Contour S5.4 Floorstand Speakers 
Odeon Audio Orfeo Bookshelf Speakers
Spendor Classic 200 Speakers
PSB Imagine X2T Tower Loudspeakers @ RM5500
Dynaudio Audience 72 SE Floor Standing Speakers @ RM3000
Dynaudio Contour S1.4 Bookshelf Speakers @ RM6800

Speaker Stand:
Guizu Solid Teak Wood Speaker Stand with Cast-iron Base and Spikes @ RM1000
Custom-made 6-Columns Audiophile Bookshelf Speakers Stands @ RM1600

Speaker Cables:
XLO Ultra 12 Bi-wire Speaker Cable - 6 feet pair @ RM1500
Xindak FS-1 Speaker Cable - 2.5m @ RM1200
Cardas Clear Light Speaker Cables - 2m pair @ RM2500
Cardas Clear Speaker Cables - 2.5m pair @ RM4500
XLO Ultra 6 Speaker Cables - 6 feet pair  @ RM900

Subwoofers:
JL Audio Dominion D-110 10"Inch Powered Subwoofer - 750W (Black Ash) (NEW) @ RM5500
MBWS Audio  MS-12 USA Subwoofer @ RM4999
Orisun USA SUB-1230 Active Sub 12" @ RM1999

Interconnects:
Van Den Hul The Second XLR Interconnect - 0.8m @ RM730
FURUTECH FireBird-96 ( 9pin-6pin ) IEEE1394 Fire Wire Cable 0.6m @ RM450
Cardas Audio Lightning 15 75 ohm SPDIF Coaxial Digital Cable - 1.5m @ RM1350

Power Cables:
Aural Symphonics 20A Missing Link Cubed Power Cable @ RM1900
Tice Power Cord Model "Power Conductor 2"- 2.5m @ RM1500
Furutech NanoFlux Power Cord - 1.8m @ RM8500
Vitus Andromeda Power Cord - 1.5m @ RM3600
ASI Liveline Power Cable - 1.8m @ RM2700

Power Conditioner:
Torus IS Toroidal Isolation Power Transformers @ RM8300

Others:
JL Audio JLINK TRX: Wireless, High-Fidelity Audio Transmitter & Receiver Kit @ RM1290
Solid Tech Feet Of Silence (Set of 4) NEW @ RM1500
Subwoofer Base Vibration Isolation Platform @ RM690
Graham Slee - Solo Ultra-Linear Headphone Amplifier + PSU1 Power Supply @ RM1800


CAN VIEW THE DETAILS HERE:

https://my.carousell.com/hifijunction/
https://my.carousell.com/hifijunction/
https://my.carousell.com/hifijunction/
---
Permissions in this forum:
You
cannot
reply to topics in this forum