Item: Antelope Audio Zodiac+ HD Mastering 192 kHz D/A Converter/ Pre-amp

Condition: 8.5/10. Item is in excellent condition. No dents or scratches. Comes with original box and packaging and all accessories.

Price: RM4600 RM3900 or swap/topup

Retail Price: RM11,000

Contact: 012-3816611

Wasap.my/60123816611
Premium D/A Conversion and Source Switching!
192 kHz mastering D/A converter
Zodiac+ is a high definition 192 kHz digital to analog converter created especially to suit the high demands of professional mastering engineers. The 64-bit Acoustically Focused Clocking technology and Antelope's Oven Clock employed in Zodiac+ DAC are the same the company uses in its pro audio equipment for clients such as Warner Brothers, Universal Audio and Sony Music.
Precise monitoring
The D/A converter provides an openness, transparency and depth that enable professionals to monitor their work with high precision. This allows them to make accurate and creative decisions while mixing. Zodiac+ DAC is equipped with de-jittered, re-clocked digital outputs, precision trim pots for balanced analog outs, and balanced & unbalanced analog inputs.
PROFESSIONAL FEATURES
Added flexibility for the professional user makes for a distinctly powerful device: AES Input, fine trimmers on the balanced Outputs, mono button, mute select (soft & full), transparent analog Inputs, BNC word clock Input, 192kHz USB.
SOURCE SWITCHING
With a number of different inputs available, you can monitor many sources such as CD, Laptop, DAW or Mixers and Keyboards. Balanced and unbalanced inputs at both +4db and -10db allow tremendous flexibility, while auto detection of connected devices means source selection is simple and convenient.
DE-JITTERED AUDIO OUTPUT
Digital Outputs on AES/EBU and S/PDIF offer all the benefits of Antelopes 64-bit Acoustically Focused Clocking; so external devices gain significant sonic advantages when connected to Zodiac+.
OVEN CONTROLLED CLOCK
Often overlooked, the quality of the clock is extremely important when high quality audio is desired. The clock is housed in a shielded container where the temperature is kept constant, therefore bringing significant benefits to the detail, dynamics and stereo placement of the audio.
64-BIT TECHNOLOGY
Sophisticated 64-bit algorithms allow precise control over our Acoustically Focused Clocking (AFC) and Jitter Management; two critical components to improve audio via clocking. The incoming digital signal is brought to life with this unique 64-bit technology, resulting in smooth and detailed audio whatever the method of digital connectivity.
ANTELOPE PERFORMANCE USB
Custom implementation of the USB chip leads to extreme audio performance and comprehensive support for your system. There are user selectable modes tailored to suit both Mac and PC; and with a data transfer rate of 480Mbits flawless audio is achieved with native drivers.
SMOOTH HEADPHONES
Ultra Linear, Dual Stage Headphone Amps deliver smooth sound at both high and low levels. Controlled by a dedicated volume knob.
CUTTING-EDGE DESIGN
To preserve the full bit resolution of the DAC, volume adjustment is entirely in the analog domain. Separate analog and digital power supplies eliminate digital cross-talk. This is further enhanced by keeping analog and digital circuits on separate PCBs. These gold plated boards utilize large internal ground plains, canceling noise and voltage shifts.
SOFTWARE CONTROL PANEL
Zodiac Software Control Panel allows remote control of the DAC directly from the screen of your computer. It is compatible with OS X, Windows and Linux and provides easy access to a number of additional features such as fast firmware update, peak meter, product registration and feedback form.
SPECIFICATIONS
CONNECTIONS
• 2x Headphone Outputs on 1/4 TRS
• AES/EBU Digital Input
• 2x S/PDIF Coaxial Inputs
• 2x Optical TOSLINK Inputs
• USB on mini B type connector
• Word Clock Input on BNC
• Balanced Analog Outputs on XLR
• Unbalanced Analog Outputs on RCA
• Balanced Analog Inputs on 1/4 TRS
• Unbalanced Analog Inputs on RCA
• De-jittered AES/EBU Output
• De-jittered 2x S/PDIF Outputs
In The Box
• ZODIAC+ HD Mastering 192kHz D/A converter
• Printed Documentation
• DC Power supply
• IEC Power cable
• USB cable
• Optical TOSLINK cable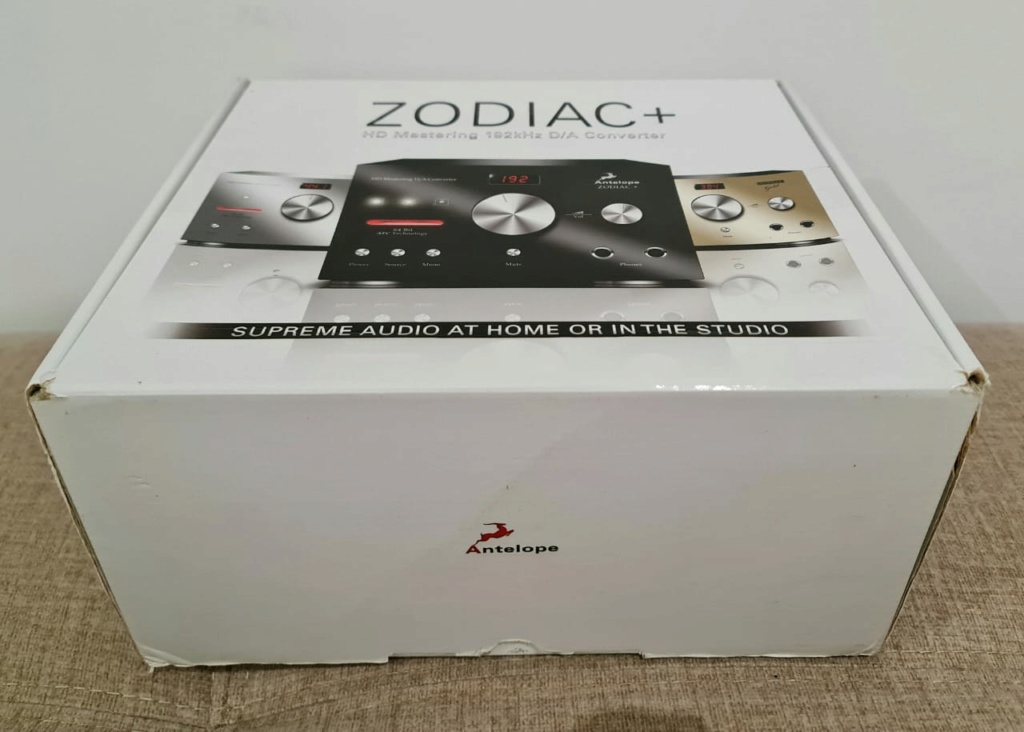 CAN VIEW THE DETAILS HERE:https://www.carousell.com.my/u/hifijunction/https://www.carousell.com.my/u/hifijunction/https://www.carousell.com.my/u/hifijunction/
Thank you
---
Permissions in this forum:
You
cannot
reply to topics in this forum