SVS PB-2000 Subwoofer Ported.
Used as New = RM3200 (Comes with professional Subwoofer Calibration. T&C Applies)
Call Now : 0194004551
Featuring Ultra Series technology, the SVS PB-2000 subwoofer unleashes effortless, commanding bass down to 17 Hz with exceptional detail and musicality. For chest-thumping movie slam and impact and sheer low frequency performance for the price, the PB-2000 subwoofer destroys larger and more expensive subwoofers, dipping all the way down to 17Hz without sacrificing musicality or speed in transients. The subwoofer features a front-firing 4-inch high-flow port with inner/outer port flares and energizes rooms of all sizes with extreme low frequency output for jaw-droopingly powerful and realistic movie and music audio experiences.
Commanding 12-Inch SVS High Output Driver
At the heart of the SVS PB-2000 ported box subwoofer is a newly engineered 12-inch 2000-series driver with dual high-grade ferrite magnets and FEA-optimized motor for nearly distortion-free performance. A reinforced Nomex spider was integrated for improved linearity and driver control, especially important when the STA-500D amp is pushing the subwoofers to their maximum output levels. To ensure the PB-2000 can withstand punishing output levels long into the future, the driver also features a durable low-creep rubber long-throw surround and integrated tinsel leads to maximize longevity.
Powerful and Sophisticated Sledge STA-500D Amplifier
The PB-2000 Subwoofer's Sledge STA-500D DSP amplifier features specs and features normally found in subwoofers costing two or three times as much. Conservatively rated at a robust 500 watts RMS continuous and 1,100+ watts peak dynamic, the amplifier has brains to match its brawn. A sophisticated DSP in the amplifier includes an array of filters and volume, gain, and phase controls for fine-tuning performance. The innovations don't stop there though. A frequency-dependent limiter/compressor algorithm with adjustable attack/release and compression parameters offers the ultimate in refined behavior at the drive limits of the subwoofer system.
With cabinet dimensions of 20.9" x 17.3" x 22" and weighing 66 lbs, the PB-2000 is nearly 40% larger and twice the weight of the SB-2000.
Subwoofer Specs:
• Premium black ash finish.
• Protective non-resonant steel mesh grille.
• Front-firing 12" driver.
• Rear-mounted amplifier.
• Screw-in rubber feet.
• Robust Medium Density Fiberboard(MDF) cabinet construction.
• Cabinet Dimensions: 20.9" (H) x 17.3" (W) x 23.2" (D) (without grille).
• Overall Dimensions: 20.9" (H) x 17.3" (W) x 25.4" (D) (with grille).
• Weight (unboxed): 65.6 pounds.
• Shipped Dimensions: 30" (H) x 23" (W) x 27" (D).
• Shipped Weight: 82 pounds.
Driver Specs:
• SVS 12" 2000-series driver.
• Powder-coated cast aluminum basket.
• Dual high-grade ferrite magnets.
• Finite Element Analysis (FEA)-optimized motor structure.
• Dual shorting rings reduce gap induction and lower distortion.
• Extended pole piece improves heat sink and thermal management properties.
• 2" diameter, high-power voice coil.
• Upgraded Nomex spider for improved linearity and driver control at extreme drive levels.
• High-quality insulated tinsel leads with 3-point-contact precision alignment.
• Lightweight aluminum cone with polypropylene dust cap provides excellent rigidity and pistonic behavior.
• Low-creep rubber long-throw surround for excellent durability and longevity.
Amplifier Specs:
• Sledge STA-500D DSP amplifier.
• 500 watts RMS continuous (1100 watts peak dynamic).
• Efficient and cool-running Class D topology.
• DSP control for accurate response and refined behavior under all operating conditions.
• Main power rocker switch.
• Auto-On / On toggle switch.
• 3-12V trigger with 1/8" (3.5 mm) TRS mini-jack input.
• Green standby mode with < 0.5 watts consumption.
• Stereo line-level RCA Input & Output connections.
• Input impedance – 47 kΩ (unbalanced line-level RCA).
• Continuously variable volume/gain control.
• Continuously variable (0-180 degrees) phase control.
• Continuously variable (50-160 Hz) 12 dB/octave low pass filter frequency with disable/LFE setting.
• Fixed 80 Hz 12 dB/octave high pass filter on line level outputs.
• RoHS compliant, lead-free construction and world-wide safety certifications.
• Detachable power cord.
KS AV SOLUTION
- Full Setup Home Theatre System
- Audio / Speakers Calibration
- Video/ Projector /TV Calibration
- Home Theatre Diffuser & Acoustic Treatments
- New Remote Calibration Available - T&C Applies(Customer must own minimum Umik-1 Mic )
=AT3GJ-6SL0XqXvvWQhfeE_PcgKkYQ6lmjkvPwmFgocwvgWJT9wm6mViQZFhlURU-av_UPUDVuw6RIKjA9_QMYDSU8hc7g9HrI1o5ab9u8DoTZjdFulcVy37kSsbgJdQAmxAkVD320-BgcSYUwYNqz4hgH1ex2Q]https://www.minidsp.com/products/acoustic-measurement/umik-1).
Every Weekday - Wednesday
Taiping / Ipoh / KL - 25-10-23 - Left 1 slot.
KS AV SOLUTION coming to Ipoh & KL - Call Now 019-400 4551
Date : 28\29 -10-23 - Last 1 slot Available.
28-10-23 - Closed
29-10-23 - 1 slot available.
KS AV SOLUTION coming to Ipoh & KL . Call Now 019-400 4551
Date : 04\05 - 11-23 - Last 2 slots Available.
04-11-23 - 1 slot Available
05-11-23 - 1 slot Available
Due to high request from Singapore Audioholics. KS AV Solution
decided to open slots only for Singaporean.
Date : 18\19 - 11-23 - 1 Slot Available.
Date : 16\17 - 12-23 - Slots Available.
We are specialist in
1. Time align each speakers which Auto Calibration can't do due to its limitation.
2. Multiple settings calibration/ tuning minimum 3(max infinity) multiple microphone points which Auto calibration has its limitation.
3. Cross correlate to get actual room response in more larger seating areas which Auto calibrate has its limitation.
4. Target a Optimum Room Curve/Target for your current setup which other auto calibration has limitation .
After our calibration : Immediately
A good room-correction system makes the sound more natural and pleasing. The notes in a bassline will have the same level as they do on the original recording. Explosions in movie soundtracks will slam rather than just boom. Movie dialogue will sound more realistic, not harsh, thin, or bloated. The sound may also become more enveloping.
Common errors in sound systems that can be corrected:
• Poor dialog intelligibility
• Harsh or anemic sound
• Bass is too loud or too low
• Poor surround effect believability
• Movies lack impact
• Poor clarity
These errors can be caused by:
• Automatic sound calibration including Audyssey, MPACC, YPAO, ARC, Room Perfect, Trinnov, Dirac and the others
• Poor subwoofer settings
• Poor audio source device settings
• Poor option selections in receiver or preamp
• Poor surround mode selection in receiver or preamp
• Poor speaker placement
• Poor speaker level balance
• Poor frequency response
• Speakers out of phase with others
• Subwoofer out of phase with speakers
• Wiring errors
• Poor calibration tools used by consumers
• Poor calibration tools used by competitors
KS AV SOLUTION Professional Speaker/TV/Projector Calibration.
KS AV Solution - South
Audio & Home Theatre Demo
3, Jln 14/47, Seksyen 14, 46100 Petaling Jaya, Selangor.Malaysia.
Do Visit us for more full experience.
Person to Contact : +6018-3698826 / 019-400 4551
Monday to Friday 9.00am - 6.00pm.
Saturday / Sunday - Call for Demo.
KS AV Solution - North
Audio & Home Theatre Demo
37, Jalan Villa Tanjung Permai 3, Villa Tanjung Permai Batu Kawan. Bandar Cassia . Batu Kawan. Penang.
Do Visit us for more full experience.
Person to Contact : 019-400 4551 / +6018-3698826
https:=AZUI2eIVfhkFTUETnDk6YG5AAsG3JituZh78jvWAGRR3_xnI_65qx4d6NPJtskTnmaROpYyEvTSFG3mMq_vBAJD-vY-W3R4918J_p2vMW9QM1yRoHDUys8Dsy9jEKRT1ZXM&__tn__=-]K-R]www.facebook.com/KSAVSOLUTION
Monday to Friday 9.00am - 6.00pm.
Saturday / Sunday - Call for Demo.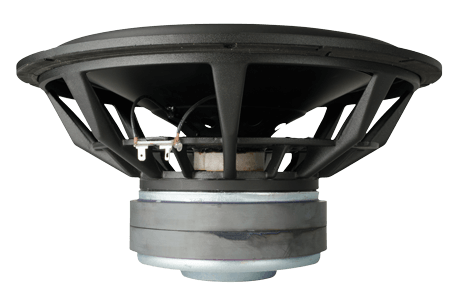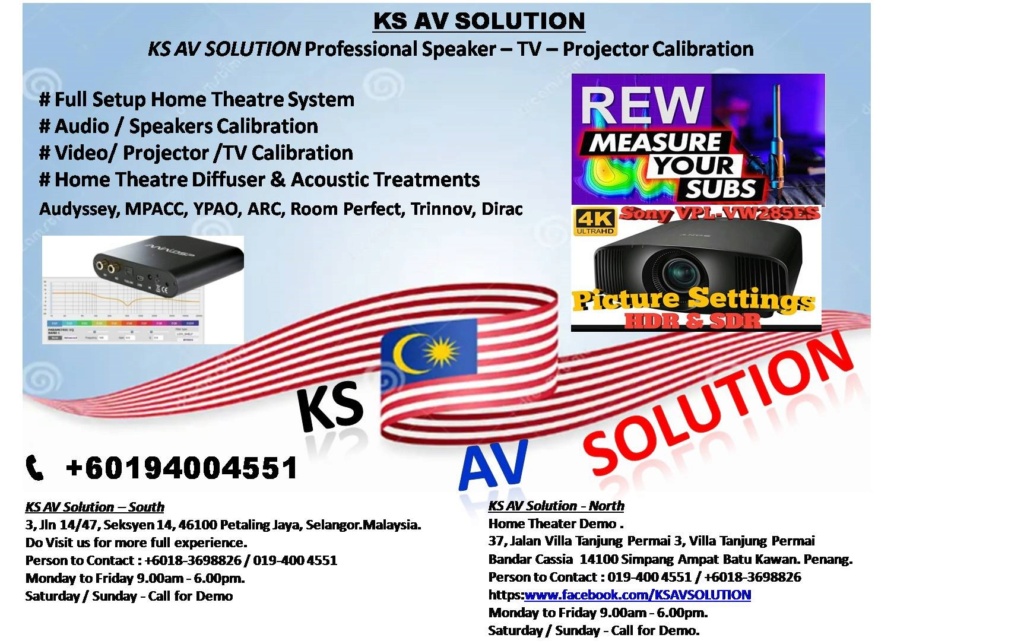 Kalai7275

Regular





Number of posts

: 86


Age

: 46


Location

: Malaysia


Registration date :

2009-03-05



---
Permissions in this forum:
You
cannot
reply to topics in this forum